Our Top 5: Construction workers' loco moco picks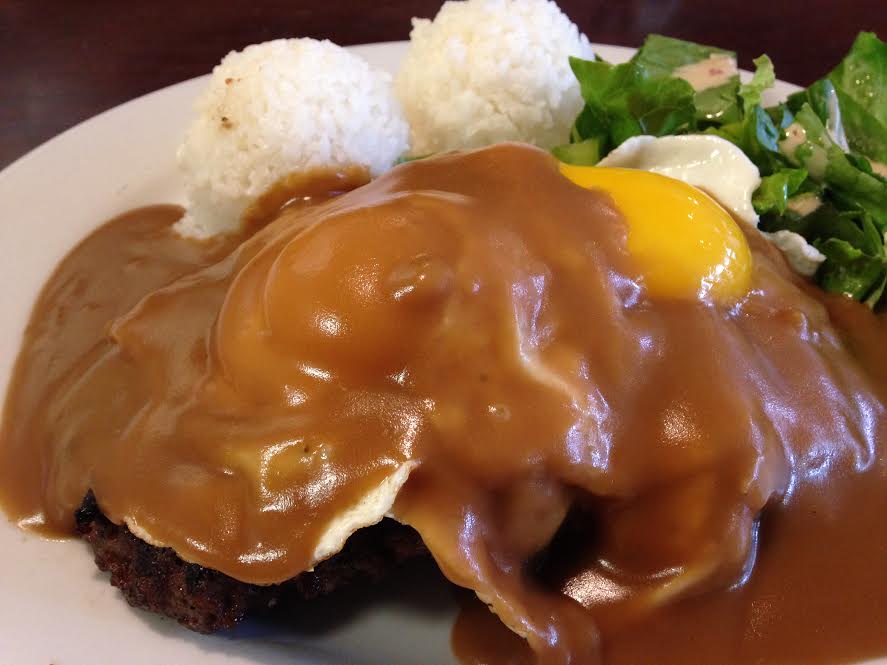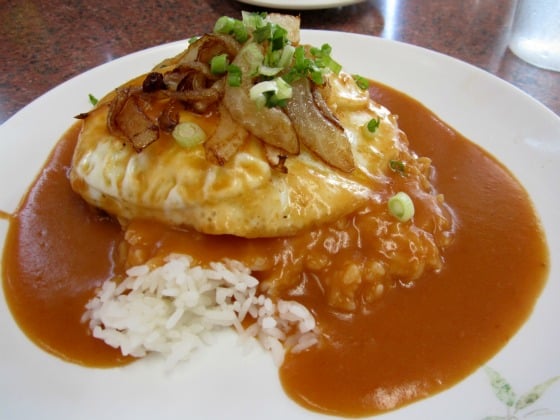 Ah, the loco moco. Just saying those words takes me back to my childhood. A loco moco is good for breakfast, lunch or dinner. It's savory, gooey, hearty, sometimes even creamy. It's local comfort food at its finest. There are many variations, but the traditional loco moco consists of white rice topped with a hamburger patty, a fried egg or two and gravy.
My husband is a carpenter and quite the loco moco enthusiast, and so are his co-workers and friends. Good meals, he says, are often the topic of conversation over lunch. I wanted to get the low-down on their favorite picks for this island favorite.
So here's the criteria for a good loco moco, according to some of our construction worker friends:
First, the patty has to be good. By "good," all the boys agree that it has to appear homemade. That means it's going to be soft, juicy, with just the right amount of meaty flavor seasoned simply with salt and pepper, kind of like meatloaf.
Second, the gravy is essential. "Gravy everywhere!" our friend Ikaika says. "Not just gravy all over, but gravy everywhere, in the rice, on the mac salad, all over the top." It's a bonus if the gravy has mushrooms, and all the guys agree it's even better to have onions.
The egg is key. Some even like to order an extra egg to increase the yolkiness of the dish. My husband likes to add teri sauce to give it that semi-sweet and savory combination. Finally, price has to match the serving and the value must be good.
Now that we've established the ground rules, here are our top 5 construction worker loco mocos.
No. 5: Bob's Bar-B-Que, $8.95
Bob's is known for its delicious BBQ meats. This moco is swimming in gravy, which is somewhat light and not overpowering. Daniel, my husband, loves to grab the side teri sauce and drizzle it on the plate. The patty is thin, the eggs are perfectly cooked, and the dish is well-seasoned and affordably priced.
1366 Dillingham Blvd., Kalihi, 842-3663, open daily 6 a.m. – 11 p.m.
No. 4: Kakaako Kitchen, $10.95
This staple in Kakaako is bustling with construction workers daily. Tried and true, the real gem of this dish is the gravy. The guys say they could eat the gravy on a side of rice alone. Its layers of flavor top a good amount of beef, two eggs and rice. Greens or mac salad come on the side, and there's a choice of kalua pig if you want to switch it up.
1200 Ala Moana Blvd., Kakaako, 808-596-7488, Mon-Thur 10 a.m. – 9 p.m., Fri and Sat 10 a.m. – 10 p.m., Sun 10 a.m. – 5 p.m.
No. 3: Home Bar & Grill, $12
Known for its homestyle comfort food and friendly bar atmosphere, Home Bar also delivers a massive loco moco. The rice is smothered in dark brown gravy, the eggs are soft and perfectly seasoned. For a construction worker who is hungry after a long day of work, this goes down nicely with an ice cold beer. There's also a lot of construction nearby, so Home Bar is convenient for the fellas, and ladies, working on the roadways and new buildings going up.
1683 Kalakaua Ave., Ala Moana, 808-942-2235, open Mon-Sat 2 p.m. – 2 a.m. except during football season and special sporting events
No. 2: HI Steaks, $10.99
HI Steaks has us at top sirloin. That's right, this dish comes in at number two not only because it's in the heart of Waikiki, where a ton of construction is going on right now, but also because of its killer combination of quality and affordability. This hidden gem in the Food Pantry on Kuhio Avenue makes what it calls a top sirloin ground steak loco moco. It's known as the best place in Waikiki to score a delicious, hearty and perfectly cooked loco moco. Plus it's got the bonus fried onions on top. The $10.99 price includes a drink.
2370 Kuhio Ave., Waikiki, 808-922-8726, open daily 9 a.m. – 10 p.m.
No. 1. The Alley @ Aiea Bowl, $11.95
You'll understand why people say this loco moco is like butter when you slice into it. Mmmmm. All the carpenters agree that this spot is the best. The loco moco is truly is amazing. The patty is soft, seasoned nicely, moist and perfectly cooked with a little char on the edges. The brown gravy is homemade and buttery. The eggs are perfectly cooked to order. The regular lunch portion comes with two patties, two eggs, two scoops of rice and choice of green salad or mac salad. Every morsel of this loco moco is to die for!
99-115 Aiea Heights Dr., Aiea, 808-488-6855, Sun-Wed 7 a.m. to 9:30 p.m., Thu-Sat 7 a.m. to 10 p.m.
Happy eating!