Our Top 5: Chocolate desserts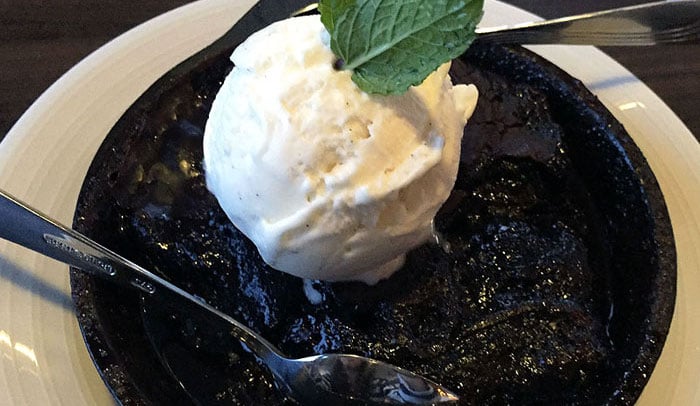 I'll never forget the first time I read about Bruce Bogtrotter and the ginormous chocolate cake he was forced to eat in Roald Dahl's "Matilda." To me that scene wasn't memorable so much because of Bruce's punishment, which was to eat the entire cake.
It stood out because of one question: What was in that chocolate cake that made it so good?
When I'm craving something chocolaty, pictures of this super decadent, must-have cake come to mind. I love chocolate desserts of all sorts, but the more chocolaty, the better. The more decadent, the more memorable. Over-the-top sweet with different chocolate varieties? Even better.
Whether it's brownies, cookies, molten cakes or pies, chocolate is always on my mind when it comes to dessert. Strap on your sweetbelts; here's Our Top 5 chocolate desserts.
Honorable mention: Rise and Shine Cafe, Chocolate Chocolate Chip Cake, $5.50
I didn't know chocolate could glide down your throat so effortlessly until I tried this limited-edition cake from Rise and Shine. The cafe usually has peanut butter and chocolate cake, but once in a while they have other flavors. You just have to call and ask or check their Instagram.
This dessert embodies chocolate insanity at its best. The cake is super moist and the luscious layers of frosting are impressive. I love how the smoothness is offset by the chocolate chips' crunch. I have a high sweets tolerance, but this cake is beyond rich — I can only devour half in one sitting.
Rise and Shine Cafe • 95-1057 Ainamakua Dr. • Mililani • 260-9312
No. 5: Volcano Shakes, Peanut Butter Cup, $11.45
I ask for the richest, most chocolaty option at Volcano Shakes, and I'm told it's the Mauna Kea S'mores, which includes a full-on s'mores sandwich. But I throw advice to the wind and go with my gut: I order the Peanut Butter Cup.
The shake is a harmonious marriage of chocolate and peanut butter. Crunches of Reese's Pieces add texture to the creamy consistency. I waste no time devouring the full-size Reese's peanut butter cup that's the crowning glory.
Despite all this, the most memorable feature is the overflowing layer of fudge that surrounds the cup's exterior. This super-sweet, sticky, slightly hardened fudge is suffocated by as many Reese's Pieces as possible. This monstrosity needs an outside-in strategy — I scoop half the fudge and candies into the shake and the other half into my mouth. It's basically straight-up fudge shots with a side of peanut butter.
Tip: Take advantage of online ordering on the Volcano Shakes website. If not, you could be in for a two- to three-hour wait.
Volcano Shakes • 102 N. Hotel St. • Chinatown • 888-9939
No. 4: Nico's Pier 38, Rockslide Brownie, $5.50
Nico's is famous for their fresh fish, but don't leave without stopping by the bakery case. While I love the Chocolate Peanut Butter Pie, the Rockslide Brownie is even more chocolaty.
This isn't just one of the fudgy-est brownies I've ever tasted, the texture is also unbelievably velvety. The brownie layer is thin but the soft brownie chunks that top it are huge. The middle layer of thick caramel is the glue that holds it together, and a decadent milk chocolate drizzle accentuates the sweetness. Toasted pecans provide needed crunch and nuttiness to offset the super-sweetness.
Each container comes with two brownies … so in theory, you could share if you really wanted to.
Nico's Pier 38 • 1131 N. Nimitz Hwy. • Honolulu • 540-1377
No. 3: Alan Wong's Restaurant, Waialua Chocolate "Crunch Bars," $14
The Crunch Bars at Alan Wong's are famous: a stunning array of milk chocolate macadamia nut crunch, bittersweet chocolate mousse, Waialua chocolate ice cream and mudslide cookies. There's even a caramel-filled truffle to cap it off.
The milk chocolate macadamia nut crunch is like a glorified Nestle's Crunch Bar — every bite is like inhaling cocoa powder. I normally don't like mousse, but this crunch bar's mousse layer is covered with cocoa. The mudslide cookies are slightly crispy with a fudgy, chewy interior. I just wish the plate came with more of that glide-off-your-tongue chocolate ice cream.
After one bite, the boyfriend slides the plate back across the table to me — it's too chocolaty for his preference. I silently rejoice. More for me!
Alan Wong's Restaurant • 1857 S. King St. • Moiliili • 949-2526
No. 2: Harbor Pier 38, Warm Chocolate Cobbler, $8
I'm told Harbor's chocolate cobbler is as popular as the S'mores, but when the server likens the cobbler to a brownie, I'm sold. This gooey, gluttonous dessert comes with a scoop of vanilla bean gelato in a piping hot cast-iron skillet.
The chocolate flavor's intensity is offset by the fragrant gelato. The cobbler is topped off with even more chocolate sauce, which makes it more decadent.
Too bad it's only available at dinner — the lunch menu features a slightly healthier Mixed Berry Cobbler that's refreshing, but far less extravagant. Talk about a sinful indulgence.
Harbor Pier 38 • 1129 N. Nimitz Hwy. • Honolulu • 550-3740
No. 1: Longhi's, Chocolate Souffle a la Mode, $16
Before I dive headfirst into my account of Longhi's Chocolate Souffle, I must say I have had the ever-famous one from Roy's as well. Roy's is light with a lovely, oozing molten center, and a raspberry puree that offsets the sweetness. But Longhi's is far richer and more fudgy. It's worth the trek out to Ko Olina. It captured my heart.
This soufflé comes with vanilla bean ice cream and a strawberry. It's designed for two; I polish it off solo. The exterior has that puffy lift that soufflés are known for, but as I delve in, it bubbles over with molten chocolate. The airy cake becomes drenched with the oozing chocolate, and the vanilla bean ice cream adds a delicious chill.
My main challenge: keeping up with the melting ice cream while trying not to burn my tongue on the cake. As I scrape up the last bit, I remind myself that I'm in a public setting … and it takes every ounce of willpower to not lick the ramekin.
Longhi's • 92-161 Waipahe Pl. • Kapolei • 671-8887