Our Top 5: Chicken and waffles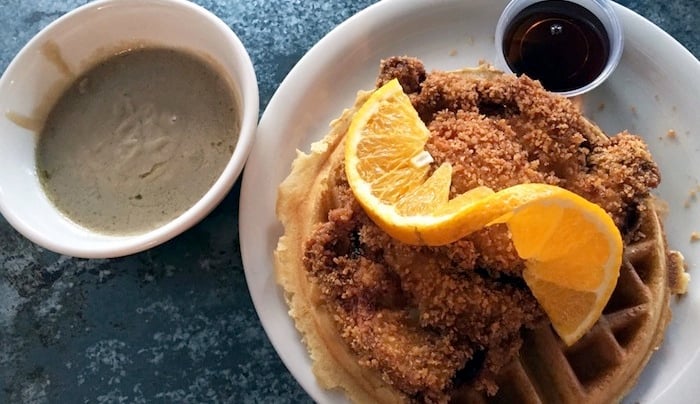 By Kelli Shiroma
When I moved to Downtown Los Angeles, I was well aware that the City of Angels was home to iconic institutions like The Staples Center and the Lakers. What I didn't know was that Roscoe's House of Chicken & Waffles was one of them. I didn't even know chicken and waffles was a dish.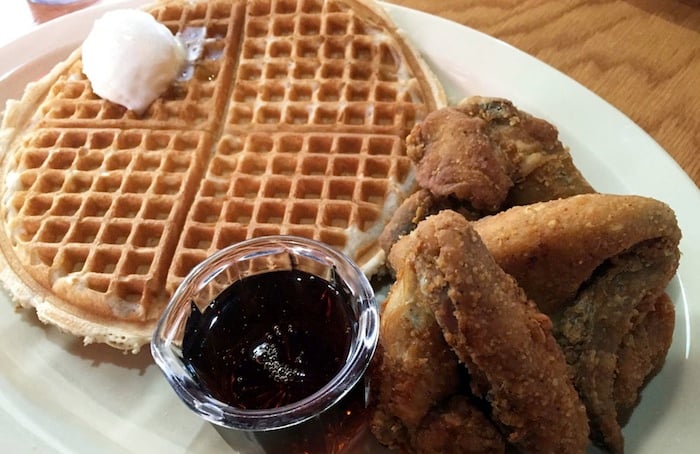 But when I sank my teeth into Roscoe's Country Boy—three golden, crispy chicken wings atop a housemade waffle—I understood the hype. The wings weren't the best, but there was something almost magical about the salty-sweet medley of meat, waffle and sticky maple syrup all in the same mouthful. Plus, that Roscoe's syrup was ridiculously addicting.
(Sidenote: President Obama made an unexpected stop at the West L.A. Roscoe's about four years ago to chow down on the same entrée. Since then, it's been nicknamed "The Obama Special." See? Even the president's a fan.)
After I moved back to Honolulu, I was determined to find the best chicken and waffles on Oahu. The dish is on my radar now. Whenever I see it on a menu, I have to find out if it's up to par with Roscoe's.
I set out on my quest with four criteria. First off, balance was key. I didn't want too much waffle and not enough chicken. I wanted a little bit of chicken and waffle with every bite. Second, the chicken crust had to be crunchy, golden and tasty, while the interior was moist, savory and tender. Third, the waffle had to be neither burnt nor soggy. Finally, the combo had to work well — chicken plus waffle needed to taste good together.
Here's Our Top 5 chicken and waffles.
No. 5: Hughley's Southern Cuisine, Chicken and Waffles, $15.99
This was the most expensive chicken and waffles I tried, so I had pretty high expectations going into Hughley's. This dish featured a moist, buttery waffle topped with three chicken wings. You have the option of maple syrup or country gravy. To keep things consistent, I chose the syrup.
The chicken wings were delicious — the skin was perfectly crispy and every bite had a delectable crunch. However, each wing didn't yield much meat. I spent too much time scrounging for sufficient chicken to accompany each waffle bite, which is why this gets the No. 5 spot. The waffle, though, was phenomenal. It was extremely moist, buttery and just seemed to melt in my mouth … and that was before I drizzled the syrup all over it. If the chicken were meatier—say, chicken breast instead of wings—the entrée would have been more proportionate. As it was, I had a lot of waffle left over once the chicken was gone, but I didn't mind because the waffle was a winner in and of itself.
Hughley's Southern Cuisine • 99-080 Kauhale St., Aiea • 808-380-4200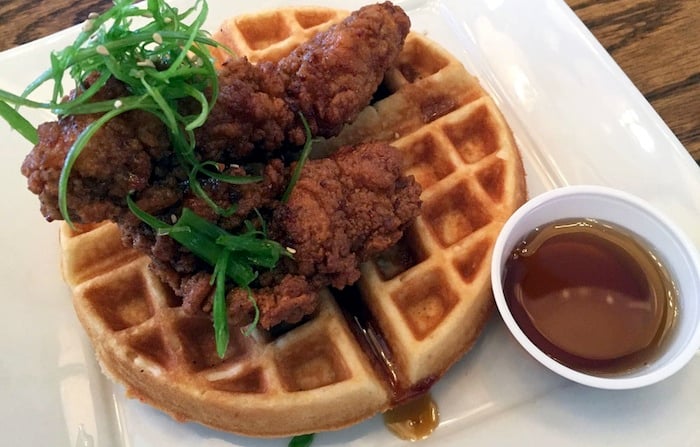 No. 4: YogurStory Asian Bistro, K-Town Chicken & Waffle, $13
YogurStory's version of chicken and waffles has a distinctive Korean flair, as it includes island-style Korean chicken wings atop a Belgian waffle.
I loved this riff because the chicken was so unique. The Korean-style chicken wings had a slight spice to them, which enhanced the dish's contrasting flavors. They weren't as crispy or buttery as some of the others that I tasted, but were still delicious and savory. The Belgian waffle was moist and cooked well, and the maple syrup offset the wings' slight spice perfectly. Only two strips of the Korean chicken were atop the waffle, but the portion size was perfect because I was able to cut them into fourths so they were proportionate to the waffle.
YogurStory Asian Bistro • 815 Keeaumoku St., Ala Moana • 808-942-0505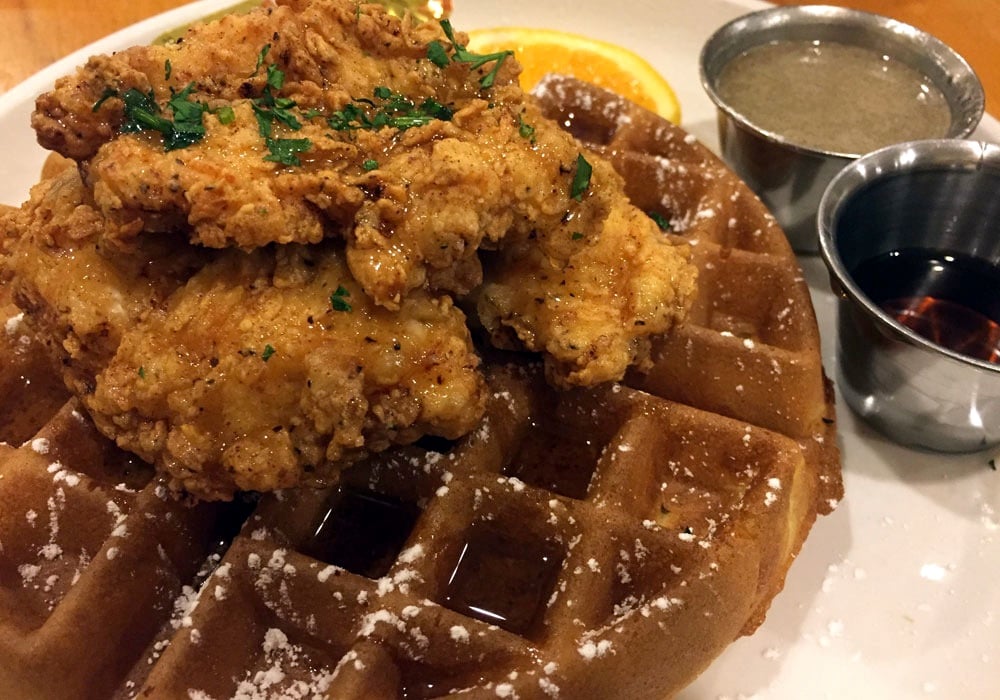 No. 3: Café Kaila, Fried Chicken and Waffles, $13
Customers may not be aware that Fried Chicken and Waffles only exists on Café Kaila's dinner menu, which is available on Wednesdays, Thursdays and Fridays. The entrée includes a classic, malted waffle (same as the one on the breakfast menu) topped with fried chicken, syrup and cayenne maple butter. A dash of powdered sugar gives this dish an elegant look.
This waffle was not very spongy or moist, but I liked its airiness and delicate crispiness. I was able to cut the two decent-sized pieces of chicken into fourths so they covered the waffle pieces evenly. The chicken was crunchy but tender. The chicken-plus-waffle combo was definitely noteworthy, as the light waffle was the perfect sweet counterpart to the flavorful chicken. I could almost hear the hallelujah chorus while I savored each bite. Though there was more than enough syrup to cover the entire entrée, I didn't feel super heavy or bloated after devouring it, probably because this waffle was the lightest of all the ones I tasted.
Café Kaila • 2919 Kapiolani Blvd., Kapahulu • 808-732-3330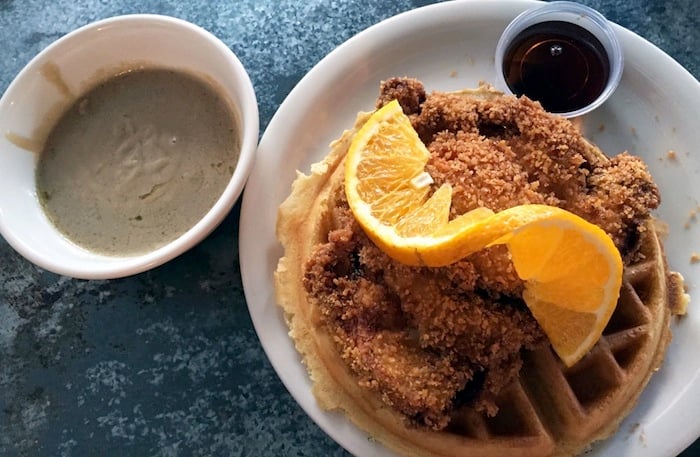 No. 2: Downbeat Diner & Lounge, Chicken and Waffles, $9.50
Downbeat Diner's Chicken and Waffles is considered a brunch special. Meaning, it's only available on Sundays from 10 a.m. to 3 p.m. But, trust me — this dish is worth braving the crowded Chinatown streets for. It includes a deep-fried country chicken breast on a golden, malted waffle, and it comes with maple syrup and housemade gravy.
The first thing I noticed when the piping-hot entrée was placed in front of me was the sheer size of the chicken. It almost eclipsed the waffle. Checkmark for appropriate portion size … and you definitely get your money's worth with this bad boy. But what sets this dish apart is that it comes with both gravy and maple syrup.
First things first: the chicken's exterior was breaded perfectly, giving it a great, seasoned crunch. The waffle was not as moist as the one from Hughley's, but still billowy and spongy. But the winning quality was the contrasting textures and flavors from the two sauces.
I loved the sweetness from the maple syrup. I drizzled it over half of the chicken and it seeped into the waffle underneath, making it even softer and mushier and producing an even more satisfying combo. The rich, thick, creamy gravy that I smothered over the other half of the chicken accentuated the savory taste. That gravy came in a good-sized bowl and I used the remaining bits of the waffle to mop up every single drop. To say that a food coma followed this top-notch combo would be an understatement.
Downbeat Diner and Lounge • 42 N. Hotel St., Chinatown • 808-533-2328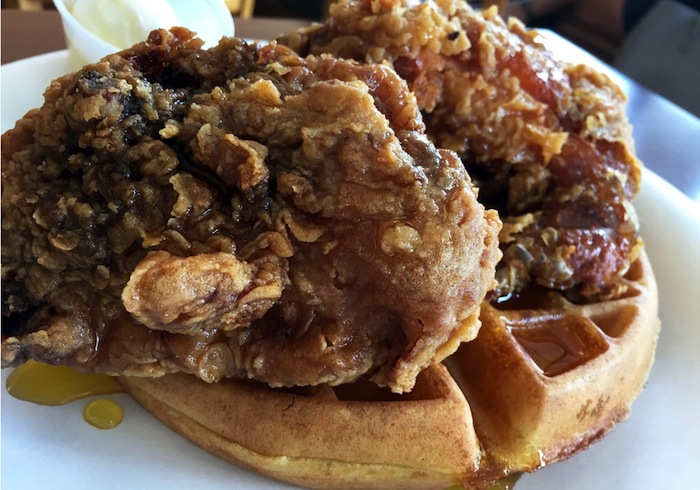 No. 1: Pancakes and Waffles, Honey Butter Chicken and Waffles, $9.99
Pancakes and Waffles is my No. 1 choice when it comes to this sweet and savory dish because it nailed the combo on all points. The chicken-to-waffle ratio was perfect — there wasn't too much waffle or too little chicken. The chicken was cooked perfectly — its exterior was a crispy, golden brown with a satisfying crunch, while the interior was juicy. The chicken wasn't burnt or overly crunchy, either — now, whenever I picture fried chicken, this is what always comes to mind.
The waffle was similar to Hughley's—spongy and buttery, with a touch of elasticity—which I was delighted to discover. But it was the honey butter drizzle atop the entire chicken and waffle dish that made this a winner. The butter soaked into every crevice of the waffle and chicken. Result: Butter dripping from my mouth with every happy bite. Talk about a match made in heaven.
And yes … to me, this combo one-upped Roscoe's.
Pancakes and Waffles • 1284 Kalani St., Kalihi • 808-847-7770