Our HIFF Pick: A Michelin Star Chef Feeds Millions of Hungry in 'We Feed People'
José Andrés' fame for feeding the destitute may have overtaken his renown as a celebrity chef.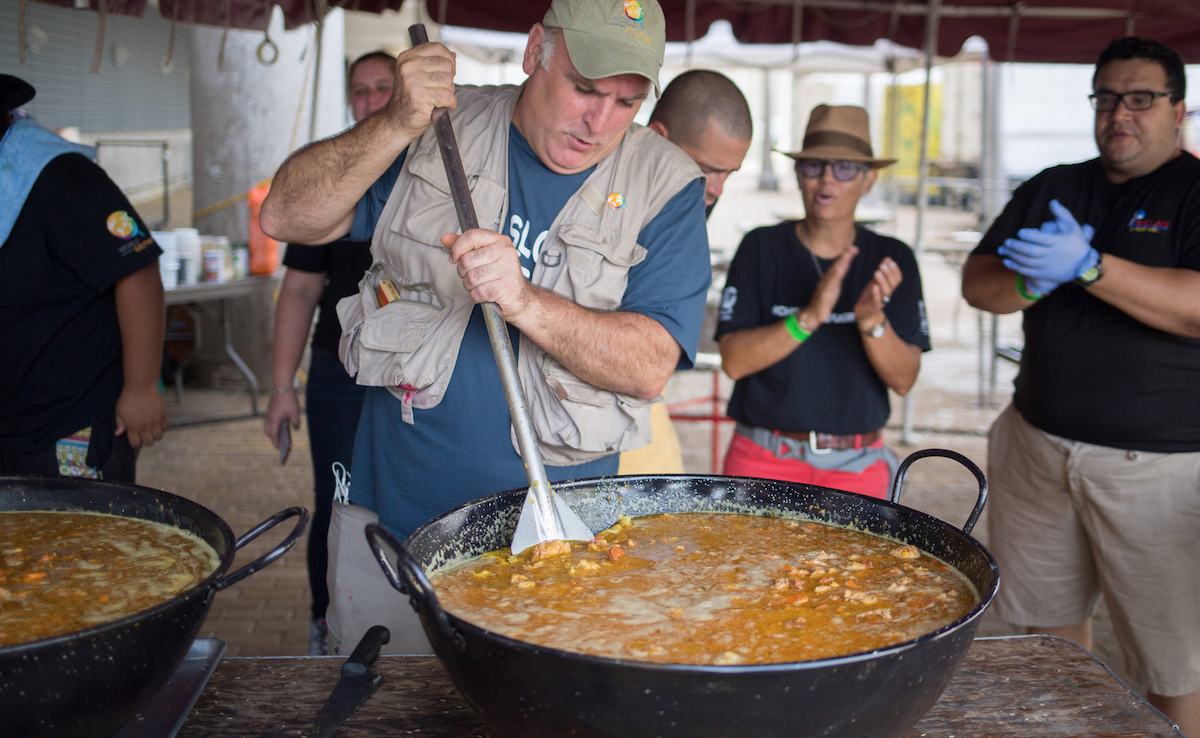 Hawai'i International Film Festival's Spring Showcase continues through April 24 with 10 movies available exclusively online. Two are food-related documentaries: locally made Scaling Up: Hawaii's Food Future, and We Feed People, reviewed below.
We Feed People opens with scenes of land underwater, of trucks moving through flooded landscapes, windshield wipers working against more rain—and there he is. José Andrés is rolling up a huge map of Puerto Rico on which he's pointed out a half-dozen relief kitchens set up by his nonprofit in the wake of Hurricane Maria. "We don't just feed people. We create systems," he says.
"What's your name, dear?" a reporter asks.
"José."
"José what?"
"Just José."
Foodies know what the reporter will soon learn: The relief worker with the heavy accent is America's best known Spanish chef and one of the world's most prominent—and that as the founder of World Central Kitchen, Andrés has risen to equal fame in the realm of disaster relief.
In 90 minutes, We Feed People traces the arc of a second career that neatly bookends Andrés' first. An ambitious chef who trained at El Bulli with Spain's legendary Ferran Adria, Andrés came to this country at 21, at 24 was picked to head the kitchen of Jaleo in Washington, D.C. (now grown to four U.S. restaurants with a fifth opening in Dubai), and in his 30s became a restaurateur whose coast-to-coast restaurants earn him a reported income of $4 million a year. His industry credentials are breathtaking: two Michelin stars, four Bib Gourmand restaurants, James Beard Foundation's Outstanding Chef award, instructor at Harvard and George Washington universities, government accolades, the list goes on. Andrés was vacationing in the Caribbean when an earthquake devastated Haiti's capital in 2010. Moved by his own powerlessness against the human suffering, he flew to Port au Prince—not to fix the problem but to study it, a farsighted pro move—and World Central Kitchen was born.
SEE ALSO: There's an "Every" for Everyone at Hawai'i International Film Festival's Spring Showcase
What we see is a glimpse of what an outlier can accomplish against monumental odds—if the outlier is José Andrés. He may be uniquely qualified. Immigrant used to navigating new ecosystems: check. Practiced restaurateur who can build teams and set up systems: check. Kitchen veteran unfazed by mishaps and breakdowns: check. And mostly, Andrés' driving, outsize ambition to feed not the privileged this time around, but those whose lives have been upended by disaster—in Nicaragua, India, Uganda, Pāhoa after the 2018 eruption and now Ukraine, where his nonprofit's humanitarian kitchen was hit by a missile strike on Saturday.
Under Ron Howard's direction, We Feed People becomes a feel-good experience of how a larger-than-life chef became a larger-than-life humanitarian. It relies largely on interviews with World Central Kitchen staff and partners, ignores criticism from some U.S. restaurant groups and neglects to mention, despite scenes of Andrés pleading for funding, that his celebrity helped the charity raise $270 million in 2020, not to mention a $100 million donation from Jeff Bezos last year. Which Andrés announced would seed a $1 billion Climate Disaster Fund for disaster relief and longer-term solutions. We Feed People is a very worthy film.
Available for online screening until April 24. Order tickets here.