Our Family Guide: Unexpected Ways to Use Your Hawai'i State Public Library Card
That red plastic card taking up space in your wallet is more valuable than you think.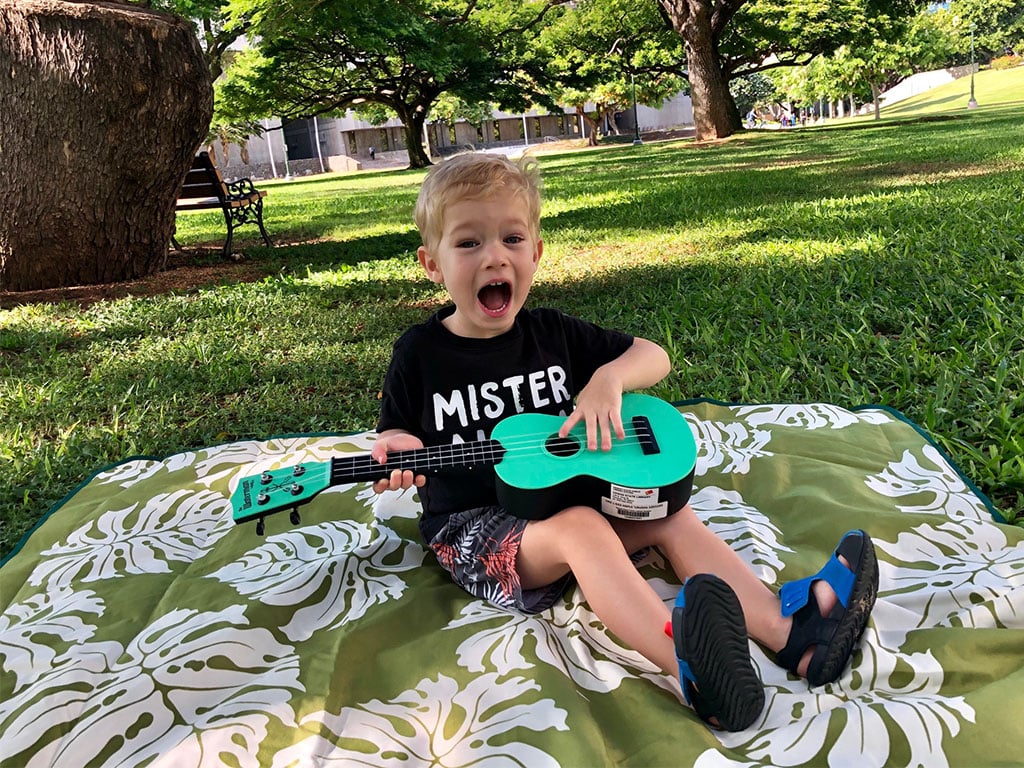 We are so lucky to live walking-distance to the Hawai'i State Library. More than a beautiful historic building, the library has served as a place of entertainment and learning for my 2-year-old son, Duke, and I since he was an infant. Our visits there started just as a way to get out of our condo but have turned into an anticipated weekly adventure.
Check out our seven tips for getting the most out of your local public library:
1. Sign up.
The first step to benefiting from all the free services the library offers is to get a library card. All you need is a valid photo ID and proof of mailing address along with a completed library card application. Children can get their own library card when they can print their full name (a parent or guardian must co-sign). I love that the library card application can be downloaded and printed at home in advance to make the process faster when you reach the library.
2. Get the app.
Available for free download on both iOS and Android devices, the Libraries Hawai'i mobile app allows you to browse the library catalog, check a book's availability and view your account information, such as items borrowed, fines and due dates. Through the app, I requested a construction truck book be transferred from the Waimānalo branch to be picked up at my local branch, so I didn't have to make the drive across the island. It was even ready for pick up at the circulation desk, so I didn't have to hunt for it on the shelf. However, I have to say that my favorite feature is the ability to renew materials via the app if you aren't done with them yet (or if, like me, you are in danger of missing the due date). The app can also be used as your digital library card to check out materials, so you don't have to carry around yet another plastic card.
3. Ask a librarian.
When Duke was going through a biting phase (yeah, it was bad!), I asked the children's librarian if she knew of any books that may help us. She sprang into action and quickly pulled three board books and wished us well. Whatever the subject matter or interest, the librarians are a valuable resource, so just ask. You can also ask a librarian digitally through their website.
4. Attend an event.
Offering more than the tried-and-true story time, library branches across O'ahu provide entertainment to keiki of all ages. For the youngest set, check out the Infant Massage Class, Baby Time Rhyme or Sunshine Hour Unstructured Playtime. Toddlers will love Tiny Tales for Tiny Tots, Keiki Movie Matinee and Read to a Therapy Dog. Duke loved sharing his favorite fire engine book at the canine event last year. For elementary-age kids, try the LEGO Club, Keiki Create Art Experience and Pokémon Stamp Card challenge. Pre-teens and teens will stay busy with Nintendo Wii Tournaments, UnBook Club, Bad Art Night, YA Wednesday Movies and College Planning Workshops. Find out which events are happening at a library branch near you.
5. Borrow a tablet.
Launchpads by Playaway are available to borrow for 21 days from the 'Aiea, Hawai'i State and Nānākuli branches. They're pre-loaded with educational games, exercises and ebooks and are designed for kids age 3-12 but must be checked out by an adult. We selected the "Build It. Fix It. Fun!" programming tablet, which is recommended for ages 3-5. Duke needed my help learning to play the games at first, but once he got the hang of it, he played on his own, so I could make dinner in peace. It's a bonus that the tablet comes with a durable bright orange case, so it won't get broken or lost (hopefully!).
6. Meet Libby.
The Libby app allows you to borrow ebooks and audiobooks instantly from the library via your mobile device. Download the app on your phone or tablet and input your library card number and PIN to get started. Tip: your PIN is the last four digits of your phone number. There is a great selection of children's books, and the app will narrate to your child and flip the pages automatically. Duke didn't have the patience yet to sit and listen to a full narration, but we'll try again soon. I was feeling optimistic and even downloaded a novel for myself to read while Duke naps.
7. Strum an 'ukulele.
Provided by the Music For Life Foundation, 'ukulele instruments are available to borrow at four O'ahu branches: 'Āina Haina, Hawai'i State, Nānākuli, Waimānalo, and starting Sept. 12 at the Kaimukī branch. 'Ukukele are loaned out for three weeks and come in both keiki and adult sizes. The keiki size is recommended for ages 3 and up. After signing a user agreement, showing my ID, and receiving a short orientation, Duke and I were in possession of our first 'ukulele. Tip: Make sure to arrive at least one hour before the library closes to allow time for the paperwork and instructions. As first timers, our next stop was to the Hawai'i and Pacific section of the library to find an instructional book to teach us to play. Duke enjoyed the fun teal color of the instrument, strumming it and dancing along. I'm looking forward to the day we can play an actual tune together!
The Hawai'i State Public Library system has 25 branches across the island of O'ahu. Find your local branch and check library hours here. (808) 586-3500.