Guide to Camping on O'ahu
We're breaking down the campsite information, where to go, what to bring, how to set up, how to level up and more.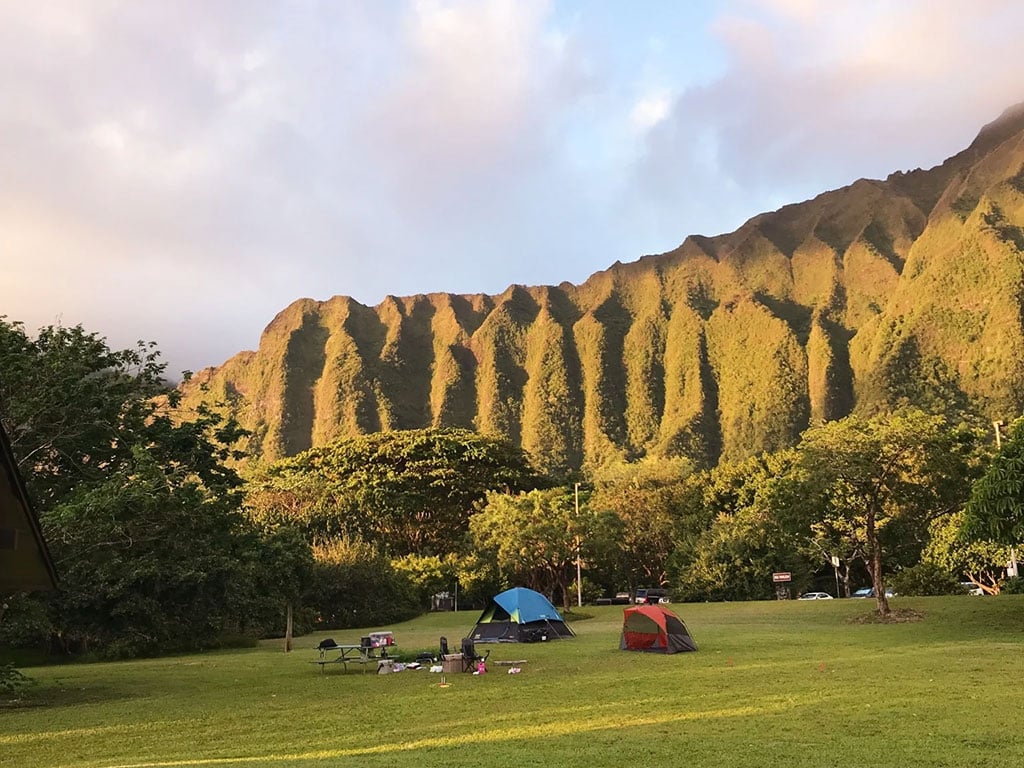 It's not summer until you've slept outside, eaten a melty marshmallow off a stick, and woken up smelling like a campfire. So we've rounded up some key information and tips for camping on O'ahu (which can be applied to other campsites in Hawai'i, too).
Note: Please mālama 'āina to preserve and protect these beautiful campsites and trails. Remember do your research, take out whatever you take in, and respect the plants and animals. For more information, visit the Department of Land and Resources' Hiking in Hawai'i and Nā Ala Hele Trail and Access pages.
Campsites
The Honolulu Department of Parks and Recreation (DPR) currently manages more than 200 campsites at more than 15 campgrounds that include Waimānalo Bay Beach Park, Kualoa Regional Park, Ho'omaluhia Botanical Garden, Mā'ili Beach Park and more. At these campsites, you can have up to 10 people in no more than three camping tents. Dogs and alcohol are not allowed, and motor vehicles are not allowed on the beach. Reservations become available at 5 p.m. two weeks in advance and can be made online.
Bellows Field Beach Park (closed through Sept. 1, 2022 for turtle nesting)
41-043 Kalaniana'ole Highway
Waimānalo
50 campsites
Hau'ula Beach Park
54- 135 Kamehameha Highway
Hau'ula
8 campsites
Hūnānāniho (formerly known as Waimānalo Bay Beach Park)
41-043 Aloiloi St.
Waimānalo
10 campsites
Kahua Kuou (Ho'omaluhia)
45-680 Luluku Road
Kāne'ohe
8 campsites
Kahua Lehua (Ho'omaluhia)
45-680 Luluku Road
Kāne'ohe
5 campsites
Kahua Nui-Makai (Ho'omaluhia)
45-680 Luluku Road
Kāne'ohe
15 campsites
Kaiaka Bay Beach Park
66-449 Hale'iwa Road
Hale'iwa
7 campsites
Kalaeloa Beach Park
66-449 Eisenhower Road
'Ewa Beach
13 campsites
Kalaniana'ole Beach Park
89-269 Farrington Highway
Wai'anae
12 campsites
Kea'au Beach Park
83-431 Farrington Highway
Wai'anae
25 campsites
Kokololio Beach Park
55-017 Kamehameha Highway
Lā'ie
5 campsites
Kualoa A Beach Park (closed during summer)
49-479 Kamehameha Highway
Kāne'ohe
7 campsites
Kualoa B Beach Park
49-479 Kamehameha Highway
Kāne'ohe
13 campsites
Lualualei Beach Park #1
86-221 Farrington Highway
Wai'anae
6 campsites
Mā'ili Beach Park
87-021 Farrington Highway
Wai'anae
14 campsites
Swanzy Beach Park
51-369 Kamehameha Highway
Ka'a'awa
9 campsites
Waimānalo Beach Park
41-741 Kalaniana'ole Highway
Waimānalo
10 campsites
The State of Hawai'i's Department of Land and Natural Resources (DLNR) also manages popular campsites on O'ahu. You can apply for permits no more than 30 days in advance. Permits cost $20 per night, per campsite for Hawai'i residents, and $30 per night, per campsite for nonresidents. Find permits here (due to COVID-19 there are no walk-in permits given at District Offices).
Ahupuaʻa ʻO Kahana State Park
52-222 Kamehameha Highway
Ka'a'awa
10 campsites
Mālaekahana State Recreation Area
56-020 Kamehameha Highway
Lā'ie
37 campsites
Keaīwa Heiau State Recreation Area
99-1849 'Aiea Heights Drive
'Aiea
8 campsites
Sand Island State Recreation Area (closed for repairs)
1499 Sand Island Parkway
Honolulu
---
Tips
Organization
If camping with a group, have one point person to hold important permit documents, with a secondary support person who knows where they are and has copies. Print them as well as have them available digitally.
Start a shared Google Doc for everyone to see check-in and check-out times, figure out carpooling and parking passes, shared costs and campsite location info. Create a list of things everyone should bring for themselves as well as a sign-up list for supplies to share so everyone could pitch in.
Setup
It's helpful to have a few people arrive early to set up a central "hub" where you keep all the supplies and food.
What to Bring
(For the group)
Two-to-four-person tents for sleeping
One or two large pop-up tents or canopies
Pop-up tables
Flashlights, headlamps or lanterns (not just your phone)
Bluetooth speakers
Toilet paper and paper towels
Utensils, plates and cups
Charcoal/firewood, lighter fluid, matches/lighter
Portable grill
Coolers and ice
Trash bags
Floats for beach camping
Bug spray (environmentally friendly options like coconut-based bug repellents), mosquito punks or citronella candles
Packing tape/scissors
Rope
Ziploc bags
Rake to clear the area
Cast iron pan for cooking
Beach mat or tarp with bungee cords
(For yourself)
Sleeping bag, pillow, blanket
Two towels: one for beach and one for shower
Sunscreen
Folding chair
First-aid supplies
Wagon for bringing everything from the parking lot
Toiletries (shampoo, soap, toothbrush, medication, etc.)
Portable charger
Food
Make sure everyone brings something (and enough) to sustain the group without too much overlap of kinds of dishes (a whole bunch of rice but only one package of hot dogs for 10 people over three days is probably not sufficient). Sign up on the Google Doc or have one or two people in charge of shopping for the group and divide up the cost. Break it down by meal to make sure you have everything covered.
We highly recommend food that can keep for several days in coolers (Spam musubi, shoyu hot dogs, mochiko chicken or fried chicken, fresh veggies, etc.). Uncooked red meats (steaks, hot dogs, May's teri burgers) can keep pretty well for a day or two, just be sure to keep them cold and cook them in order of perishability.
Nonrefrigerated salty snacks are always great for beach camping! Canned goods like chili or pork and beans will work well and can be cooked over fire or grill easily (just remember to bring a can opener).
Make sure there is more than enough water to keep everyone hydrated, especially if you spend a lot of time in the sun or ocean during the day.
Unless you've hiked far from the parking lot, send someone on an ice run to a nearby store whenever your cooler runs low. If you can't easily make the trek back to civilization, make sure to keep your best cooler in the shade, opening as infrequently as possible.
Put away all food and drinks in sealable containers.
---
Tips to Level Up Your Camping Game
And while exactly how much you can or can't do for your next camping trip will depend on the destination (hiking 12 miles on Kaua'i to the Kalalau Valley campsite is a world of difference to driving up to the Mālaekahana parking lot), we're always looking for ways to make things just a little more special. Don't worry, we don't want to turn your chill weekend into some Pinterest-able luxury picnic that's ten times the work—here are some of our favorite tips for taking your next camping trip to juuuuust the next level.
Prebatch your cocktails (and garnishes)
Big batches in vacuum-sealed bottles. Pre-sliced citrus. Fresh mint. The first drink at the site feels much more celebratory when it's an ice cold mai tai or Moscow mule. After that, feel free to move on to the beers.
Don't skimp (entirely) on your meat
Hot dogs are fun, but getting a little luxe with at least one of the items on the menu is even more fun. Lobster tail, rib-eye, bacon-wrapped scallops—pick something good enough to throw on the grill without requiring a lot of extra jazzing up, and bring just enough for everyone to have a taste.
Plan around your ice (or carry) power
Time your meals by their perishability: poke for lunch while you set up, for instance, followed by steaks for dinner that night. For the next day, marinated shrimp skewers from frozen shrimp. Turns out bags of frozen shrimp work great as little ice packs in your cooler, and freezing tomorrow's drinking water will help keep your meat chilled today. (Oh, and invest in a high quality cooler.)
Keep it simple … but throw in a surprise
Beef Wellington in the woods? We think not, but have you tried s'mores with potato chips instead of graham crackers? Or pie iron sandwiches with puff pastry instead of bread?
Canopies > tents
One is a community hang out spot and one is a claustrophobic isolating human Ziploc bag. As always, anywhere: If you can, sleep under the stars.
Pull out the china and silver
Just kidding, but a few nice acrylic cups for drinks, and more than a few cutting boards/nondisposable plates instead a paper goods will go a long way with ambience. Bonus: It will cut down on trash. Nothing ruins a campsite's vibes like a bunch of trash everywhere. And this goes without saying (hopefully), but whatever you pack in, pack out, from every napkin to every plastic wrapper on every American cheese slice, so the site is fresh for the next person. Hey, you're not the only one going camping this summer!
SEE ALSO: Hawaiʻi Family-Friendly Hike: Camp Pālehua in West Oʻahu