Our Go-To: Fried Chicken in Honolulu
From old school to new wave, these are the Frolic team's faves.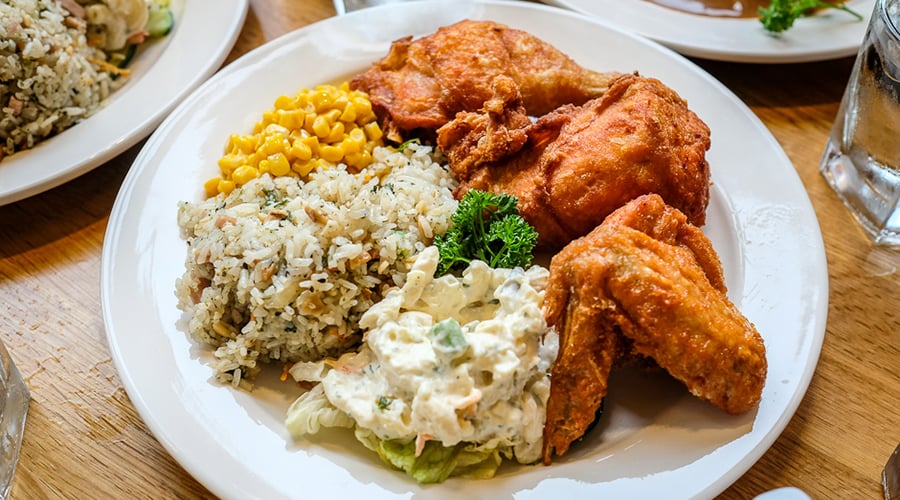 Editor's note: This post generated so much reader response that it inspired a follow-up post the next week. Here's Your Go-To: Fried Chicken.
Crispy, juicy, delicious: Not all fried chicken is created equal, as we showed in Best Fried Chicken: Our Top 5. The 11 fried chicken picks on this page  are the ones the Frolic team orders again and again, no matter how many times we've devoured them. They're listed in no particular order, since this is far from a ranking.
From Kapolei to Waialua to Mānoa and Kaimukī, here's Our go-to: Fried chicken.
Ray's Cafe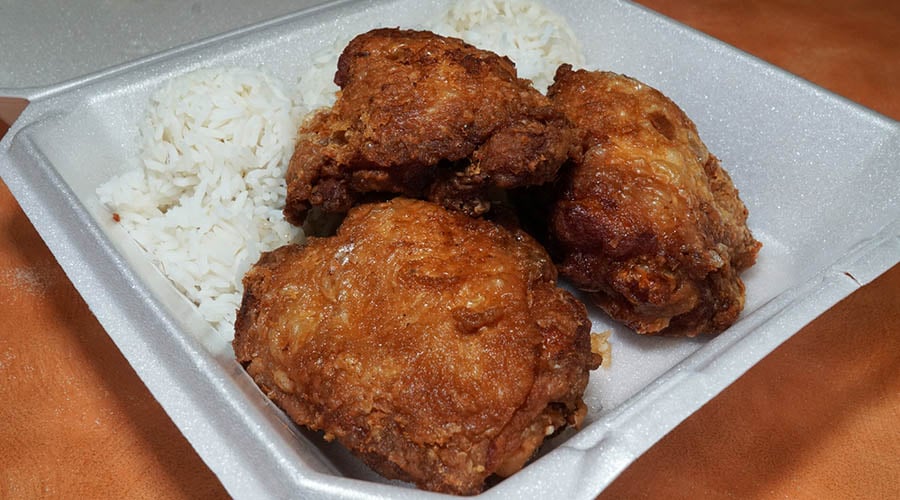 If you ask me what my favorite fried chicken is, I'm thinking straight fried chicken. Ray's fried chicken plate ($8.25) is made fresh to order, so it's served piping hot. If you ask me what my favorite fancy fried chicken is, that's different. This is straight and solid—moist, salty and crunchy. —Melissa Chang 
2033 N. King St., Kalihi, (808) 841-2771
Menchanko-Tei

Fried chicken from a ramen shop? Menchanko-Tei not only makes great ramen, but amazing fried chicken too. You can get three pieces for $5.25 or seven pieces for $10. The batter feels light and the meat is juicy, tender, and not greasy. The marinade has a light sweetness followed by a hint of citrus. It's boneless, so I can get right to the meat. No matter how I describe it, this fried chicken is just plain delicious. My only problem is deciding if I want more fried chicken or more ramen. —Eric Baranda 
903 Ke'eaumoku St., Ala Moana, (808) 946-1888
---
SEE ALSO: Our Go-To: Poke Bowls
---
Sakana Grill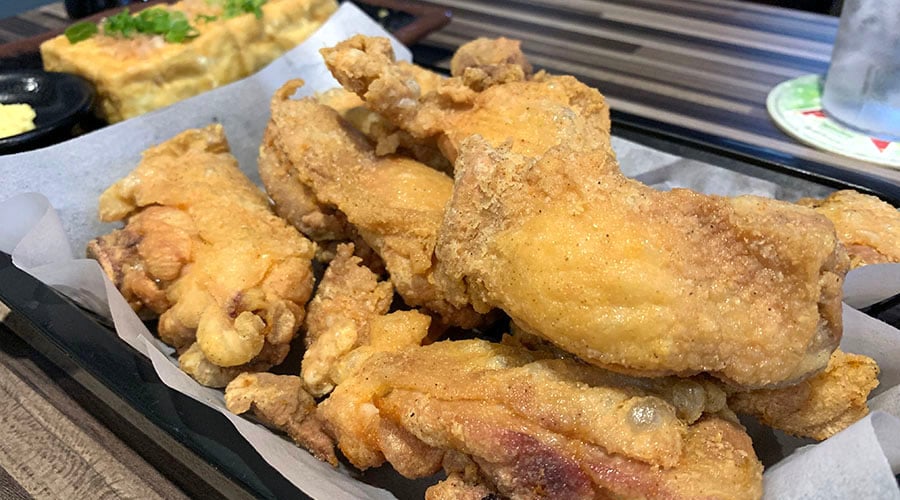 I'm going with Sakana Grill, whose chef formerly cooked at Hanagasa Inn. It's a straight-up fried chicken thigh that's crunchy, juicy and cut into smaller pieces, which is friendlier for sharing. No secret spice mixture and no sauces. Plus you get plenty for your $15! —Jason Chin
1311 N. King St., Kalihi, (808) 531-5988
Vons Chicken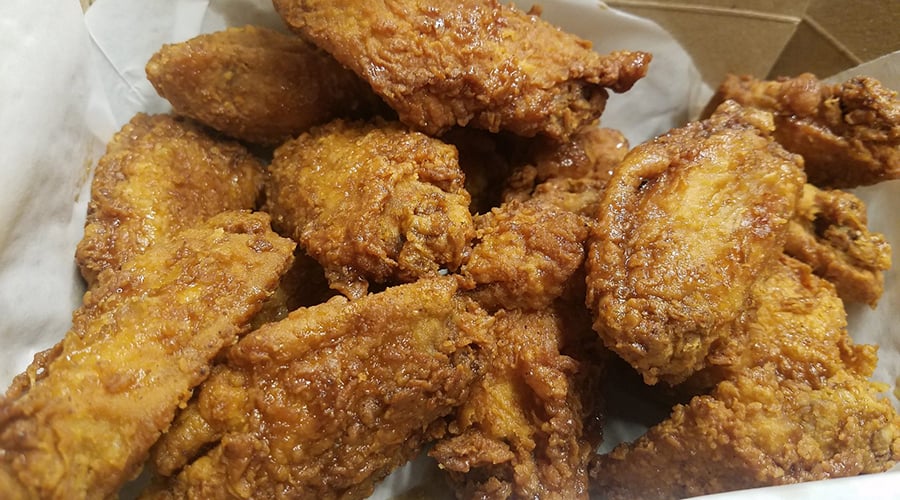 When it comes to fried chicken, I prefer wings over all other parts of the chicken, offering the perfect 50-50 ratio of crispy skin to juicy meat. When it comes to wings, I prefer Vons fried chicken over all others in Hawai'i. Vons offers a small menu primarily of wings in differing flavors with my go-to being the original and the shoyu. Whenever I know I'll be having Vons, I always end up salivating and am able to hear that loud crunch of skin in my future. A full order of shoyu crispy fried chicken costs $25.38; a full order of regular crispy fried chicken cost $24.43. —Gregg Hoshida 
1670 Makaloa St., Pawa'a, (808) 447-7700
1102 Pensacola St., Makiki, (808) 800-3955
---
SEE ALSO: Our Go-To: Ramen
---
Kickin Chick'n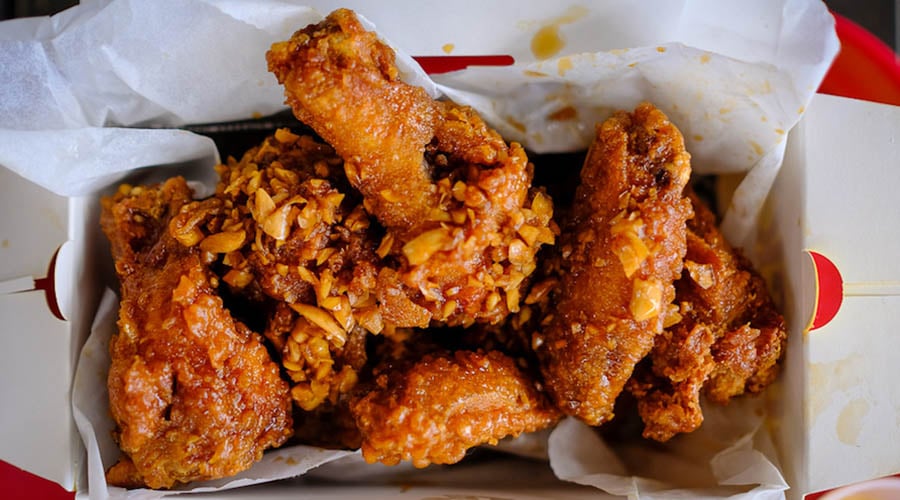 Crispy wings from Kickin Chick'n come in original, garlic shoyu and Kickin glazes, and you can choose either mild or regular spicy. With the first bite I realize why shoyu garlic is the best seller. The crunchy wings, coated in a sweet-salty garlic shoyu glaze, bring me right back to my last trip to Seoul where I ate fried chicken every chance I got. I can't stop eating these.
I couldn't choose just one fried chicken because I love these three spots equally. Read on for more fried chicken goodness. —Thomas Obungen
91-5431 Kapolei Pkwy., Kapolei, (808) 628-4800
Feast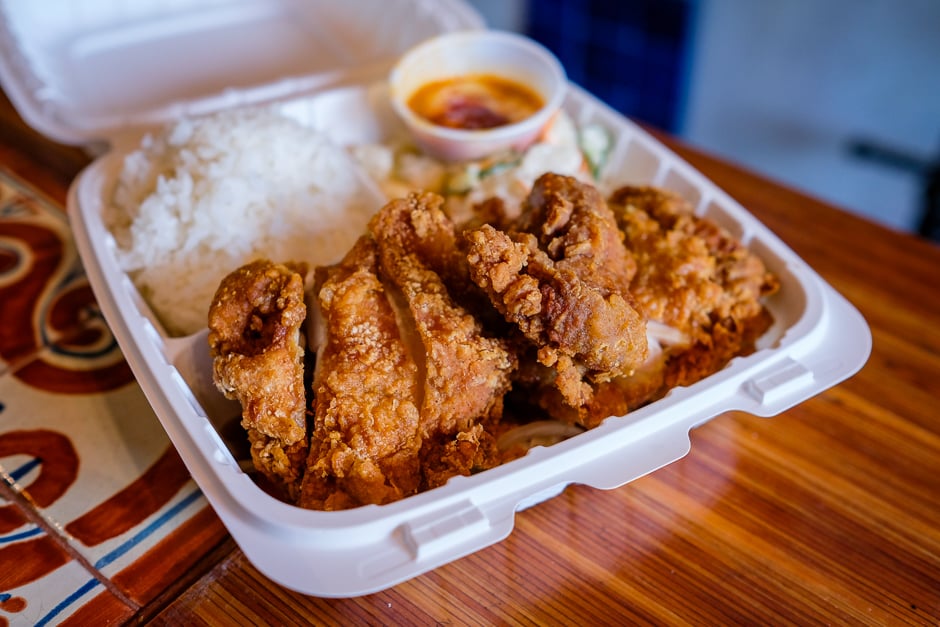 I feel like a born-again fried chicken lover because of Jonny's Fried Chicken (JFC) at Feast. O-M-G! Wow. What was created out of necessity when Matsubara was popping up at Anasia, a sports bar, is now a total stunner on the menu in Mānoa. The simplest of boneless, skin-on chicken thighs fried to a golden crunch. It's served over a bright lechon sauce with onions and tomatoes, which makes it a total rice-killer. For maximum umami, dip into the provided umami aioli with kochujang vinaigrette and you'll be a JFC convert like me. —Thomas Obungen
2970 E. Mānoa Rd., Mānoa, (808) 840-0488
---
SEE ALSO: Our Go-To: Milk Tea
---
Pa'ala'a Kai Mini-Mart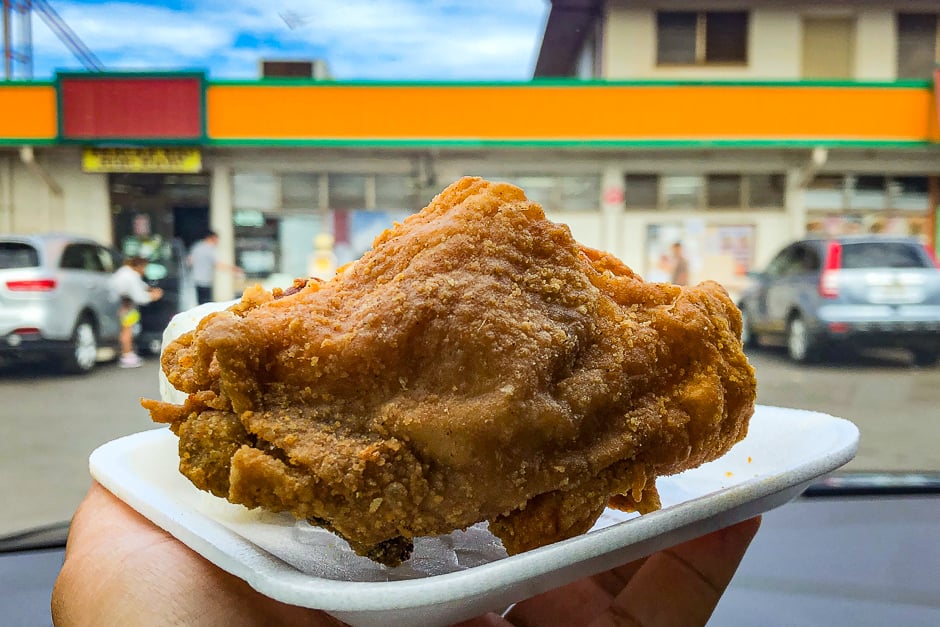 For the longest time, my go-to was Pa'ala'a Kai Mini-Mart in Waialua and I crave it still! I know, it's in a different country but that juicy bone-in thigh with perfectly crunchy skin is a nice dose of salty satisfaction after a long drive up north. —Thomas Obungen
66-935 Kaukonahua Rd., Waialua, (808) 637-9795
XO Restaurant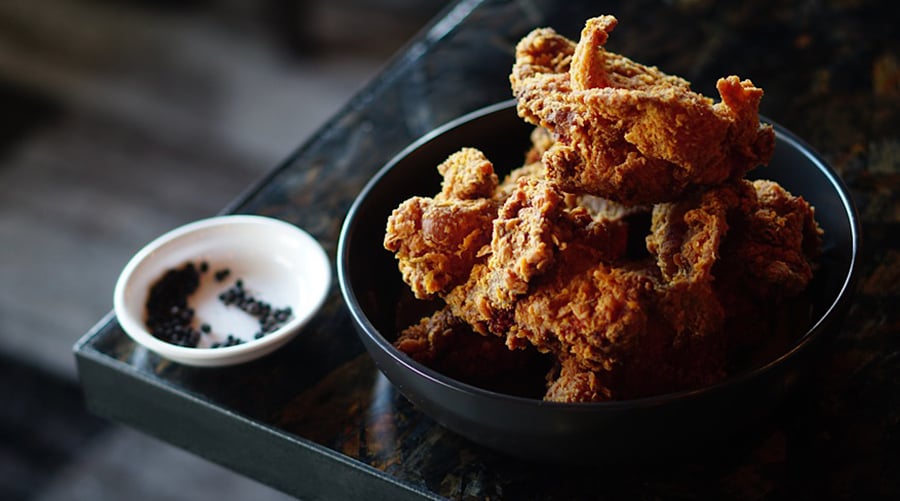 Perfectly executed, juicy and flavorful, it's easy to see why Restaurant XO's fried chicken ($23) is so popular. Served in a bath of tart, sweet, salty adobo sauce alongside a small plate of braised peppercorns, it is elevated yet soulful. The elements for excellence are here—crispy skin, moist meat and good seasoning—but the sauce puts it over the top. The braised peppercorns add texture and spice. This one-time staff-only family dinner at Senia is now available for everyone to obsess over. —Grace Ryu
3434 Waialae Ave., Kaimukī, (808) 732-3838
---
SEE ALSO: Best Fried Chicken: Our Top 5
---
Pancakes & Waffles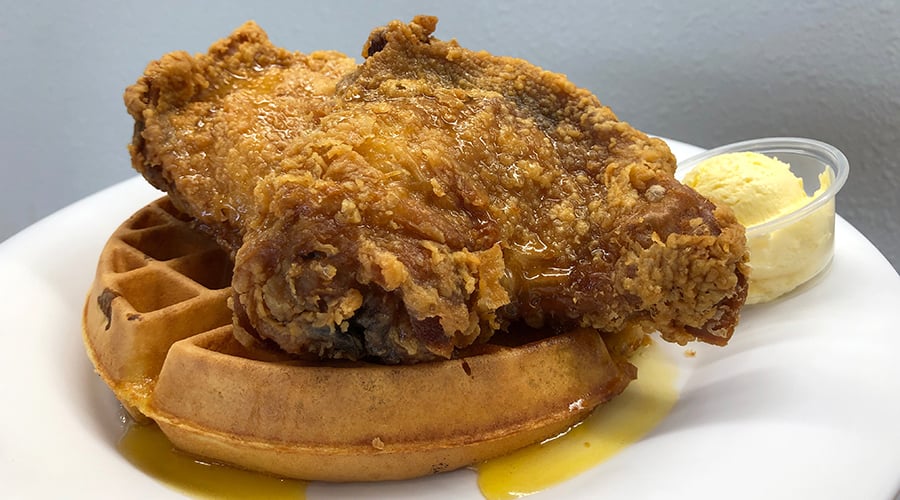 I'm a fan of Pancakes & Waffles' fried chicken ($11.45-12.95). It's good hot, cold and every temperature in between. It helps that their waffles are good, too. You can get two- or three-piece plates, but go with the honey butter fried chicken for the ultimate sweet and savory combo. —Grant Shindo
1284 Kalani St., Kalihi, (808) 847-7770
98-1277 Ka'ahumanu St., 'Aiea, (808) 200-7556
Liliha Bakery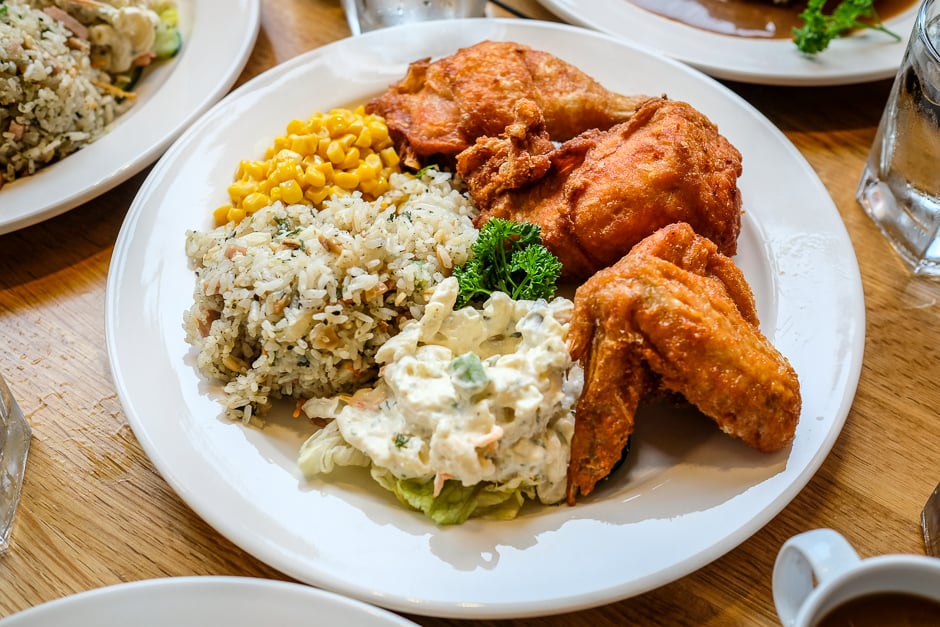 Whether I'm at the Nimitz restaurant or the newer location in Macy's Ala Moana, Liliha Bakery's fried chicken never disappoints, with a juicy interior and skin that's gloriously crispy but not too crunchy. It's always consistent in texture (soooo crispy), flavor and that signature golden-brown color. The two-piece plate ($14.95) is generous, but if I'm really hungry, I get the three-piece option ($16.50). Note: Liliha's fried chicken plate is only available after 11 a.m., and it's always worth the wait.
The cooks cut up and fry whole chickens at a time, so your plate could come with any assortment of chicken breasts, thighs or drumsticks. Each plate comes butter rolls, rice, corn and your choice of potato mac or tossed salad. Get the fried rice upgrade ($1.25 more) for the ultimate kanak attack. –Kelli Shiroma
1450 Ala Moana Blvd., Ala Moana, (808) 944-4088
580 N. Nimitz Hwy., Kalihi, (808) 537-2488
Zippy's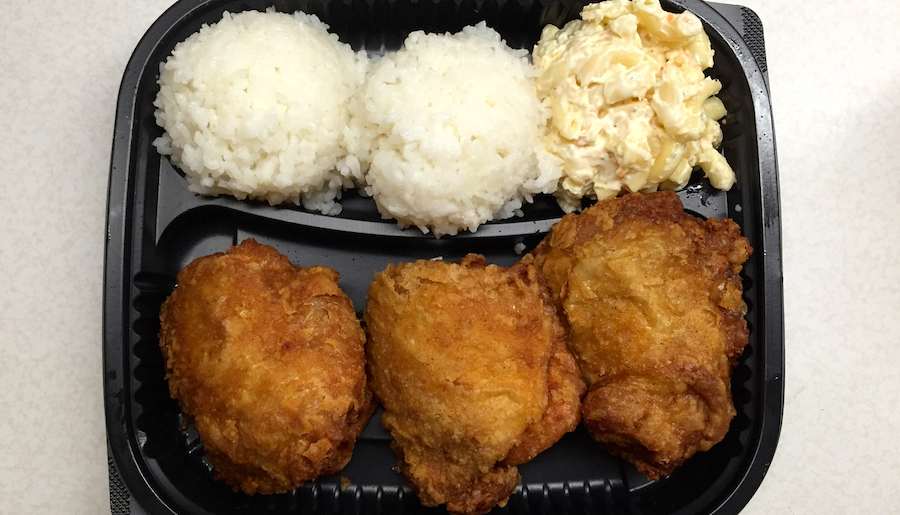 I know I wen say Lahaina Chicken is da bestest O'ahu fried chicken in Best Fried Chicken: Our Top 5 post. But go-to stay different from favorite. Lahaina Chicken is da bestest fried chicken, but my No. 2 Zippy's pick is my go-to choice. Cuz if I gotta bring chicken to one party, it's hard for me to bring Lahaina Chicken cuz they only sell 'em by da individual pieces. They no more one bucket or anything. Zippy's get uku-planny convenient locations and you can always get various quantity deals depending on your go-to chicken needs.
Some foodies probably going give me lotta flak for this choice. But whether you like it or not, Zippy's fried chicken sets da bar. Zippy's fried chicken is so juicy with one batter that's perfectly crisp, as opposed to overly crunchy like you eating cereal. —Lee Tonouchi
Various locations