Our 5 Favorite Things at Foodland Farms Ka Makana Ali'i
(Sponsored) From family meals and exclusive poke flavors to an in-store restaurant, here are some highlights from the Kapolei store.
K
apolei's Foodland Farms in Ka Makana Ali'i is the local grocery chain's newest location, and there are several wow features that make this West Side location stand out. Scroll below for exciting new finds exclusive to Foodland Farms Ka Makana Ali'i.
---
SEE ALSO: 5 must-try local dishes at Mahiai Table
---
No. 5: Family Meals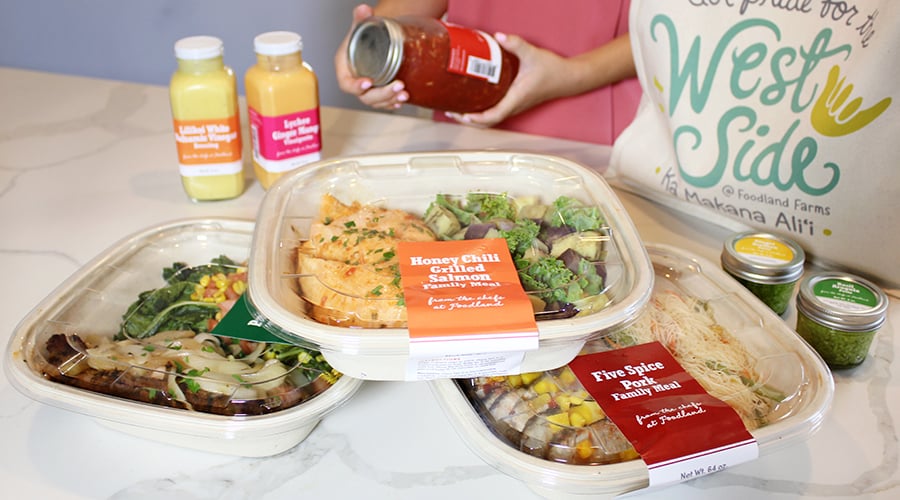 Foodland Farms Ka Makana Ali'i offers a variety of ways for customers to enjoy fresh, tasty and convenient meals, all prepared in-store by its chefs. These meals can be broken down into three categories: Take Home and Heat, DIY kits and Calabash meal kits.
Take Home and Heat meals are a definite time saver. They're fully cooked and prepared and designed to feed a family of four; you just need to reheat at home. Choices range from Guava BBQ rib tips and honey chili salmon to five-spice pork and Pulehu tri tip.
If you want a more interactive meal that gets the whole family involved, get one of Foodland's DIY cook-at-home kits. These kits come with pre-prepped raw ingredients, instructions and everything else you need to effortlessly make dinner for four. These DIY kits feature choices like miso-glazed pork roast, bulgogi steak tacos, chicken katsu curry, penne with meat sauce and more.
Feeling creative? Cook like a chef in your own home with Foodland's Calabash meal kits. Kits contain pre-prepped main dishes, side dishes, raw ingredients and instructions; they're designed to feed two. Visit eatcalabash.com to view a rotating menu of selections.
As an exclusive offer for Frolic readers, Foodland Farms Ka Makana Ali'i is giving 25% off any one item from the family meals or Chef Essentials line. Show this post to redeem. Offer is valid Aug. 10-23, 2020.
---
SEE ALSO: Foodland's Calabash meal kits = restaurant-quality meals at home

---
No. 4: HI Steaks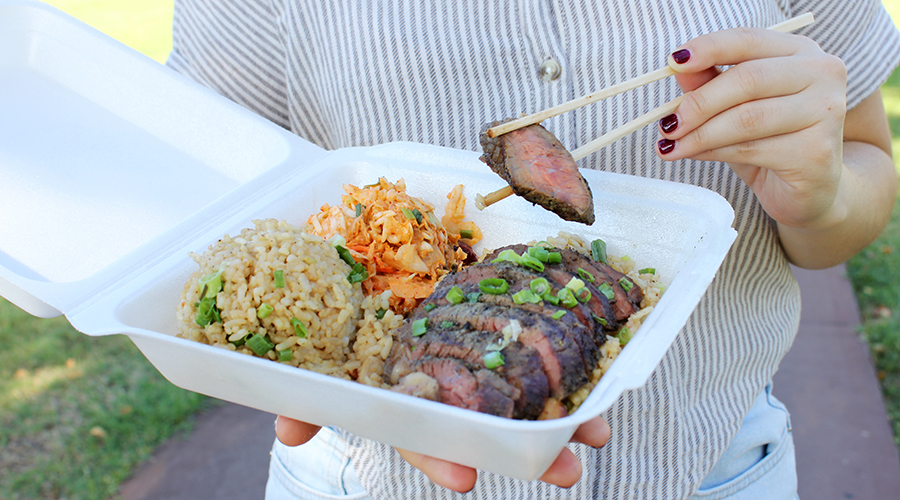 West Oahu's first HI Steaks location features all of the local-style sirloin plates and burgers, steak sandwiches and salads, smoked meats and all of the ono sides you already love from other locations. This is the fourth HI Steaks location within Foodland Farms.
At this HI Steaks, you can look forward to exclusive items like "Pork Candy" (housemade bacon) and Elote, or grilled corn. You also have the option to build-your-own bowl: Choose a base, pick a protein and add three sides, sauces and toppings to create a feast fit for any carnivore. Or, you can order à la carte or create a mixed plate with menu favorites like Lilikoi BBQ Steak, Garlic Chicken, Ginger Shoyu BBQ Chicken, Kiawe Guava Smoked Meat, Local Style Garlic Butter Shrimp and more.
---
SEE ALSO: New Foodland Farms Pearl City is OMG
---
No. 3: Chef Essentials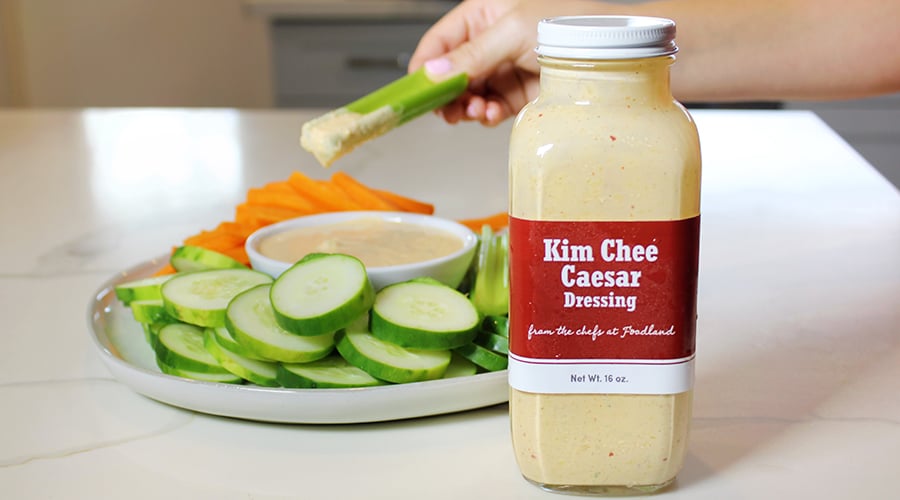 When you want to cook or barbecue like a chef, Foodland's Chef Essentials line of stocks, dressings, spice rubs and marinades is the way to go. These products made in house by Foodland Farms chefs are designed to make it easy to cook fresh, flavorful meals. Top sellers include Hot Pot broth, Cantonese Secret Sauce, Basil Arugula Pesto and Lilikoi White Balsamic Dressing.
Choose from the selection below to inspire your next home-cooking adventure:
Stocks/broths: Chicken stock, beef bone broth, vegetable stock, hot pot broth
Sauces: Umami Gravy, Cantonese Secret Sauce, Spicy Korean Chili Sauce, Basil Arugula Pesto, Garlic Alfredo Sauce, Tomato Basil Sauce, Ginger Scallion Sauce
Marinades: Garlic herb, shoyu ginger, lemongrass ginger garlic
Prep Made Easy: Minced garlic in olive oil, minced ginger in canola oil
Dressings: Soy ginger vinaigrette, Lilikoi white balsamic dressing, lychee ginger mango vinaigrette, mac nut herb vinaigrette
Spices/rubs: Foodland Pulehu Rub, Adobo Spice Mix, Linguica Spice Mix, Cajun Spice Mix
---
SEE ALSO: Sneak peek at Foodland's first in-store restaurant
---
No. 2: Mahi'ai Table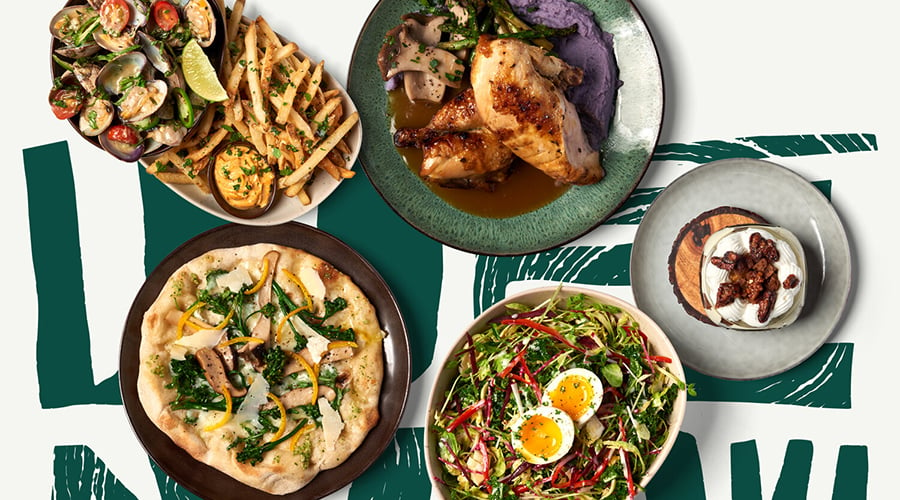 This Kapolei location is home to Mahi'ai Table, Foodland's first in-store restaurant. This full-service restaurant and bar is on the same side of Ka Makana Ali'i as Hampton Inn and 24 Hour Fitness. Not only can you enjoy a sit-down meal before you get your groceries, but you can also order groceries online while you eat and have them ready for pickup when you're done.
Mahiai means "farmer" or "farming" in Hawaiian, so you'll see a lot of locally sourced ingredients from places like Pono Pork, MA'O Organic Farms and Ho Farms on the menu. There are fast-casual breakfast items, and lunch and dinner choices include appetizers like mango-glazed chicken wings with arare; mains like burgers, pizzas and Pono Pork chops; and desserts like malassada crullers with lilikoi caramel and ube pie with vanilla coconut anglaise. For updated menus, visit https://www.mahiaitable.com.
No. 1: Poke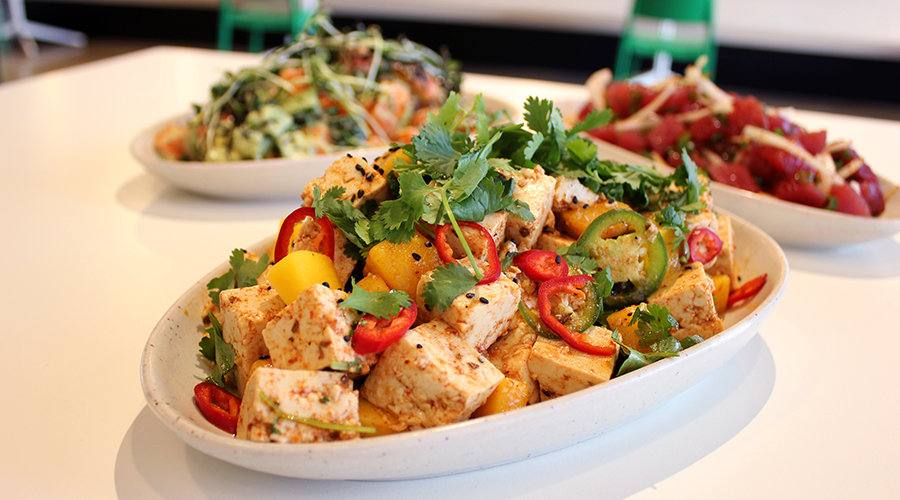 Whether you're craving spicy ahi poke, shoyu poke or limu poke, you can always get your fix at Foodland Farms. The store's large poke island serves up the largest selection of fresh ahi poke by the pound or by the bowl. And best of all — the ahi poke here is always fresh, never previously frozen.
Foodland Farms Ka Makana Ali'i is home to three exclusive poke flavors — Hawaiian Chili Pepper Ahi Poke, Mango Jalapeno Tofu Poke and Salmon Avocado Poke. The latter two flavors are Vegan friendly and Keto friendly, respectively.
Foodland Farms Ka Makana Ali'i
91-5431 Kapolei Pkwy.
Kapolei
(808) 670-2770
Daily 6 a.m.-9 p.m.; last restaurant seating at 8 p.m.