On the Edge of Kalihi, Da Sugar Mill Digs into Our Plantation Past to Deliver Simple, Soul-Satisfying Plates
Not just run of the mill.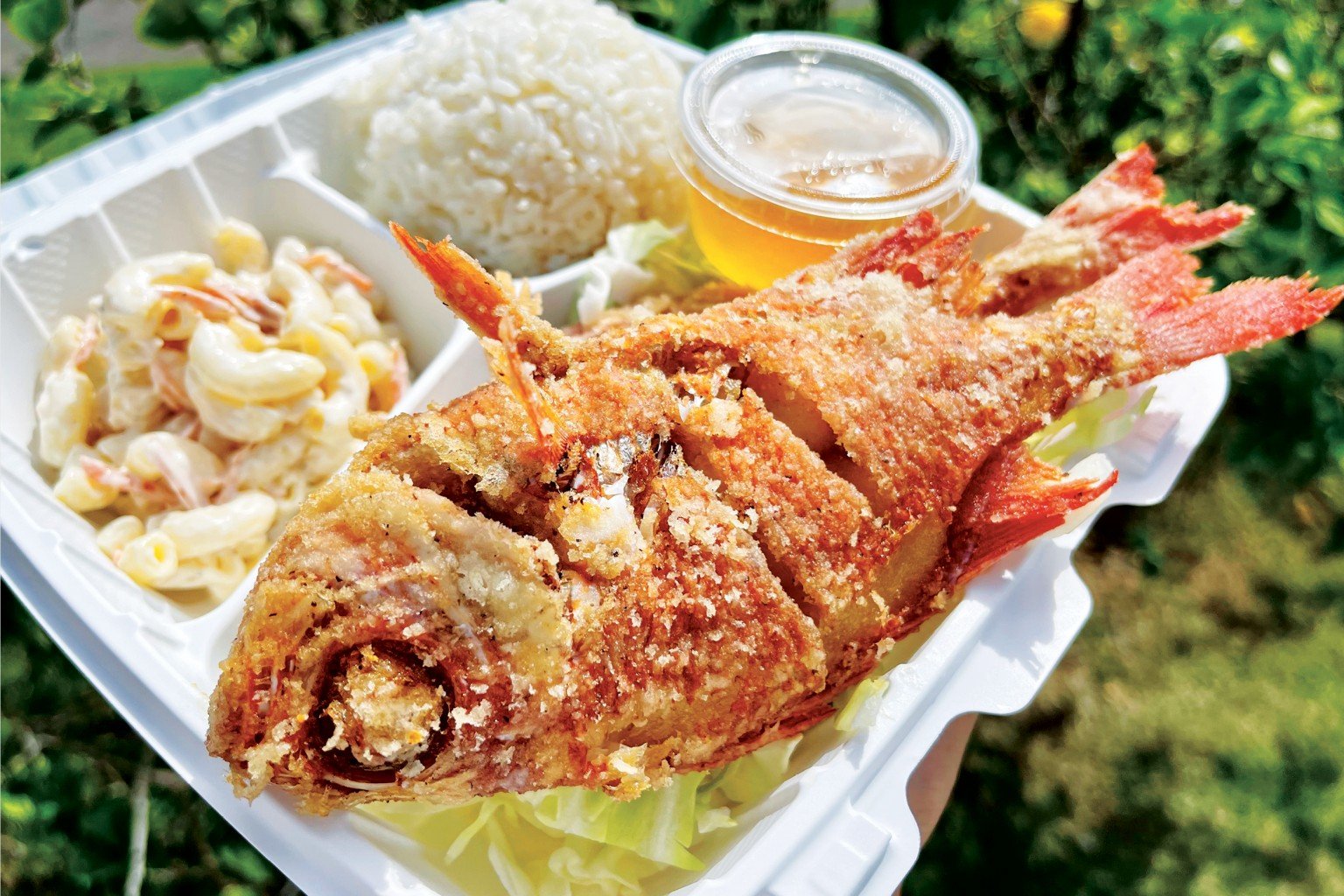 Update: In March 2022, Da Sugar Mill stopped its lunchtime takeout service and shifted to a farmers market only format.
Stepping in the door of the small space in Kalihi is like walking into your friend's auntie's home—a spot where you can talk story with the person cooking your meal just steps away. In this case, the person at the stove is chef Lawrence Ozoa. After years cooking for other chefs, including most recently at Nico's Kailua, Ozoa and his husband, Nigel Shea, opened Da Sugar Mill in October. There, at the end of King Street, they reimagine the plantation-style dishes that Ozoa grew up eating in his calabash community of Waialua.
Plantation-style food has come to mean different things to different people—but the common thread is of traditional dishes taking on local twists, bending to the available ingredients. Ozoa does this at Da Sugar Mill, adding his own thoughtful details while honoring this culinary period in Hawai'i.
Every item on the menu has stories behind it, which Ozoa is quick to share. Fried whole reef fish reflect the plantation-era spirit of "cook what get." He works with local fishermen to bring in sustainable varieties including ta'ape, akule, āweoweo, and my favorite, menpachi, that he fries up whole with a light dusting of potato starch. A side of creamy mac salad and chile pepper water complete the plates. The small reef fish deliver sweet, succulent flesh and crispy fins and tail. Devouring the entire creature with my fingers, bones and all, brings back comforting memories of my Filipina mama frying up akule and other small fish she bought from Shima's Supermarket when it was still a family-owned store. We would sit there and pick meat off bones for hours.
SEE ALSO: Da Sugar Mill Serves Up Modern Twists on Old-School Plantation Dishes in Kalihi
The curry plate is based on a recipe from Ozoa's grandmother that swaps out the beef stew chunks for short ribs. Deep spices play out in the collagen-rich sauce that bathes a base of vegetables and large, fork-tender beef short ribs that have been braised over a low flame over two hours. Homey and hearty, the dish has nuances of other flavors that take it beyond your usual Japanese curry but still meld into the old-school sensibilities of the dish. That is the beauty of Ozoa's style of food.
I don't believe I'm alone when I wish that adobo was easier to find at plate lunch places. My mouth often waters for the vinegary, peppery concoction my mom dishes out of her pot. I love both pork and chicken iterations, so the discovery of Ozoa's turkey adobo is intriguing. The lean turkey meat is shredded in a style similar to kālua pig and finished with a spoonful of the golden cooking liquid. While not as unctuous as other versions, the balance between tang and umami hits the spot, especially with forkfuls of mac salad to calm the acidity.
SEE ALSO: Have Drinks at Eleven, Foodland Farms Ala Moana's New Cocktail and Whiskey Bar
Da Sugar Mill certainly delivers on flavor and soul. There is clearly a special kind of joy that Ozoa takes in sharing the food that feels like home to him—you can feel and taste it in each bite. Other dishes include a Portuguese sausage okonomiyaki, fried butterfish and lū'au plate, chicken long rice and a teriyaki cheeseburger. Some menu items change while others stay the same, furthering Ozoa's vision of ever-evolving plantation cuisine.
2300 N. King St., #101, (808) 798-3072, dasugarmill.com, @dasugarmill