Olena and Melissa: Three-day juice cleanse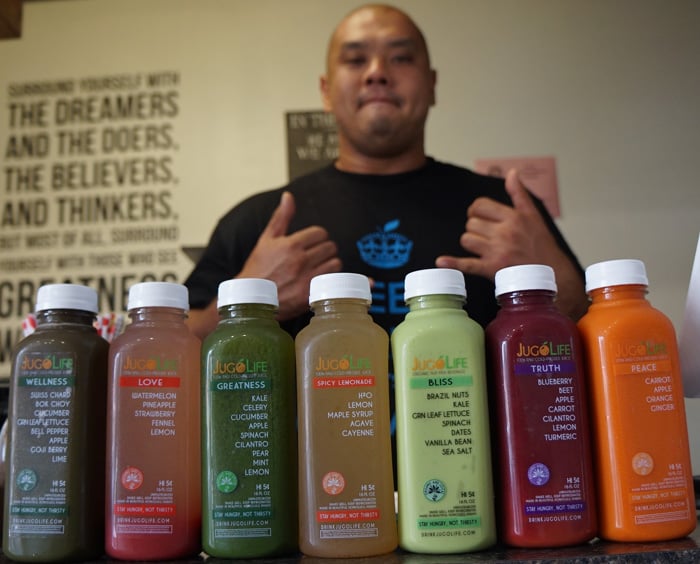 Juice cleanses have become extremely popular, but with so many different types — cold pressed, fresh squeezed, smoothies, master cleanses — it's hard to discern between them all. Two of our bloggers Melissa Chang and Olena Heu recently went on a juice quest, trying two different three-day cleanses to offer some insight.
Olena – Day 1
For its cleanse, Shaka Juice provides six raw, cold-pressed juices a day. The juices, all made from local ingredients, are labeled and numbered in the order they're supposed to be consumed. On the first day, I thought about food and wanting to eat throughout the day. I started to feel lightheaded, but I wasn't sure if it was due to hunger or because I was working and multi-tasking. I was still hungry when I went to bed in the evening, but I had a nice rest.
Liked: By the time I got to the fourth bottle, Roots (pineapple, carrot, ginger and lemon), my desire for food subsided. I also liked the savory flavors.
Disliked: The first juice, Morning Elixir (lemon, alkaline water, cayenne and honey), was spicy and hit me in the back of my throat, making me cough.
Melissa – Day 1
Jugo Life gives you the same six cold-pressed juices each day, with a few guidelines: Start the day with one of the green juices; make the spicy lemonade the fourth drink; and end the day with Peace, the carrot-apple-orange-ginger blend. Owner Tommy Oh also advised me to take about 15 to 20 minutes to drink each bottle. Other than that, the rest of the juice order was up to me. He threw in a bottle of Bliss, which is a Brazil nut-based milk, to sip on if I got hungry during the day.
If you were wondering about the very zen-like names of the juices, Tommy got the idea from this video.
Since I had previously done a juice cleanse, I didn't feel as lightheaded, but I did feel a little hungry. Interestingly enough, Olena and I were both craving quesadillas around dinner. I worked out to help it along.
Liked: The green juices are very mild compared to others I've tried. The best one is the watermelon juice.
Disliked: I found the beet juice way too sweet, although I do like beets. Tommy swapped that out for another green juice called Grateful (grapes, kale, cucumber, pineapple, pear, fennel, basil and lemon) for the next two days.
Olena – Day 2
I woke up feeling great. My skin was soft, supple and had a nice glow to it. I noticed after I relieved myself in the bathroom that there were some dark and unusual colors (must be the two green juices and the beet juice). I felt hungry most of the day, but it was more tolerable. My energy level was high, and I had a great sense of clarity. I even spoke at an event at Hawaii Theatre and felt wonderful.
Liked: The Green Dream (celery, cucumber, watercress, apple, kale, lemon and ginger) proved to be a nice drink at the function I spoke at, quenching my thirst and satiating my hunger.
Disliked: I am not a huge fan of beet juice and had a bit of a hard time stomaching the Purple Kush (beets, kale, celery, mizuna, bok choi, watercress, cucumber and lemon).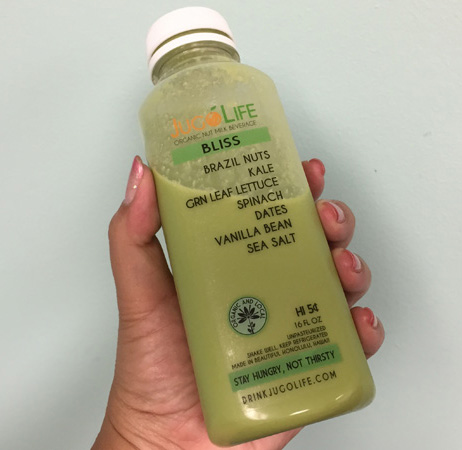 Melissa – Day 2
Interestingly enough, I woke up with bright clarity and a normal amount of energy. But as the day wore on, I found myself increasingly tired and hungry, so put myself down for a nap. I don't know how people with regular jobs do this!
I forgot to go to the launch of the new Elevate Structure, but managed to get to a test run of the new Goma Tei in Kahala Mall. The smell of tan tan ramen almost killed me. The smell of shoyu-sugar cooking was also hard to resist.
Having run 17 marathons, I know by now that most of life is mind over matter, and any food cravings I had were really just mental. I wasn't weak, so was able to work out again.
Liked: The Grateful juice was good! I am glad Tommy had an alternative to the beet juice. Also, I found out that most of the ingredients in these juices are organic.
Disliked: I only had the basic six bottles on this day and found myself wishing that I had taken another Bliss juice to stave off the hunger. But I really wanted to get the full effect of this cleanse, so I powered through it.
Olena – Day 3
On my last day, I woke up and wasn't really hungry anymore. I had a busy day. I'm in a musical and had rehearsal that night. It was very hot, and we were all sweating, but after rehearsal, I felt wonderful. I wasn't hungry, but I also felt lighter, happier, more energetic, and my complexion was clear. I went home and chugged my last bottle of milk. I felt a little nauseous after, because I may have overexerted myself with the singing and dancing.
Results: Although it's not advised to do a juice cleanse to lose weight (it's designed to reset your body and digestive system), I lost six pounds. My skin from head to toe had a beautiful glow to it with no acne in sight. I felt great. My blood pressure went from 108/67 to 104/65, and I felt as if my stomach was flatter and my body overall more toned.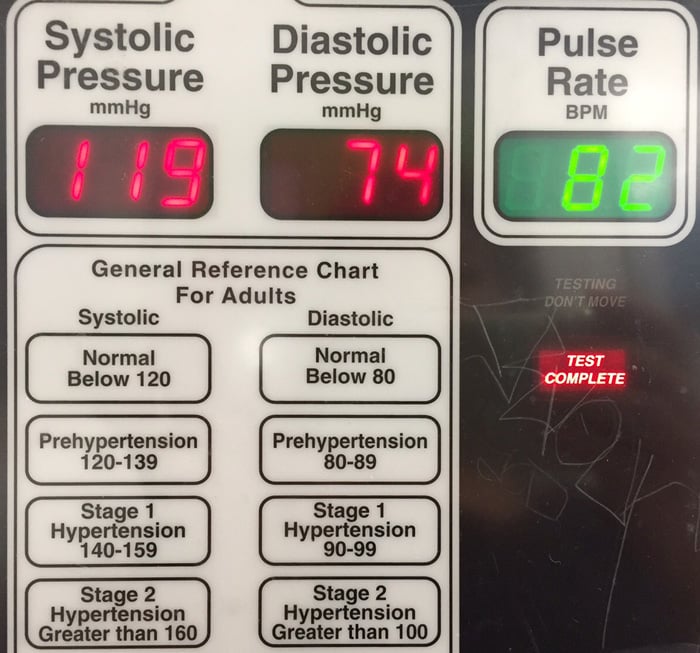 Melissa – Day 3
Thanks to my nap, I was able to pull an (almost) all-nighter to get two blog posts out. I then had four hours of sleep (not recommended), but didn't feel bad when I woke up. I went through a full day of work and errands and worked out twice, and felt fine. Since I had done the extreme sleep deprivation thing the night before, I did have a bit of a caffeine headache and had to take another short nap during the day. I'm sure this isn't what will happen for normal people. The important thing to note is that I was able to work out every day and there wasn't a problem.
Results: I lost about five or six pounds again (I'm not sure because the digital scale at the gym kept erroring out) and by the second day, my shorts were already starting to get loose. But for me, it's not necessarily about the weight; it's the inner health. My blood pressure was hovering around 140/80 last week, but at the end of yesterday, even with some road rage, this was the result. I loved not being bloated, either.
A three-day Shaka Juice cleanse is $156; the Jugo Life 3-day cleanse is $145. All of the cleanses were provided at no cost to Olena and Melissa.