Okinawa's Potama Spam musubi sandwiches are coming to Waikiki
Pork Tamago Onigiri is one of a dozen Japanese vendors opening at Royal Hawaiian Center's new food hall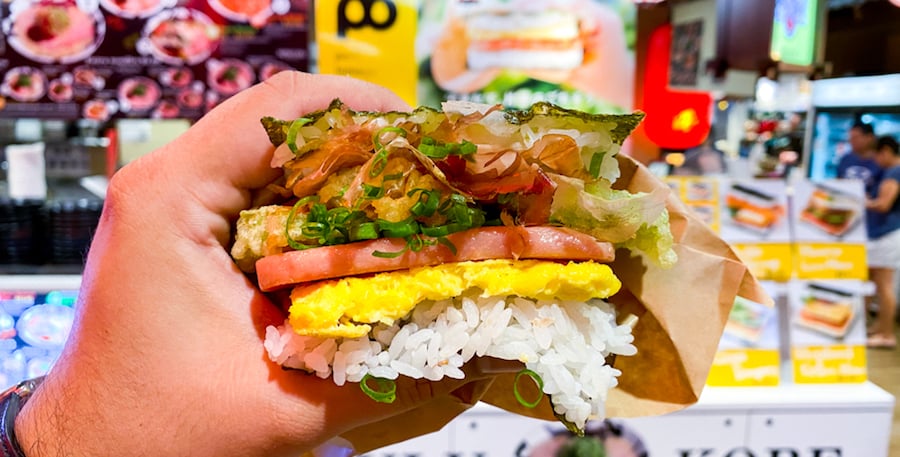 Okinawa shares many similarities with Hawaii including weather, gorgeous beaches and an affinity for canned comfort food. One Okinawan delicacy shop that has gained popularity in recent years is Pork Tamago Onigiri or "Potama" as it's affectionately called. A potama is a Spam musubi with an Okinawan bent. It's wrapped up like a foldover rice sandwich around a slice of tamagoyaki omelet. From there, additional toppings vary — anything from deep-fried shima tofu to bittermelon tempura and pork fat miso paste, all natsukashii (nostalgic) for Uchinanchu.
Potama musubi are normally found at bento shops and convenience stores in Okinawa. Locals customize them by adding items like chicken karaage, pork miso and tempura as toppings.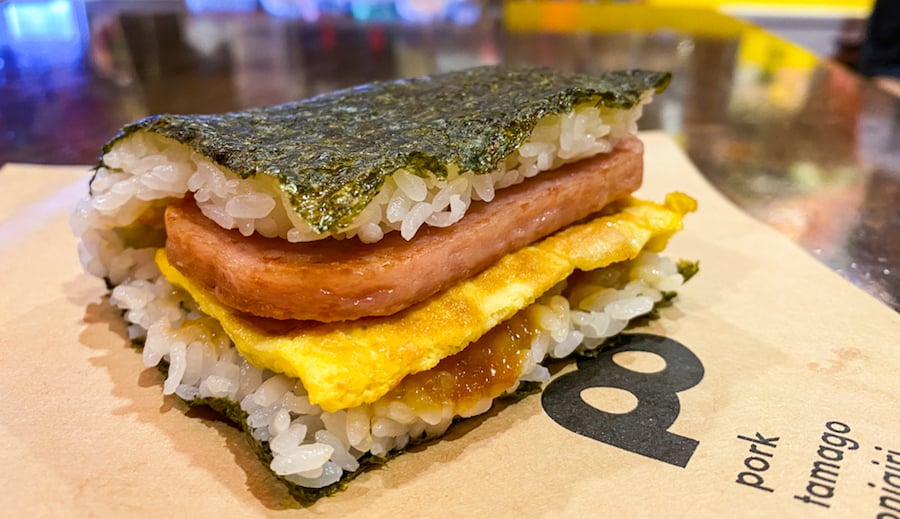 If you follow us on Instagram, you might have noticed that we stopped by the Pork Tamago Onigiri pop-up at Shirokiya Japan Village Walk last week. Without much warning, they quietly set up in the Gashoken Ramen stall to test-run their Spam musubi sandwiches ahead of their international debut at Royal Hawaiian Center's new Japanese food hall slated to open early next year in the former Beijing Chinese restaurant.
After seeing it all over Facebook and YouTube, Pork Tamago Onigiri was already near the top of my list for my trip to Fukuoka and Okinawa this winter. Getting an early taste has heightened my excitement — I can confirm they are just as delicious as they look.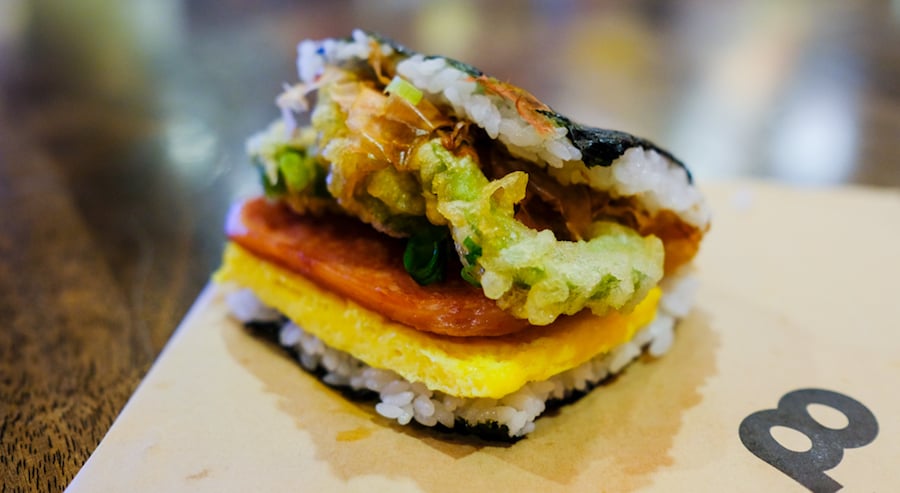 I went twice to try a variety. My conclusion? They're all delicious. My favorite is the one topped with slices of bittermelon or goya tempura and katsuobushi bonito flakes. It's like a handheld goya champuru (tofu stir fry) without the tofu. The balance of sweet vinegared rice with savory egg and salty Spam contrasts with the sharp bitterness of the goya. It's all rounded out by the heavy umami of katsuobushi, making this musubi hard to put down once you start eating.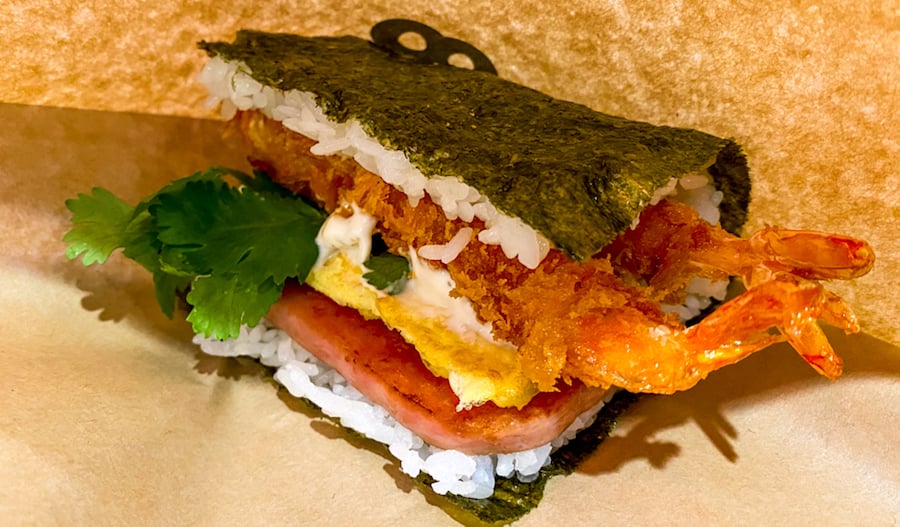 My next favorite is the original potama with a schmear of sweet homemade abura miso, which is miso paste seasoned with pork fat. I'm not sure how they smuggled this in but it was well worth their effort. I also enjoyed the deluxe potama with two crispy panko-crusted shrimp ($6), tartar sauce and cilantro. The contrasts of texture and the creaminess of tartar sauce cut by sprightly cilantro awaken the palate like no other musubi.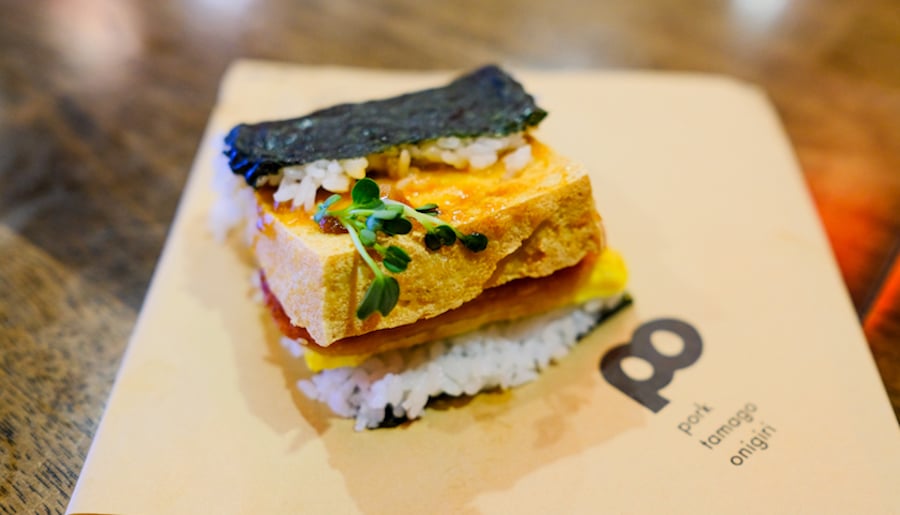 The signature potama comes served with a thick slice of deep-fried shima tofu, abura miso and daikon sprouts ($6). Although it wasn't my top choice, I respect it for being the most filling option. A loco moco potama was advertised but I don't think they had the proper equipment in place to make it.
I'm looking forward to visiting the main shop in Naha, but I'm just as excited to know that I'll able to enjoy Okinawan potama musubis back home. I'll be following this and the opening of the food hall very closely.
Pork Tamago Onigiri
2301 Kalakaua Ave. Ste C311 B1
Waikiki
Opening spring 2020