Off-the-beaten-path recs for Valentine's Day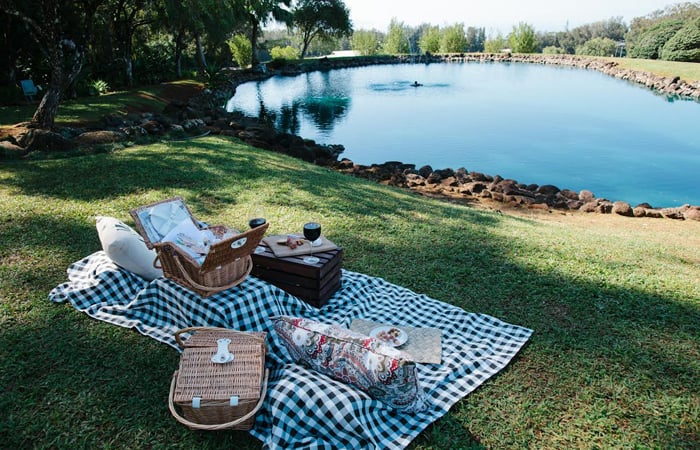 Valentine's Day doesn't have to be all about flowers and candles and a romantic dinner with a view of the sunset. OK, that does sound pretty good, but for those who prefer to defy convention, or just got shut out of dinner reservations, the Frolic team has come up with these off-the-beaten-path ideas for romance.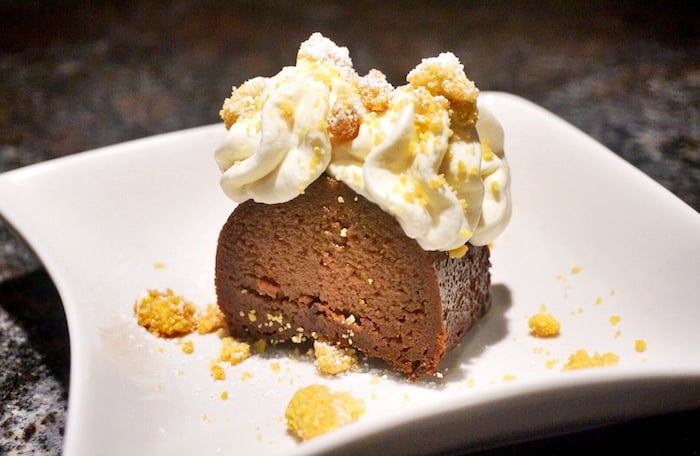 Chocolate Lover's Spat party at Off The Wall Craft
Sweet and savory fight their classic battle at a Chocolate Lover's Spat party on Off The Wall Craft restaurant's grand opening night. Chocolate-themed desserts like Nutella-roasted banana sandwich rolls, fried house-made chocolate-filled Twinkies, S'more tarts and baked Nutella fudge headline the #DessertFirst faction, while #FoodFirst dishes will include mocha brisket sliders, mole-style BBQ ribs and rafute-style sushi with braised kurobuta pork belly and chocolate-peanut butter-miso glaze. All will be served at stations around the dining room. Other stations will feature a raw bar, sautéed clams and more. Frolic's own Ed Morita is the pastry chef; Andy Mitani handles savory.
Off The Wall Craft • 1272 S. King St. • 591-WALL (9255) • Feb. 14 from 5 to 9 p.m. • Presale $50 per person by phone order or register on eventbrite, $65 at the door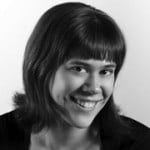 Tracy Chan's picks
Motown Valentine's Day with Kings of Spade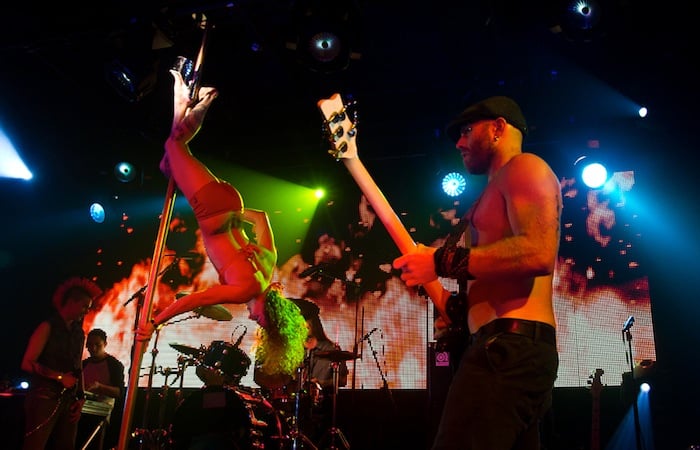 If you're single and want to rock out with some seriously hot people, or if your love LOVES rock and roll, blues, soul, Motown and funk, these guys really know how to put on a show! Now in its fourth year, the incredibly popular event (presale is recommended because it sells out every year) hosted by charismatic local blues rock band Kings of Spade features guest singers and musicians. This year's guest lineup includes The Bentos, Yoza and Taimane, doing covers of classic Motown hits like "Heard It Through The Grapevine," "Please Mr. Postman" and "Signed Sealed Delivered."
Motown Valentine's 4 • The Republik • 1349 Kapiolani Blvd. • 941-7469 • Feb. 14 at 9 p.m. • Tickets: $15 at http://www.flavorus.com/event/Motown-Valentines-4/280354
CabaRAE Cupid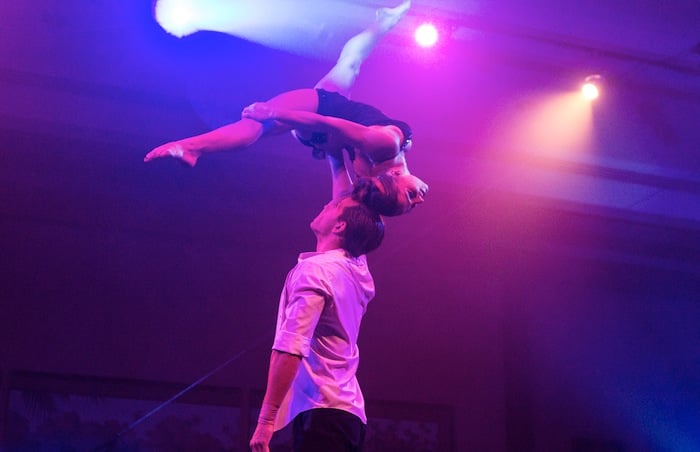 Sexy, quirky, irreverent and awe-inspiring, CabaRAE, Waikiki's newest 360-degree variety show, is a great way to treat someone special to a night out. CabaRAE Cupid packages start with a romantic dinner for two at Benihana featuring a sizzling menu of steak, lobster, shrimp and more. Afterward, a special love-themed performance by Cabarae—already a hit for bachelorette and birthday parties—comes with playful amenities like chocolate-dipped strawberries, signature cocktails and take-home 'tickle' feathers. A red-themed after-party ($20 at the door) will have cocktails, DJ Vaughn and surprise performances from 10 p.m. to 2 a.m.
CabaRAE Cupid • Hilton Hawaiian Village • Feb. 13 & 14 • Valentine's packages are $150 per person ($300 per couple) • Reservations at https://cabarae.com/ticket-information/special-offers or 354-0629 • Parking: Self-parking $8 with validation, $13 valet • VIP Benihana reservations available 5 to 5:30 p.m. only (show starts at 8 p.m.)
Pink Valentine's Day party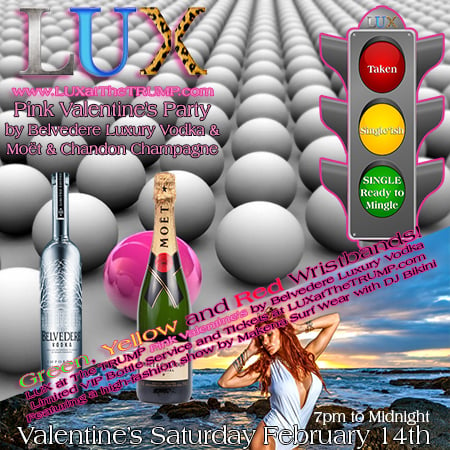 See and be seen at LUX at the TRUMP's Pink Valentine's Day party, featuring a raised-runway fashion show with Makena Surf Wear bikini and swimwear, a great view of the fireworks at 7:30 p.m. in Waikiki, and a black-tie-and-gown-with-pink-accessories-encouraged dress code (no denim, please). This is also one of the only parties in town doing a relationship status wristband code: GREEN = Single and ready to mingle, YELLOW = It's complicated but you're open to possibilities, and RED = Taken.
LUX at the Trump Waikiki • 223 Saratoga Rd. • Tickets: $10 and up at http://LUXatTheTRUMP.EventBrite.com/ • https://www.facebook.com/events/1548817985364885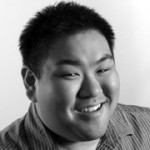 Grant Shindo's pick
A romantic picnic at Sunset Ranch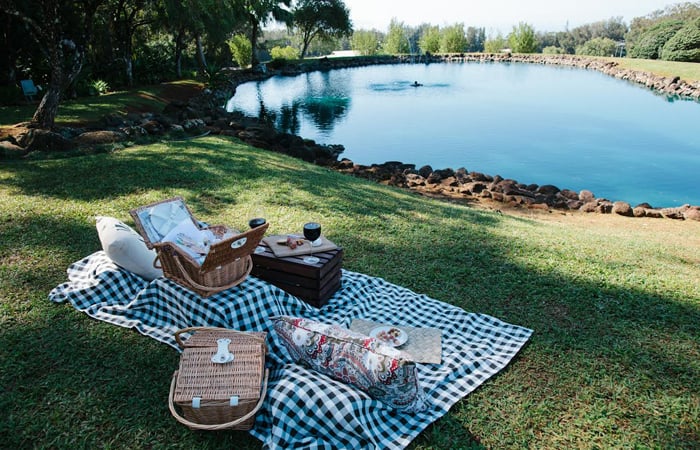 One of my all-time favorite dates was a picnic that I planned in a scenic park where I packed a gourmet lunch to enjoy in nature. For Valentine's Day, I love the views at Sunset Ranch in Pupukea. You can experience the cool breeze of the mountains and the warm sunshine of the beach all in one magical setting. Let the guys at Picnic Hawaii do all the setup, catering and breakdown for your Valentine's meal. All you have to do is show up with your special someone and savor the moment.
Picnic Hawaii • Sunset Ranch • 59-777 Pupukea Rd. • Feb. 14 • Lunch or dinner, $49 per person • Call 638-8333 for reservations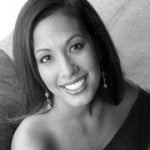 Olena Heu's pick
Scavenger Hunt
Like most girls I love surprises, but I love it most when someone takes the time to think something through and really make the day special. A fun idea that won't break the bank is a scavenger hunt: Provide clues about where you are headed; once you get to the first stop, offer a clue to the next. A sunrise hike up Makapuu could be followed by a picnic brunch on the beach with all the food and drink prepacked in a cooler in the trunk. Or plan a day of adventure on the North Shore using emojis as your clues: a shrimp to hint at lunch at a shrimp truck, waves because you're going to watch the big-wave pros. Be creative, put thought into making it special and s/he will love it!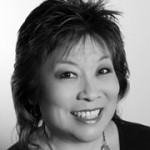 Melissa Chang's pick
Happiness University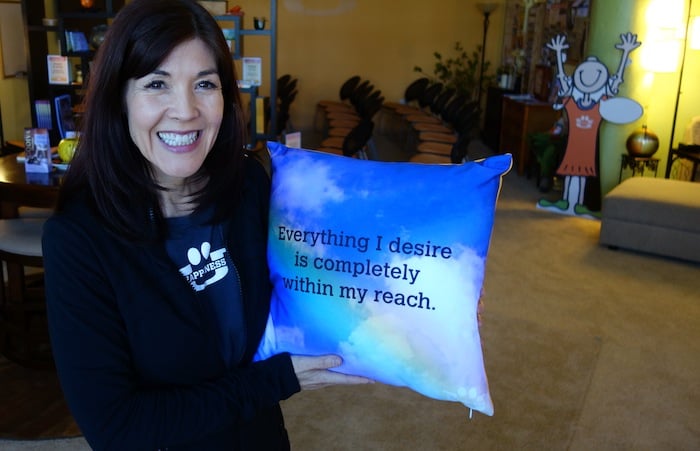 Valentine's can actually be pretty depressing for Singletons, even for those who are single by choice. Instead of staying home and moping, why not take a class, maybe with other like-minded single people? Alice Inoue runs Happiness University (www.YourHappinessU.com) with workshops and classes year-round to build your well-being, but on V Day, you can take classes like Date Smart You, Happiness 101, Pick Your Personal Word of 2015, and Life & Happiness Talk. Still need more to help you manifest a Valentine? Alice sells these pillows of affirmation to remind you to keep on track with a positive mindset.
Happiness University • www.YourHappinessU.com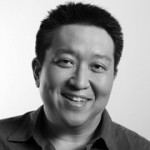 Myong Choi's pick
Dinner and this movie
Call me unoriginal, but I'm a dinner and movie kind of guy. Nothing could be more romantic than a nice meal followed by a great movie. But instead of spending hundreds of dollars and fighting crowds of men desperate to keep their women happy, enjoy the evening in the comfort of home.
You can find ideas for what to cook anywhere. And for a solid movie recommendation? Forget the romantic comedies and Nicholas Sparks films. What you want is a film that can be enjoyed by both of you. That film is "True Romance." The title says it all. Sure, it's violent and graphic at times, but at heart this is a truly sweet story about two loners who find the purest love while trying to get rich on even purer cocaine. With an all-star cast, brilliant dialogue and lots of heart, "True Romance" is the ultimate Valentine's film. I'm pretty sure it will lead to even more romantic moments before the credits finish rolling.
And hey, this film is for the singles out there, too. If a comic book-reading, kung fu movie-loving loner and a girl who sells sex for money can find true love, there's hope for all of us.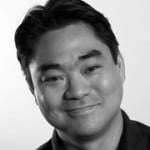 Brian Watanabe's … pick?
The other side of Valentine's
With two little ones and a bunch of work and life chaos, I can see myself on Valentine's Day running to get chocolate-covered strawberries from the Honolulu Chocolate Company, flowers from Paiko and a gift card for the spa at the Moana — basically the same thing I've given my wife for the last four years. I'm not good at math but my daughter is four years old, so there may be a correlation. The best off-the-beaten-path celebration for us would be a good night's sleep. You all have fun with that romance stuff. I'll be washing baby bottles.