Now you can eat dinner at Scratch Kitchen & Meatery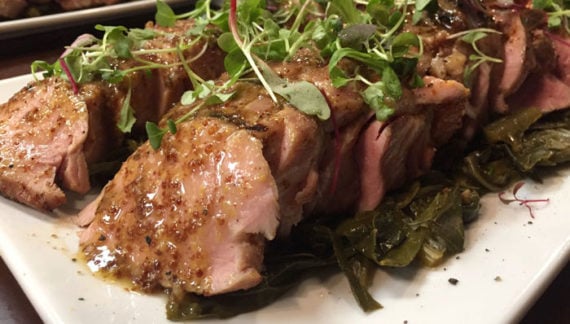 Calling all carnivores: Scratch Kitchen & Meatery's dinner launches Friday, June 16. Yes, the lineup is meaty, but with chef-owner Brian Chan's Creole leanings, you also get seafood, grits and desserts that don't skimp on the cream.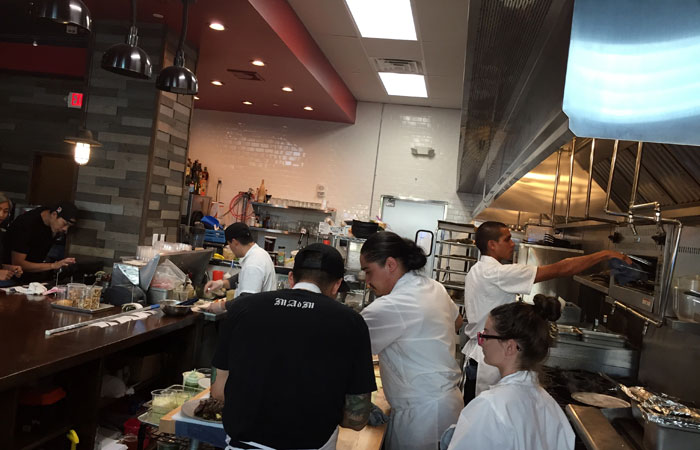 Meatery's staff preparing for the full-dinner service. All the dinner items are new to Meatery.
Aside from pop-ups, it's the first time Scratch is serving dinner (even Scratch Kitchen & Bake Shop, its Chinatown sister restaurant, specializes in breakfast and lunch). Some of the new menu's tapas will be familiar to Scratch Kitchen regulars. You'll find staples like the boudin fritters ($8) with corn maque choux and creamy, savory remoulade, as well as crispy Brussels sprouts ($6) and Creole red beans ($8).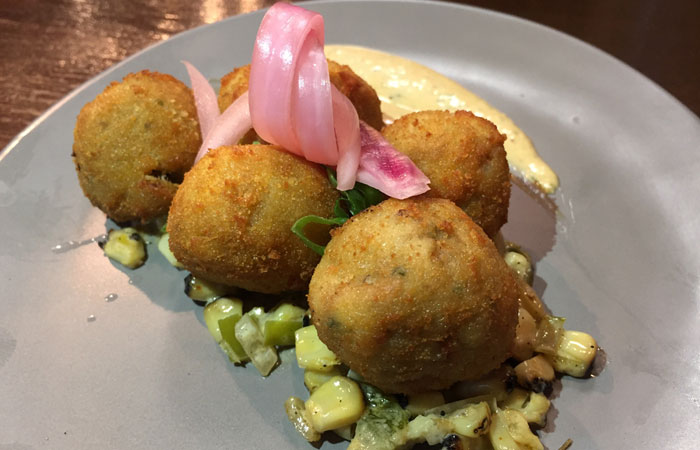 The boudin fritters are my personal favorite side dish — little morsels of rich, shredded meat in a crispy shell.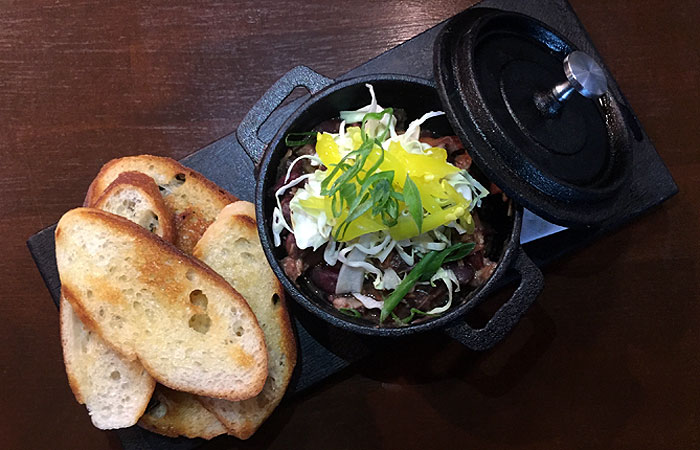 For some extra spice, try the Creole red beans with smoked ham hock, pork ribs, pickled peppers and cabbage.
You'll find a lot of shared plates and entrees. If you love seafood, order the oyster roast ($12), which is inspired by the East Coast lobster roll. It's topped with Spanish chorizo, sherry cream sauce and manchego and served on country toast.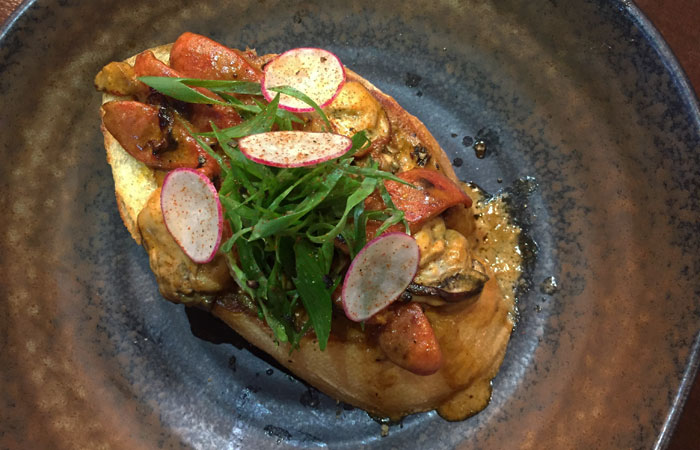 The oyster roast is one of my new favorites. The oysters are succulent and juicy, the chorizo just spicy enough and the roll is buttery and fluffy.
The Pono pork loin ($22) comes with green chili mac 'n cheese, braised collards and a Creole mustard glaze.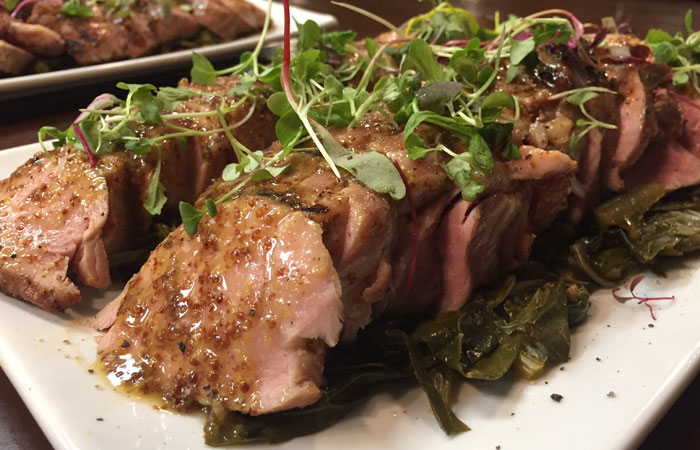 While the pork loin is tender and juicy, the green chili mac 'n cheese stole my heart — it's creamy and super cheesy with a hint of spice. You can get this as a side dish for $6.
Some Chinatown lunch favorites are on the menu, such as the BC Burger ($16) and Shrimp n' Grits ($18).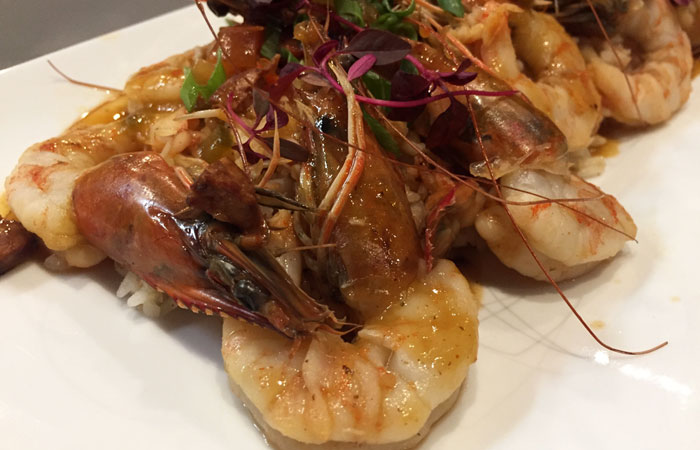 Shrimp n' Grits comes with andouille sausage, hominy, red eye gravy, Louisiana hot sauce and stone-ground smoked cheddar grits.
Even if you're meated-out, you should find some extra room for one of these desserts.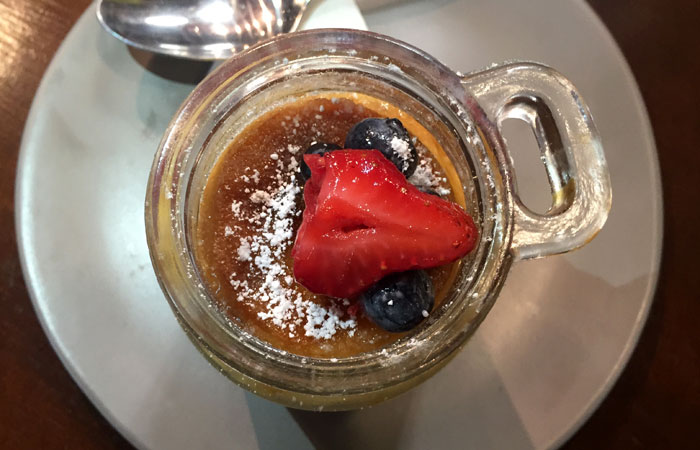 The caramelized honey crème brulee ($8) is topped with berries and vanilla whip.
This ain't no ordinary chocolate chip cookie bread pudding ($8). It's dense, chock full of chocolate chips, filled with toasted walnuts and — wait for it — drizzled liberally with "milk sauce."
I can't wait to return and try the Mediterranean Halal Cart "Lamb Over Rice" (inspired by The Halal Guys' combo platters), southern hot chicken ($20) and foie gras loco moco ($32).
Scratch Kitchen & Meatery
South Shore Market
1170 Auahi St. #175
589-1669
Weekdays 9:30 a.m.-3 p.m.
Weekends 7:30 a.m.-3 p.m.
Dinner daily except Sunday 5-9 p.m