Now you can Build Your Own Ramen in Pearl Kai
Hot slurps for cold days — but this clearly named restaurant lets you DIY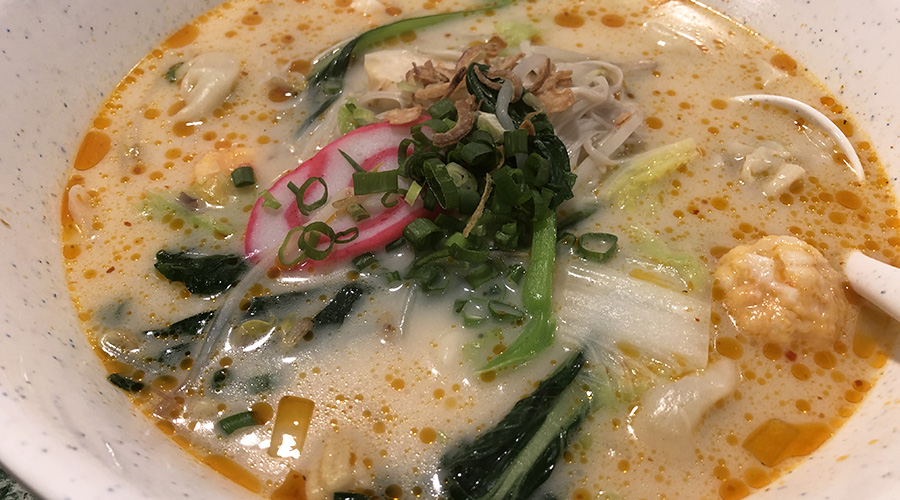 You're probably familiar with build-your-own poke bowls and hot pot, but what about building your own ramen?
The DIY concept is the basis of Build Your Own Ramen in Pearl Kai Shopping Center. You won't get authentic Japanese-style ramen here. It's more like Taiwanese hot pot made to order — with ramen noodles.
Here's how to build your own ramen:
Step 1: Get your bearings
As soon as you walk in, you'll see a variety of proteins and veggies to your left. Browse the selection before filling your basket.
Each bowl costs $11 per half-pound (with a minimum of half a pound), so your cost is determined by the weight of the ingredients you choose. Keep that in mind when filling your basket with heavier meats.
Step 2: Grab a basket and fill it up
If you want to eat healthy, there's plenty of fresh veggies including choy sum, Chinese cabbage, baby corn, zucchini and broccoli.
Seafood lovers, pick from lobster balls, fish balls, shrimp, squid and more. If you want meat, there's Spam, pork wontons, beef balls, hot dogs and "premium" meats like beef tongue and pork belly. For premium meats you'll need to grab a laminated ticket and bring it to the counter. You get four or five meaty pieces for an additional $2.
Step 3: Choose your noodles
Weigh your basket and bring it to the counter. Take your pick from the noodle/rice selection: ramen, udon, bean threads, pho or white rice. Ramen's the most popular choice.
Step 4: Choose your broth
All soups are housemade and can be made spicy if you prefer. The most popular of the 10 broth choices are beef, spicy, healthy herb, spicy sour cabbage, pumpkin and tonkotsu.
Step 5: Slurp's up
Now grab a table and wait for your customized ramen to be prepared. Your huge bowl will come out in no time, and it'll be piping hot.
If you don't mind sharing, one full basket of ingredients makes a big enough bowl for two people.
You pay for your meal after you've finished your last slurps, but hold out for dessert — Taiwanese-style shave ice is on the house.
Build Your Own Ramen
98-199 Kam Hwy.
Pearl Kai Shopping Center
Aiea
Daily 10 a.m.-10 p.m.