Not your nana's cooking: Ube churros and lechon fries
Minasa's modern Filipino comfort food mashups are worth hunting down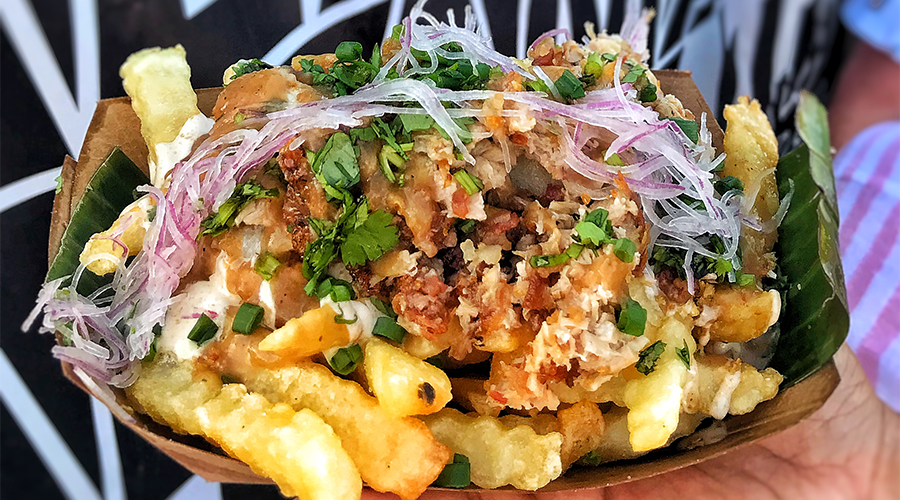 Growing up, I never saw Filipino food as special. Granted, my family is Filipino and we always ate pancit, pinakbet, adobo and other standard dishes. But the only thing that wowed me was the roasted lechon pig at parties, sprawled on a table with an apple in its mouth.
Fast forward to 2019. I'm scrolling through my Instagram feed when I see it: Ube churros from Minasa Hawaii. Modernized Filipino food? My Filipino cuisine bubble is popped.
In Tagalog, minasa means "to mash." Minasa Hawaii, a food truck/caterer that opened earlier this year, takes classic Filipino dishes and ingredients and mixes them with non-Filipino crowd favorites. The favorite at the truck are the churros, aka Ube Purple Love. Four golden mini churros are sprinkled with ube sugar and served with a side of ube butter. Yes, ube butter, and Minasa makes both ube sugar and ube butter in house. The churros alone are a bit dry, but dip them in the bright purple sauce and you're hit with this creamy, mild ube flavor. If you're feeling indulgent and in need of more purple, get this a la mode with ube ice cream.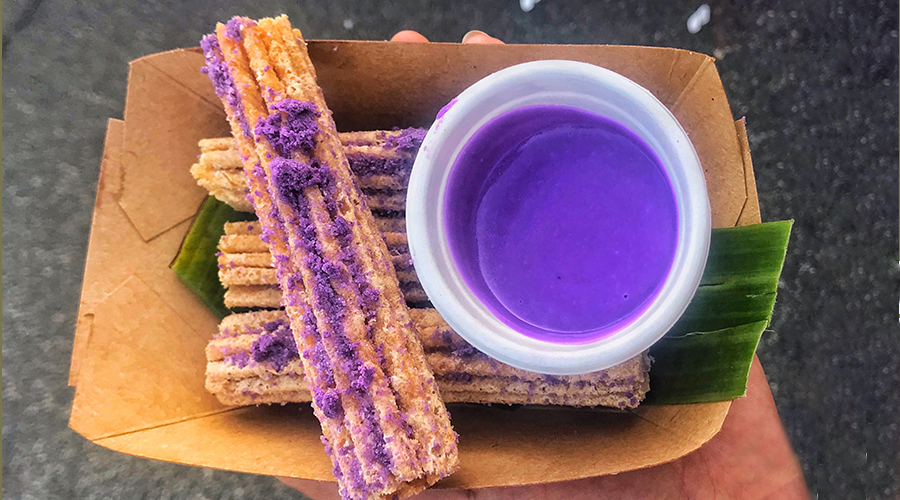 So here's the thing: Minasa's next appearance is at this Saturday's Eat the Street Kapolei, and I'm going. Ube churros are on my list, but I'm torn between the adobo and the Lechon Kawali Bacon Fries — crinkle-cut fries topped with generous lechon and bacon, green onions, slivered red onions, cilantro, a house special sauce and lechon sauce. The crinkle-cut fries stand up to the weight of all the toppings and even toward the end, they still have a nice crunch. You don't need to worry about being left with only fries at the end and no toppings. With the lechon sauce, the savory dish gets a touch of sweetness.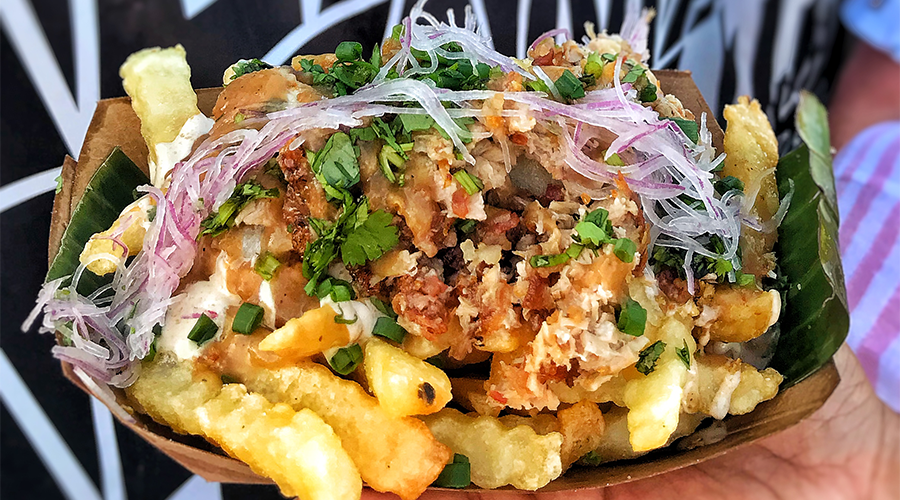 Each dish comes with a banana leaf on the bottom. This pays homage to a kamayan feast, a Filipino communal meal where food is laid on top of banana leaves and everyone eats with their hands. It's a small detail, but it showcases Minasa's modern Filipino food in a way that honors traditional Filipino culture. This might not be your grandma's cooking, but it's genuine. These two dishes alone remind me of how special Filipino food can be.
You can catch Minasa Hawaii at pop-up events like Eat the Street, New Wave and more. Just look for the "Salamat Po" banner hanging from the side of the tent. I'll probably be standing in front, still debating between the lechon fries and the adobo.