Night Lights Weekend Wrapup July 14-18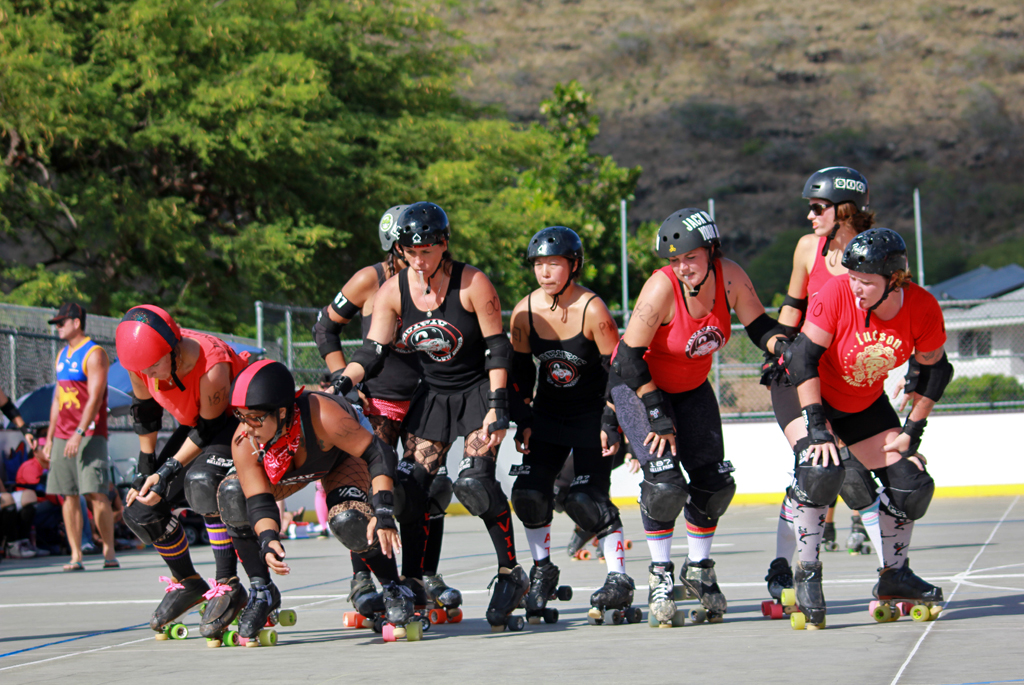 Crazy weekend. About halfway through, I realized that I've been letting my Twitter updates and Foursquare check ins slip for quite a while, which could explain why I've only held one mayorship on Foursquare for the last few months. Which made me realize how much I and a lot of the people I know obsess over recording our lives with social media.
It seems like over the weekend, while I was out and about, Google + more or less exploded. Although it's still technically in the beta stage, everyone, from famous authors to actors to social media gurus to athletes, seems to be weighing in on it. If you haven't jumped on board yet, Google + combines elements of Facebook, Twitter and chatroom conferencing to form a main feed. Connections are put into categories called circles, where you can easily choose who gets to see each update.
Groups, huddles and various social categories have been forming like mad, from the "let's see if we can get at least one person from every country in the world on Google +" group to the "Women of Google +" group.
It's fascinating stuff, really. What do you think? Information overload? Just another hyped-up social media tool? The best thing to come out since Facebook?
All right, anyway, on to the weekend.
Thursday was Hula's 37th anniversary, and so, like I have for the past couple years, I headed down to check out the festivities. While I was there, I ran into Na Hoku winner Amy Hanaiali'i, who was telling some anecdotes about the old days (like the time she rolled up at the old Hula's on the back of Willie K's motorcycle, wearing all leather) and belting out songs in that gorgeous voice of hers.
Pics:
Afterward, I headed over to Ward Centre to check out the crowd at the midnight premiere of the very last "Harry Potter" movie. Ed Morita captured some of the sheer insanity down there; I actually ended up meeting some friends at Dole Cannery for the movie instead, where there was significantly less craziness. Not going to give anything away, though, so I'm going to refrain from saying anything about the movie itself.
Friday, I headed down to the Ilikai Hotel for Tantriq and Architects' new night, Bitter Suite. If it's a curious name for a party, that's because the story behind it is also bittersweet; I talked to some of the guys and what they told me was that, after quite a while of holding parties at The Villa, the music and the scene just wasn't them, so they decided with some regret to move everything to another venue and start over with a slightly different crowd and a sexier, more laid-back music style. It's a monthly party, as opposed to a weekly one, which means there were some sacrifices involved, but I wish them all the best with their new venture.
As far as the venue itself, the view trumps everything else. It's a small space that fills up fast and ends up feeling a little too cozy (and hot) for nightclubbing, but it's almost worth going just for the elevator ride and the view at the top.
Take a look:
Saturday, I woke up early (around noon) to go to my first Hawaii Pacific Roller Derby match in Hawaii Kai. I've been hearing about roller derby for years now (partly because Andrew, the owner of Mercury Bar, is their coach), but just never got around to going.
Here are a couple pictures for you: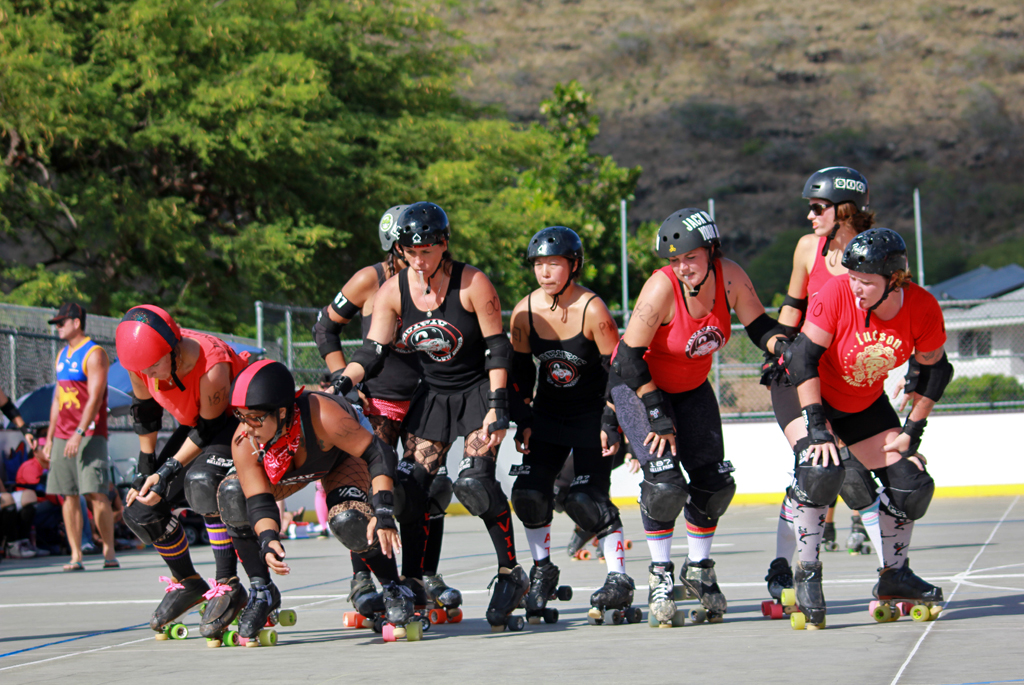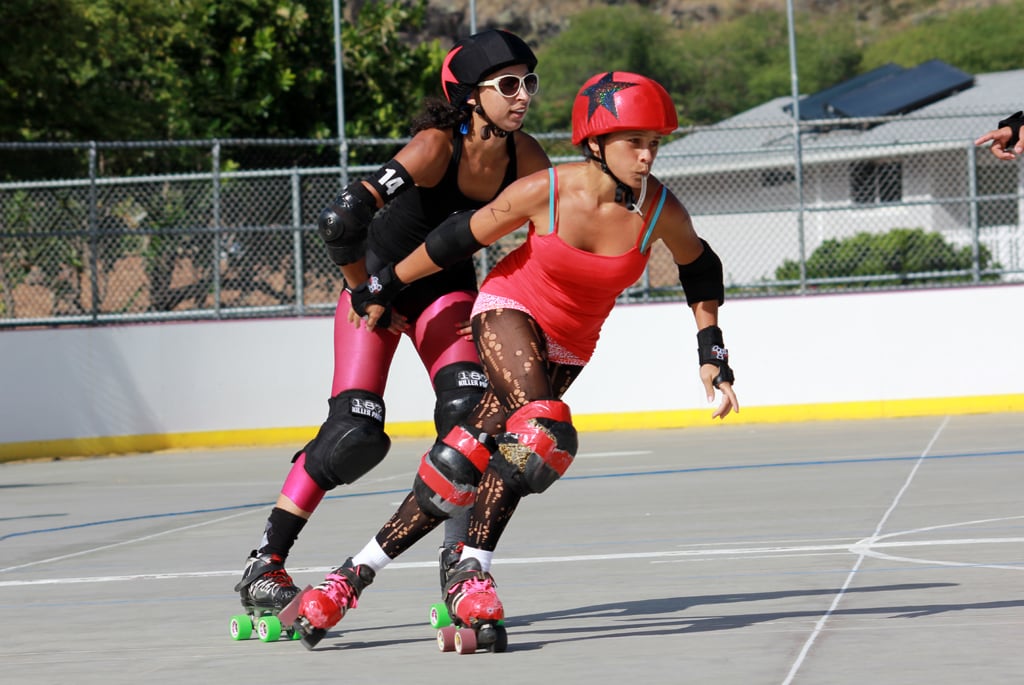 It's a pretty straightforward sport, and by the time the meet was over two hours later, I was really getting into it.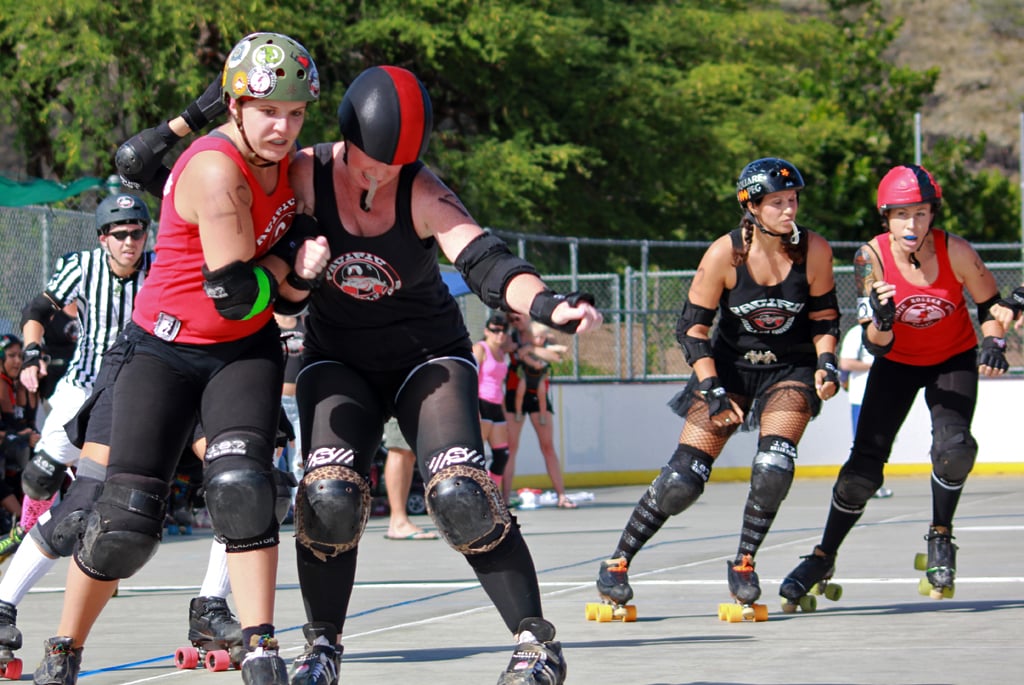 These girls really know how to take damage though; I can't even count the number of times I saw someone fall.
Later, I headed over to Mercury Bar for the roller derby afterparty, and to wish local rock band Mano Kane bon voyage before they leave on their Mainland tour.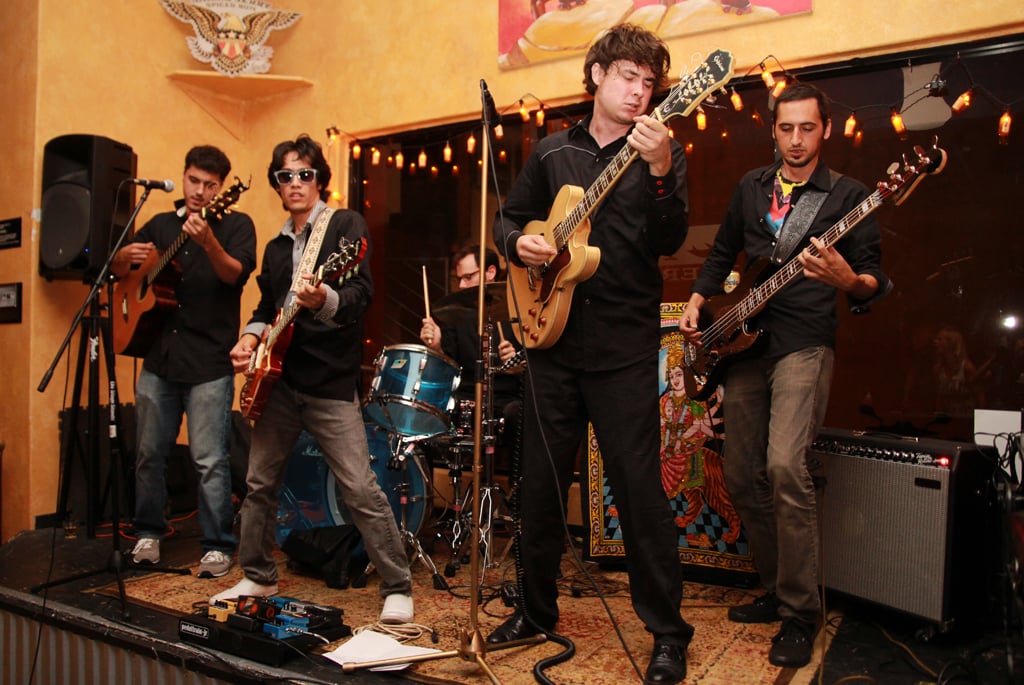 The guys were looking especially sharp, thanks to local clothing designer Roberta Oaks, who fitted them all for shirts: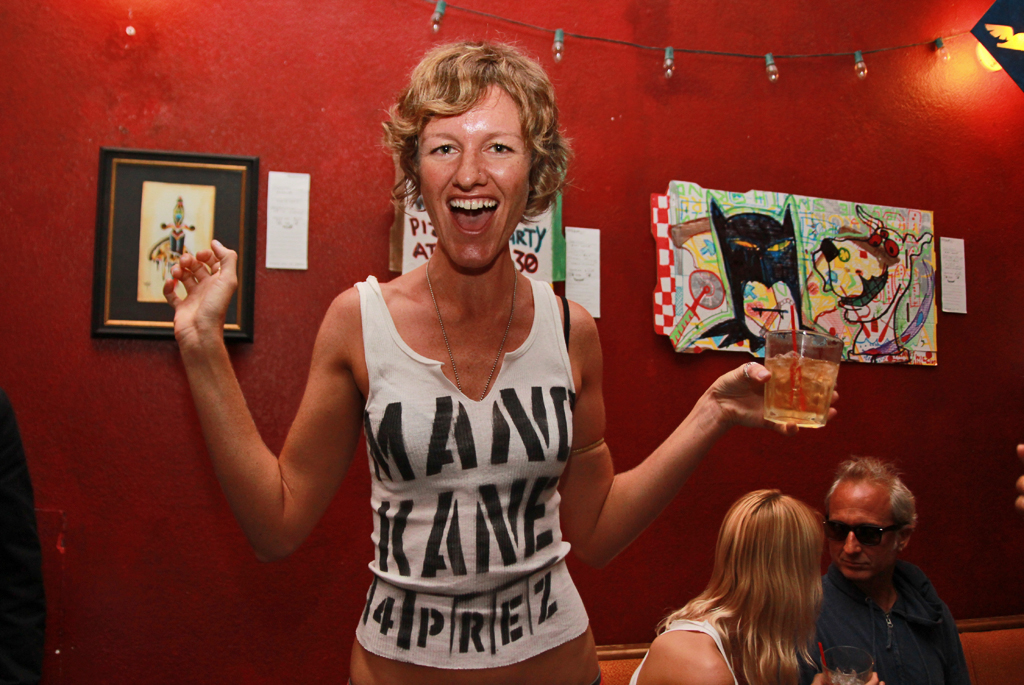 After Mano Kane's set, I headed over to Loft for a party thrown by the Hawaii Fire Artists and the Burning Man crowd, in honor of DJ Zapper's birthday:
Then to Shake & Pop, for DJ Compose's birthday and the return of Jami:
Sunday, I had the honor of attending the wedding of Kings of Spade guitarist Jesse Savio and his fiance, bellydancer Natalie Phoenix. I've known both of them for a while, and was there when Jesse proposed in front of a packed house at The Venue.
From this: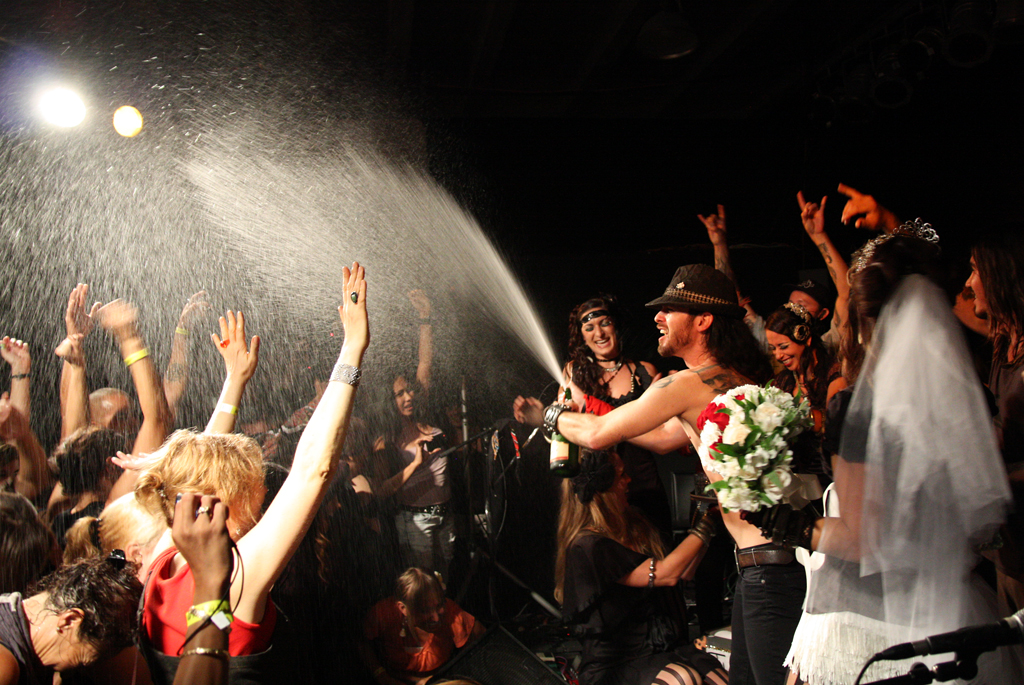 To this: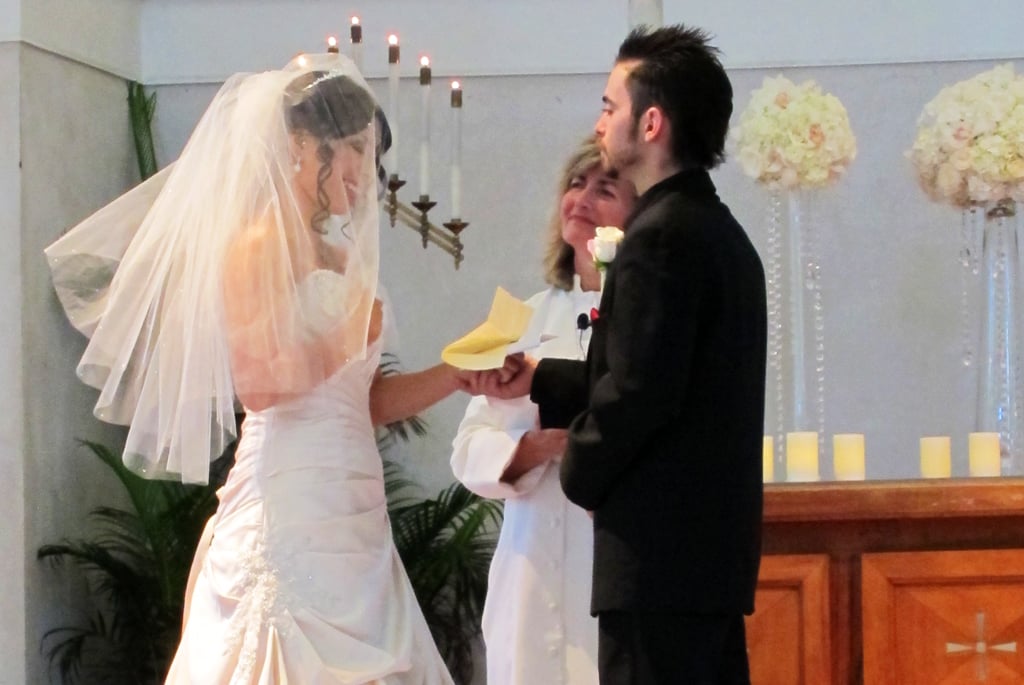 Blessings and best wishes to the happy couple!
And that was my weekend. How was yours?
Next weekend, by far the biggest thing going on is The Love Festival on Saturday at Wet 'n' Wild Hawaii. If you don't have your tickets already, get them soon.
No Suck Fest, a three-day festival of local punk, ska, hardcore and rock, starts Thursday as well.
See you around!