Night Lights: Weekend Wrapup Dec. 17-19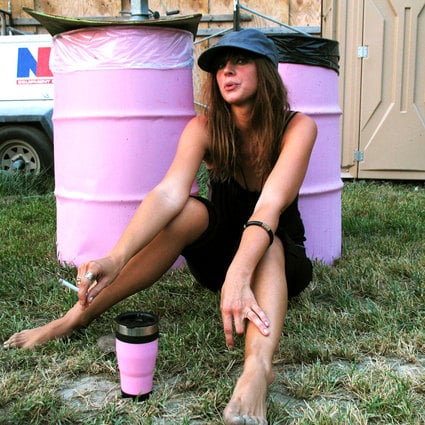 Whew! Ever had one of those Sundays when you just want to sit around and do absolutely nothing useful? Yeah, that's just about every Sunday for me, although I did get to see "Black Swan," which was as good as I'd anticipated. Not going to give anything away for you guys who haven't seen it yet, though. (But if you haven't seen it, I'd recommend googling the plot of the "Swan Lake" ballet…it's amazing how many layers of the movie Darren Aronofsky has woven the theme of the original story into.)
Industry news: If you haven't heard already, Cat Power has been confirmed to play The Waterfront on Feb. 2. It's a show that'll send indie kids into spasms of joy, and since Chan Marshall seems to have kicked her drinking problem and become quite a live performer in the last couple years, it should be a good show!
Congrats are due to young Bonsai owner Burt Kawasaki for opening up his new spot, The Villa, at Aloha Tower on Saturday! I'm sure Bruno Mars helped bring people in, but as far as a really good regular nightlife hot spot goes, Aloha Tower needs it. Best of luck to The Villa! Check it out when you have a chance.
Also, if you're going to be in Chinatown for New Year's Eve, don't forget to check out two awesome new places that'll be opening their doors to the public for the first time: Downbeat Diner, owned by Josh 86 and Serena Hashimoto, and staffed by some super cool industry and music scene peeps, right next door to PYNK salon… and Paul Shih's (from the former Lotus Soundbar) new project next door to Manifest. Will it be like Lotus? Not entirely. But since they've flown their sound designer in (same guy who did Lotus) and pimped out the speaker system, it should still sound amazing.
On to the weekend…
Friday was kind of a "meh" night, for me. First, I dropped in at Bar 35 for '80s Pop Muzik to wish DJ Nocturna, Cyrina Hadad and local fashion designer Roberta Oaks a happy birthday, and then shoot the Roberta Oaks fashion show, which was pretty awesome:
After the fashion show, I drove over to Oceans for Oasis' packed Winter Break party:
Saturday was 12 Bars of Christmas, which I hope you heard about, but I'm sorry if you didn't, or felt you couldn't afford it.
The story behind 12 Bars:
So in November, Mark Becker facebooked Christa Wittmier and I with an ambitious idea: Get 12 cool bars in Chinatown and all kinds of promoters and big sponsors to commit to a club crawl for charity. Charge people one cover, give them a hat and a t-shirt, and set them loose on the town. A month and a half of hard work and persuasive talking (Mark, I hope to god you have unlimited minutes on your cell phone!) later, 12 Bars came into being, and the response was pretty darn good. When everything was tallied up, about 600 people participated, raising somewhere around $6000 for Make-A-Wish Foundation and the Hawaii Childrens' Cancer Society.
When I showed up to volunteer that night, I wasn't quite sure what to expect, or what I'd be doing. But Mark put me, Nonstop foodie Mari Taketa, Christine Hitt from Honolulu Mag and Soni Kohut to work doing door, and we got it down to clockwork, checking in hundreds of people, telling them where to go and how the whole thing worked. It's been a long time since I worked door at a club, and I have to say that now I have a new respect for door people who work at really busy clubs. It's stressful, fast-paced, but satisfying work, part taking money, part clearing up confusion about who's on what list, and part social interaction at lightning speed. Thanks to Ed Morita, we still got a gallery with all 12 bars though!
Thank you to everyone who participated in the crawl (seriously, when was getting drunk for charity NOT a good idea?) and all the industry folks and other volunteers who got involved! (Thanks to the rain, too, for waiting until it was all over to really start)
Aside from being the first club crawl Nonstop has been involved in, 12 is another sort of milestone… it's the first shirt I've gotten with the Nonstop logo printed on it, and that gives me a warm, fuzzy feeling when I look at it.
I know Christmas isn't even over yet, but I'm already looking forward to New Year's. Stay tuned in the coming week or so for our New Year's Eve party roundup!