New record: HFWF nets $350,000 for nonprofits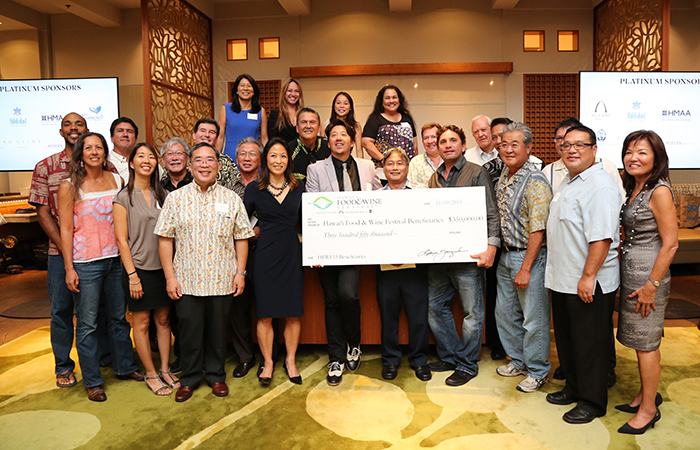 The Hawaii Food & Wine Festival set a new record this year, presenting $350,000 to 16 local nonprofits. In all, the five-year-old statewide fest has a total of $1.3 million to charities.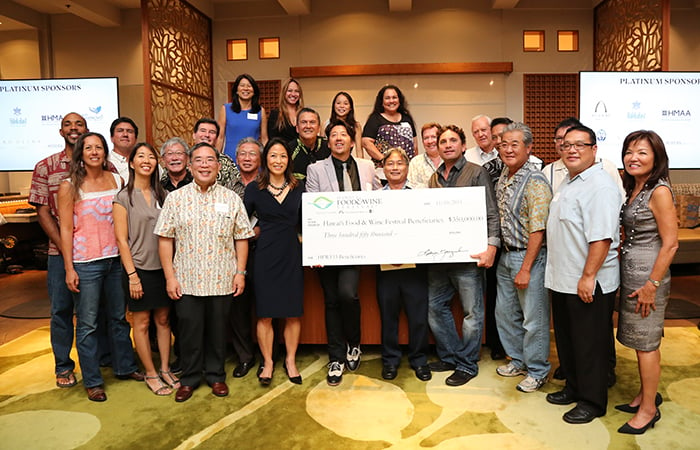 Beneficiaries include:
• Culinary Institute of the Pacific $80,000
• Hawaii Agricultural Foundation $70,000
• Imua Family Services $50,000
• Kapiolani Community College Culinary Arts Program $30,000
• Leeward Community College Culinary Arts Program $25,000
• Maui County Farm Bureau $20,000
• Hawaii Island Community College Hospitality and Tourism Program $10,000
• Paepae o Heeia $10,000
• Papahana Kuaola $10,000
• Maui Culinary Academy $7,500
• Hawaii Seafood Council $7,500
• Honolulu Zoo Conservation Fund $7,500
• Aloha United Way (Young Leaders Program) $5,000
• Kakoo Oiwi $5,000
• Hawaii Farm Bureau Federation $2,500
"The Hawaii Food & Wine Festival was built in partnership with the visitor industry to give travelers to Hawaii and residents a world-class food and wine experience featuring top chefs and winemakers from around the world, while also promoting the importance of sustainability in our islands by featuring the incredible bounty of locally grown produce Hawaii has to offer," executive director Denise Yamaguchi said.
Said festival co-chair Roy Yamaguchi: "Not only are we able to have some of the best guest chefs coming to Hawaii to cook, but we now boast a roster of some of the best and most notable sommeliers, winemakers and mixologists from across the country."
Next year's HFWF is set for Oct. 14 to 30, 2016. For more information, visit HawaiiFoodandWineFestival.com or follow the festival on Twitter/Instagram (@HIFoodWineFest) and Facebook (facebook.com/hawaiifoodandwinefestival) for updates. HFWF is a program of the nonprofit Hawaii Ag and Culinary Alliance. Its mission is to attract national and international attention to the culinary talent and locally grown products in the islands to help ensure Hawaii maintains its competitive edge as a world-class destination.