New at Morimoto Waikīkī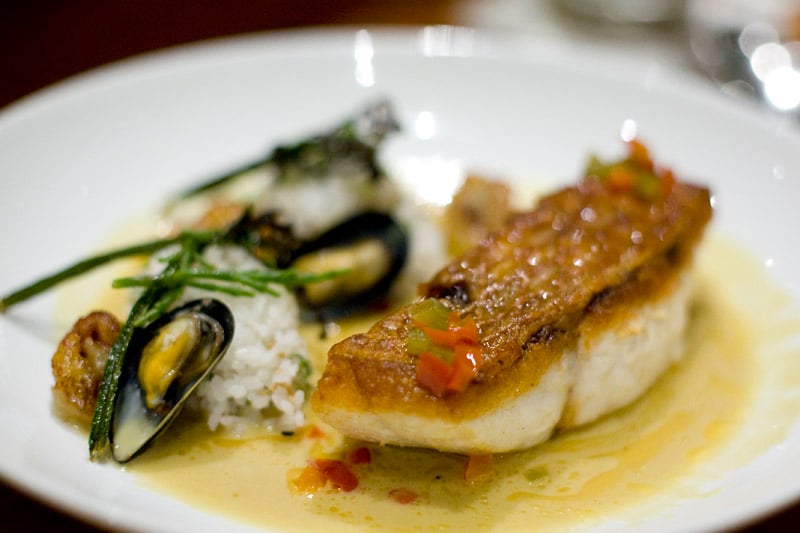 It's hard to find fault with Iron Chef Masaharu Morimoto's dining rooms in Hawai'i—both his Waikīkī and Maui restaurants (the latter located in the Andaz, quite possibly the most stylish, modern hotel to open in recent years) have relaxed outdoor terraces that take advantage of sunset ocean views. And yet, despite this, Morimoto rarely comes up in our date night rotation. Maybe it's because the dishes have changed little in the four years since Morimoto Waikīkī opened. So when we heard that there were some new items, we went.
Most intriguing is the pan-seared snapper in a Thai-style curry with roasted bananas, pohole and mussels. While we loved the sweetness of the bananas, the texture of the pohole and the saltiness of the sea asparagus, there wasn't quite enough of those elements to keep the hunk of (slightly overcooked) fish interesting. In the end, despite the addition of new dishes, including a hamachi taco, it's still the original and simplest of Morimoto's dishes that we love best—the yosedofu, a soft and silky tofu that's made table side, and the chicken ramen, which doesn't look like much, but is surprisingly satisfying.

Haupia with liliko'i and popcorn ice cream (left) and the chocolate and shiso dessert
The new desserts, though, are more exciting. There's a sliver of coconut mousse on chiffon cake with fresh liliko'i (so rare in restaurants!), popcorn ice cream and caramel popcorn. We could do without the wasabi in the popcorn, but otherwise, it's a fun dessert. We love the chocolate shiso dessert, mostly because it reminds us of s'mores, with a torched marshmallow and chocolate three ways—cake, crumble and mousse. And the shiso ice cream? An herby twist in place of the usual mint (though there's that, too). The desserts don't quite have the finesse of Nobu, Waikīkī's other nouveau Japanese restaurant, but they are crowd pleasers.
Morimoto Waikīkī, 1775 Ala Moana Blvd., 943-5900
Want to get a taste of Morimoto Waikīkī? The restaurant will be serving its signature tuna pizza (one of our favorite 'ahi dishes) at the upcoming Hale 'Aina awards, Sunday, November 9. The winner of Hawai'i's longest-running dining awards will be announced and you'll be able to sample dishes from previous winners, including Azure, Le Bistro and Stage. Find out more.