Natto again! All-natto dinner coming April 17
Locavore izakaya Zigu is powering up the slime with a seven-course feast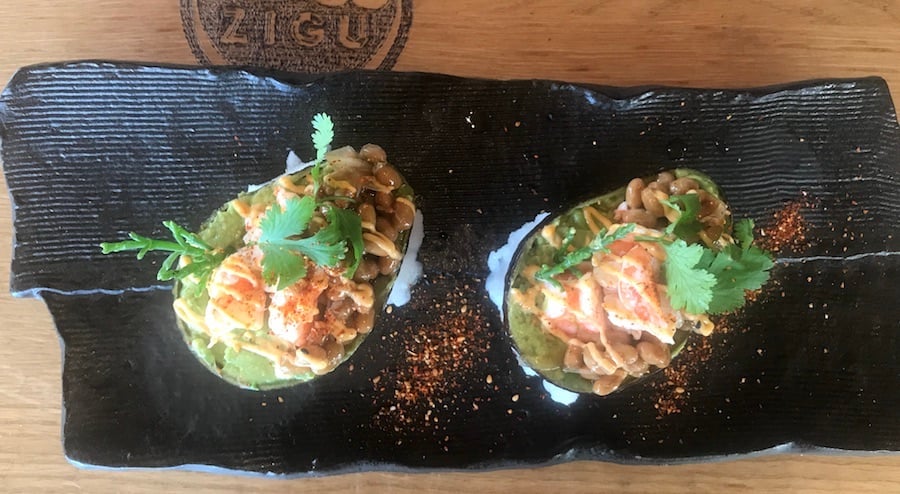 Note: The April 17 natto dinner sold out in record time. So we've added a second natto dinner with an identical menu at Zigu on TUESDAY, APRIL 23 at 6 p.m. Scroll down for the ticket link!
Break out the breath mints, natto fans, the annual midyear natto feast is upon us! Slime upon slime upon slime, this time delivered with elegance and flair by Zigu, Waikiki's locavore izakaya with validated parking.
The theme is umami — the quality that adds deep, satisfying complexity to Japanese cuisine, that emerges in fermented foods like shoyu, miso and natto. "Very important," Zigu's chef Masaki Nakayama says. "I'd like to use history and technique to serve natto simply, but in different combinations. Looks modern, but tastes authentically Japanese."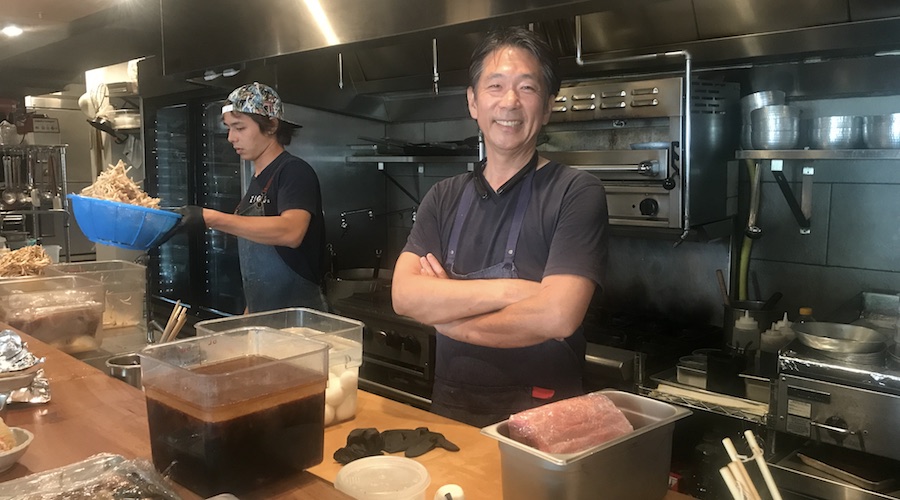 Nakayama is known for creating indelible impressions. Once you taste his smoked local egg potato salad, you can have no other. His pork belly lau lau is tiny but memorable. And he makes his own emerald udon with local kale, then tosses it with a dashi-inflected macadamia nut pesto. So when Nakayama agreed to do our midyear natto dinner, we left the menu entirely up to him. Here's what he concocted:
Ahi poke natto — Fresh ahi atop small-bean kotsubu natto from Mito with tosazu gelee and daikon oroshi. The dish is topped with micro shiso and lime zest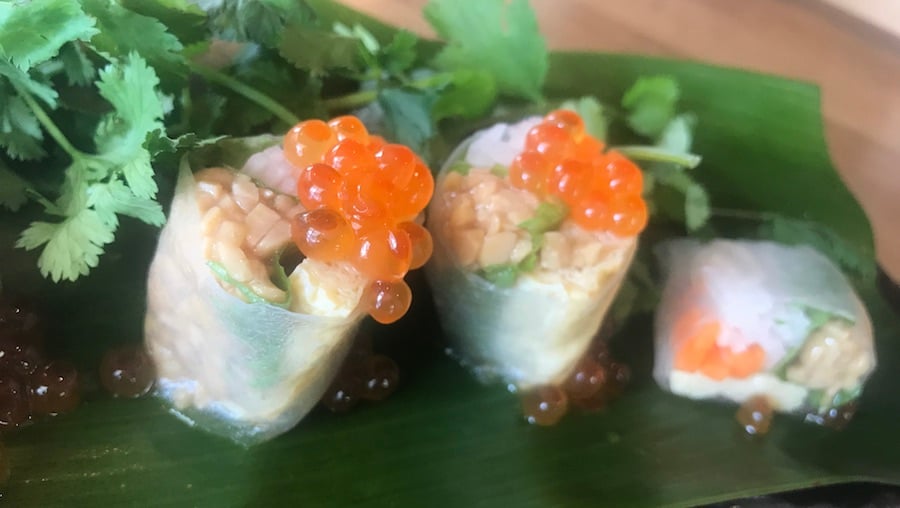 Natto summer roll — Crushed hikiwari natto rolled in soft rice-paper wraps with pickled carrots and daikon and Zigu's tamagoyaki egg roll
Natto and Kauai shrimp guacamole — Aloha Tofu natto and fresh Kauai shrimp on guacamole lightened by smoky soba tsuyu, served in an avocado boat and drizzled with shichimi pepper and Hawaiian chili aioli (top photo)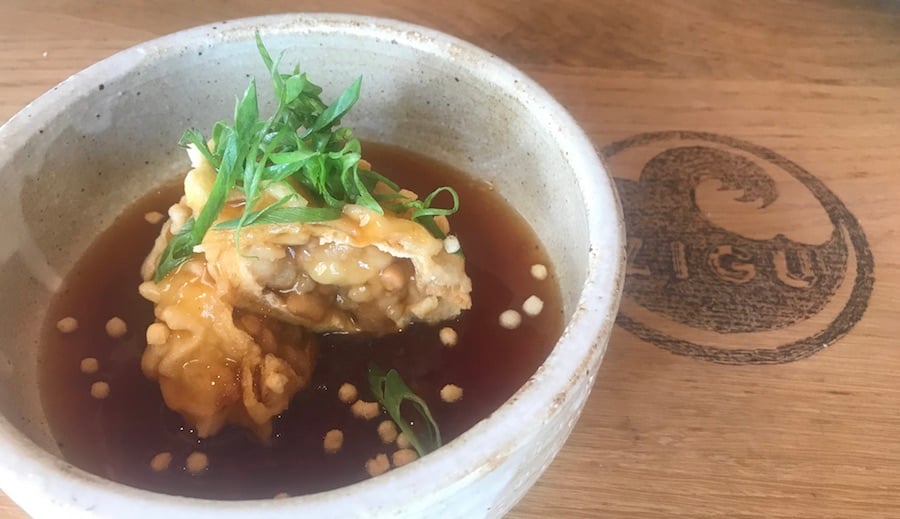 Tempura-fried natto purse — Natto and potato nestled inside a soft aburaage pouch that's tempura-fried and served in a rich, unctuous ankake sauce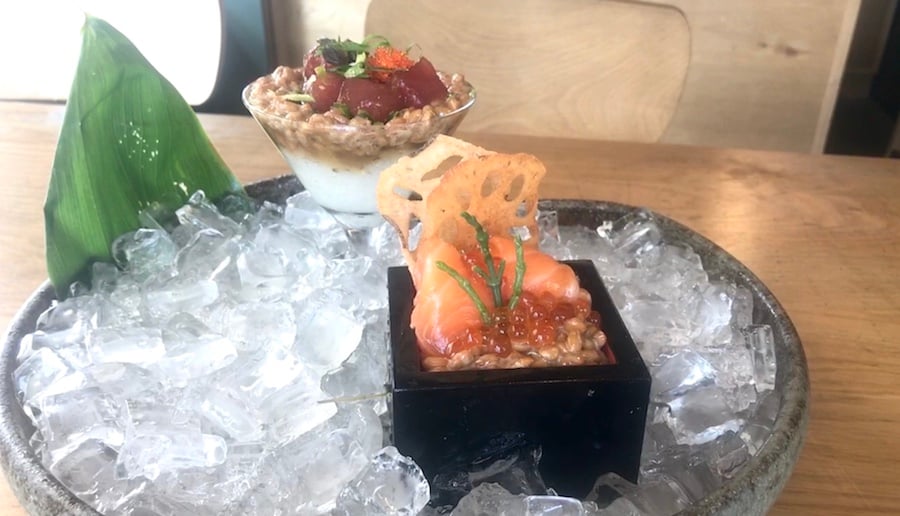 Mini natto chirashi sushi — Fresh salmon, ikura and small-bean kotsubu natto mixed with dashi shoyu atop sushi rice, garnished with a fried lotus root chip
Chilled natto udon — Nakayama's signature housemade kale udon served atop ice with a natto dipping sauce
Natto vanilla ice cream.
And for those who love natto and alcohol, restaurant manager Mark Rogers is working on some natto cocktail creations. This is beyond my comprehension.
If you love natto, you will be drooling by now. And that's the only requirement: You must love natto to attend this dinner, because there can be no menu substitutions.
Umami Natto Feast
Wednesday, April 17, 2019
6 p.m.
Zigu
413 Seaside Ave.
Validated parking available at Hyatt Centric Waikiki
Tickets: $60 per person including tax and tip but not drinks; order online here
Zigu has an excellent sake selection — and will be running a special on bottles of Hakkaisan tokubetsu junmai, ginjo and daiginjo for most of April — but for those of you who like to bring your own bottle, the izakaya is offering a discounted corkage fee of $15 per bottle.
If you can't make this one, we're working on a bigger natto dinner this summer, when Japan celebrates Natto Day on July 10.
See you at this most elegant of slimefests!