My two seconds of (almost) fame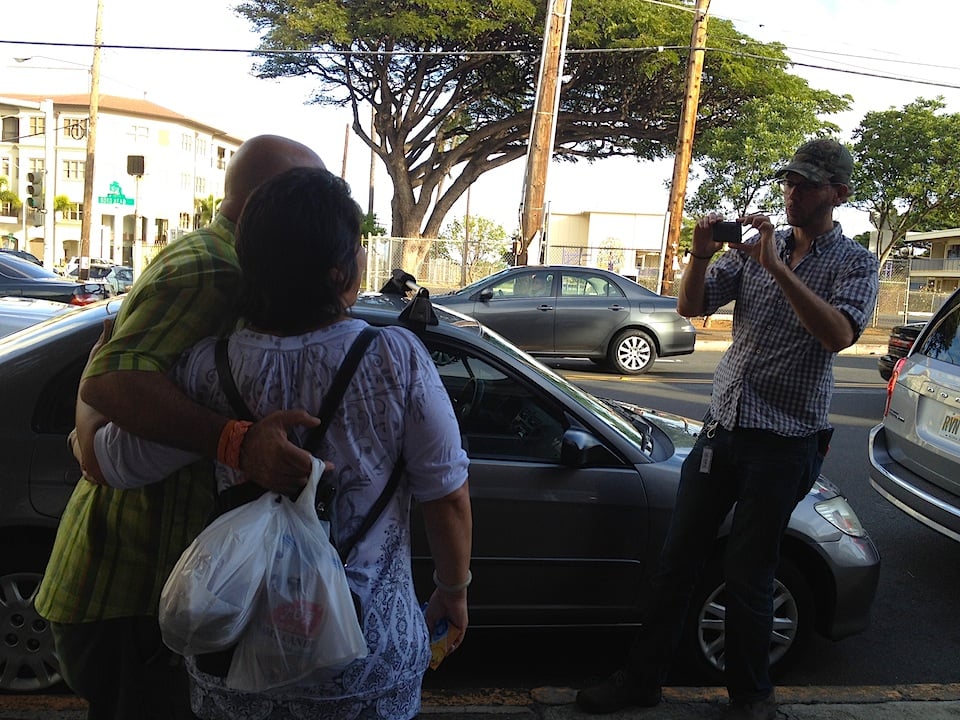 The email came in the middle of an insane week. It was from someone I didn't know named Sarah.
"I've been working to develop content for a Travel Channel Bizarre Foods with Andrew Zimmern show set to film in Hawaii this November," Sarah wrote.
WHAT?! OMG. Who doesn't know Bizarre Foods?
"Bizarre Foods with Andrew Zimmern is one of the most watched shows on the network, and it airs in 70 countries," she continued.
I know! I know!
"Although the word 'bizarre' can be misleading, the intent of the show is to look for foods, customs, traditions, lifestyles, landscapes, etc. that our audience would find unexpected and unusual. The program is designed to educate our audience about other cultures, and to help make the unexpected a little more familiar and understandable."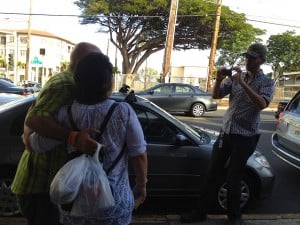 Oh wow. I had to finish hyperventilating before I could think. Sarah wanted ideas, of course, ideas strong enough to persuade Travel Channel to send the crew over for another Hawaii episode. Remember the last one? Spam pineapple upside-down cake on Maui? (AZ couldn't fathom.) Live opihi picked off the rocks on Molokai? (AZ became an opihi fan.)
So I sent over ideas. As it turns out, a small army of locals was sending over ideas, and by late October Sarah was emailing again. "It looks like we'll be filming in November!"
Hallelujah. I was discovering that if there's anything more thrilling than watching a world-famous food show shot on location in Hawaii, it's being behind the scenes of that show. But there was more than that. Who hasn't shot in Hawaii? No Reservations with Anthony Bourdain, Man vs. Food with Adam Richman, Diners Drive-ins and Dives with Guy Fieri, Eden Eats, Unique Eats, that Mo Rocca show and even Top Chef have all filmed here. When Eat Street came, Melissa Chang, Cat Toth and I were among those contacted for leads, and Melissa even made air in the Soul Patrol segment.
The difference this time is I actually like Andrew Zimmern. He and Ming Tsai are the only celebrities I've ever blogged about, Ming because he cooked dinner for me (and about 250 others) and AZ because, polite guest that he is, he had to face the prospect in Madagascar of eating the freshly circumcised foreskin of the 5-year-old boy whimpering in front of him (Human flesh and other limits).
But that's not why I like AZ. I like him because he loves old people. If there's an ancient grandma in the picture, especially one who's invited him into her home, he invariably plants a kiss on her cheek if cultural norms allow it. I like that he sees old people, and listens to their stories and jokes, and gives them extra love. AZ will always have a solid place in my groupie heart.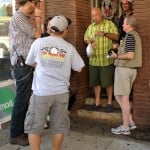 So Sarah wanted ideas for snacks — local-style, off-the-beaten-path snacks. Eventually she wrote that the show had decided to commit a whole segment to snacks, and she asked if I would introduce the advance crew to my suggested places. Every shop owner I introduced them to has a mom-and-pop store in an off-the-beaten-path, less-than-glittering neighborhood. And every one is older.
There was one shopkeeper especially who wasn't voluble, wasn't bubbling with pitches and anecdotes, wasn't handing out samples faster than the advance crew could taste them. For that one, the show asked me to come back for the real shoot, with AZ himself. So I did. It was fast, the shoot. The crew had taken my suggestions, passed them on to AZ, and he took over the situation, extremely focused and sure. He cleared everybody out of the tiny store except for the shopkeeper and two cameramen, walked in and did the scene in one long take.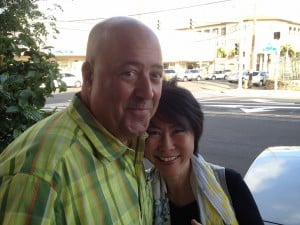 Standing outside on the sidewalk, I watched the live feed with the producer. AZ was good. He ate what we ate, exactly how we ate it growing up, how we eat it now. He kept up a banter with the shy shopkeeper and paid him compliments. The man told me afterward that the shoot was easy, because AZ was so easy. "He was almost like a regular customer," he said.
Then AZ came out, and as he stood in the doorway gathering his thoughts, his laser-like focus fixed on me and he made a beeline toward me with his hand outstretched. "Thank you for your help," he said. That's when I got this pic.
AZ is my BFF.
P.S. Producer says the Hawaii episode of Bizarre Foods should air around March.