My Top 5: Standouts from Senia's chef's tasting menu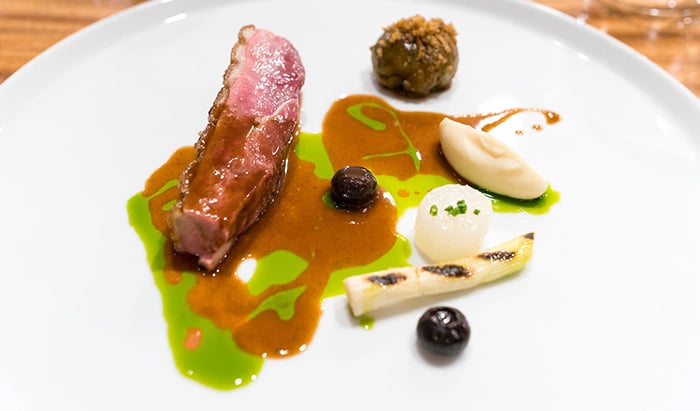 By Dale Yasunaga
Special to Frolic Hawaii
Dale has been taking photos of hole-in-the-wall to Michelin-star food since before it was cool (or 2006 to be more technical). When he's not eating, he does consulting for Hawaii businesses. Follow his epicurean exploits on Twitter and Instagram at @alohaepicure.
Senia, the new restaurant by Chris Kajioka and Anthony Rush, has been all the buzz lately. With both chefs trained at haute eateries including New York's three-Michelin-starred Per Se, reviews about Senia's regular menu have been glowing, and many diners have been waiting for the chef's tasting menu. I was one of them.
Three weeks after opening in mid-December, Senia has taken the leap. It now offers the chef's tasting menu at the eight-seat counter looking into the open kitchen and in the small booth just behind. There is just one seating per night. Each diner is presented with a simple menu placard listing each course in one word — oyster, scallop, duck, etc.
The tasting menu is a collaboration between both chefs and is priced at $185 plus tax and a service gratuity. Our 10 courses Saturday night displayed the quality that diners have so far come to expect of Senia. The progression was smartly calculated and I felt that each plate led logically to the next. While I enjoyed each one, these were My Top 5:
No. 5: Osetra caviar
Luxury in two bites, this dish was delicious and so well-balanced. The caviar accentuates the richness of the buttery brioche. The salt and fat are balanced by buttermilk and the sweetness of aged maple. This is a familiar dish, since I had this during Kajioka's time at Vintage Cave.
No. 4: Blanc manger
There is no doubt that my palate is biased toward umami and savory flavors. Against this uphill battle, pastry chef Mimi Mendoza's Blanc Manger lands itself a spot on my top 5. I enjoyed the balance of flavors and deft reserve against blowout sweetness. The plate satisfied the sweet tooth, but also brightened with refreshing notes of iced pear. It was a delight to eat with a good mix of textures.
No. 3: Snacks
The trend of opening a tasting menu with a variety of one-bite snacks is something I was excited to see at Senia. The skill of densely packing such complex flavors in a single bite not only showcases the chefs' skills, but also awakens the palate for the courses to come. The bites progressed from the bright and briny oyster, to a spiced and texturally contrasted scallop ceviche, and ended with the intense smoky savoriness of the salmon.
No. 2: Maui venison tartare
This presentation of local venison was visually stunning and focused on a seldom seen ingredient in the islands. Beneath the tiled hearts of palm lies tender cubes of venison, absorbing elevated umami flavors from the truffle dashi. Game meat such as venison marries well with smoke, subtly and visually incorporated through the hay ash.
No. 1: Duck
A multitude of courses in a tasting menu amounts to a lot of food. Since things generally don't taste as good once you're stuffed, this sometimes means the final savory course, often the heaviest dish, can suffer by comparison. This plate of roasted duck made it to No. 1 on my list because it was so well-crafted, I devoured the entire plate and half of my wife's despite feeling full already.
A perfectly roasted piece of duck conveys the subtle game flavor of the bird along with a hint of sweetness from what I believe is a spiced honey basted on the skin. The duck leg wrapped in cabbage was surprisingly complex and full of flavor. The duck jus, made from the bones of the bird, connected the various elements with a wonderfully savory overtone.
Saturday night was only the fourth night of the tasting menu, and Kajioka and Rush remarked that each night so far has seen some variations. Sadly this means that future diners may not get to experience some or all of these dishes. But, this also means that new and exciting dishes will be on frequent rotation at the chef's counter. This dynamic-style of tasting menu is something that I will be excited to try again and again.
Senia
75 N. King St.
200-5412
restaurantsenia.com