Monsarrat Shave Ice: Find All Natural Syrups at This Too Cute Spot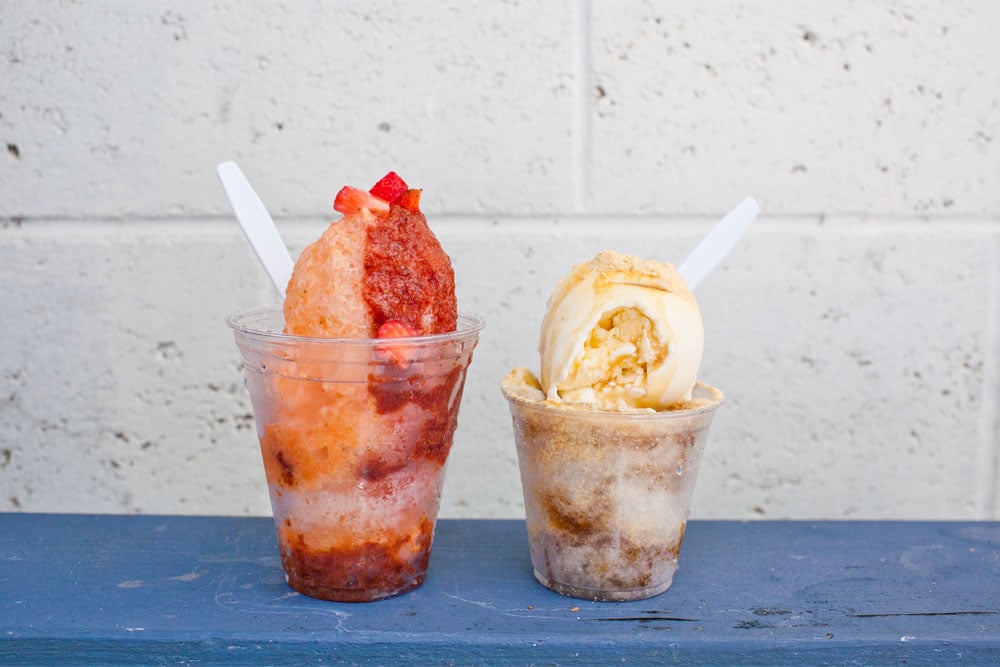 One of our most favorite trends lately: natural fruit syrups on shave ice. In the past few years, we've been forgoing the artificially-flavored flavors for mango shave ice at Your Kitchen; strawberry milk, seeds and all, at Ailana Shave Ice; and the improbably good kale spinach plus pineapple combo at Uncle Clay's.
And now, I'll be fitting Monsarrat Shave Ice into my summer cool-down routine. Tucked into a too-cute alleyway next to Pioneer Inn, it's like Santorini meets a cartoon version of the Wild West with its white walls, tiny cacti and antlers made out of driftwood mounted over the entrance.
Out of this oasis, Monsarrat Shave Ice offers flavors like mango, strawberry and blueberry that are more like purees than syrup. They're so thick that they have to be layered in the cup to fully saturate the fluffy ice. Top the shave ice with a scoop of ice cream, and it's like a light, fruity sundae that will refresh you in no time.
Monsarrat Shave Ice goes easy on the sugar; those who need more of a sweet kick can top their shave ice with condensed milk or go all out with the MK Special, with layers of kuromitsu (a Japanese brown sugar syrup), azuki bean, giant mochi balls and kinako powder, all topped with vanilla ice cream.
Monsarrat Shave Ice
Starts at $4 for a small
3046 Monsarrat Ave., closed Mondays