Monday to Friday: A foodie's choice eats at UH Manoa
Frolic's spring intern maps out fave food trucks, ethnic eats and cafeteria-style meals all over campus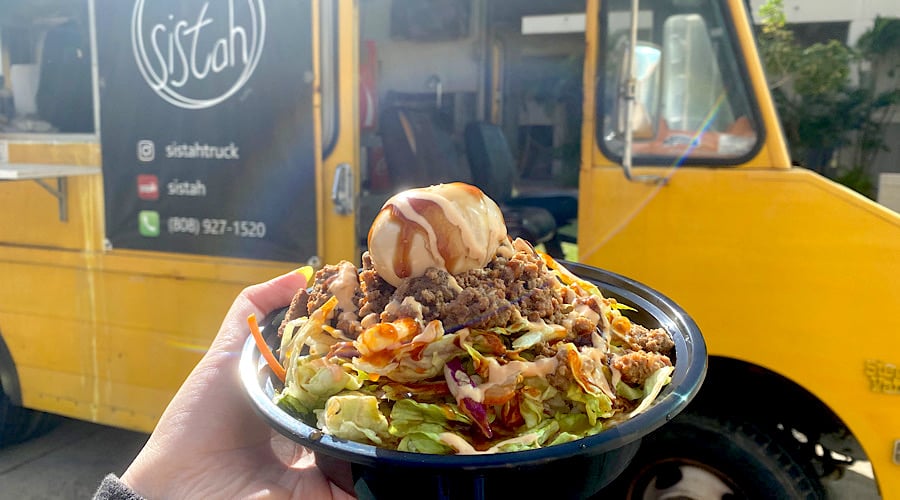 What do you do when it's time for lunch at the University of Hawaii at Manoa? This is the campus that Forbes magazine named the best campus for food in the nation last year, so the options can be overwhelming.
When hunger strikes, the first thing I do is see what food vendors or trucks are closest to me. My classes are all over this gigantic campus, and some food trucks change location every day. UH's food service website has a map that shows where various food trucks are located for the day. Then I think about what I'm really craving. I also like variety, so I never eat the same meal twice in one week.
Scroll below for my dream team lineup for a week of school lunch at UH Manoa. These are the places that I daydream about during class when lunch feels so close, but so far away. Most of these vendors also have a $5 option. They're smart to keep in mind that we're still broke college students.
See also: UH-Manoa has THE best college food — here's what to get
Monday: Ono Seafood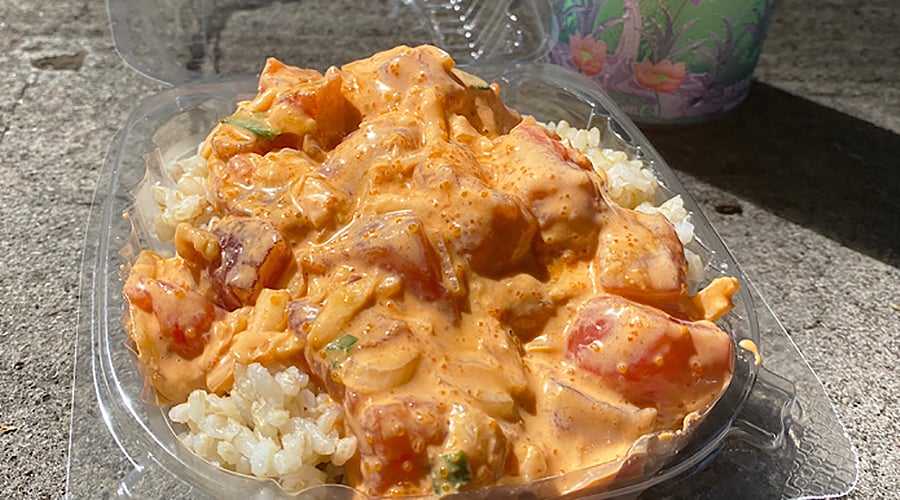 Where to find it: Krauss Hall
What days: Monday, Tuesday, Thursday, Friday
What I'm eating: Regular spicy ahi bowl with brown rice, $11.75
Mondays are always a drag. To lighten my mood and boost my energy, I grab an Ono Seafood poke bowl. The brown rice and spicy ahi are my go-tos. I always get spicy ahi wherever I go, but Ono's spicy ahi is unbeatable. When I heard this food truck was coming to campus last fall, it was the best news. Ono's is where I tell all my mainland classmates to get legit poke. Unlike its Kapahulu location.For its UH location, Ono's campus truck doesn't charge an additional fee for two poke flavors. A $5 student special includes a quarter-pound of poke with a mini scoop of rice.
See also: Our go-to: Poke bowls
Tuesday: Kamitoku Ramen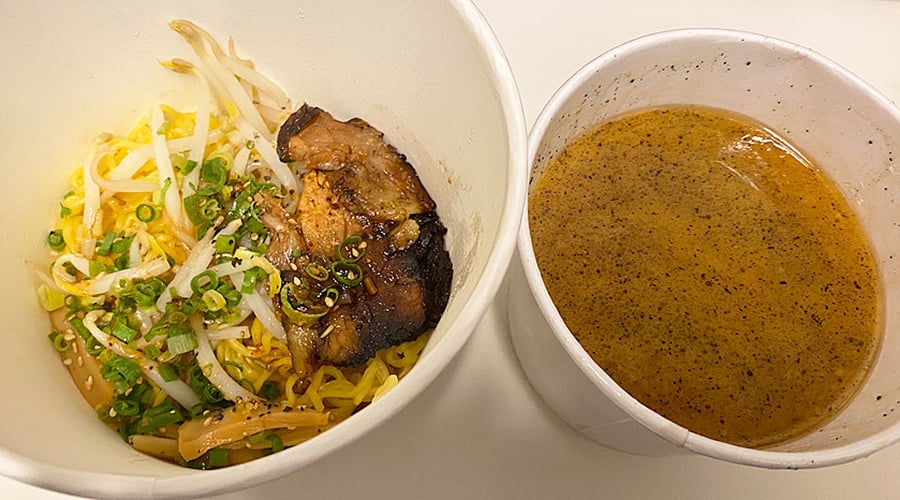 Where to find it: Pacific Ocean Science and Technology building (POST) and Krauss Hall
What days: Monday, Tuesday, Thursday, Friday at POST; Wednesday at Krauss Hall
What I'm eating: Mini beefy miso ramen, $5
Ramen seems like a heavy lunch, but Kamitoku's broth is light and flavorful. I always get the $5 mini ramen, which gives you a choice of beefy wild, beefy miso or beefy lite. The broth is not the typical tonkotsu since it's made with beef, and the broth is clear and very garlicky. If you're not in the mood for ramen, Kamitoku also serves gyoza and rice dishes. They are usually next to POST every day except Wednesdays, when they're at Krauss Hall. To find Kamitoku most days, turn left at the first parking lot when entering campus from East West Road.
See also: Our go-to: Ramen
Wednesday: Salad bar at Campus Center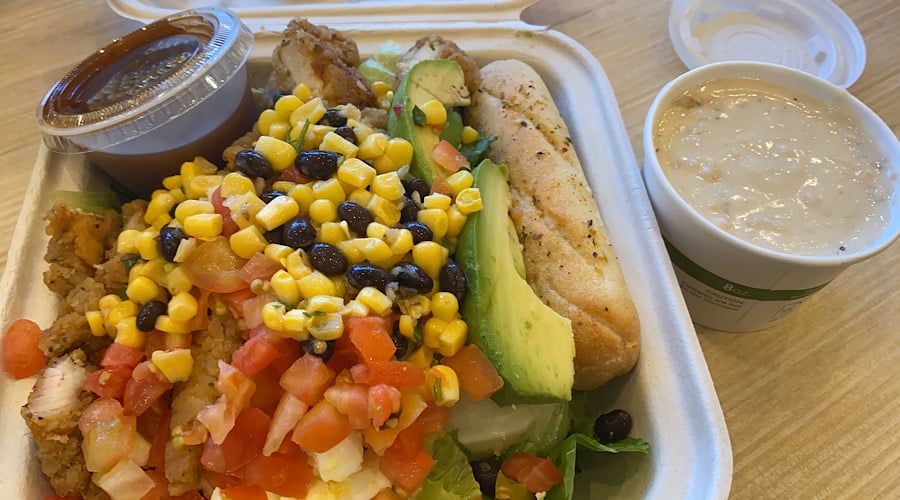 Where to find it: Campus Center food court
What days: Every day
What I'm eating: Build-your-own-salad combo with Oriental salad mix, Asian sesame dressing, crispy chicken, diced tomatoes, avocado, eggs, corn and black bean salsa and cucumber, $11.89
Cafeteria salad bars can have a bad reputation, but that's not the case on this campus. Campus Center's food court offers set salad combinations or you can build your own from choices of three types of greens and five toppings including avocados, mangos, cheese, beans and so much more. I choose warm, crispy chicken on a bed of fresh crisp vegetables … ah, a match made in heaven. The combo option for 70 cents more comes with a breadstick and your choice of a small soup or regular drink. Mini sizes are also available, and the salad bar is conveniently open until 3 p.m.
See also: Best downtown power salads: Our Top 5
Thursday: Lasoon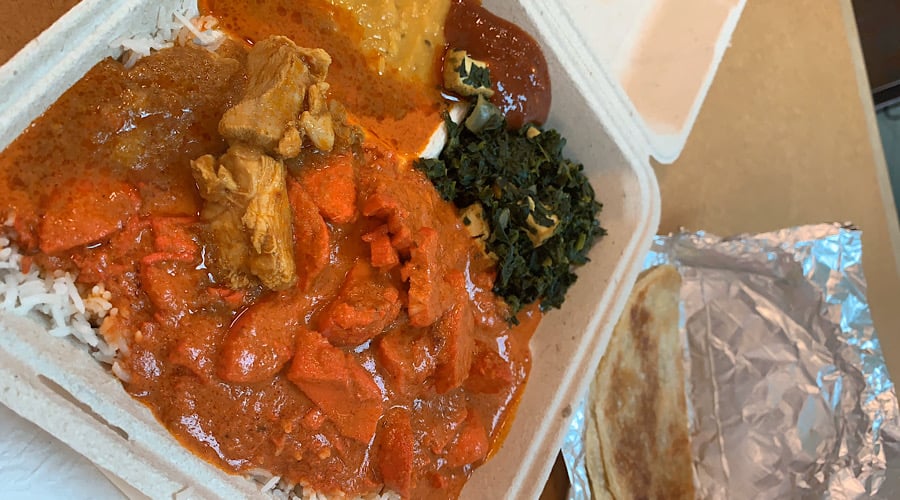 Where to find it: Paradise Palms
What days: Every day
What I'm eating: Butter chicken plate with two vegetable sides of saag and lentil, $9.95; and roti bread, $1.45
Lasoon specializes in Indian/Nepali cuisine. Here you will find butter chicken, basmati rice, various veggie curries, roti and samosas with spot-on flavors. The portions are really filling, especially if you get a roti on the side to mop up the extra curry sauce. Lasoon has a housemade hot sauce that you can get on the side to add extra spice. I especially love the tofu masala, a vegetarian version of the classic tikka masala, and butter chicken curry. There's a $5 option of a mini bowl with rice and your choice of curry. Lasoon is open until 4 p.m.
See also: Tasting Moiliili's new burger joint
Friday: Sistah Truck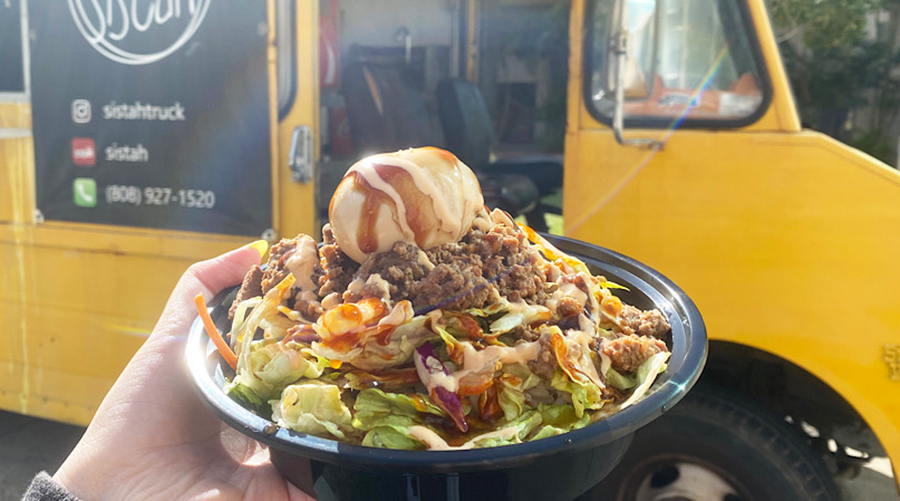 Where to find it: Pacific Ocean Science and Technology building (POST), Kuykendall, Architecture, Korean Studies, Kennedy Theatre
What days: POST (Monday), Kuykendall (Tuesday), Architecture (Wednesday), Korean Studies (Thursday), Kennedy Theatre (Friday)
What I'm eating: Bibimbap bowl, $9.50
Yay, I made it to Friday! It's time for something super yummy for lunch. Sistah's iconic yellow food truck can be spotted easily on campus and its location changes throughout the week. It's known for its bibimbap bowls and twists on local plate lunches. The bibimbap bowls feature an ajitama-style soft-boiled egg, housemade teriyaki and their version of gochujang. The first time I ever went to Sistah truck, I ordered the bibimbap bowl and never looked back. The succulent pieces of ground beef drizzled with that teriyaki sauce make this unbeatable. The bowl is filled with vegetables and white or brown rice, so it feels very healthy. If you want a plate lunch, go for Sistah Truck's popular chicken katsu, which comes with classic katsu sauce or mushroom gravy. The truck serves daily from 10 a.m. to 2 p.m.
See also: Raising Cane's first Hawaii location now open near UH-Manoa