Mind Blown: These Premium Chocolate Bonbons Are From Hawaiian Host
Made with O'ahu-grown chocolate, they even have their own upscale boutique.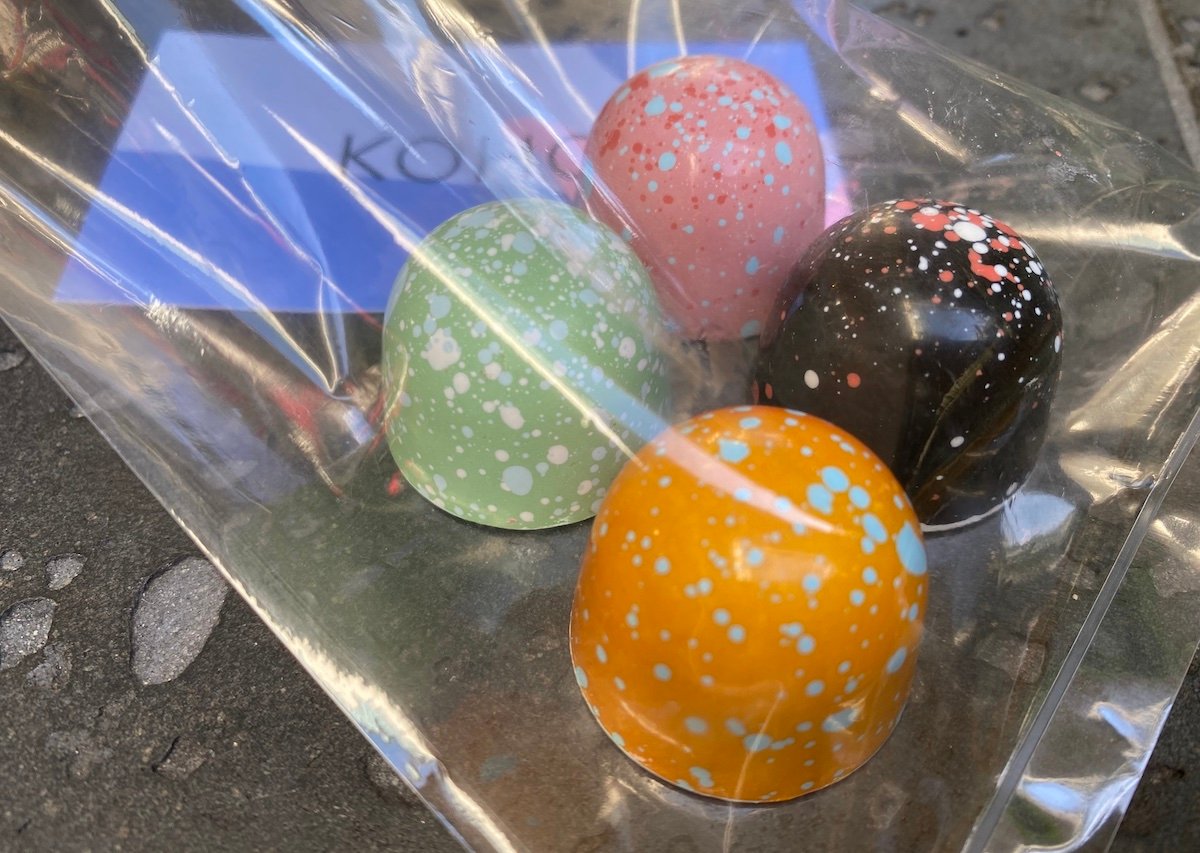 These are bonbons. Chocolate bonbons. Their hand-painted shells are made with cacao grown on O'ahu's North Shore; their centers hold fillings like Kona coffee, liliko'i and caramel. They sit in a glass case with other shiny bonbons in flavors like macadamia praline and mango ginger caramel, all gleaming like speckled galactic jewels. And they're made by Hawaiian Host.
Can we say mind officially blown? Because when I saw this, at Hawaiian Host's new Koho chocolate pop-up boutique at Ala Moana Center, all I could think of was what a company old-timer told me when expensive artisan chocolates started appearing in Honolulu years ago. "Chocolate is chocolate," he shrugged. "Macadamia nuts is macadamia nuts." Not long before the pandemic, my dad was buying half-pound boxes of Hawaiian Host chocolate-covered macadamia nuts on sale at Longs for $1.99 (he kept secret stashes). And now, these bonbons. Hawaiian Host sent me a box when I couldn't make the shop's opening. I still had to go see it for myself.
Like much of Hawai'i, I think of Hawaiian Host mostly as packaged gift sets at ABC Stores—inexpensive omiyage for tourists. But there's always been another layer. A very long time ago, when Hawai'i was much smaller, co-founder Aiko Takitani was a student of my grandmother's, so when my dad landed at Narita Airport on his first trip to Japan, he was surprised to find waiting for him Aiko and her husband Mamoru, the company's founder. Dad still talks about how they took him around and treated him to delicious sake. So while Hawaiian Host conquered the omiyage market, bought Mauna Loa Macadamia Nut Co. from Hershey Co., then struggled with debt and nearly went bankrupt when the pandemic wiped out Japanese tourism, I rooted for them. Now a new local and mainland hui owns the company, and as part of Hawaiian Host's rebranding, there are these bonbons. The aim is "to be the artisanal chocolate brand of the Islands," the website says, "and to reshape the perception of luxury in Hawai'i."
You might not think anything of it if you didn't know the history, if you just happened upon Koho's boutique next to Longs at Ala Moana. Behind the sleek glass frontage, in the middle of displays of boxed bonbons and Hawai'i-grown chocolate bars is the glass case holding a galaxy of bonbons in eight flavors. Already swimming in bonbons at home, I get caught up in my own excitement and buy more. The smallest gift boxes contain six of one flavor ($15); a customized box with flavors you choose holds 12 bonbons and costs $30. So I buy only four, at $2.75 apiece, and sit with them by the koi ponds.
The white and dark chocolate shells are thin, the flavors inside faint (guava) to bright (liliko'i) and very caramelly. By the time I get to the macadamia praline, I can't tell if I like it for its creamy sweetness and aftertaste of macadamias, or because it has no caramel. Putting aside thoughts of entire half-pound boxes of chocolate-covered macadamia nuts on sale for $1.99 before the pandemic, whose dividing line between then and now has never seemed sharper than with the old Hawaiian Host and the new, I'm wondering if I would buy these again. For myself, yes, three or four at a time as a locally made indulgence. For others, a qualified yes—if I can customize a box of six, and then especially if those who get them understand how far these chocolates have come.
1450 Ala Moana Blvd., (808) 966-8119, hawaiianhost.com, @kohochocolate