Michael Collantes sets high bar for Park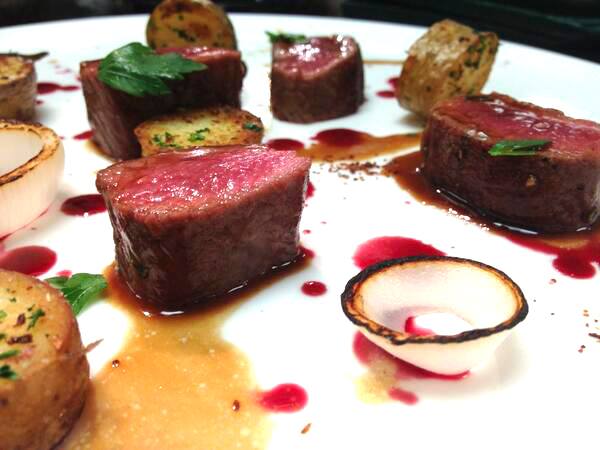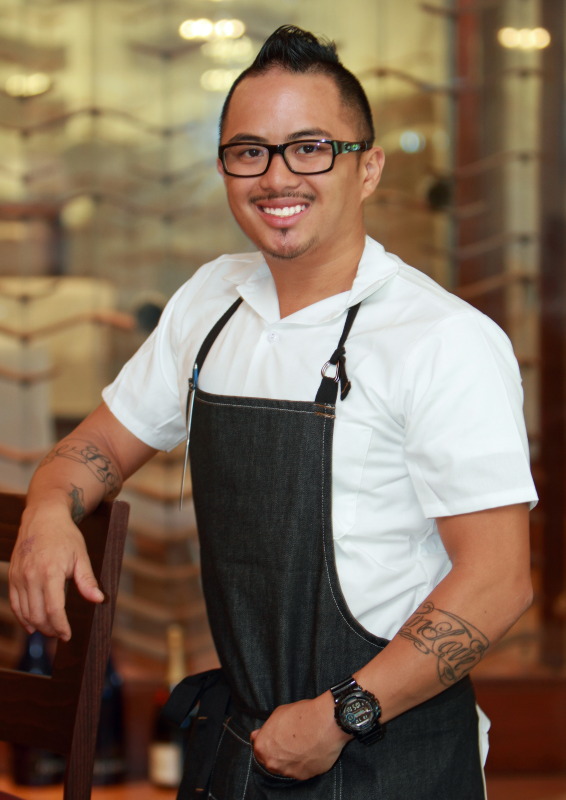 Details of a modern Mediterranean restaurant have been percolating through Honolulu dining circles for the past three weeks. In anticipation of an early August opening, I made some phone calls and scoured the Internet for any and all information about Park Restaurant, located at Aqua Lotus Hotel (in the same spot once occupied by Diamond Head Grill).
After my initial inquries, I had a chance to sit down with the restaurant's executive chef, Michael Collantes, a 29-year-old Florida native who's studied and worked with some of the world's most celebrated chefs, including Chef Masa, Eric Ripert and Joel Robuchon (each with three Michelin Stars). Collantes also has staged at Alinea, L2O and Le Bernardin. Amid our discussion about his culinary career, Collantes shifted the conversation toward his vision for Park and his relished opportunity to work in Hawaii.
Welcome Chef. What brought you to Hawaii?
Basically I answered an ad asking, 'Would you want to be a chef in paradise?' I was trying to open my own restaurant in South Florida at the time, and I came across this opportunity. I discovered that Hawaii is an untapped market, and when I had decided to jump on this offer, I reached out to chef Chris Kajioka (of Vintage Cave Honolulu). We exchanged emails and I was impressed by the talent he was bringing in for collaborations.
Do you have any signature dishes?
I don't want to have any signature dishes, especially this early in my career. If I did, I would be cooking the same dishes over and over again, and it wouldn't allow for growth. I was able to handpick my team, and I made sure to gather chefs from all different backgrounds and specialties.
You have an impressive resume. What takeaways do you bring with you from those experiences from some of the best kitchens in the world?
I grew up in fine dining, and I love it till this day. Everything about the service, the food, the precision excites me. One of my biggest influences is the kitchen culture I experienced staging for chef Grant Achatz at Alinea. They have a very precise kitchen culture. Everything is calculated and timed to the second. At Park, we have a family meal exactly at 4 p.m. no matter what. I am setting the standard and the tone. We are building a kitchen culture together. This extends to everything that we do. I stress to my team that there is always time to do it right. We order unpeeled garlic and shallots because we will always use fresh ingredients.
Tell me about your team.
We have a very young team; I believe the oldest is 32. Everyone comes from a different background and has different influences. We value collaboration, and the dishes we create aren't a specific chef's dish. We all helped taste, tweak and taste it; it's our dish.
What have you learned from your preview dinners?
I love to drill into the idea of the perfect bite. For example, we do a dish called the Park Oyster. I wanted to put sand on the plate for added creativity, much like a wild oyster sits on a bed of sand. Then people tried to eat the sand, which I didn't anticipate happening. So I posed a challenge to the team, rather than removing the sand, create edible sand. We also learned that we need sweeter desserts. We had so many savory elements in our dessert courses that needed work. As a chef, we dream about food. You tweak, and tweak and tweak. How does it eat? Temperature? Am I full after I eat it? We are driven by passion and then the desire to do better. And when I'm finally finished with a dish, I want to smash it with my hands because it's not good enough.
Who has been the most influential person in your career?
Chef Jennifer Carroll (as seen on 'Top Chef') is one of my best friends and a mentor to me. She is the only person who calls me Michael besides my mother. I cooked under her at 10 Arts Bistro by Eric Ripert, and she continually challenged me. When she returned from 'Top Chef,' she was disappointed that I hadn't changed the menu in her absence. She challenged me to change the menu almost daily, push myself creatively and experiment. It was an emotional day for the both of us when I left 10 Arts Bistro.
Park Restaurant
Park Restaurant
2nd floor Aqua Lotus Hotel
2885 Kalakaua Ave.
808-791-5161
parkrestaurantwaikiki.com
Opening night, Thursday, Aug. 1 from 5-10 p.m.
Open seven days a week
5pm-midnight