Mian's Spicy Cold Noodles Will Set Your Mouth Abuzz
The Sichuan noodle shop and its sister restaurant Chengdu Taste are back for take-out and dine-in service.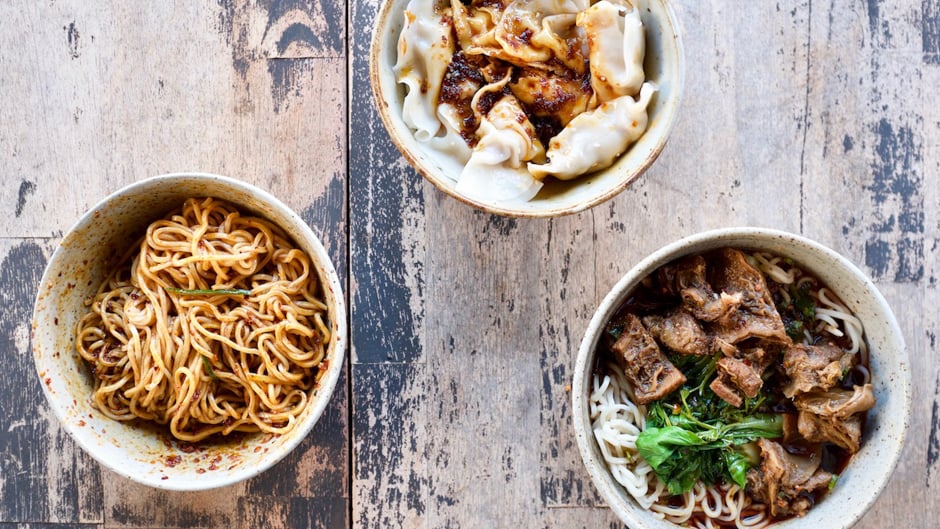 This is the world we live in: I see a photo of Mian's takeout beef noodle soup on a friend's Instagram feed in Los Angeles, and the same night dig into my own bowl of noodles from Mian in Honolulu. The same forces that propelled a virus across the world are the same ones that allow me to take refuge in a bowl of Chongqing noodles on our island.
Mian and its sister restaurant, Chengdu Taste, reopened for takeout on May 1, and though I've been primarily cooking in my own kitchen since sheltering in place, the thought of Mian's chewy noodles—a steady staple in my diet in the Before Times—was enough to lure me out of my cave.
I ordered my favorites—pork dumplings ($10.99) and Sichuan cold noodles ($9.99)—and while I've been pleased with my own dumplings and cold noodles in the past months, a few bites of Mian's dishes swiftly knocks my ego back into the amateur realm. The sauces for the dumplings and cold noodles—variations on a shoyu, sugar and chiles theme—are more intense, brighter, livelier, crowded with spices that I'm unable to pinpoint as they whirl around in my mouth against the backdrop of Sichuan peppercorns that set my tongue buzzing. This is what I imagine setting foot in a packed movie theater or bar will feel like after months of isolation. Everything a little too much, but in a welcoming rush that reminds me of what once was.
808 Sheridan St., #105, Keeaumoku, (808) 589-1118
(Delivery is also available via Bite Squad, DoorDash and Grubhub, but if you can, order directly from the restaurant for pickup: Delivery services charge restaurants up to 30% in fees.)