Meet BTS Choreographer and Dancing Queen from Waipahu, Sienna Lalau
She considers BTS the kings of pop, but after girl-talking with Lalau for more than an hour, and sharing air hugs, we learn why this hardworking, humble and hellah fun performer ranks supreme.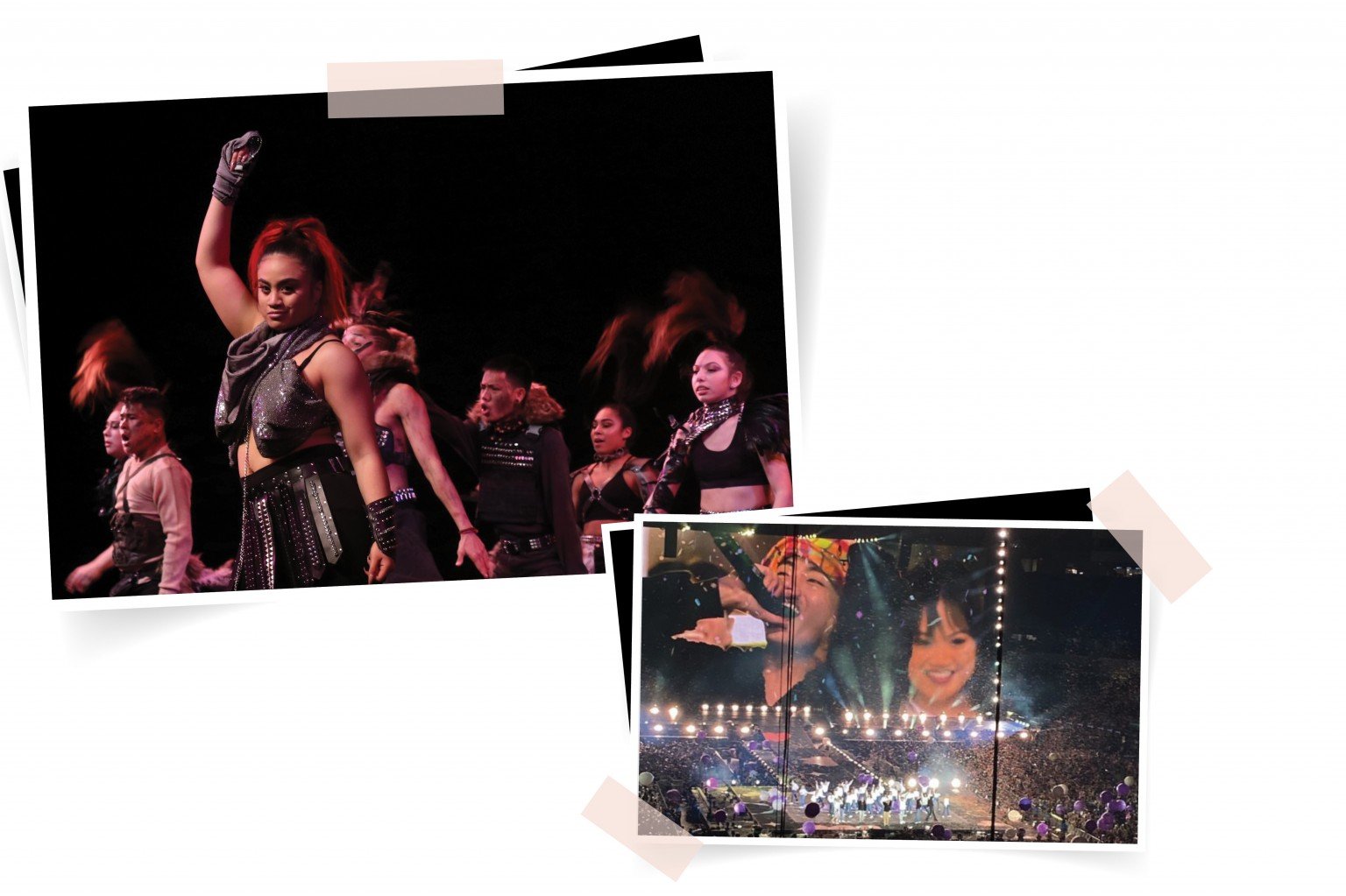 One of the first things Sienna Lalau says to me when we meet over Zoom is "sorry." She delayed our interview a day to quickly produce a choreographed dance routine. "Who for?" I ask, being nīele. Calmly, she replies, "BTS for their Grammy appearance." I expect her to drop the mic and leave the room. She reads the amazed look on my face, laughs and says, "Girl, it was stressful."
But it's not her first big gig. The 21-year-old choreographer and dancer has worked with J. Lo, Ciara and Justin Bieber. It's easy to see why. Just speaking about dance, she glows; her magnetic energy comes through her smile, and her eyes sparkle when she reflects on her journey. "As women, insecurities come out naturally; we're always comparing ourselves to each other," she says. "But dance brings out the best version of myself. I feel confident and alive."
She started taking hip-hop classes at 3 years old—when most of us were counting numbers, not beats. "It's a tough industry to be a part of," Lalau says. "When I was growing up, I was the bigger Samoan girl in dance class and it was easy to feel out of place." By her early teens, she was dancing with Janet Jackson and at 17, she was the only girl in the Los Angeles-based group The Lab when it won the USA and world titles of the prestigious Hip Hop International dance competition. That victory, helped along by the unconditional support of her family, gave her the moxie to relocate to LA. "Everyone, including aunties, uncles, cousins and teachers, could feel I'm my happiest when I connect with music."
SEE ALSO: Heart of Honolulu: Local Boy and Former Lady Gaga Dancer Gets The Party Started at Home
Like any other hungry artist, Lalau struggled. But she stresses her mom's sacrifices over hers. "She's a die-hard Hawai'i girl and she gave up her own comfort and support system to be with me. It was hard for her to leave my dad and three younger siblings. They also had to get used to not having their mom and oldest sibling around." Her tone becomes softer and introspective. "Finding work was hard. We lived with friends, Kea Peahu from Finding 'Ohana—she was one of my students when I taught back home—and her mom. We did our best to help financially; it wasn't much. Kea's mom would say not to worry, 'we believe in her.'"
SEE ALSO: Afterthoughts: Hawai'i's Film Industry Deserves Better. And We're Getting There
Her moment did come, in front of more than 4 million people, when she posted a video of her and her friends dancing to a Cardi B. song. Other artists reposted it, including Cardi B., and soon she had offers to teach around the world and dance on bigger stages. "The first time in my career that I was really nervous was at BTS' Rose Bowl concert in 2019. The lights went on, the music started and their fans went crazy. You don't realize the power of their ARMY until you're on stage and feel their energy. It's insane. I'll never forget that moment."
Then COVID-19 struck. Stages went dark. So did Lalau's fresh career. "Things were getting canceled, I lost motivation," she says. "I went through an identity crisis because instead of going, going, going, I had time to think.
"I started drawing creativity from other places. I learned how to speak Korean from online courses. I started making videos of my own work, work I wanted to show and create."
And she says she grew up. "I was one to go with the flow and waited for direction. But my parents always encouraged me to take initiative and I wasn't a kid anymore. It was time I leaned on myself," Lalau says.
View this post on Instagram
SEE ALSO: Q+A: Mark Villaver, Local B-Boy Turned Viral Video Star and World-Touring Dancer
Now "adulting" (again, at 21!), Lalau is refocusing her drive on a new role, choreographer. "I'm experienced, but not experienced. I have to think of the lighting, camera angle and a lot of other 'what ifs.'" Lalau still sees every opportunity as a gift and she's had many. Last May, she performed—proudly with her younger sister, who is a dancer—with J. Lo at Global Citizen Live and at the much-anticipated sold-out "BTS Permission to Dance" concert at SoFi Stadium. Since my daughter is a BTS fan—OK, I am too—I had to ask what they are really like. Lalau responds quickly: "When they walk in a room you feel their amazing aura; it's powerful. Not lying, they put everything of themselves in their performances and if it's not perfect, they will practice until it is. But, they have fun too." Just like Lalau.
Lalau's dad and siblings have since moved to LA to support her. "I'm so happy they're here, but I forgot what it's like to have five Samoans in one house," she says with a laugh. And as she continues to make them and Hawai'i proud, locals (including me) are excited to see where her fancy footwork lands next.
Sienna Lalau's dance crew won Brown Bags to Stardom honors when she was at Highlands Intermediate. Follow her on Instagram @sienna.lalau.