Maui Ag Fest 2014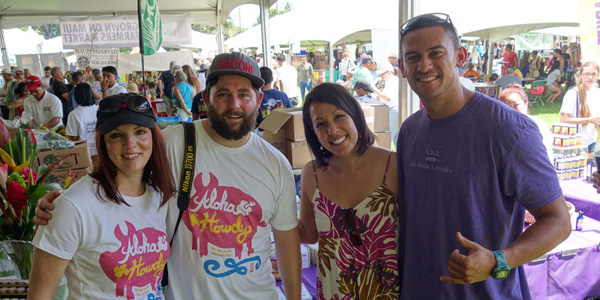 I had a hard time choosing a promo pic to represent today's blog about the Maui Agricultural Festival. The highlight is definitely the collaboration between Maui chefs and farmers, but there is so much more to the event.
On the first Saturday in April, farmers, ranchers, chefs, educators, and other food and agricultural allies gather at the Maui Tropical Plantation in Waikapu to showcase the bounty and talents of Maui County. Like the Hawaii State Farm Fair, there are retail booths, demonstrations, animal displays, contests, and more. But Maui chefs also get involved, to show all the fantastic things you can do with the many things the island farmers grow. And on top of that, it's all squeezed into just one day.
There's so much to the Ag Fest that I can never get to everything and I always seem to miss things to capture in photos, but hopefully this will give you a little idea of what goes on. I broke it up into three galleries, but if you want to see all the photos, click here.
I'm going to start with the event that I look forward to the most: The Grand Taste in Education. The chefs are each paired with a local farm and are tasked with coming up with little plates to serve. Attendees pay to get into this area and can sample dishes (one each) from the 12 chefs. The teams are also competing against each other for a People's Choice and a Judge's Choice award. This year, not only was each chef paired with a farmer, they were given a main ingredient and an ethnic (plantation) theme.
Maui Ag Fest 2014: The Grand Tasting
Picture 1 of 14
My (and the judges, and the crowd) favorite was Isaac Bancaco's Maui onion malasadas. His theme was Portuguese, so he put Kula Country onions into the malasada batter, served them with onion sour cream, and topped them with an onion marmalade. The outside had sugar and the malasadas were fluffy, but it was a pretty perfect savory treat.
Here's a look at most of the booths that I could get to. There's a big tent with a farmer's market, another for education, and yet another for interactive make-and-take projects for kids, to name a few.
Maui Ag Fest 2014
And, finally, the chef's challenge. This is done "Iron Chef" style, with a dozen chefs given the same mystery box of required ingredients from Kula Fields and a wide array of optional ingredients (like cream, eggs, herbs, etc.). The public doesn't get to taste these plates — just a panel of judges — but it's interesting to see what the chefs come up with in half an hour. There were even a couple of items that caused the chefs to say, "What IS this?"
If you want to plan ahead, the next Maui County Agricultural Festival is April 4, 2015. See you there!
Disclosure: This trip was provided by the Maui Visitors Bureau.