Market City's new Taiwanese cafe has fluffy souffle pancakes
Cloud Nine Cafe's boba pancakes, dumplings and noodles are seriously crave-worthy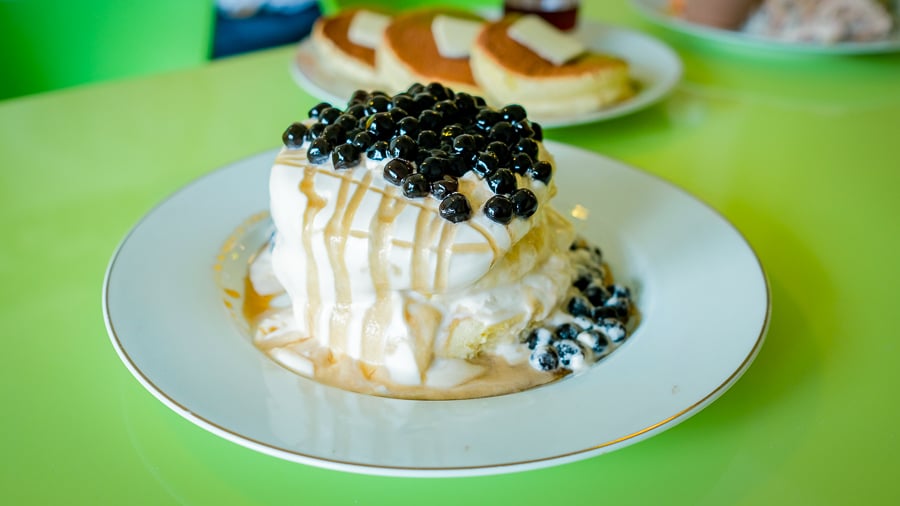 I'm a total sucker for boba. I might add them to my milk tea from time to time; I am gung-ho when I see them on a dessert. Imagine my reaction when I came across a towering stack of souffle pancakes topped with brown sugar milk foam and warm boba pearls. I had to have it!
Cloud Nine Cafe took over the former Dragon Tea space at Market City Shopping Center in November and is gearing up for a grand opening this month. I caught wind of the souffle pancakes and instantly fell in love.
The jiggling towers are very eggy and not as sweet as you might imagine. They're similar to an Uncle Tetsu souffle cheesecake. The difference lies in how they're prepared: Instead of adding eggs directly into the batter, as you would with regular pancakes, flour and other ingredients are folded into highly whipped egg whites, capturing their airiness. They can be had plain with butter and maple syrup ($10.49) or topped with fruits, Oreo cookies and other options ($11.49 – $12.49).
My first forkful shoots me back to Hoshino Coffee in Tokyo, where I first experienced this type of dessert pancake. In Japanese, "fuwa fuwa" means fluffy and these pancakes are the very essence of fuwa fuwa.
The creamy brown sugar foam has that distinct hint of smoky caramelized sugar. Paired with perfectly cooked tapioca pearls that have the right amount of chew, this dessert is a texture wonderland. Each stack of three made-to-order pancakes takes 20 to 30 minutes to make. Trust me when I say it's worth it.
We decide to check out the other snacks while waiting and realize they have a strong Taiwanese bent. Tea eggs, hard-boiled and steeped in black and oolong tea leaves from Ali Mountain ($1.49 each); lou rou fan, pork braised with Chinese five-spice, soy sauce, ginger and rock sugar and served hot over white rice with a boiled tea egg ($10.99); thick, cold sesame noodles with a killer chili oil ($10.99); and boiled dumplings filled with pork or chicken ($9.99 for an order of 8). We order them all.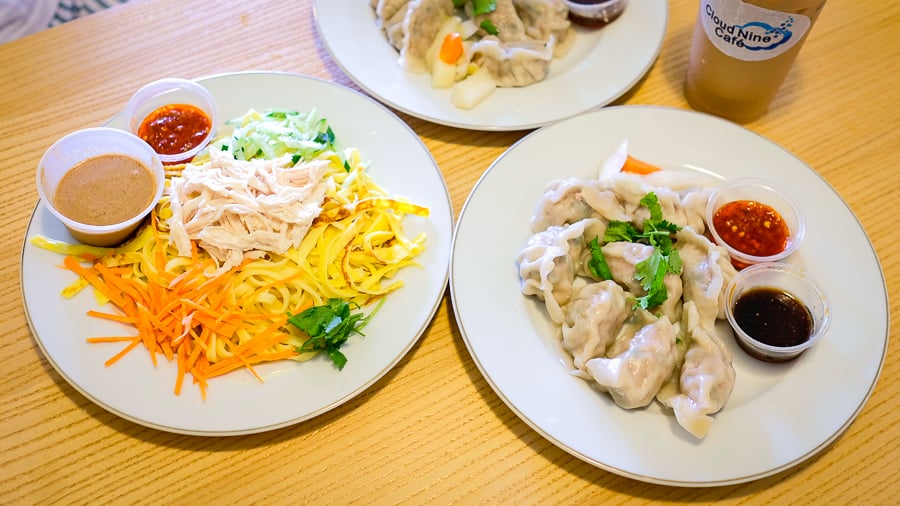 My Taiwanese friend says this is real home cooking that takes her right back to childhood. Both dumplings have a subtle flavor; the pork with cabbage is the clear winner. The wrappers seem thicker than necessary, but they hold up well have a nice chew. Each plate has cups of soy sauce and potent chili oil that I cannot get enough of. They also come with pickles to offset the rich, juicy pork.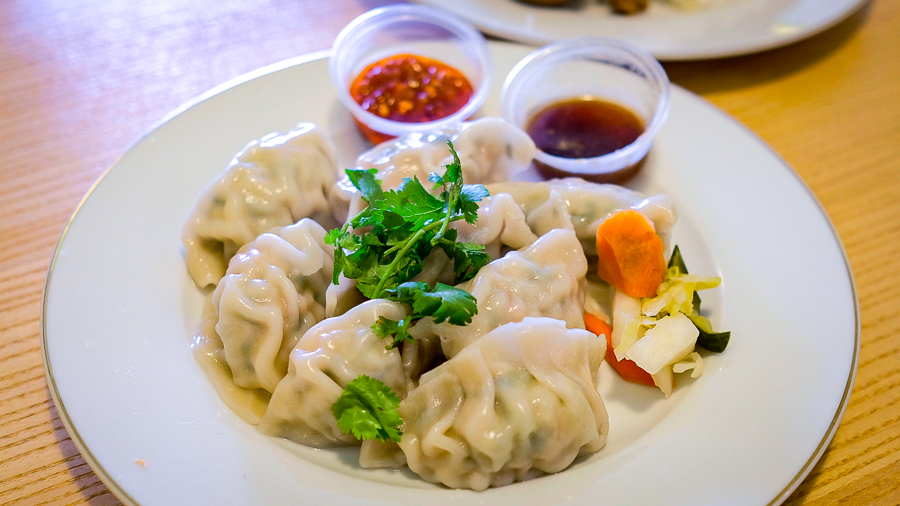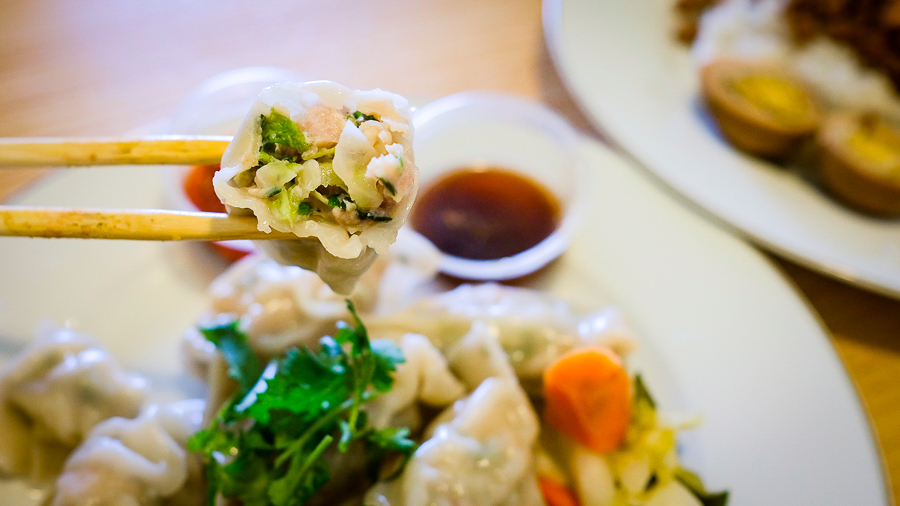 The cold sesame noodles are closer to room temperature. The sauce is chilled, but not enough to chill the noodles. On another visit I order this to go and chill it at home before eating — this time it stays on the brain.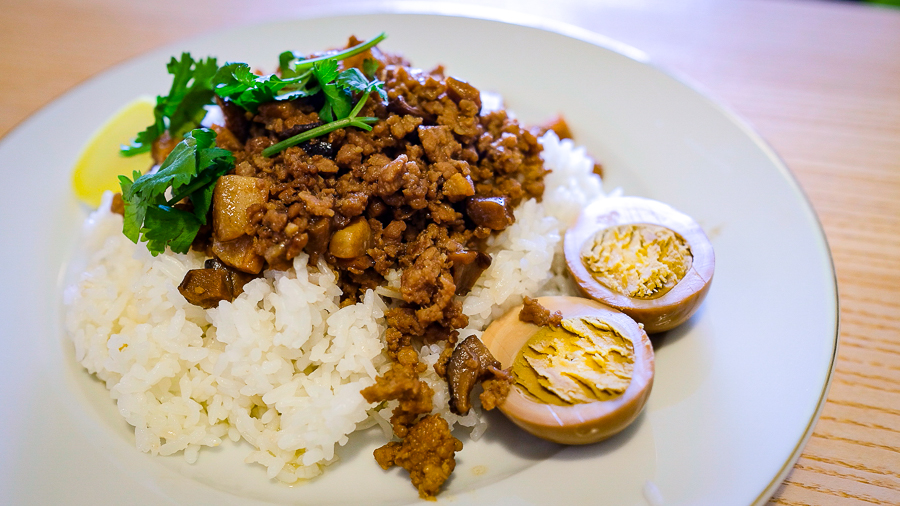 The lou rou fan is the table's favorite dish along with the Ali Mountain tea eggs, which have a creamy yolk and for my Taiwanese friend, taste of nostalgia. Second only to beef noodle soup, lou rou fan is one of the most iconic dishes of Taiwan and it is represented well.
Cloud Nine's beverage selection is succinct, especially compared to the former cafe's selection, but it hits all the bases with solid classics. Hot or iced teas, with or without milk, and blended fruit teas and smoothies range from $3.49 to $5.49, making this one of the more affordable tea shops in town. These can all be customized to preference and topped with boba, salted cheese foam and various jellies. I particularly like my iced black milk tea, brewed strong with Assam black tea leaves.
I've been jonesing to visit Taiwan for the night market and boba galore. A few more visits to Cloud Nine and I seriously might book a trip.
Cloud Nine Cafe
Market City Shopping Center
2919 Kapiolani Blvd. 206D
Kaimuki
Mon. – Fri 11 a.m. – 9 p.m.
Sat. 10 a.m. – 9 p.m.
Sun. 10 a.m. – 8 p.m.