I Was Desperate for Tongue-Numbing Mala Flavors. Chengdu Taste Saved Me
Before Sichuan restaurants started opening around Honolulu, one place was a flashing red beacon. Here's why it still is.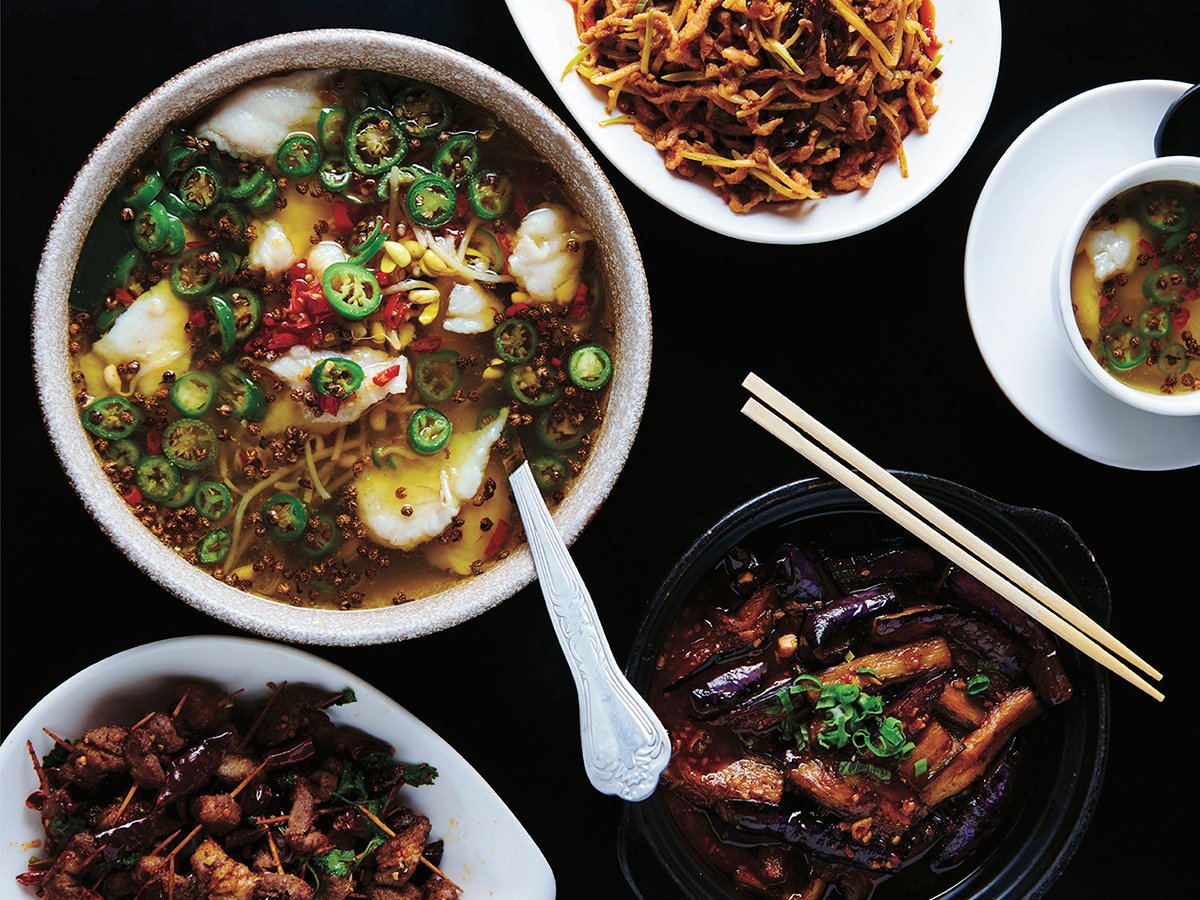 It's 2016 and I'm feeling intense yearnings that O'ahu can't fulfill. Other Mainland transplants miss family and friends, and yes, I miss them too. But my acute case of island fever is due to a local shortage of Sichuan food.
I love Sichuan food because of how different it is from anything I've had. Mala, one of its signature flavors, is more a combination of yin and yang sensations than tastes due to Sichuan peppercorns, which cause that citrusy, numbing sensation, coupled with the spicy burn of chile peppers. The first time I tried boiled beef in hot sauce and laziji fried chicken at Shufeng Garden in Rowland Heights, California, it blew me away. Mala was the gateway flavor that turned me into a Sichuan food fan, but it was the heady complexities of non-mala dishes that made me a full-blown addict.
While other Chinese regional styles focus on the quality of ingredients and letting the natural flavors shine, like Cantonese cooking, Sichuan cookery can make a humble ingredient insanely delicious. I love that most about cooking and eating—when humble ingredients are made noble. Sichuan cuisine does this as well as any other with great complexity of flavors, techniques and ingredients.
So when I moved to Honolulu I scoured Chinese restaurants for any Sichuan dish like mapo tofu—the OG one chock full of red chile oil, silky tofu and even silkier meaty sauce, with enough Sichuan peppercorns to probably numb your mouth prior to oral surgery. That's when I realized that most Chinese places on O'ahu served Cantonese-style food, and the very few that offered Sichuan dishes lacked the qualities I sought.
---
SEE ALSO: SXY Szechuan: Spicy Is the New Sexy
---
In desperation I headed to the McCully-Mō'il'ili library in search of Sichuan cookbooks and found Fuchsia Dunlop's Shark's Fin and Sichuan Pepper. Dunlop explains that Sichuan food is about more than mala wei (numbing, hot flavor). It's based on 23 "official" complex flavors known as fu he wei. Dunlop helped me realize that my island fever was more complicated than just missing the mala. Predictably, my attempts to follow her recipes were less fuhe wei and more nada wei.
The situation got so dire that when my brother visited from New York, he froze dishes from Sichuan restaurants and smuggled them to me in his carry-on. It was the best. Care. Package. Ever.
So you can imagine my excitement when Chengdu Taste opened at 808 Center in 2016. It was an extension of Tony Xu's eatery of Sichuan classics in California's San Gabriel Valley, where the wait to get in could stretch for hours. The late Pulitzer Prize-winning food writer Jonathan Gold included the original Chengdu Taste on his 101 Best Restaurants list. It's also listed in Michelin's Bib Gourmand. The Honolulu branch hews true to the original, with exacting standards including use of fresh ingredients.
It's amazing the power one restaurant can have. The managers at Chengdu Taste have never led me astray with their recommendations for dishes rich in mala and other fu he wei flavors. Over the years, these have become my go-tos:
The showstopping braised Dongpo pork hock ($26.99)—because what induces more food envy than a huge ham hock with chile oil dripping down fall-off-the-bone meat?
Twice-cooked pork ($19.99)—fatty bits of pork and sauteed garlic sprouts in a salty, umami-rich, slightly spicy Sichuan jiachang wei or home-style flavor sauce.
Boiled fish with green pepper soup ($22.99)—the dish most featured in L.A. magazines and newspapers after Gold wrote, "The electric charge of the peppercorns brings out the flavor of the filets and the chiles—the taste flits around your lips and tongue with the weird vibrancy of a flashing Las Vegas sign." God rest his beautiful soul.
Cuiyun boiled fish with pickled cabbage and chile ($22.99)—comforting balance of acidity, spice and umami that serves as a palate cleanser and a bit of respite from the intense flavors of other dishes.
Minced pork with dried turnip and bao buns ($20.99)—the yin and yang of fatty, soft pork and crunchy preserved turnip stir-fried with fresh chile peppers in a pillowy bao bun—is there a better potluck finger food?
Boiled sliced fish ($22.99) or beef in hot sauce ($22.99)—pieces of fish or beef hover like clouds in a molten Sichuan brew of spices and chile oil with fresh garlic, bean sprouts, bok choy and minced scallions.
Sauteed string beans with chile and pork ($16.99)—a dish whose refreshing crunch from the string beans is interrupted by the salted umami of pork.
Kung Pao chicken ($18.99)—not the stuff sold by pandas. The dish has diced chicken, scallion, crunchy peanuts and chiles and embodies the Sichuan gong bao wei flavor of sweet, sour and scorched chiles that Dunlop explains well.
Fried chicken with dried chile pepper ($21.99)—like a mad Sichuanese take on popcorn chicken with bits of scallion and sesame seeds. Here the chiles add numbing and spicy sensations and are not to be eaten. May be followed by intense cravings that persist. Don't say I didn't warn you.
Chengdu-style fried rice ($14.99)—egg fried rice with salty-sour bits of ya ca pickled vegetables that would make Uncle Roger proud.
and, of course,
---
SEE ALSO: The Bowl that Converted Me: Saimin at Jane's Fountain
---
Seven years later, my island fever story has an even happier ending: Chengdu Taste has been followed by the openings of other Sichuan restaurants in Honolulu, including its sister restaurant from California, Mian, which focuses more on freshly made noodle dishes (try the silken, chile oil-infused pork dumplings, unctuously chewy cold noodles and Chengdu zajiang noodles). Others are SXY Szechuan at Ala Moana Center, Chong Qing Hot Pot at Ward Village, Wuwei Chong Qing Cuisine and Joy Cup Noodles Mean. I have options now, and though my heart and palate remain loyal to the place that cured my island fever, I love that now Hawai'i, too, craves the mala.
Daily from 11 a.m. to 2:30 p.m. and 5 to 8:30 p.m., 808 Sheridan St., (808) 589-1818, chengdutastetogo.com, @chengdutastehonolulu