Mad Bene's legit East Coast Italian is the best thing in Kapolei
A win for westside foodies from the Duck Butt Restaurant Group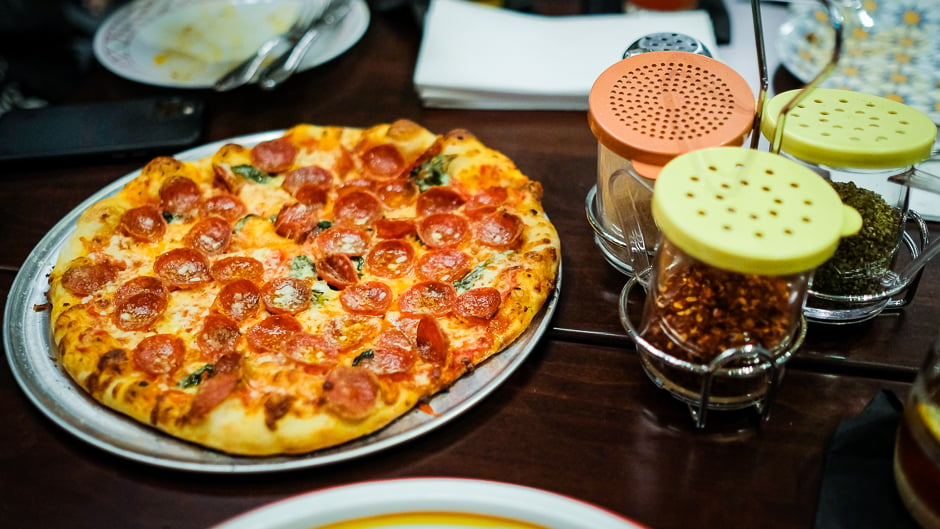 A flight from Hawaii to New York is at least nine hours long. But then you have to find a way into the city, settle in, yada-yada, badabing badaboom, by the time you're enjoying a hot slice of pizza you're mad tired. Fahgettaboutit!
On Saturday, I found a route that takes just 30 minutes from downtown Honolulu. Mad Bene, which is East Coast slang for "really good," just opened at Kapolei Commons serving up a hearty taste of East Coast Italian fare with attitude and cred.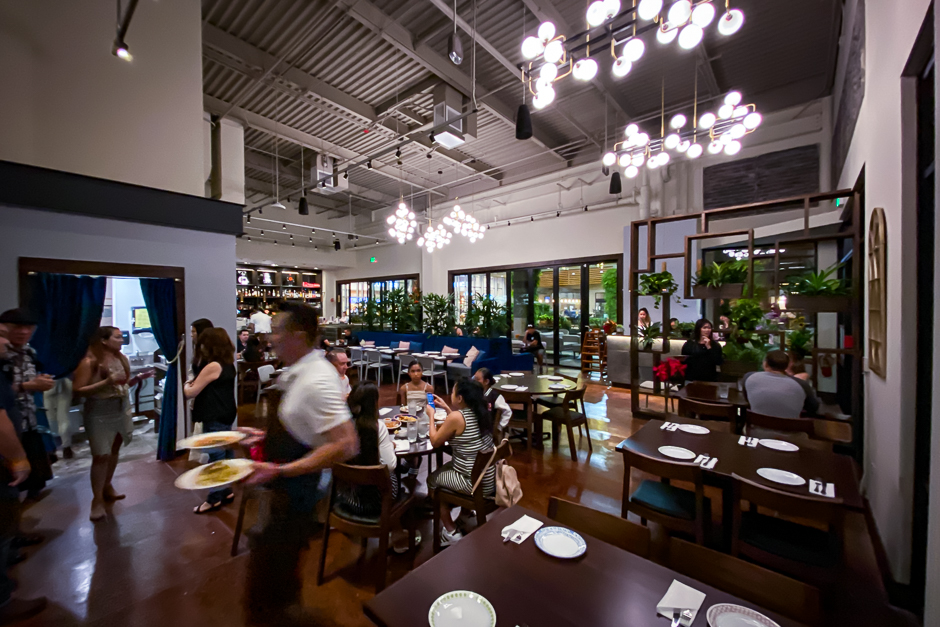 Step inside the former Eating House 1849 and you'll notice a completely different vibe that skews more Chelsea and less Hanapepe. Cobalt blue tufted banquettes, soft white lighting and little details like the grandma swag Corelle dinner plates meet each glance. An ethereal chandelier designed by Rhode Island-based local boy Miles Endo hangs as the focal point of the private dining room. The juxtaposition of East Coast and West Oahu really plays with your brain and it's pretty fun.
But honestly, the vibe is not why I'm kicking myself for moving to town so soon. It's Bao Tran's menu that has me completely shook. It reads like a checklist of my NYC must-haves: fresh pasta, pepperoni pizza, chicken parm, meatballs. Bring a large group because it's all family-style, just like nonna would make it.
Start with the eggplant parmesan mozzarella sticks ($11), which have more cheese than veg. Crunchy, seasoned breadcrumb exterior with gooey cheese-pullable mozzarella and batons of eggplant are a perfect match for the acidic marinara dip.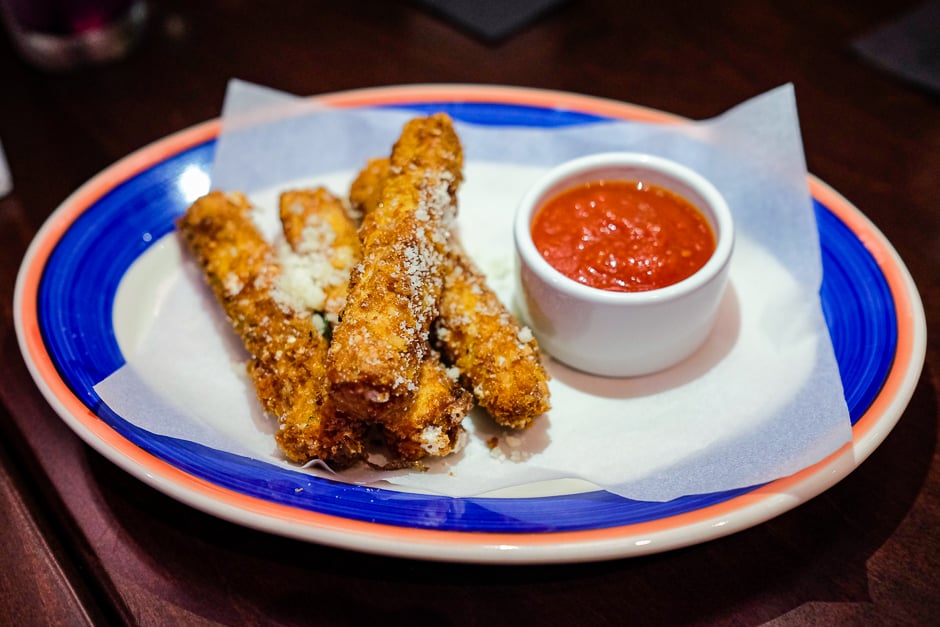 All cocktails are priced at $12. I enjoyed the pinkish gin, orgeat and peach (G.O.P.) Sour, tart with a smooth finish from the egg white foam. I also had a sip of the Caffe Rotolo, best described by our server as a Tootsie Roll iced coffee, and would save it for dessert.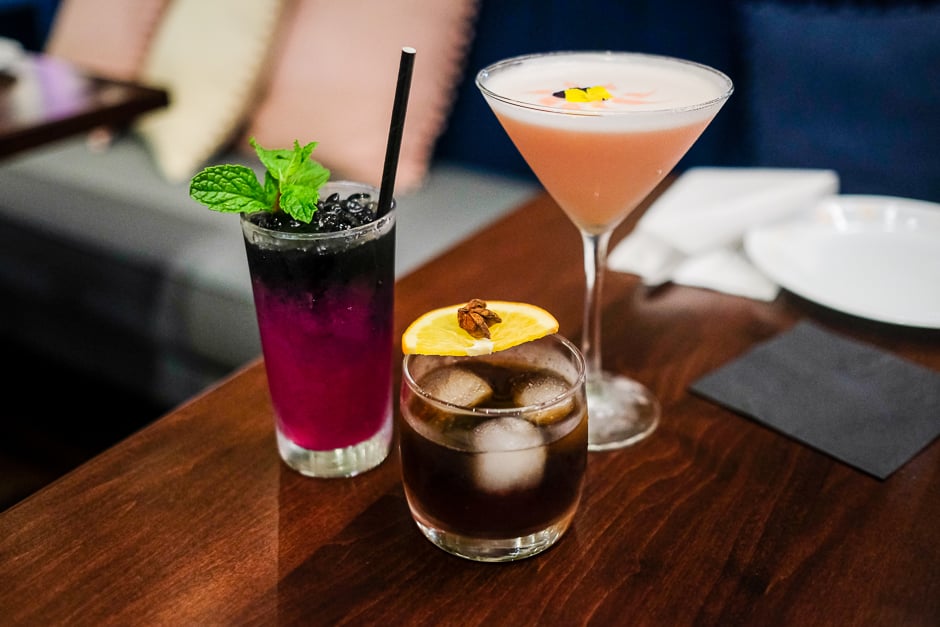 Pizzas are prepared in two high-end brick ovens imported from Italy and built on-site. The larger oven has a rotating floor for even heat distribution and for ease of use because it does not require a trained pizzaiolo to man it. Biting into our carbonara and pepperoni pizzas, we find an incredibly crispy outer crust that gives way to a perfectly soft center, allowing you to fold it NYC-style. Atop are drizzles of olive oil imported from Sicily and Ezzo brand pepperoni from Ohio, which form crispy cups of pizza juice.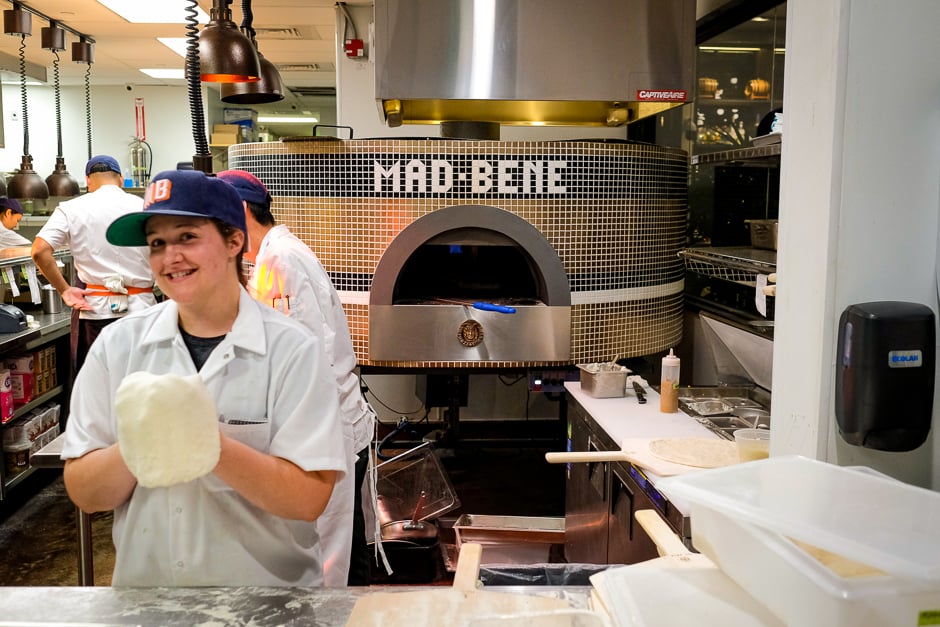 The NYC pie ($16) comes with the quintessential caddy of chili flakes, grated parm, garlic powder and dried oregano; the carbonara pizza ($18) is topped with smoked pancetta and a poached egg that's smeared and cut tableside. Of the two, I lean toward the NYC because it takes me right back to Lucali's in Brooklyn. A bit thick, but legit.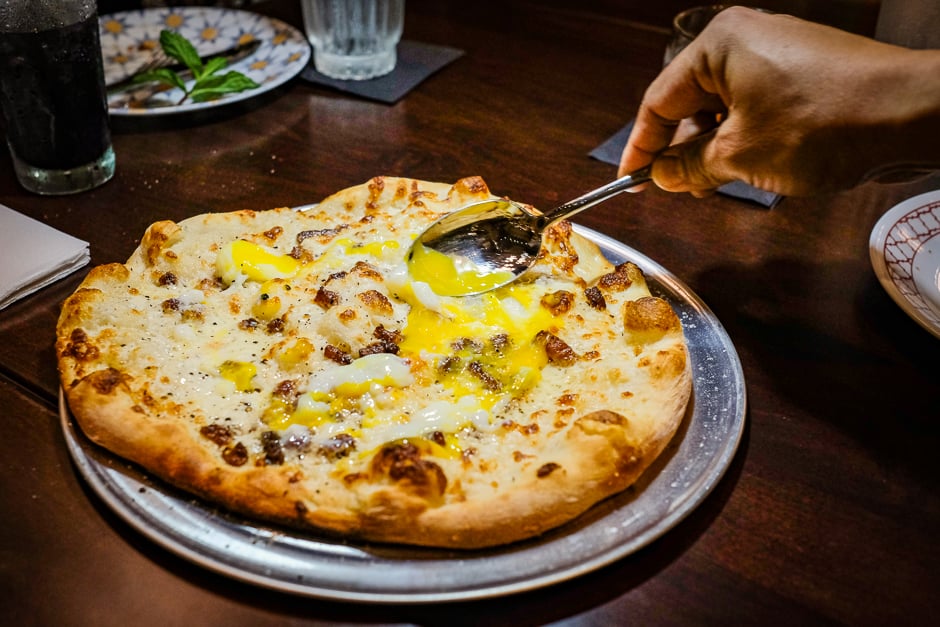 The smaller, domed oven is for proteins like dry-aged steaks and a Kona kampachi oreganata (market price), a spin on the classic dish you'd find at a red-sauce Italian joint. Breadcrumbs, dried oregano, olive oil and garlic infuse the fish with tons of flavor. Finish it tableside with a squeeze of lemon juice to make it pop.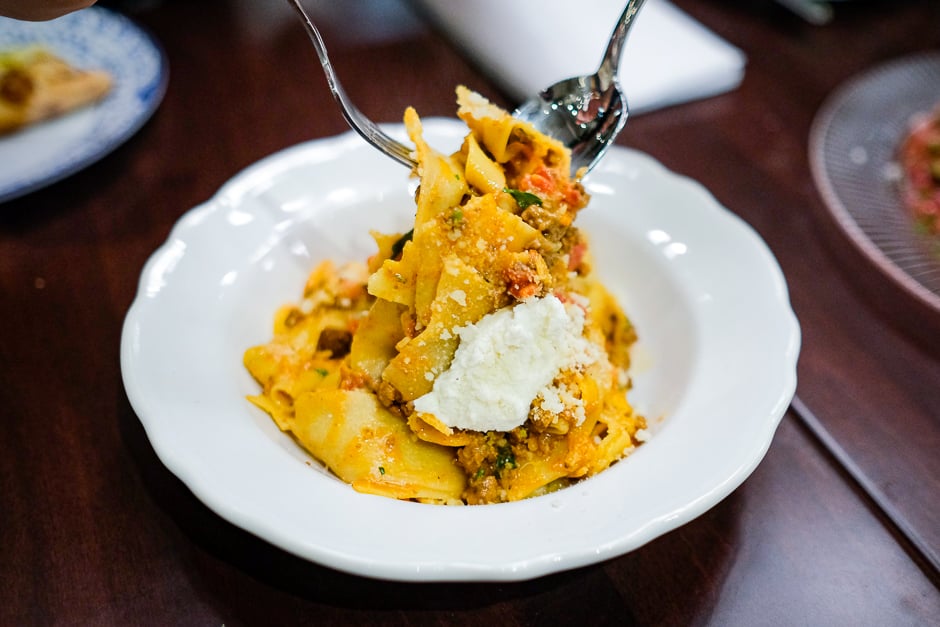 Another reason to bring a group is so you can get a few of the fresh housemade pasta to share. The 12-hour bolognese with pappardelle ($18) is a great introduction: The meat sauce coats the flat noodles and is set off by a creamy dollop of whipped ricotta. Even better is the rigatoni tako ($18), which features red wine-braised octopus, soffritto and browned butter panko. Our table ooh-and-ahhed over the al dente pasta and savory sauce.
I'm aiming for the spaghetti and meatballs ($19) and fusilli pesto ($17) on my next visit.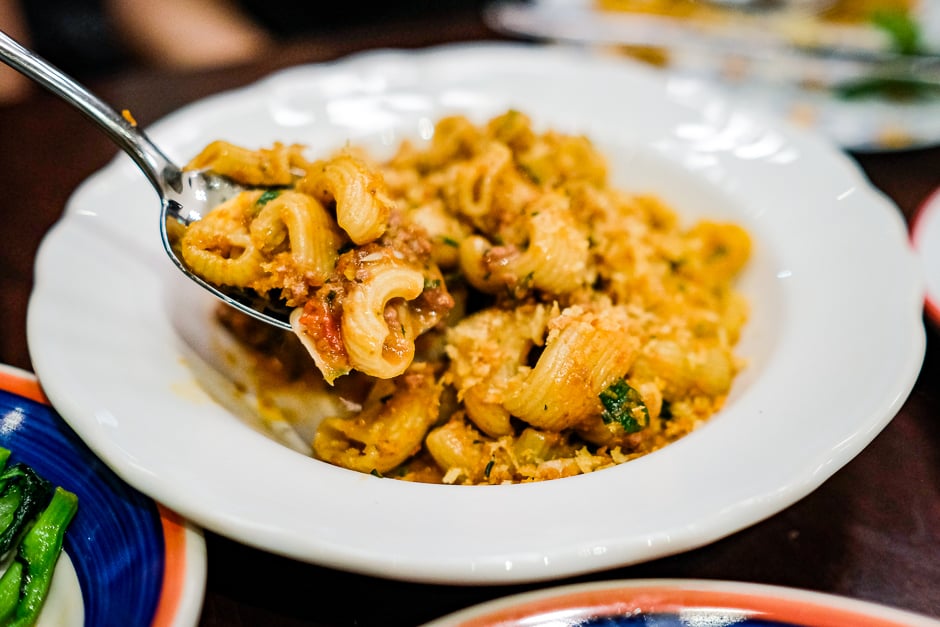 If you need a boost of protein, the thick chicken parm ($22) is the way to go. You only need a butter knife to portion it up; it's good with sides of Calabrian pepper broccoli rabe saute ($8) and crispy garlic potatoes ($9). The broccoli rabe was too salty for our taste and difficult to eat because it's not bite-sized, but the potatoes are excellent and would make a fine appetizer as well.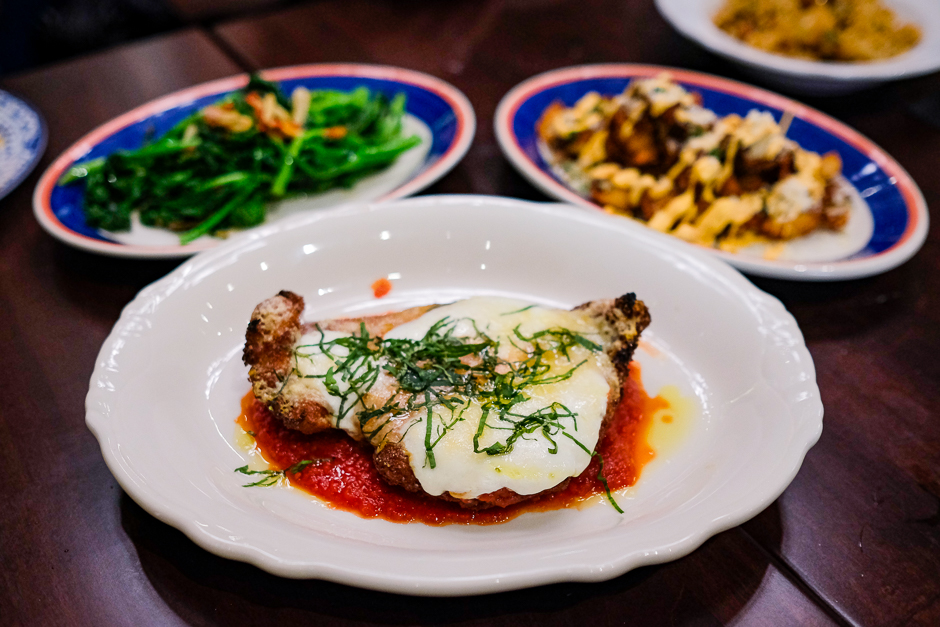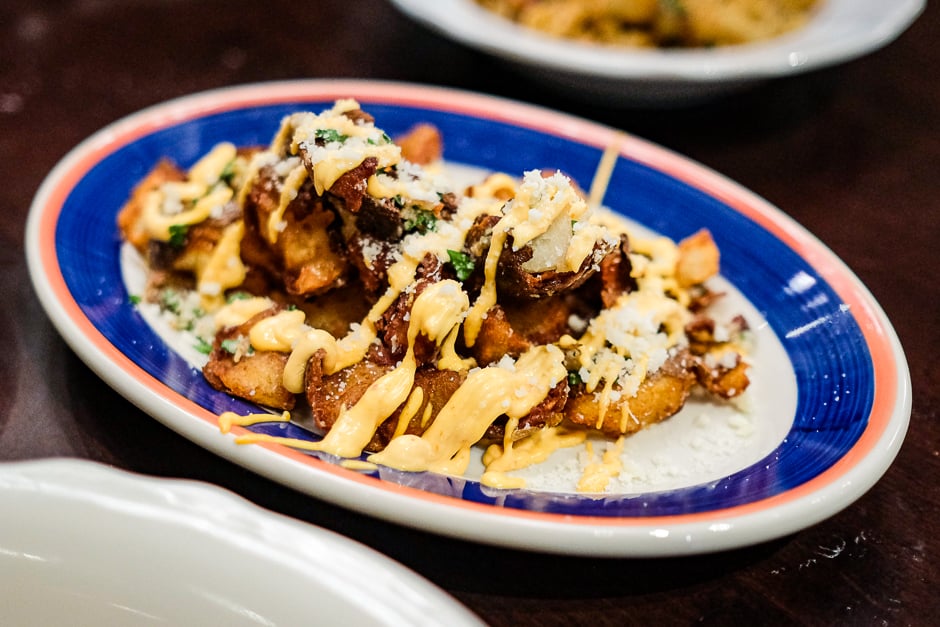 Save room for Mrs. Tran's tiramisu ($9). Mrs. Tran, the chef's wife, had a lot to do with the design and feel of the restaurant, and her namesake tiramisu gives my favorite tiramisu at La Cucina a serious run for the money. Ladyfingers dipped in Amaro liqueur are topped with airy mascarpone cheese and dusted with espresso, cocoa and sugar. It straddles the line between moist and drenched without being soggy, making it my favorite bite of the night.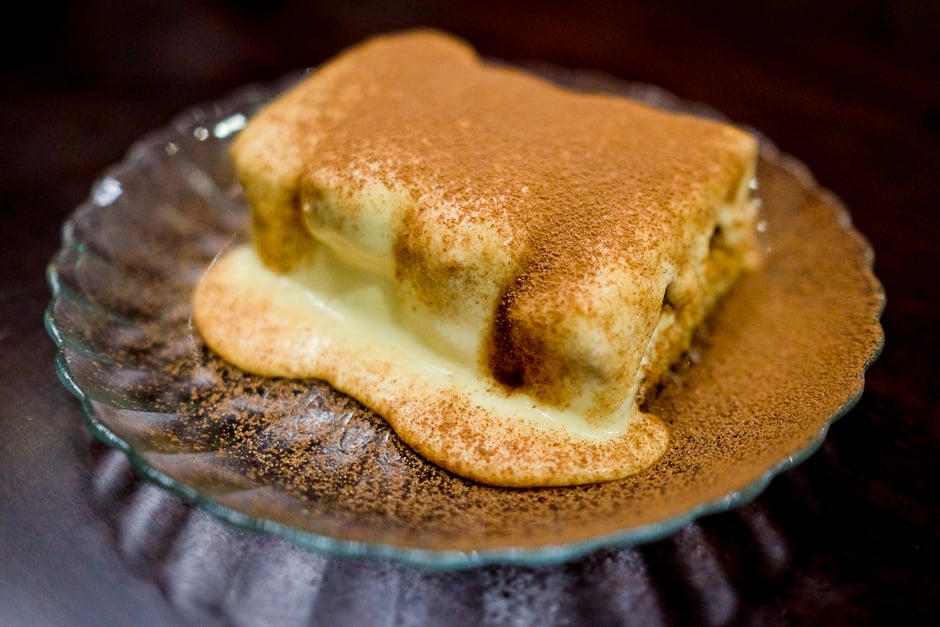 Formerly the executive chef of Michael Mina's The Street food hall at International Market Place, Tran is a Culinary Institute of America grad and New Yorker himself with loads of cred in the kitchen. He's been the chef de partie at Michelin-starred Carbone and The NoMad. The food speaks to his passion for making things that people like eating. With the backing of the restaurant group behind Duck Butt Cafe and DB Grill, Tran has the ability to cook and share a taste of what he grew up with on the East Coast.
The bonus here is that Mad Bene fills a void for East Coast-style Italian food not only in Kapolei but in our larger food scene. It should raise the bar for everyone else on the westside.
Mad Bene grand opens today at 5 p.m. Lunch will start in early January and a happy hour program will launch shortly after.
Mad Bene
Kapolei Commons (next to Regal Theaters)
4450 Kapolei Parkway #540
744-7400
Sun. – Thu 5 – 10 p.m.
Fri. – Sat. – 5 – 11 p.m.
www.madbene.com