Luxe Japanese Beef Elevates Yakiniku Grilling at Kaka'ako's Han no Daidokoro
The Korean-Japanese restaurant from Shibuya flies in fresh Japanese wagyu and Oregon washu beef.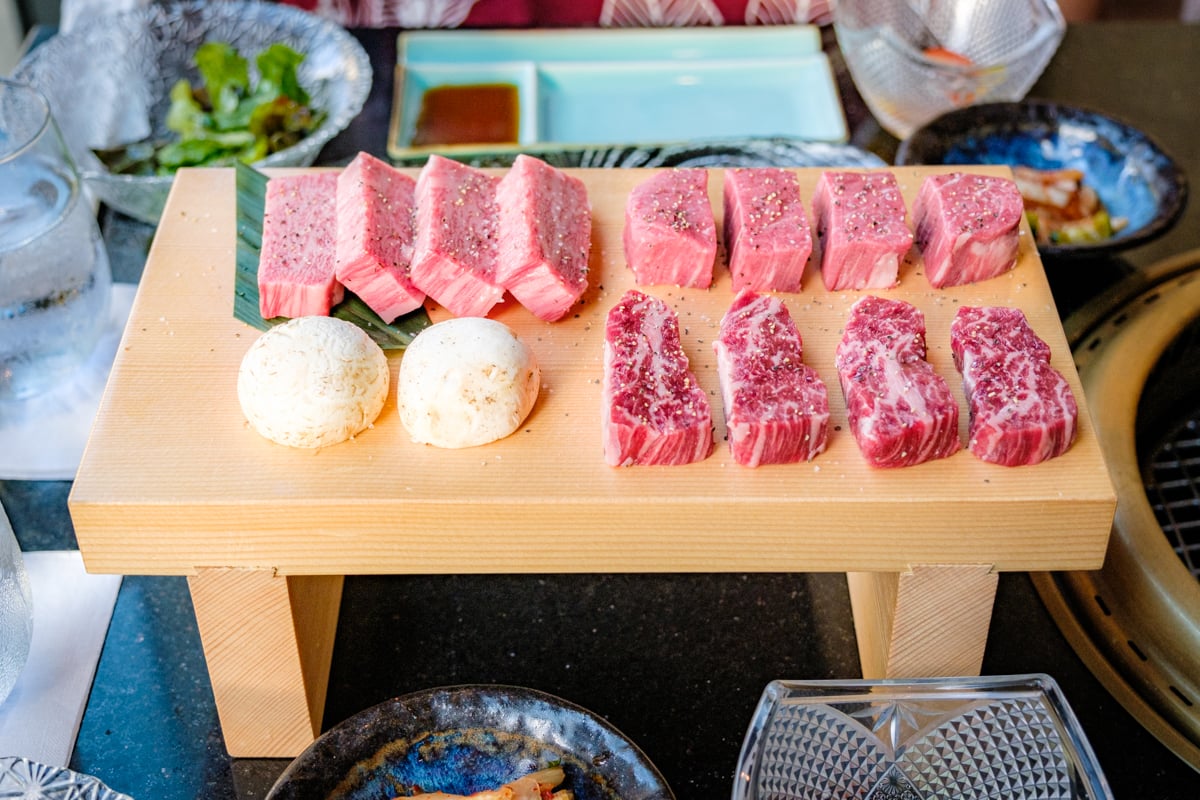 Beef connoisseurs swoon at the mere mention of wagyu. Although it is an elaborate myth that the prized cattle from Japan drink beer and receive daily massages, I prefer to believe it's the truth. This edible luxury is one of the splurges I indulge in when eating my way through Japan, because that's just what you do on vacation. Wow, remember those?
If you want to feel like you're on vacation, a trip to Ward Village is as far as you need to go. After more than a year behind papered-over windows, wagyu yakiniku house Han no Daidokoro opened its first U.S. restaurant in January. Headquartered in Tokyo's Shibuya ward, the restaurants are normally cozy, but this location on the ground floor of Kaka'ako's glitzy Anaha condo skews upmarket to match what it serves: luxurious A5 Miyazaki wagyu and Oregon washugyu.
Like jewels at Harry Winston, off-white slabs of intensely marbled beef greet you at the entrance from an illuminated glass-and-steel refrigerator. High ceilings and a snowflake chandelier draw your attention away from an awkwardly angular space that can seat upwards of 70 diners.
For the next 90 minutes, quartz tables outfitted with dazzling gas grills and built-in exhaust ducts become the center of your attention. The absence of smoke is unusual for a yakiniku restaurant; Han no Daidokoro's sophisticated ventilation system is something to appreciate. During my visits, we could choose between two courses: a $55 seven-courser featuring only Oregon-raised washu beef, a hybrid of Japanese Tajima and American Black Angus cattle; or, for $20 more, a mixed A5 Miyazaki wagyu and washugyu meal. It too has seven courses, but a few of the cuts are upgraded and the final course doubles the washugyu nigiri. A small a la carte menu includes two choices of beef tongue, wagyu rib-eye roll and other rotating cuts priced between $18 and $25 a serving.
---
SEE ALSO: Luxe Japanese-Style Omurice, Beef Stew and Curry Rice Debut at Waikīkī's New Yoshoku Ginza Bairin
---
We're here for the pleasure of beef so we opt for the $75 course. It begins with a hand-blown glass dish containing slips of Miyazaki beef tataki fanned over shaved onions. Use the daikon oroshi, mixed carrot-and-daikon oroshi and yuzu kosho pepper paste to accent each slice. The silkiness of the rare beef contrasts with a coarse, grilled exterior that has a touch of smokiness. The bright house-made ponzu sauce stimulates the palate while cutting the richness of the variegated meat.
More dishes arrive, including a crisp green salad simply dressed with sesame oil, salt and pepper; yuzu-scented miso soup, pickled tsukemono vegetables and Japanese-style kim chee. These are the extras: The star is a platter of gorgeously arranged seasoned beef, cut into ready-to-grill bite-sized pieces. In my experience, the cuts vary visit to visit but often include parts of the rib-eye, flank, skirt and sirloin. If you're wondering which ones are the premium Japanese beef, they're the pieces that are so marbled with fat, they're pink.
Without diving too far into the complicated Japanese beef rating scale, quality is measured mainly by the concentration of fat and ranges from A1 (very lean) to A5 (abundantly marbled with fat). On the USDA scale, A3 grade beef and above would be considered beyond Prime. Han no Daidokoro serves Miyazaki A5 wagyu beef flown in from Japan every few days. It's never frozen because doing so affects the texture and taste, and is only 14 days from slaughter and processing.
Washugyu beef is a hybrid of Japanese black cattle and American Black Angus that is raised on a ranch in Oregon using the same principles and feeding practices as in Japan. The result: high-quality product with its own distinct beefiness.
---
SEE ALSO: 2020 Hale 'Aina Award Winner: The Beginner's Guide to Korean Barbecue
---
Use the hunk of beef tallow to grease the grill and cook each piece to its optimum temperature—some require less than a minute—then top with freshly grated wasabi. What sets Japanese beef apart is how effortless it is to eat, and how it coats your palate with unctuous beef flavor cut by the magic of fresh wasabi. The portion may seem small, but you realize that less is more at Han by the end of the meal.
Reservations for my follow-up visit were canceled last minute by the restaurant, so the manager sent out an apology in the form of a rare cut called the enpitsu, or rib-eye roll. The name comes from its thin cylindrical shape that resembles a pencil. It is so incredibly marbled it looks like otoro sashimi. If you have the chance to order this cut, I recommend you do so for its euphoric qualities.
A dim sum basket containing steamed beef and onions is only a bridge to the next course—it's not my top choice, but it's part of the dinner.
The next course is the marinated washugyu sirloin sukiyaki, served with two dips: one a golden Waimana TKG egg yolk and the other grated and whipped yamaimo mountain yam. It takes only a few passes over the flame to grill the thin beef into submission. As you start to feel full, more cuts of meat marinated in a kalbi-style sauce arrive. Use the remaining egg yolk and yamaimo dips with these as well.
Two pieces of washugyu nigiri sushi drizzled with sweet soy reduction and bubu arare signal that this trip to Japan—I mean, dinner—is ending. These melt away like the previous bites and truth be told, I could have found space to pack away a hana hou order.
Wind down with a scoop of honey-laced mascarpone gelato and a hot cup of sweet Korean corn silk tea as you recount your beefy journey. Nothing at Han no Daidokoro is fussy or complicated, which allows the quality of the ingredients to shine. In the absence of now-shuttered Teppanyaki Ginza Onodera, Han no Daidokoro is one of the very few restaurants where you can experience beef of this quality or diversity in Hawai'i, well justifying the price tag.
1108 Auahi St. #150, Kaka'ako, (808) 517-3229, @hannodaidokoro_kakaako