Love clean oceans? These restaurants do, too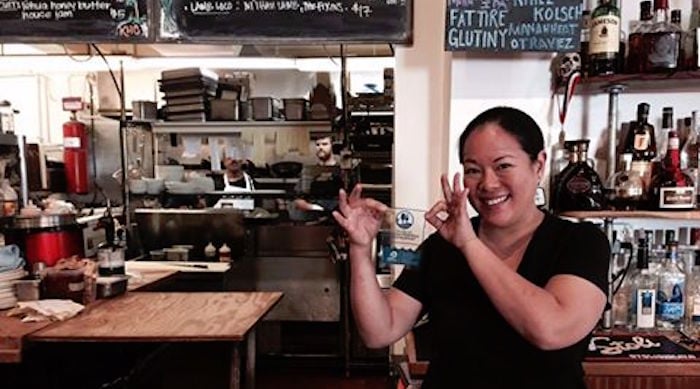 On a recent trip to the beach, I stumbled across more plastic debris than I'm used to seeing. It got me thinking, what can I do to help fight the amount of plastic and pollution that's out there?
I started volunteering with Surfrider Foundation and learned that the problem isn't limited to our beaches. Plastics and foam takeout containers don't biodegrade. In the oceans they're ingested by turtles and other sea life, and they float around the Pacific as plastic-and-debris islands that continue to grow.
Small steps by many people can can add up to make a difference. So can steps taken by restaurants. The Surfrider Foundation has spearheaded Ocean Friendly Restaurants, which recognizes spots that use no foam or plastic straws, dishware or takeout containers. Maui Huliau Foundation, Rise Above Plastics Coalition and Kokua Hawaii Foundation are also behind Ocean Friendly Restaurants, and the project that just started last April on Earth Day 2016 has already signed up over 100 restaurants all over Hawaii.
No. 100 was 12th Avenue Grill. Denise Luke, who owns the restaurant with her husband Kevin Hanney, said to me, "We've been dedicated to earth- and ocean-friendly practices from the day we opened doors 13 years ago because of Kevin's strong feelings about waste and the environment. It hasn't always been popular or financially comfortable, but we just kept trying to find the right products. The reward is in the success of our business, our growth, years of awards and many, many like-minded regulars."
As more restaurants go foam and plastic free, the cost of compostable materials will also decrease, making it easier for all restaurants to get on board.
If you love clean beaches and oceans, here are a few favorite Ocean Friendly Restaurants you can support:
Certified restaurants must follow these three criteria:
No EPS foam ("styrofoam") use; take-out food containers are recyclable (in your area) or compostable
Only reusable tableware is provided for onsite dining inside restaurants*
Proper recycling practices are followed throughout the restaurant
*Food trucks and take-out restaurants with no significant on-site dining are exempt from requirement #2.
And a minimum of three of these criteria:
Plastic straws are provided only upon request or are replaced with compostable straws
All take-out beverage containers are recyclable (in your area) or compostable
Takeout bags are not made of plastic and are provided only upon request
Only compostable utensils are provided for take-out, upon request
No beverages sold in plastic bottles
To help celebrate Surfrider Foundation's epic milestone, Koko Head Café is hosting a party for Surfrider and anyone who wants to learn more about Ocean Friendly Restaurants on Thursday, January 19 from 5:30-8 p.m.
Chef Lee Anne Wong will create a delicious selection of sustainable seafood and vegan pupu, to be paired with Lanikai Brewing Company beer. Tickets are available on Eventbrite with a suggested donation of $20.
To see the full list of Ocean Friendly restaurants statewide, visit www.oceanfriendlyrestaurantshawaii.org.
What else can you do? Here are some ideas from their website:
• Say "no straw" whenever you order a drink (even take-out and drive-thru)
• Ask for water and other drinks in a reusable glass instead of plastic
• Bring your own reusable cup for takeout coffee, and remember to ask for a reusable mug when ordering "for here"
• Bring a reusable water bottle to avoid purchasing plastic bottles of water
• If you think you may have leftovers, bring your own reusable container instead of getting a disposable container from the restaurant
• Always bring your own bag when picking up takeout food
Happy eating!