LOL: Holiday spice Spam OnoPop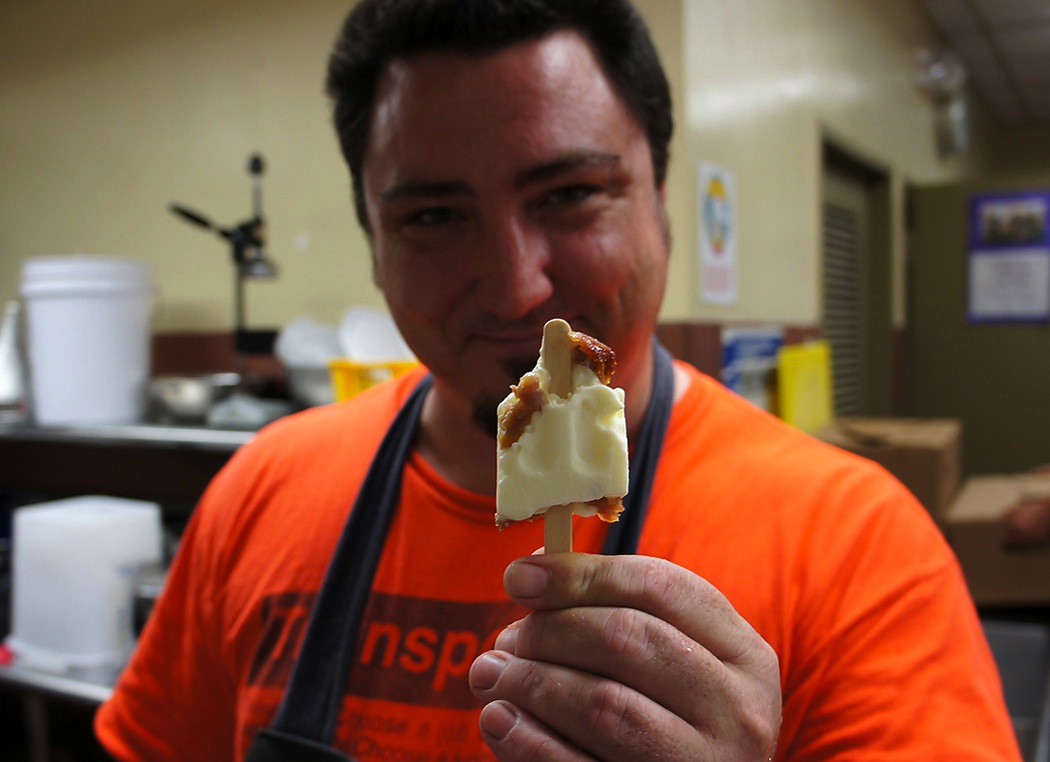 I laughed out loud over a mouthful of food the other day, which hardly ever happens. In fact, the last time I had food this funny was exactly a year ago — and the thing in question then was a cousin of the exact same thing this time: a Spam-studded OnoPop.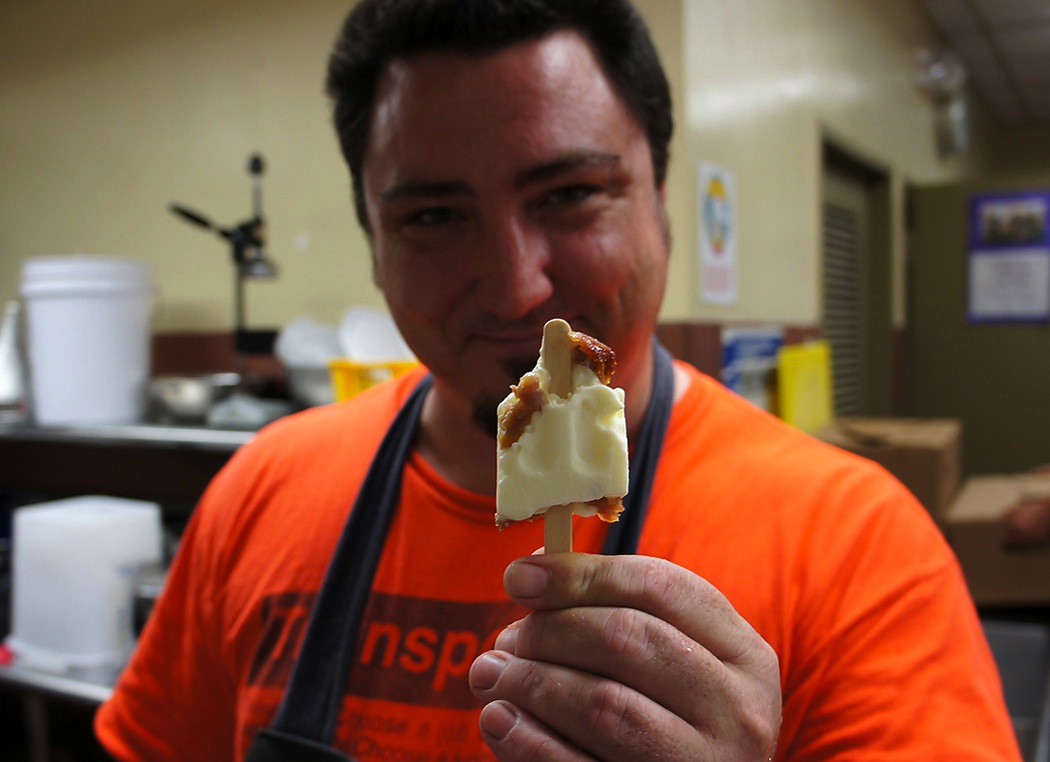 I mean, who puts processed preserved meat in an ice pop?! How does a mind even get there? Last time I asked, before last year's Spam Jam, OnoPops' Josh Welch emailed back a thoughtful response about abandoning a Heston Blumenthal recipe involving liquid nitrogen and bacon-egg ice cream in favor of a simple sweet cream ice cream with candied Spam (it sold out by nightfall and is being reprised at this Saturday's Spam Jam).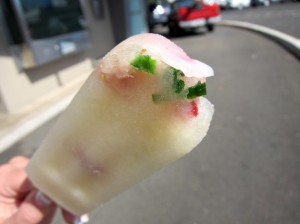 But you know the kicker? That candied Spam OnoPop was the result of Welch's attempt to improve on an earlier Spam OnoPop — a saimin OnoPop, to be exact. That one involved real charsiu, real green onions, real fishcake and real smoky bonito dashi, making the presence of Spam almost incidental. Who wouldn't laugh? Delighted, curious or disgusted, no one held back on their reaction to the saimin OnoPop (which, by the way, is not making a return appearance).
So this time Welch is telling me about a brown sugar-pineapple sorbet studded with Spam, pineapple and maraschino cherries and tinged with cinnamon and cloves.
Nothing about that lineup surprises me. The first time I met Welch, back when he was manning his own farmers' market booth and I didn't know who he was and he didn't know I wrote about food, I'd never had an OnoPop and was curious to try.
What's your favorite? I asked. Butter mochi, he said, because I've been trying out different recipes, and now I've gotten it so it tastes just like butter mochi.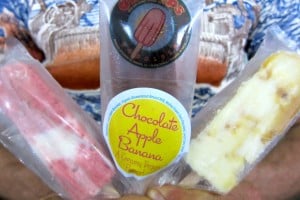 His finger jabbed the air triumphantly when he said that. I've never understood butter mochi, which to me is neither here nor there, so I chose chocolate-apple banana instead. Kaboom! Dark Waialua Estate chocolate with that perfect sweet tang of local apple banana.
Since then I've tried a good many OnoPops, and while not all have been memorable, there have been more than a few kabooms. Kaboom! Kabocha Brown Betty, made buttery and pumpkiny through a process more complicated than I can remember. Kaboom! Kulolo, which tasted like coconutty taro and was chewy, the best frozen texture of all.
Kaboom! Caramel shoyu, elevated to elegance (who combines caramel and shoyu?) by a light, fluffy texture. And kaboom! Candied kumquat, yes, the lowly kumquat, bitter, sweet and tart, which I was told I got the last of for the entire year, making me feel like I'd scored a rare and treasured thing (I did; stay away from my freezer).
So now Welch is to my mind the Willy Wonka of frozen treats. I'd love to understand how his brain works one day, but in the meantime I asked what inspired him to create this latest holiday spice Spam OnoPop.
"You remember back in the '70s, there was always that tray of spiced Spam and pineapple at holiday parties, and it was always a pupu?" he said.
Lord help me, I did. It took a second, because I'd buried the memory of clove-studded whole pink sugar-glazed Spams baking in the oven deeper than I'd buried all those Jell-O molds, just like the friends I've posed the question to since. Who would dredge it up and make it an inspiration?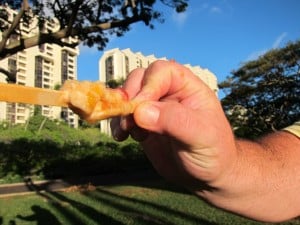 And then I bit into the holiday spice Spam pop. Kaboom! Maraschino cherry halves in a deep, lightly sweet sorbet. Kaboom! Pineapple chunks. And kaboom!
"There's the Spam! It's the '70s all over again!" I yelled. "I see the pupu platter, and it's on the same table as the Jell-O mold!"
I'm still laughing. I'm still remembering the tastes of the '70s, not exactly a high point on the local culinary timeline, but a good and happy time nonetheless. I feel like the joke's on me. Kaboom!