Living with a Quaran-TEEN!
Am I the only one who needs social distancing from their kids? I'm One Flu Over The Cuckoo's Nest already! Sorry, too early?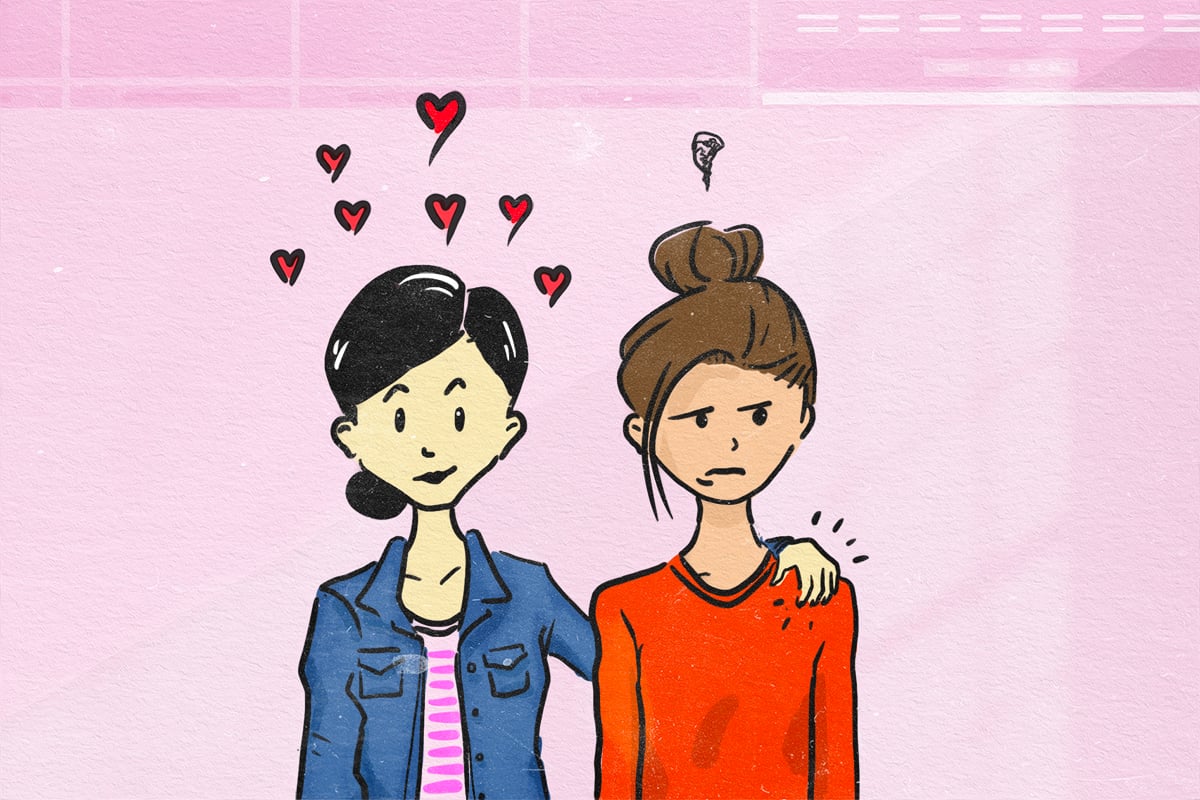 Art by James Nakamura
While the world is coming together to fight the mother of all viruses, I—a mother—am fighting the urge to not lose my **** with my teenage daughter. My angry adolescent somehow blames me, not her dad, for ruining her social life right now. Forget that there's a deadly pandemic out there! I'm the evil witch (if she could swap the "w" for a "b" she would) who takes away tech after four hours and limits video chats so that she can have normal human interaction.
Honestly, I thought this lockdown could be amazing. I wanted to spend quality time with my daughter connecting, sharing good reads and watching teen dramadies. The yoozh work, school and sport schedules offered no real bonding time.
This was my chance to have my Gilmore Girls life. Well, I forgot Lorelai gave Rory Pop-Tarts and doughnuts for dinner, Rory loved to read and they lived in a small, quaint town that probably would not have corona—the beer or virus.
In reality, our days include me encouraging her, scratch that, forcing her to grab a book instead of her iPhone when she gets up. This is when the moans and groans start. Then, my nagging her to brush her teeth, wash her face and comb her hair are, ironically, met with dirty words. Of course, she says them under her breath, 'cause she knows I'm one meditation away from getting the wooden spoon. AND, eating healthy meals with our fresh ingredients is disgusting to her when there's canned gold in our pantry. Spam only exists when it's hurricane season, and now, a freak-of-nature flu.
This nationwide dark storm will pass, and I cross my fingers that so will our daily frustrations with each other—if we work together. As I have time to read more blogs now, I am reminded that I can fine-tune my attitude and expectations. If she doesn't brush her teeth 'til noon, it's okay. If her crafting projects leave our living room looking like Hurricane Ben Franklin rolled on through—let it go. If spam musubis are what's on the menu for lunch, so be it. Yeah, not going to lie, I'm still working on the last one.
We're now heading into week six. And I'm learning more on how to get through this stir-crazy situation. Now, with the media saying the lockdown will last through May, or even later, I'm trying to stay positive. I still tell my daughter "I love you" every morning and night, and give her hugs every chance she allows it. If you know me, hugs are as important to me as water.
The other day, we went on a drive and ended up at my sister's house, which was vacant. My daughter worked on a flower dahlia craft she found online, while I worked on my own projects and crafts that will appear on our websites (stay tuned!). Then, we went for a run. There were no eye rolls, irritating sighs and teen talkback. We actually laughed, smiled and enjoyed the moment.
I know there will be way more battles, but the simple things we took for granted—such as road trips, quiet morning jogs and late-night moviethons—are also in our future. Heck, I might even get a TikTok account. That'll definitely earn an eye roll.
Lastly, as a reminder to myself and other parents who are housing hormonal teens:
Breathe (there are a lot of free meditation apps online).
Write new house rules TOGETHER.
Start off each day with an hour of alone time.
Find ways to get out of the house without breaking social distancing rules.
Create games that are fun for both of you (we played "Name That Tune" with Spotify).
Laugh and hug when you can.
And, most importantly, continue to say those three words that show our kids we deeply care about them and want to keep them safe and sound …"WASH YOUR HANDS!"