Latest 'Five-0' ratings down, looking up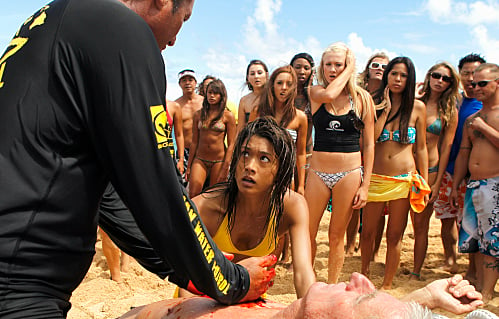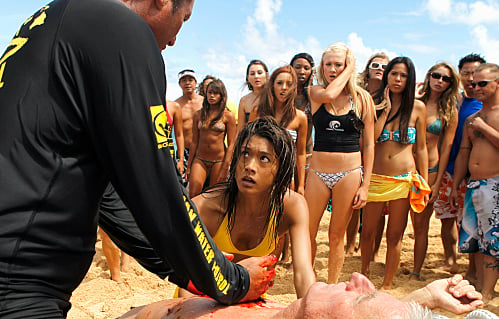 Last night's episode of "Hawaii Five-0" was a fun one, giving a little more depth to the character of Kono Kalakaua (Grace Park) — even with the requisite bikini scene. But despite a parade of guest stars and the usual array of gorgeous Hawaii scenery, the series dropped a bit in the ratings.
Early Nielsen numbers out this morning show "Hawaii Five-0" drawing 10.4 million viewers, a 3 percent drop that again puts it in second place for the 10 p.m. time slot behind ABC's "Castle."
Fortunately the show's numbers improve considerably once DVR viewership is taken into account.
Last week, "Hawaii Five-0" was again the most played-back show on television, gaining 3.1 million viewers after the initial Monday broadcast. The bump was enough to vault "Hawaii Five-0" back into the top ten primetime shows overall, CBS announced yesterday, something that's now happened three weeks in a row.
Alas, although I expected an upset, it wasn't quite enough to take the top spot for 10 p.m. back from "Castle." But the difference was a mere "-0.005" million viewers, CBS notes, and "Hawaii Five-0" still won in key demographics, holding on to first place among adults 18-49 and adults 25-54.
A Slipper By Any Other Name
The local "#h50" Twitter stream was again buzzing last night as dozens of fans commented on the episode while watching it live. Much of the online chatter seized upon Chin Ho Kelly describing "slippers" as "flip-flops," and I teased Daniel Dae Kim as someone who should know better.
Ever attentive to his fans, he replied:
4THE RECORD I pushed to say "slippers." I even recorded a take saying it, but consider WHY "flip flops" was used before you hate.
It was great to learn that Daniel Dae Kim actually fought for the phrasing locals would have expected. And I wouldn't describe the response as hateful… though it did range from good-natured ribbing to genuine annoyance.
It's obvious "Hawaii Five-0" has to balance accuracy with mainstream comprehension… and primetime network television sets a pretty low bar. But just how much can we expect from Hollywood, or any outsider, when it comes to local traditions and terminology? It's a question Cat Toth tackles in today's blog: "Ho, brah, I stay local now"