Kuhio Grille's 1-pound lau lau is now in Kaimuki
The Hilo mainstay known for massive portions and comfort food just expanded to Oahu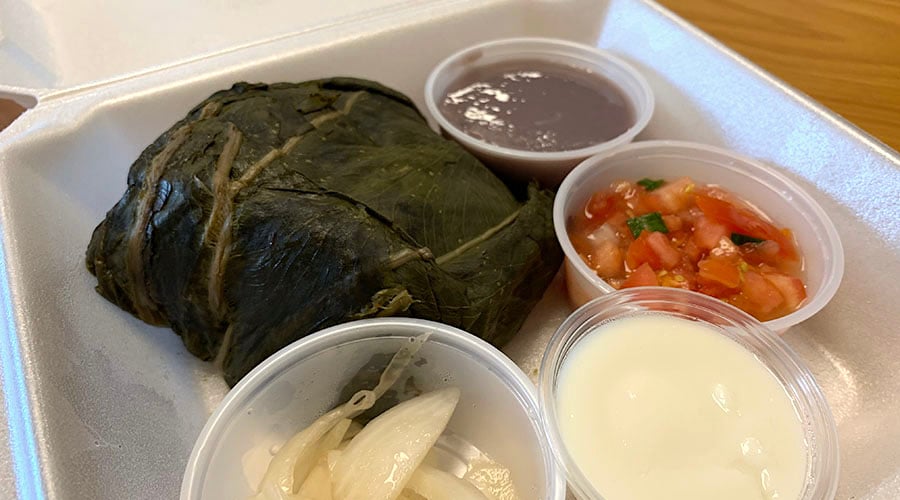 No visit to Hilo is complete without a stop at Kuhio Grille. Just outside Prince Kuhio Plaza, they're known best for their one-pound lau lau and fried rice. It's been many years since I've been there but I remember the massive portions and how much it felt like eating in my grandma's kitchen. Kuhio Grille is as Hilo as you'll get. When I got word that they had just opened on Oahu at the beginning of August, I rounded up some fellow fans so we could get our fix.
Let's start with the Hawaiian Plate and its famous lau lau. While not quite "Wendell's: Home of the Foot-long Laulau" of Rap Reiplinger fame, this buggah is still bigger than my fist. The pork is tender and moist with a nice amount of fat. The leaf-to-pork ratio leans a little toward the pork side, which is fine by me. It could use a little more Hawaiian salt, but having made lau lau, I know that can be a bit tough to regulate. The plate comes with poi, lomi salmon, haupia and pickled onions. For $18.99, it's enough to satisfy but maybe not enough for a full-blown kanak attack.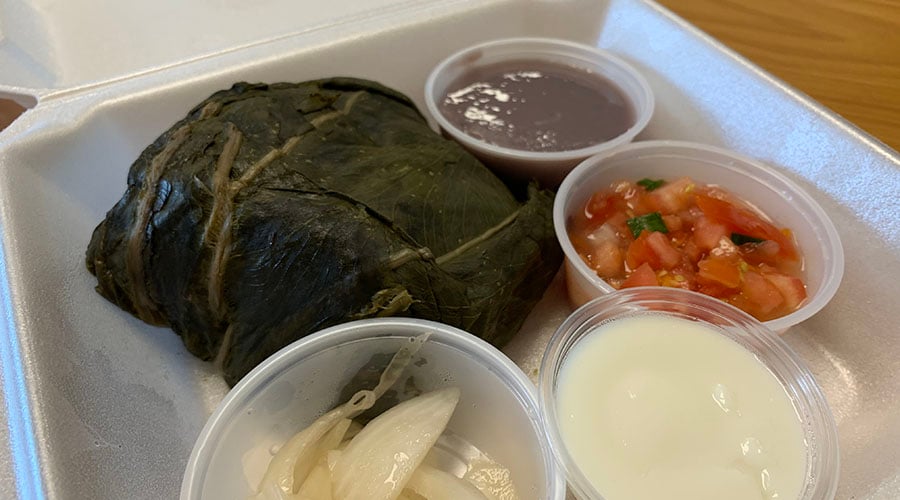 Hilo is the legendary home of the loco moco, so the Fried Rice Loco is a natural choice. The double comes with two patties, two eggs, three scoops of rice, gravy and mac salad. I opt for the original ($11.99) — fried rice topped with what looks like a third-pound housemade patty, an egg and gravy made from scratch.
The patty is super tasty, nicely crusted with a lot of tiny crags. The fried rice is as I remember it — full of meats and other goodies and really well seasoned. I don't know how big their scoopers are, but it looks like the equivalent of two bowls worth. The gravy is tasty but much too salty for me, so I use it sparingly. I sense a visit to the gym and a salad in my very near future. Still worth it.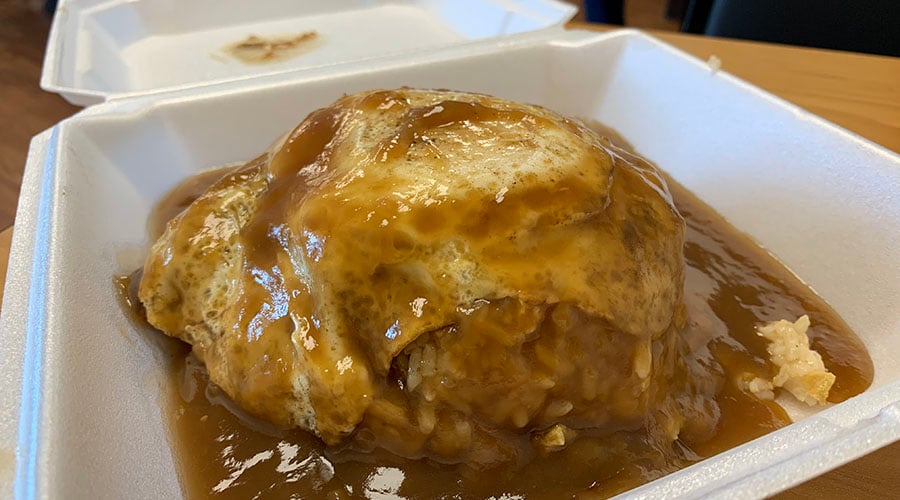 My friend wants a salad, so we opt for all tossed salad instead of the rice and mac salad that usually come with the yakitori chicken plate. The sizeable portion of chicken is flavorful and moist, but $12.99 seems like a bit much to pay. This might not be my go-to dish, but I wouldn't be unhappy with it either.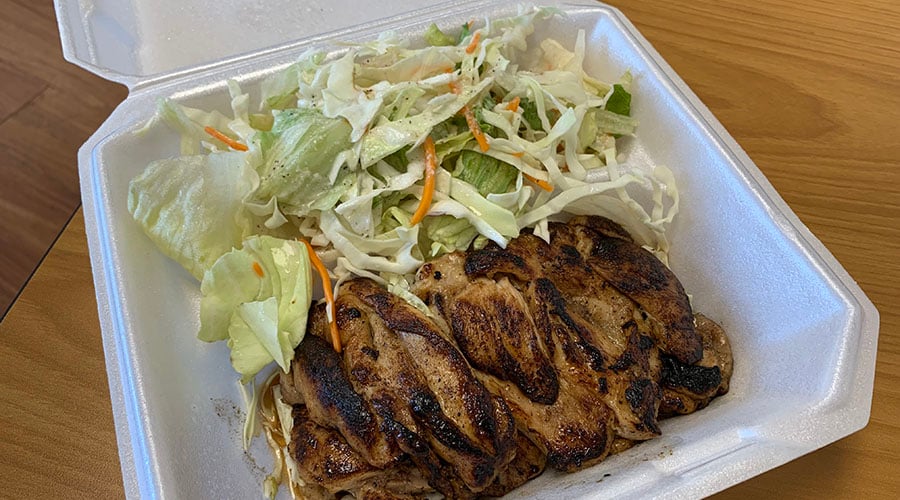 The kalua pig is really tasty: Perfect amount of salt, moist without getting soupy, with a decent amount of fat that keeps you wanting more. Comes with mac salad and rice. At $13.99, this isn't as good a value as the lau lau or loco moco plates, but it definitely is good.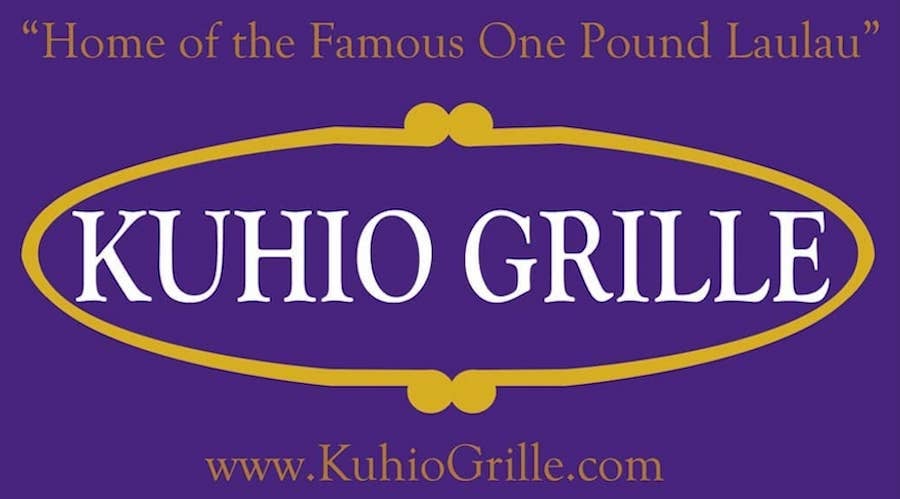 Kuhio Grille is on the corner of Waialae Avenue and St. Louis Drive in the same complex where the Fat Greek and Sabrina's Restaurant used to be. I really hope it doesn't face the same fate as so many others that have come and gone in this complex. It's difficult to see from the road, but anyone who has been to the original in Hilo will recognize the distinctive purple sign. Parking is tight, so order ahead for takeout and bring a wingman that can run in. And while you're there, can you get me an order of fried rice?
Kuhio Grille
3036 Waialae Ave.
Kaimuki
Daily 11 a.m.-7 p.m.
Closed Monday and Tuesday