Korean fried chicken soars at Kickin Chick'n
New KFC and street food concept replaces beleaguered Bonchon in Kapolei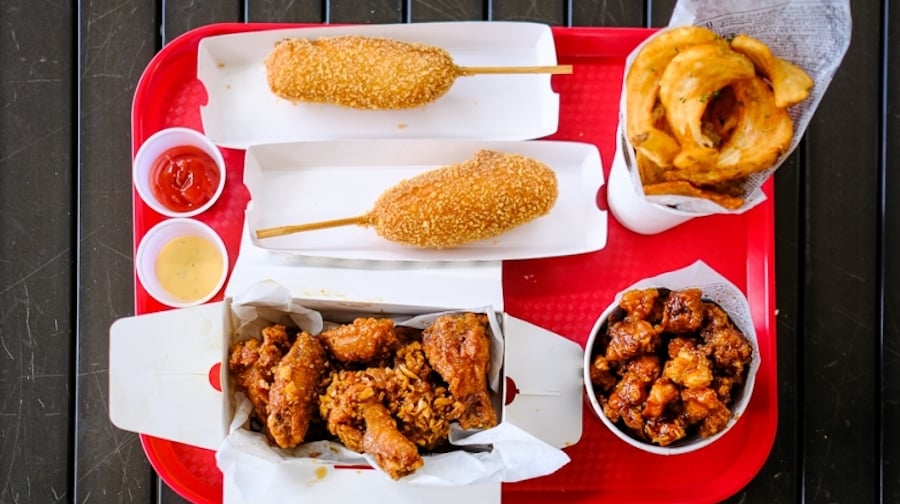 When it comes to fried chicken, Koreans have the technique perfected. Each chain has its own proprietary blend of spices and brines but they usually follow the same method for cooking: Fresh wings are coated in a thick, wet batter and set aside to marinate for hours. They're sometimes dusted in a second coating of flour before being dropped into a hot vat of oil and deep-fried twice to lock in moisture.
Out of the fryer, the hot wings are tossed in a flavored seasoning or glazed in sauces that range from sweet and garlicky to pure spice. The result is a crunchy, juicy cocoon of flavor — all it needs is a frosty glass of crisp Korean beer. Ahh, chimaek!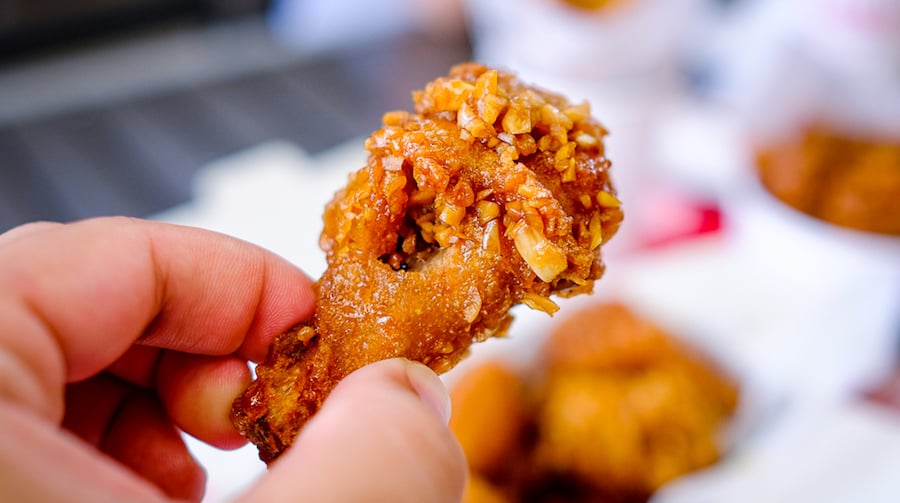 When Bonchon opened at Kapolei's Ka Makana Alii mall in July 2017, I was ecstatic to have a real KFC joint near home. Unfortunately, it just never lived up to my expectations: Wait times were atrocious, prices too high for the quality and the portion sizes left you downright remorseful. Less than two years later, Bonchon has flown the coop and in its place stands a new bird: Kickin Chick'n.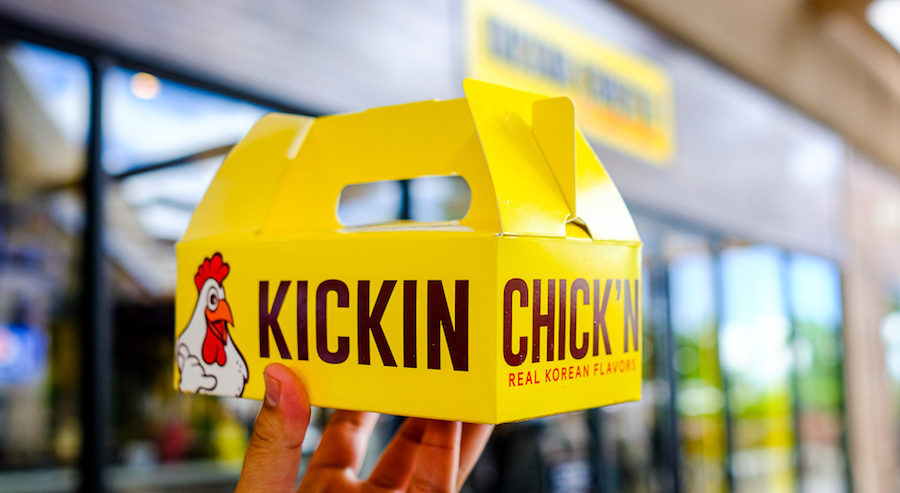 If the name sounds familiar, it's because Kickin Chick'n owners Jason and Yani Higuchi also own the Kickin' Kajun seafood boil restaurants. The Higuchis went to Korea to learn the art of frying chicken and other trendy street foods like crunchy corn dogs. They originally planned to open Kickin Chick'n in the food hall of Kakaako's highly anticipated H-Mart, which recently broke ground, but couldn't strike a deal. When an opportunity to bring their KFC shop to Kapolei presented itself this summer, they were ready.
Plain crispy fried chicken is my litmus test for KFC because if a shop gets this standard right, other flavors are defintiely worth a try. I choose Crispy Chick'n for the six-piece Chick'n Plate ($11.50), which comes with two scoops of rice and your choice of cole slaw or the pickled radish known as chicken-mu. It arrives on a tray less than 10 minutes later. I have to laugh because the plate is overflowing with chicken — I can't even close the takeout container. Score!
Out of curiosity, I also order Da Mix Dog ($4.50), a Korean-style cheese corn dog that's sweet and crunchy all over.
In short, these wings pass with flying colors. The first thing I notice is just how crunchy they are even after steaming in the bag on the 10-minute drive home. This is a signature trait of the double frying method. Second, my internal bells start going off when I detect a hint of spice in the meat. They've been perfecting this recipe for a while. Between each bite, I snack on the chicken-mu … perfect little intermezzos of sweet and sour crunch.
I save a few wings for my dad to try the next day with his lunch. He reports that he was able to replicate the crispy-crunchy texture after heating them up in the toaster oven. Wow.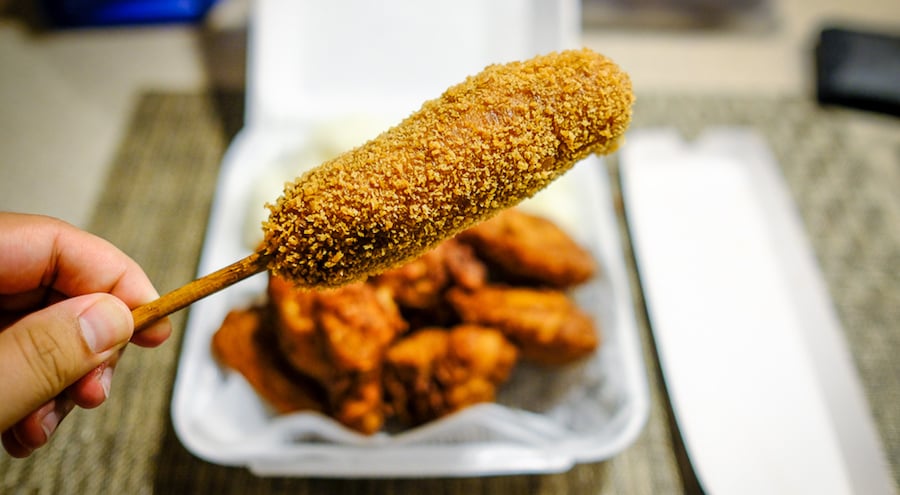 Kickin Chick'n's take on Korean crunchy corn dogs is as fun to eat as it's masshisoyo (delicious). In addition to choosing between just sausage, just cheese or Da Mixed Dog (alternating cheese and sausage), you also have the choice of having it plain or dusted with sugar. I think the cake batter will probably be sweet enough for my palate so I go without sugar. Eaten with honey mustard and ketchup, I enjoy this corn dog so much that I need to have it on my second visit as well.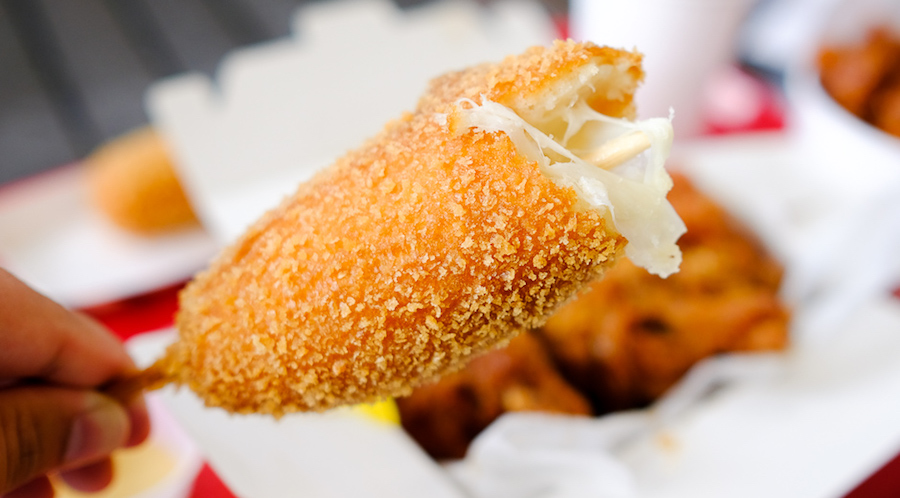 Now that the original crispy wings have passed the test, I come back to try the other glaze variteties: garlic shoyu and Kickin, which comes either mild or regular spicy. Pricing is as follows:
Crispy fried Chick'n
Half (10 pieces): $13
Full (20 pieces): $23
Kickin mild/regular or garlic shoyu Chick'n
Half: $14.50
Full: $25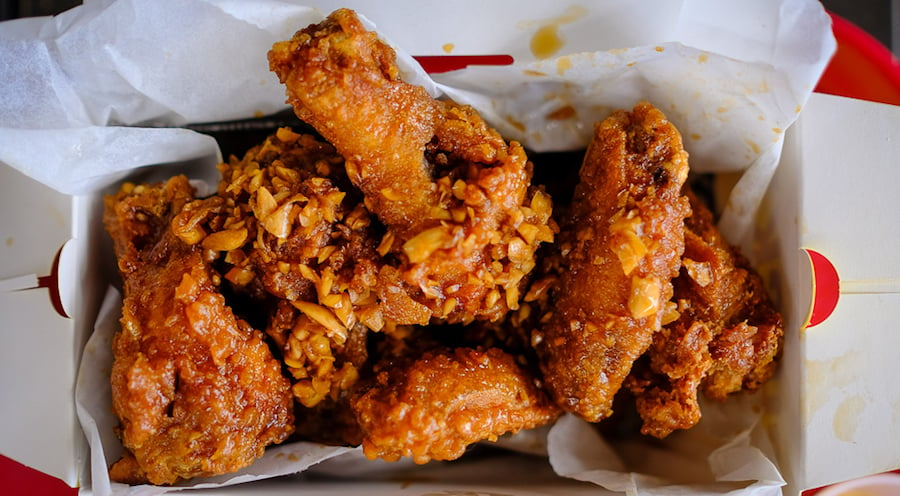 I order a half portion of the shoyu garlic; it arrives in a cute branded box still steaming. This time I immediately dive in and with the first bite realize why it's the best-seller: The crunchy wings, coated in a sweet-salty garlic shoyu glaze, bring me right back to my last trip to Seoul where I ate fried chicken every chance I got. I can't stop eating these. I notice that you get far more drummettes than flats but you might be able to request more or less of one if you prefer.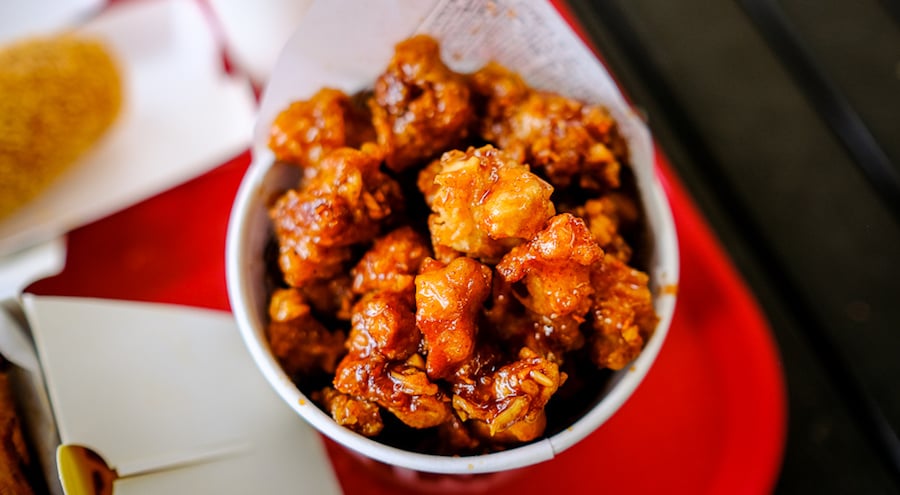 I also wanted to try their signature Kickin spicy sauce and other menu items so I get it in Cup Chick'n form for $7.50 (crispy is just $6.99). This is a substantial snacking portion of boneless chicken morsels twice-fried the same way as the wings. They're a tad dry because they're boneless but enjoyable nonetheless. The mild spicy is truly mild so if you're in need of some heat, go for the regular Kickin sauce. I can imagine getting a Cup Chick'n and a Cup Fries as a late-night snack, but I still prefer the wings.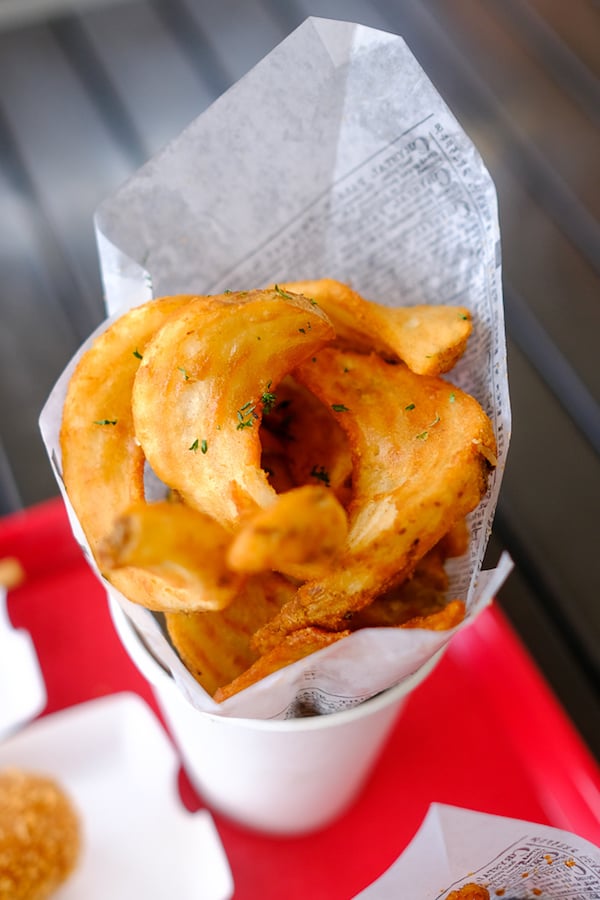 Speaking of fries, there are a number of cupped options, the most popular being garlic ($4.50), of course. I go for the curly fries ($4.50) which are sidewinder style and not the spirals you might expect. They're tasty, seasoned just right and perfect for dipping in honey mustard sauce. Others include regular ($3.50), Kickin and sweet potato ($4.50 each).
My visits to Kickin Chick'n have been uniformly good and I can finally recommend a legit KFC close to home. It will take the guesswork out of finding something to bring to my next potluck with friends. Who's down for a chicken mukbang — you buy, I fly!
Open Mon to Sat from 10 a.m. to 9 p.m. and Sun 10 a.m. to 6 p.m., Ka Makana Ali'i 91-5431 Kapolei Pkwy, Kapolei, 808-628-4800