Kimcheese it: How to make kimcheese arancini
Crunchy, melty, spicy fried rice balls to set your taste buds aflame!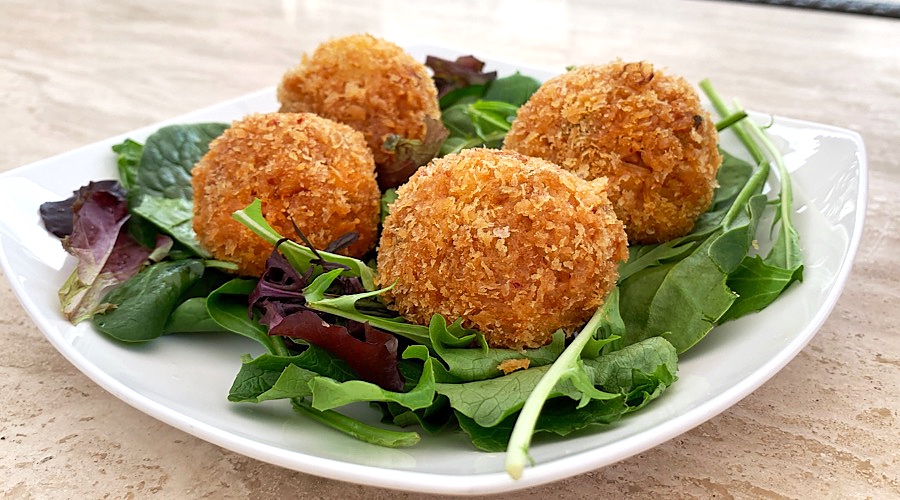 Kimcheese it! is a series where we celebrate everything kimchee and cheese. Dips, noodles, dumplings or nachos, we kimcheese it! Kimchee accompanies every Korean meal, adding probiotic benefits plus crunch, freshness, salt, spice and acid. Cheese brings in creaminess and a full flavor that complements kimchee. Combined, kimcheese can improve almost any dish. Try it!
Kimchee-cheese-stuffed rice balls? Yasss, you heard that right. I searched deep inside for this one. Being from New York, I've had a lot of amazing Italian food and arancini might be my favorite. Arancini are fried rice balls made from with risotto meats and cheese. Enjoyed hot, they're more than comforting, they're soulful. The combination of the hot, crispy shell, warm rice and melty cheese will forever be one of my favorite taste sensations. Now, substitute risotto with kimchee fried rice and you've got yourself an addiction.
What you need
½ cup chopped kimchee
1 tsp vegetable oil
1 cup sticky white rice
gochujang (red pepper paste) to taste
1 tsp sesame oil
4 cubes of fresh mozzarella cheese
1 well-beaten egg
1 cup of bread crumbs or panko
vegetable oil, enough to submerge your arancini
Deep fryer or frying pan
What to do
Prepare the fried rice by stirfrying kimchee in vegetable oil. After 2 minutes, add rice and mix in gochujang to taste. Finish with a teaspoon of sesame oil and a sprinkle of sesame seeds. Put finished rice into a container and chill in the refrigerator for at least two hours or ideally overnight.
Slice mozzarella into cubes. I prefer fresh mozzarella because it's creamier but any melty cheese will do. Then, place your beaten egg and breadcrumbs into separate bowls. Shape the cold kimchee fried rice into firm balls and stuff them with the fresh mozzarella.
Heat oil to 375ºF. Create an assembly line of rice balls, egg, bread crumbs, frying pan or deep fryer and a dish lined with paper towels to drain.
Prepare the arancini by dredging the rice balls in the egg bath and coating them with breadcrumbs. Place them gently into the heated oil and fry until golden brown, about three to four minutes. Serve hot!
Tip: Do not crowd the pan as the cold arancini balls may lower the temperature too fast and the result will be soggy balls. (All jokes are intended).
Recipe makes 4 balls.
Missed our first Kimcheese it! video? Watch Super Bowl kimcheese dip here.