Keiki in the Kitchen: 3 Breakfast Recipes from Cafe Kaila
Get ready to eat and "yum" with these make-ahead breakfast recipes.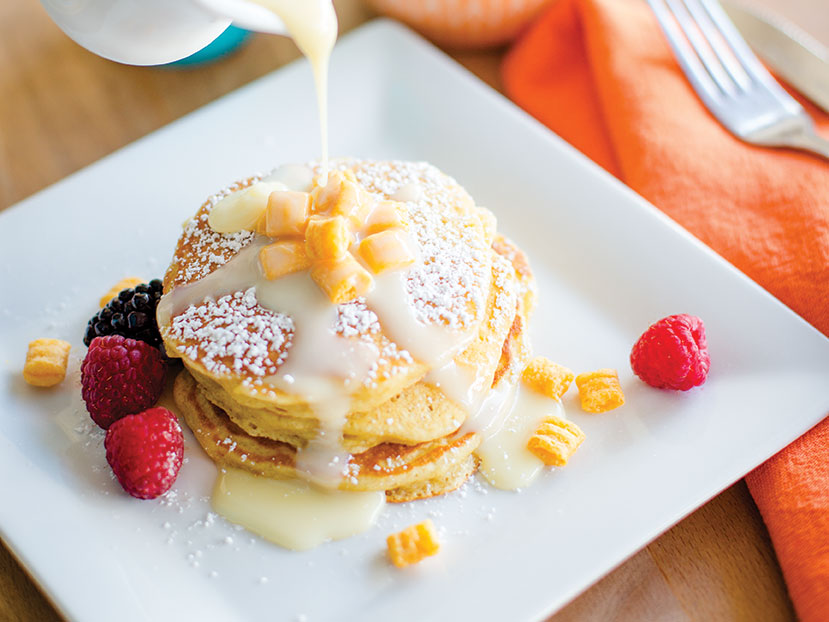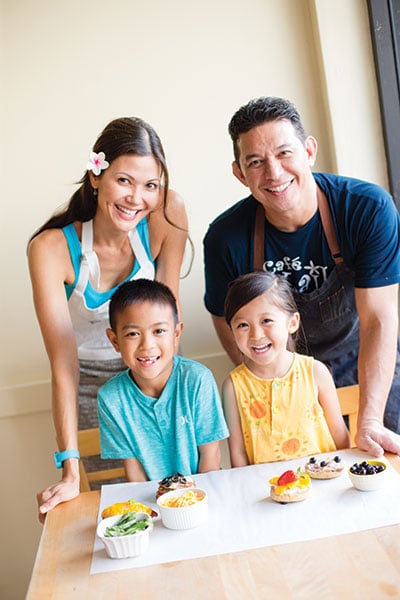 Photo: Karen DB Photography
Chrissie Kaila Castillo loves breakfast. And the tens of thousands of customers at Café Kaila couldn't be more thankful. The popular restaurant draws crowds of locals and tourists seven days a week to order her award-winning, made-from-scratch pancakes, waffles, French toast and more at Café Kaila at Market City Shopping Center on O'ahu and Café Kaila restaurants in Japan.
It's something Castillo only dreamed of as a student at the University of Hawai'i-Mānoa. While taking an entrepreneurial course, she wrote a thesis on how to run a café. A few months later, after a chance encounter with the owner of a Waikiki bar, she began serving breakfast at his business during the day. She cooked up waffles, pancakes and French toast on her own plug-in griddle and George Foreman grill until the Health Department shut her down.
In 2007, armed with all she learned about permits, commercial kitchens and health codes, Castillo quietly opened Café Kaila. Ten years later, she still has a hand in every recipe served on the menu.
"I created the recipes from trial and error," Castillo says, "I probably could have Googled it but I was hell bent to figure out the best recipes myself. … I made my poor mom and roommates taste sample after sample."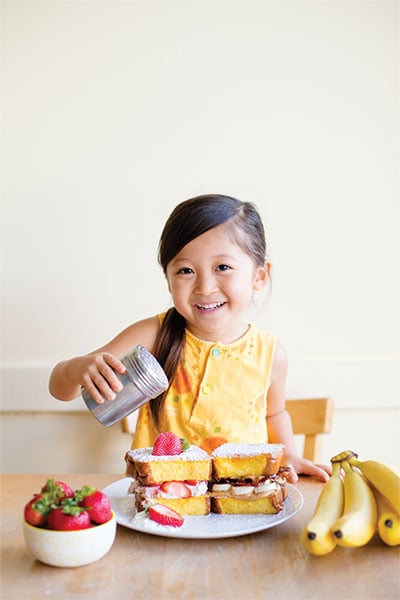 Photo: Karen DB Photography
The result is a repertoire of dozens of yummy breakfast treats. Café Kaila offers a different waffle special every week, including liliko'i orange, pineapple-upside-down waffle and maple bacon blueberry. As for pancakes, macadamia nut haupia are always in demand and some customers still ask about the oatmeal cookie version.
For many busy families, these are breakfasts they only dream about while facing their daily toast, instant oatmeal or cereal. But Castillo says you can whip up a fast morning meal if you plan early.
"Prep things ahead, on weekends, as a fun project with the kids," Castillo says. Then you can reheat during the week and top with fresh fruit or fun spreads. Castillo suggests turning frozen waffles into breakfast sandwiches by adding some meat, cheese and vegetables. Make a marinara sauce for English muffin pizzas, then add a touch of cream and butter and serve up the tomato soup for dinner. Castillo and Café Kaila consultant Jason Takemura gave us three recipes sure to please even the pickiest eaters in the family.
But, if only Café Kaila will do, here is a tip from the owner. Get there when the restaurant opens at 7 a.m. to avoid waiting. The line starts forming around 7:30 a.m. and it stays busy through lunch time.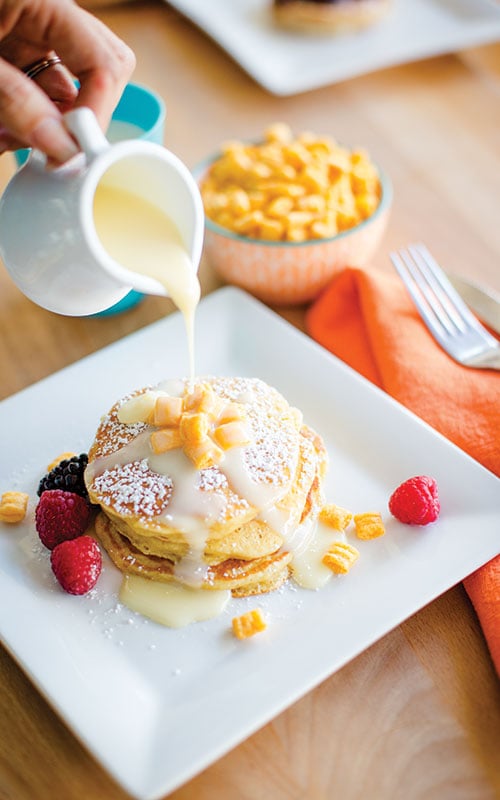 Photo: Karen DB Photography
Crunch Pancakes
(Yield: six to eight pancakes)
By Chrissie Kaila Castillo
Cereal adds serious crunch to fluffy pancakes. But it's the milk-inspired syrup that makes us all feel like little kids again.
INGREDIENTS
1 1/2 cups flour
3 tablespoons sugar
1 1/2 teaspoons baking powder
1/4 teaspoon
baking soda
3/4 teaspoon salt
1 cup milk
4 tablespoons melted butter
1 teaspoon vanilla
1 egg
2 cups favorite breakfast cereal (we used Captain Crunch and Honey Nut Cheerios)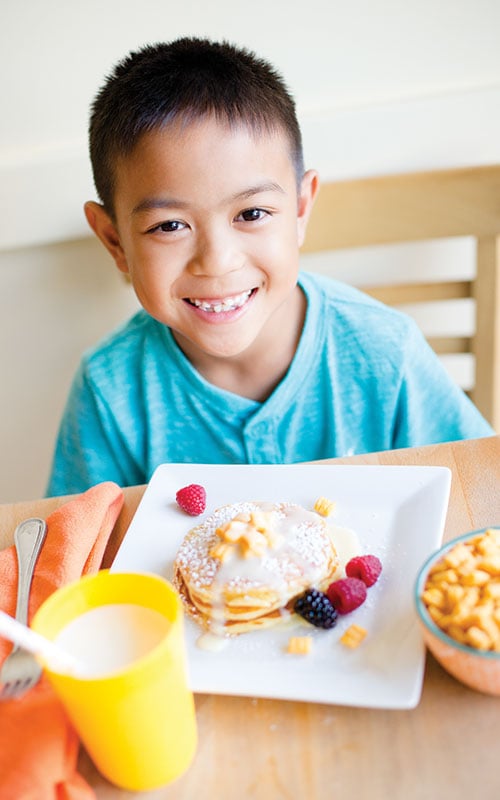 Photo: Karen DB Photography
INSTRUCTIONS
Mix flour, sugar, baking powder, baking soda and salt in a medium bowl.
Whisk together the milk, butter, vanilla and egg in a separate bowl.
Fold the wet mixture into the flour mixture until just combined. There may be lumps.
Set the batter aside to rest. Brush a large nonstick skillet or griddle with butter and heat over medium-low heat.
Pour 1/4 cup of batter onto the heated surface and cook until bubbly on top, about three minutes.
Sprinkle crushed cereal on top of cakes and cook for one more minute.
Flip and cook until golden brown, about two more minutes.
"Milk" Syrup
INGREDIENTS
1 can condensed milk
1 teaspoon salt
1/2 stick butter
1/2 teaspoon vanilla
2 tablespoons milk or cream
INSTRUCTIONS
Melt butter over low heat.
Remove from heat and whisk in condensed milk, vanilla and salt.
Thin with milk or cream to desired consistency.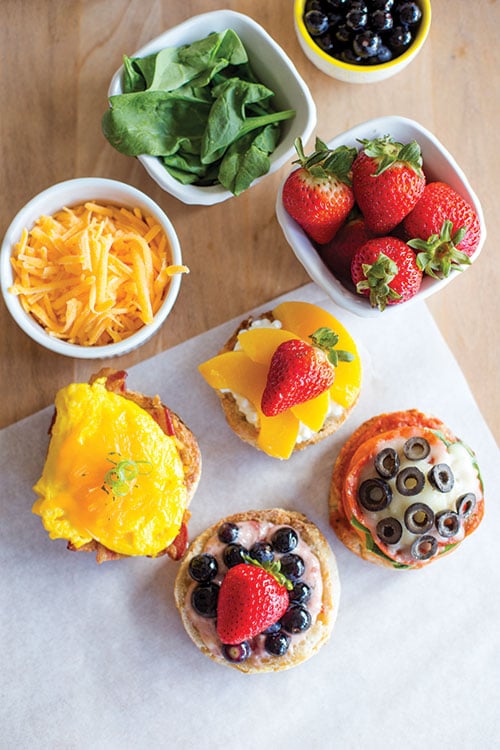 Photo: Karen DB Photography
Marinara Sauce
By Chrissie Kaila Castillo
Dress up this healthy sauce five different ways to take you from quick English muffin pizzas in the morning to easy pasta, and even a sippable soup for lunch and dinner.
INGREDIENTS
1/2 cup extra-virgin olive oil
2 small onions, finely chopped
2 garlic cloves, finely chopped
2 stalks celery, finely chopped
2 carrots, peeled and finely chopped
2 teaspoons kosher salt
1 teaspoon freshly ground black pepper
2 cans of crushed tomatoes, 32 ounces each. Castillo likes naturally sweet San Marzano tomatoes.
1 teaspoon sugar
2 dried bay leaves
1/2 cup fresh chopped basil
INSTRUCTIONS
Heat oil over medium-high heat in a large pot.
Add onions and sauté until translucent, about 8 to 10 minutes.
Add celery, carrots, garlic, salt and pepper and sauté until vegetables are soft, about 10 minutes.
Add the tomatoes, sugar and bay leaves. Mix well and simmer, uncovered, over low heat, until the sauce thickens, about an hour.
Remove and discard bay leaves.
Season with salt, pepper and fresh basil to taste.
Toss with pasta, serve over meatballs or use as a dipping sauce for mozzarella sticks or fried ravioli.
Also try this!
Stir in 1 cup of marscapone cheese for a creamier sauce.
➸ Add 6 minced anchovy fillets, 3 tablespoons of capers, 20 pitted and chopped Greek olives and 1 teaspoon of red pepper flakes for an instant puttanesca.
➸ Mix 1 ½ cups of marinara with 1 teaspoon each of garlic powder, onion powder, oregano and basil and you have pizza sauce.
➸ Add heavy cream and chicken or vegetable stock, top with Parmesan cheese and dish out as tomato bisque.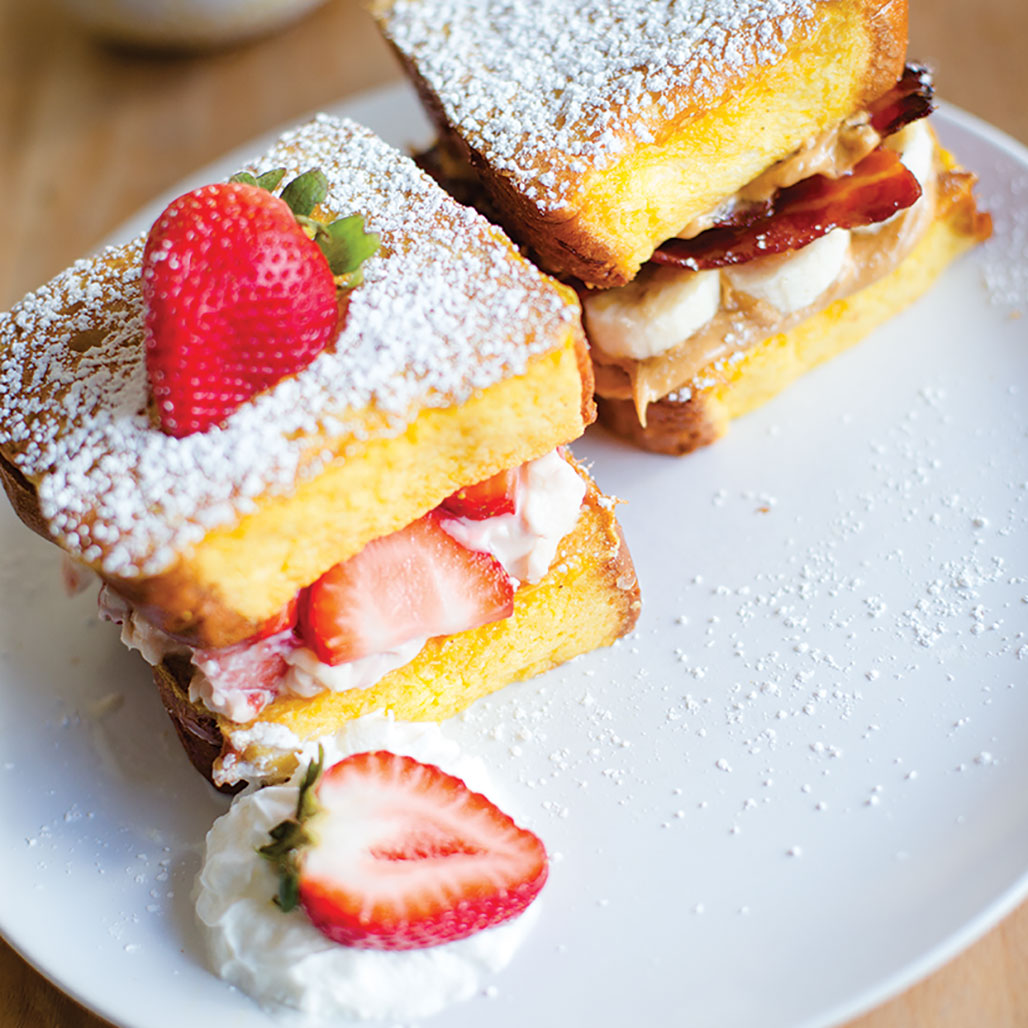 Stuffed French Toast
By Chrissie Kaila Castillo
Switch from chocolate-hazelnut spread to fresh fruit, or peanut butter and candied bacon to make this stuffed French toast taste fresh every a.m.
INGREDIENTS
1 loaf brioche, challah or Texas toast bread
1 cup fresh strawberries, sliced
1 cup half-and-half
3 large eggs
2 tablespoons sugar
1/4 teaspoon salt
4 tablespoons butter, melted
Whisk together all ingredients except for butter.
Strawberry Mascarpone
1 tub of mascarpone cheese, 8 ounces
2 tablespoons powdered sugar
1 cup fresh strawberries, diced
Mix together all ingredients and hold in the refrigerator.
INSTRUCTIONS
Cut bread into 1/2-inch-thick slices.
Spread strawberry mascarpone mixture on two slices of bread.
Add sliced strawberries to one side and place other slice on top.
Lightly dip both sides of the French toast in the custard.
Add 1 tablespoon of butter to the pan to melt, cook toast until golden brown.
Flip and cook other side until golden brown.
Garnish with fresh strawberries, powdered sugar and maple syrup.