Keiki in the Kitchen: Playing with Pasta
Tiki's Grill & Bar Chef Ronnie Nasuti Turns Noodles into tacos and dessert.
When it comes to lunch, dinner, or, really any time, noodles are always a kid favorite. We asked chef Ronnie Nasuti of Tiki's Grill and Bar to play with his food and come up with new pasta options for the whole family.
Families know Tiki's, a locally-owned restaurant started by three University of Hawai'i graduates, for its award-winning keiki menu and dishes that showcase local flavors for locals and visitors alike. But Nasuti grew up in Massachusetts in an Italian-American family where, he told the kids, the idea of getting tomato sauce from a jar would have been reason for punishment. He got his start washing dishes at the age of 13 and, by 17, was the kitchen manager of a classical Northern Italian restaurant. So he knows his pasta.
And he knows how to make kid pleasers. First, he walked families through the simple steps to a homemade marinara sauce, then he created spaghetti tacos–a dish introduced to him by his niece–and topped the entire workshop off with handmade chocolate fettucine with all the sundae-like fixings (recipe below).
What was the verdict? Not a single spaghetti taco was left standing. Some kids had two, in fact. As for the chocolate pasta with fun toppings such as marshmallow fluff and Kula strawberries, even the adults couldn't, or, refused to, put it down.
Marinara Sauce
Nasuti says his mother used to make batches of marinara sauce as the tomato season was ending and freeze it to use through the winter.
Chef tip: San Marzano tomatoes, a type of plum tomato, are Nasutiʻs pick for their sweeter, less acidic flavor.
Ingredients
2 cups olive oil
12 cloves garlic, chopped
1 onion, peeled and rough chopped
3 shallots, sliced
1 small can tomato paste
2 cups red wine
4 28-ounce cans of San Marzano tomatoes, peeled
1 tablespoon dried thyme
A big handful of basil leaves
1 tablespoon dried oregano
Salt and pepper to taste
Directions
Heat oil and add onion, garlic and shallots.
Cook until garlic turns light golden brown.
Stir in tomato paste and cook.
Add wine and deglaze, cooking until the liquid reduces by half.
Add canned tomatoes and dry herbs.
Bring to a boil, then simmer and add the basil leaves.
Simmer, uncovered, for one hour.
Salt and pepper to taste.
*Parent tip: If you canʻt simmer for an hour, add some sugar to reduce the acidity of the sauce.
Spaghetti Tacos
This is Nasuti's nieceʻs favorite recipe on the mainland. Arugula and tomatoes add a little vegetable boost to this kid favorite.
Chef tip: Add a little oil to the pasta water. This isnʻt to keep the noodles from sticking, the oil keeps the water from boiling over.
Ingredients
1 ½ pounds ground beef. Nasuti prefers Big Island grass fed beef.
3 cups marinara sauce
1 pound spaghetti noodles
10 hard taco shells
Fresh chopped tomatoes
Arugula
Shredded parmesan cheese
Yield: 10 tacos
Directions
Brown beef in a skillet.
Drain and add the sauce. Let it simmer while you make the noodles.
Boil spaghetti noodles until al dente.
Drain noodles and add to the simmering sauce.
Crisp taco shells in the oven then fill each with spaghetti. Top with fresh, diced tomatoes, arugula and parmesan cheese.
Chef tip: To get the spaghetti into the shells with minimum mess, use tongs and place bottom of noodles in lengthwise, then twist the noodles 180 degrees before putting in the next layer.
Chocolate Fettucine with Raspberry Coulis and Kula Strawberries
Pasta Ingredients
1 ¾ cup all-purpose flour, plus a little more for the board
2 tablespoons unsweetened cocoa
1 pinch salt, plus more for the cooking water
2 large eggs
1 tablespoon water, more if needed
1 tablespoon sugar
Black pepper
1 cup milk chocolate pieces
Directions
Put the flour, cocoa, sugar and a pinch of salt on a clean wood or marble work surface. Mix with a fork.
Form the dough into a circle and make a well in the middle. Break eggs into the well.
Using the fork, gradually pull the flour mixture into the well. Mix and scrape in a circular motion.
Once flour is incorporated, sprinkle the mixture with a little water.
The dough should be crumbly. Gather it into a ball.
Sprinkle your work surface with flour and knead the dough for 10 minutes.
To knead, set the dough in the center of the surface and push the heel of your right hand into the dough, then press it away from you. Turn the dough a quarter turn and repeat until dough is smooth and satiny.
Cover the dough. Let it rest for 30 minutes.
Roll dough through a pasta machine, following the instructions for fettucine.
Place on a pan sprinkled with flour.
Fill a large pot with water, about two-thirds full. Add 1 tablespoon kosher salt.
When water is boiling, add pasta and cook for just 60 to 90 seconds.
Drain pasta, toss hot with chocolate until pieces melt.
Serve with your favorite toppings such as raspberry coulis, marshmallow cream, quartered Kula strawberries, fresh mint and macadamia nuts.
Raspberry Coulis
Ingredients
1 bag frozen raspberries
Simple syrup, 1 part sugar dissolved in 1 part water
Blend frozen raspberries in a blender with enough simple syrup to liquefy. Strain out the seeds.
Thank you to all the families who joined us!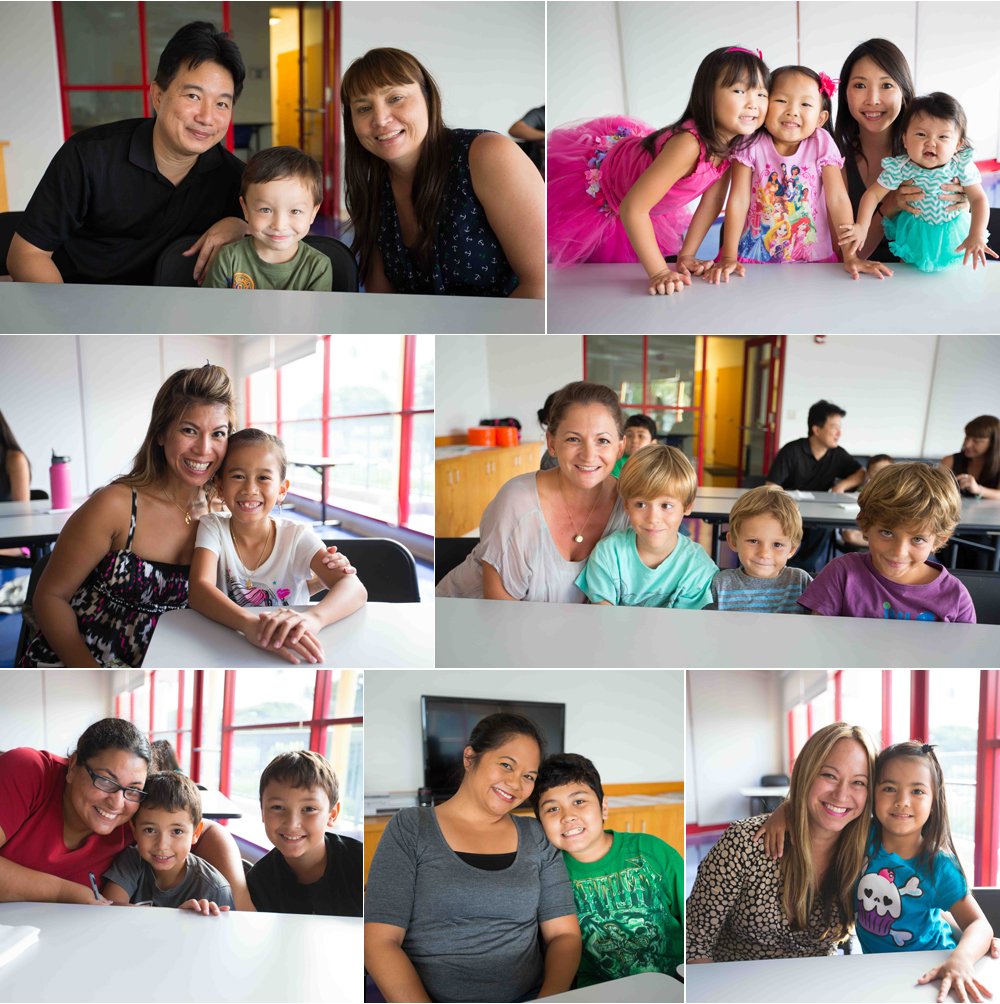 See more recipes from past Keiki in the Kitchen events.