Keiki in the Kitchen: Healthy Afterschool Snacks
Healthy afterschool snacks serve up a hands-on education about new flavors.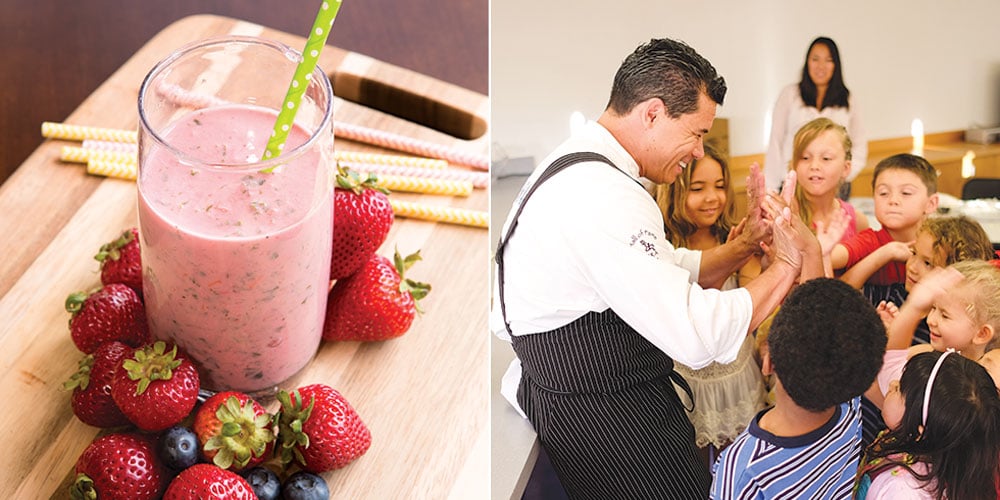 A strawberry, honey, and Asian pear smoothie? Yes, please! Photos: Odeelo Dayondon, David Croxford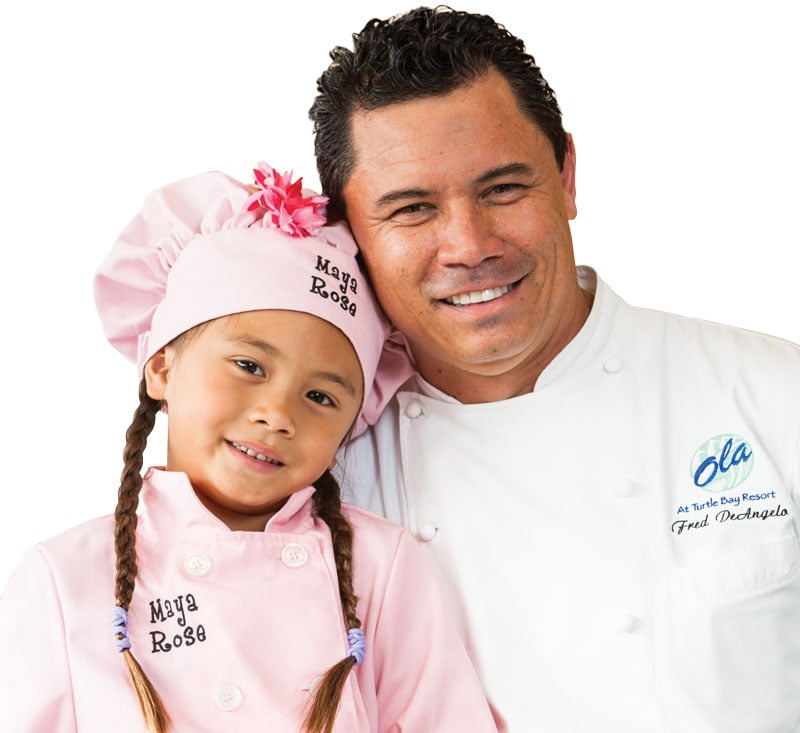 When school is in session, it can be a challenge keeping the family fueled up for classes, homework, practices and everything else that fills up the busy days.
Chef Fred DeAngelo knows all about it. The owner and head chef of OLA at Turtle Bay Resort and The Grove in Kailua is also dad to 7-year-old Maya. In between school, dance classes and other activities, Maya is her father's No. 1 sous chef at home.
"Maya has been adventurous from the beginning," DeAngelo says. "We started cooking together when she was about 2 or 3, just getting her accustomed to trying new things."
The DeAngelos encouraged Maya to try everything at least once. At a recent HONOLULU Family Keiki in the Kitchen, sponsored by HFM FoodService, Maya and her dad shared two healthy snack ideas that come with tons of options for even the not-so-adventurous. A colorful plate of summer roll ingredients gave every kid something fun to smell and taste before wrapping up everything from fresh mint and basil to pea shoots and shrimp. We did notice each child poured on a healthy serving of the chef's 'ono peanut sauce.
DeAngelo's smoothie recipe is a perfect way to take advantage of the last crops of your favorite summer fruits. Along with strawberries and local honey, DeAngelo threw in a bit of kale and the kids sipped it down without complaint. But if it doesn't sell in your house, toss in other fruit like papaya, dragonfruit or mango for a taste of something new.
Keiki in the Kitchen classes allow parents and children to enjoy time cooking together with ideas from real local chefs. In September and October, HFM FoodService will sponsor the fun hands-on workshops for kids, ages 4 and up, and their parents at the Hawai'i Children's Discovery Center.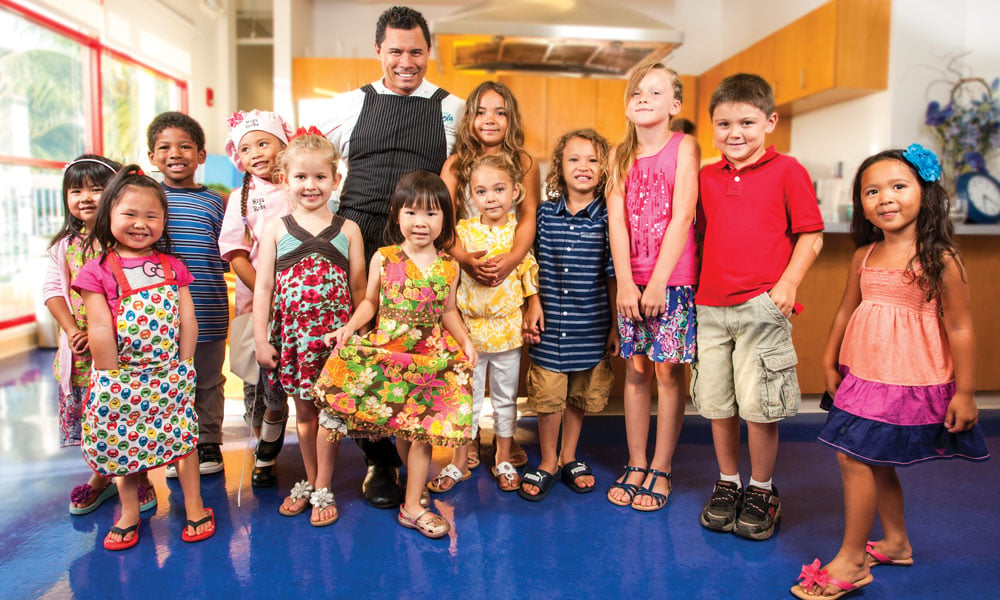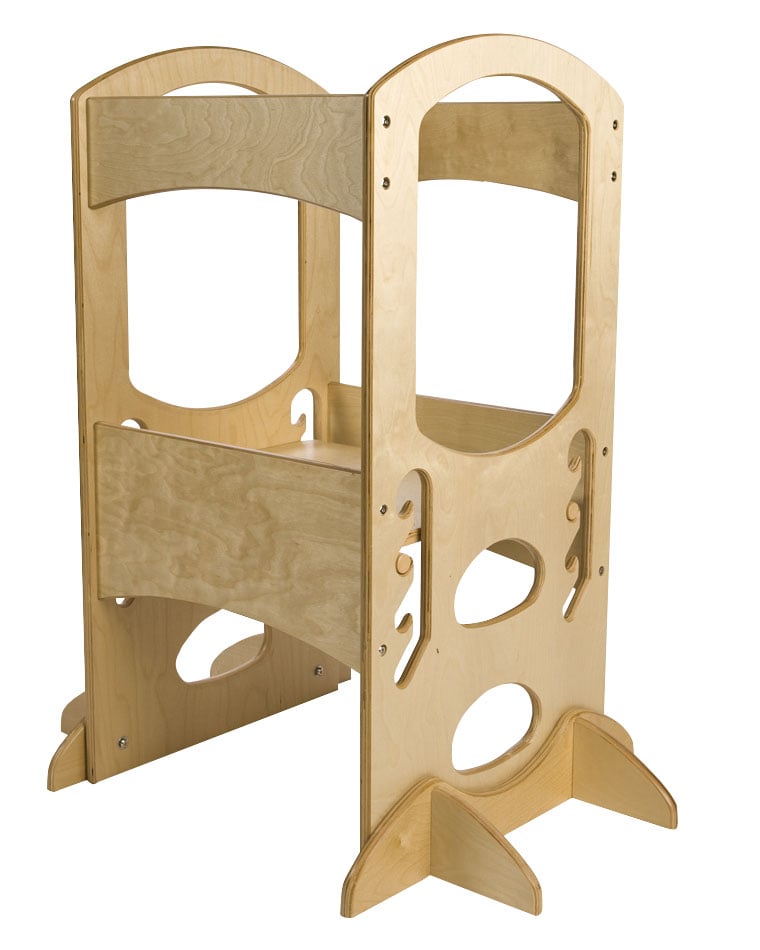 Chef's Little Helper: The Learning Tower
When Maya began helping her dad in the kitchen, she was about 2 years old. Maya was an eager student who was a little too short to see all the action on the countertop. Then DeAngelo discovered The Learning Tower. This adjustable platform is pricey, about $200, but it is sturdier than a step stool, has railings on all four sides, sits flush against kitchen cabinets and is simple for even toddlers to climb into. Even now, at 7, the tower keeps Maya right in the middle of the action. $199.99 plus shipping and handling at littlepartners.com.
Ola Summer Smoothie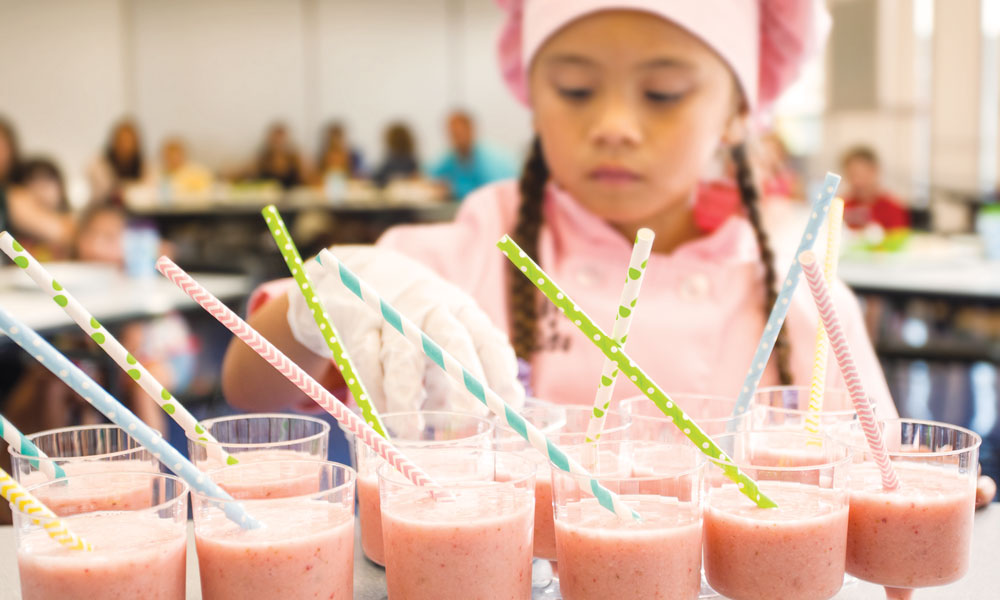 A helping of vegetables adds nutritional punch to a tasty summer fruit smoothie.

INGREDIENTS

• 2 cups Pūpūkea dark leafy greens, local kale or local spinach, loosely packed

• 1/2  local Japanese cucumber, washed, seeded and diced

• 1/2  lime, squeezed (optional)

• 1/2  carrot, peeled and diced

• 1 Asian pear, cored and diced

• 3/4  cup Kula strawberries

• 3 frozen juice cubes

• 1/2  cup Greek yogurt

• 2 tablespoons local honey

• 1/2  cup fresh-squeezed juice of your choice

• Blueberries, to garnish
INSTRUCTIONS
1. Place all ingredients, except for blueberries, into blender and blend until smooth. More juice may be added if it is too thick.

2. Garnish with blueberries. 
CHEF TIPS
Add a flavor and nutrition boost to any smoothie by swapping out regular ice cubes with cubes made from 100-percent fruit juice.
Start your kids with simple jobs such as washing fruit and vegetables, or, as they get older, peeling carrots.

Summer Rolls & Peanut Sauce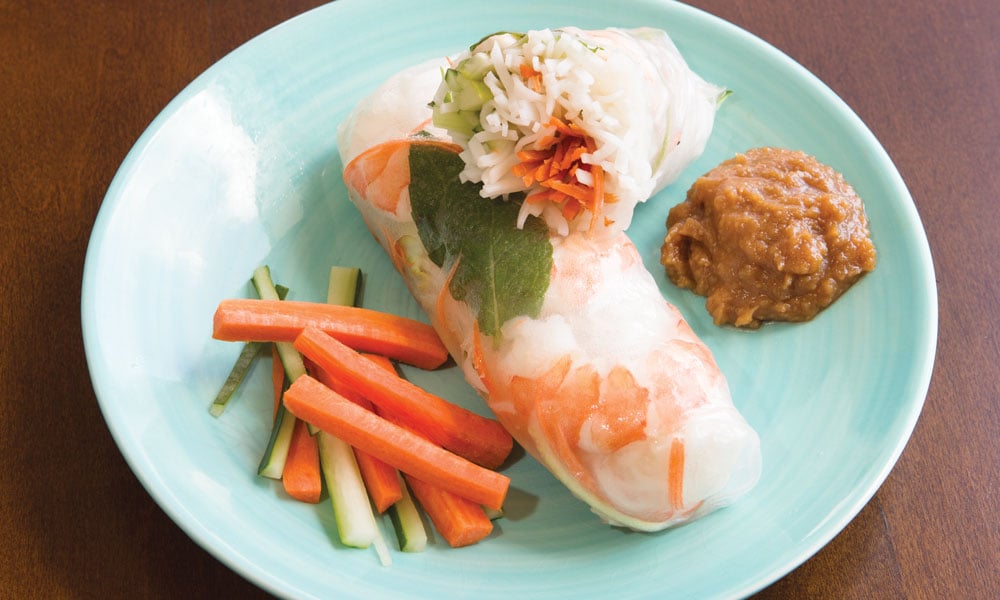 Kids can customize every roll with their own mix of fresh, healthy ingredients.
CHEF TIP
Packing summer rolls for lunch? Put a damp paper towel at the bottom of an airtight container, place the summer rolls on top and cover it tightly with plastic wrap.
Summer Rolls
INGREDIENTS

• 12  81/2-inch rice paper wrappers. Suggested: Red Rose Brand

• 4 ounces dried rice stick noodles, cooked and tossed with salted oil

• 1 local Japanese cucumber, seeded, peeled and julienned

• 1 carrot, peeled and julienned

• 1/2 cup fresh mint leaves

• 1/2 cup fresh Thai basil

• 1/2 cup cilantro

• 1 cup bean sprouts, rinsed and dried

• 8 leaves of local Pupukea greens or Manoa lettuce

OPTIONAL

• 1/2 cup cooked brown rice

• 2 cups chicken, cooked and shredded

• 12 shrimp, deveined, cooked, peeled and cut in half
INSTRUCTIONS
1. Prepare all ingredients and place them in separate containers.
2. Place a clean, damp kitchen towel on counter or work surface. Fill a medium pie tin or other shallow dish (large enough to hold rice paper) with hot tap water. Completely submerge one wrapper until it is soft and pliable, about 10 seconds. Remove wrapper from water and place on the damp towel.
3. Place 2 to 3 shrimp halves or pieces of chicken in a row off the center of the wrapper. Layer other ingredients on top of meat: lettuce, rice noodles, rice, bean sprouts, cucumber, carrots, mint, basil and cilantro.
4. Fold bottom half of wrapper over filling, fold in the sides, then roll the entire wrapper from bottom up.
5. Place summer rolls, shrimp or chicken side up, on a nonstick surface and cover with plastic wrap. Leave an inch between each roll so they don't stick together or wrap each individually in plastic wrap.
6. If not serving immediately, keep summer rolls, tightly covered, at room temperature for up to 2 hours. Serve with peanut sauce.
Peanut Sauce
INGREDIENTS

• 3/4  cup creamy organic peanut butter or almond butter

• 1/3  cup coconut water

• 3 tablespoons hoisin sauce, without MSG

• 4 1/2  teaspoons shoyu

• 2 tablespoons freshly squeezed lime juice

• 1 tablespoon brown sugar

• 1 garlic clove, mashed

• 1/2  teaspoon toasted sesame oil
INSTRUCTIONS
1. Whisk all ingredients together in a medium-size bowl.
2. Cover and refrigerate for up to a day.
3. Let sauce warm to room temperature before serving.
CHEF TIP

Warm up the peanut butter jar to make scooping a snap.