Keiki in the Kitchen: How to Pack for the Perfect Picnic in Hawai'i
Three yummy, portable foods that you and your kids will have fun packing including salad and dessert in a jar and a kid-friendly sushi.
With a little bit of preparation, you can plan a perfect picnic or beach-day outing the whole gang will enjoy. Create simple bites, using fresh, local ingredients whenever possible. Be sure to take the time to nicely prepare and present each dish. This will encourage little ones to try visually appealing new foods and expand their not-so-adventurous palates.
Ronnie Nasuti of Tiki's Grill & Bar understands what it takes to tempt little tummies. He and his wife, Suni, successfully raised a picky eater. Their 16-year-old son is now a healthy, yet discerning, eater.
Often, it is simple, familiar foods, combined with a few unique ingredients, that help to encourage kids to experiment and try new dishes. Also, as we know, when kids help to prepare their meals, they are more likely to try them (and like them). HONOLULU Family held a cooking class to teach keiki chefs how to make three packable dishes: Tiki Turkey Dog Sushi, Rainboa Waldorf Quinoa Salad in a Jar and Strawberry Shortcake in a Jar. One parent who attended the picnic cooking class exclaimed, "My son, Dylan, doesn't eat sushi or musubi, because he doesn't like the taste of nori." Imagine our surprise when we witnessed this budding chef gobble up his Tiki Turkey Dog Sushi in no time. Dylan's mom, Licie, says that her son now brings nori and rice to school all the time and can't get enough of it. Try the recipes below.
---
See also: 🌳 6 Best Spots for A Family Picnic this Spring in Honolulu
---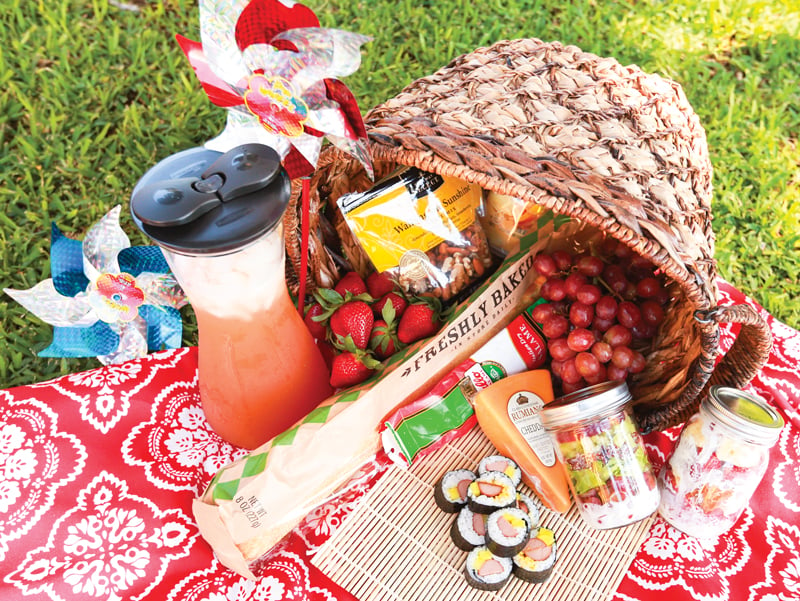 Tiki Turkey Dog Sushi
serves 4
Forget the bun. Turn an ordinary kid staple into an extraordinary hand-held, tasty meal. Kids and parents will appreciate this creative, healthier alternative to Spam musubi.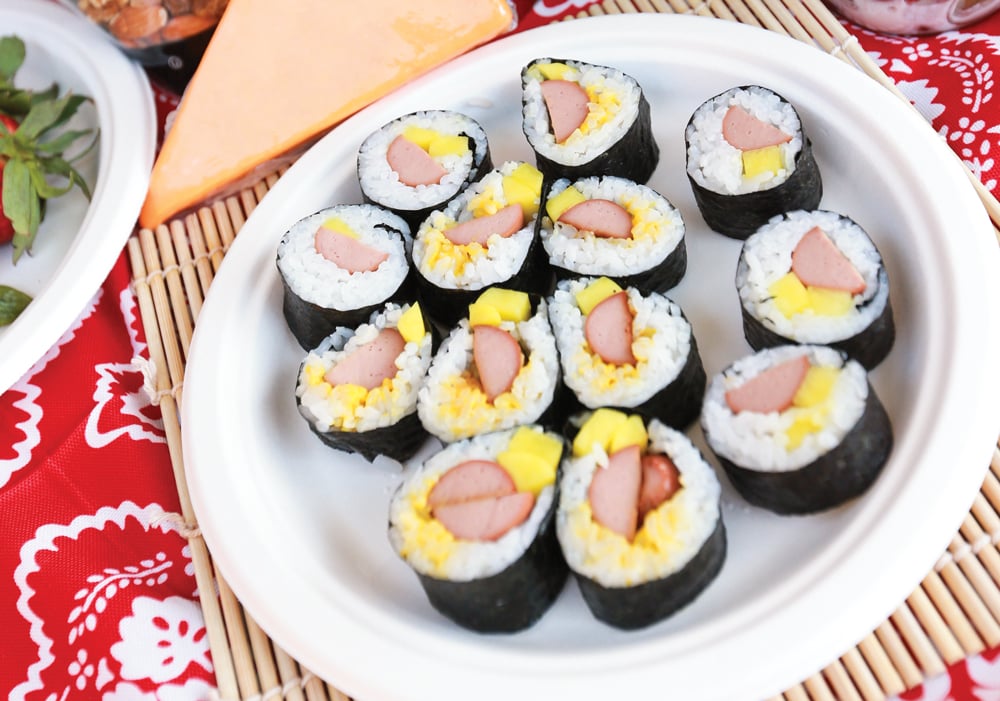 INGREDIENTS
4 organic turkey hot dogs
1 package of takuan (pickled daikon) cut into 8 long, thin strips
2½ cups medium-grain rice, cooked
Nori sheets
Bamboo sushi mat
Yellow mustard (as needed)
Shoyu (as needed)
1 cup rice wine vinegar
½ cup white sugar
2 tablespoons salt
INSTRUCTIONS
Combine the salt, sugar and vinegar in a non-reactive saucepan and bring to a simmer to dissolve the solids. This mixture is called sushi su. Season the cooled rice with the sushi su, a little at a time, gently folding it into the rice. Be sure to taste the rice and adjust seasoning to your liking.  Rice should look shiny.
Cut the hot dogs in half lengthwise and sauté gently. Let them rest at room temperature. Place nori sheets on the bamboo mat, shiny side down. Spread one-fourth of the seasoned rice on the bottom two-thirds of the nori sheet.
Place two hot dog strips and two takuan strips horizontally down the center. Add mustard to the hot dogs.
Begin rolling, wetting the edge of the roll as it closes.
Slice with a wet knife, plate and serve with shoyu and/or ketchup.
---
See also: ⭐ Keiki in the Kitchen: Three Great Starfruit Recipes from a Hawaiʻi Chef
---
Rainbow Waldorf Quinoa Salad
serves 4
The presentation of this dish helps to entice kids into trying this colorful, light, healthy salad. Not only is quinoa a flavorful grain, it is also a protein-rich super food. It contains twice as much fiber as other grains. It is rich in iron, magnesium and other key nutrients.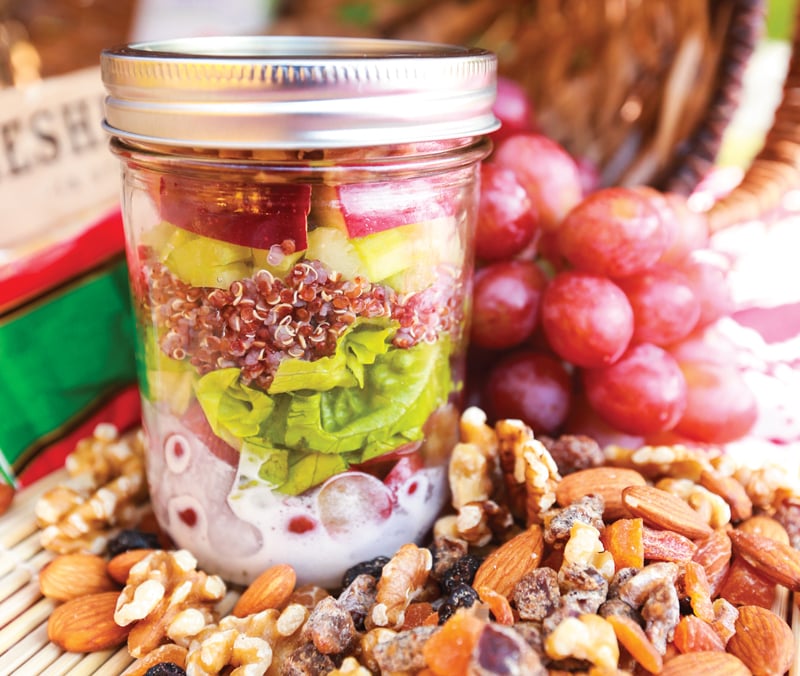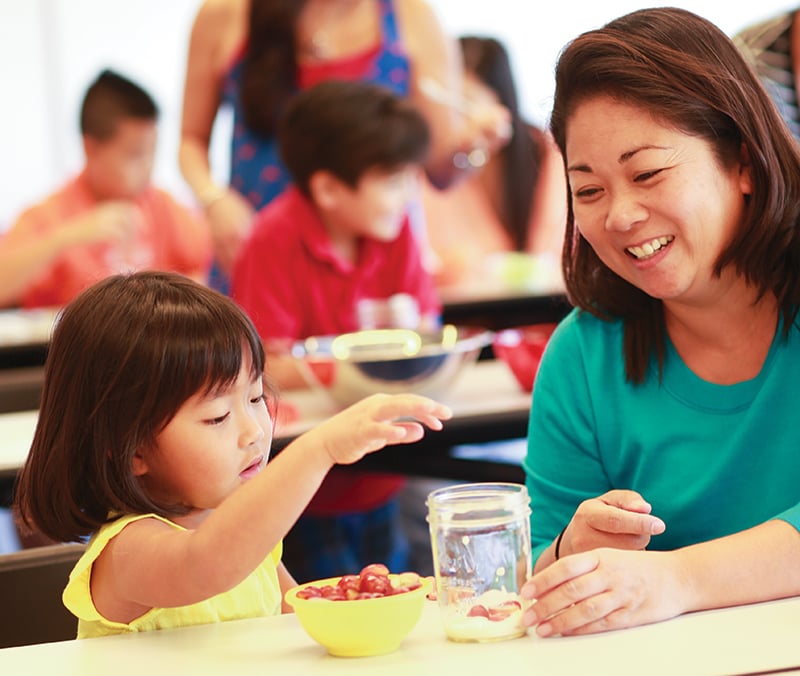 INGREDIENTS
2 medium red apples, washed, cored and diced
1 cup red grapes, washed and sliced in half
1 stalk celery, washed and diced
¼ cup roasted walnuts, chopped
1 cup cooked  red quinoa
1 head local butter lettuce, washed and sliced into half-inch pieces
1 cup plain yogurt
2 lemons
2 packs Splenda
Salt, to taste
4 Mason jars
INSTRUCTIONS
Toss apples in lemon juice to acidulate and prevent browning. In a separate bowl, mix yogurt, Splenda and a pinch of salt.
Layer ingredients evenly in jars, starting with yogurt, then grapes, lettuce, quinoa, celery, apples and walnuts. Repeat.
Seal and refrigerate.
Strawberry Shortcake in a Jar
serves 4
Fresh, sweet summer strawberries, moist, buttery, light cake and decadent, homemade whipped cream create a harmonious ending to the day's outdoor festivities.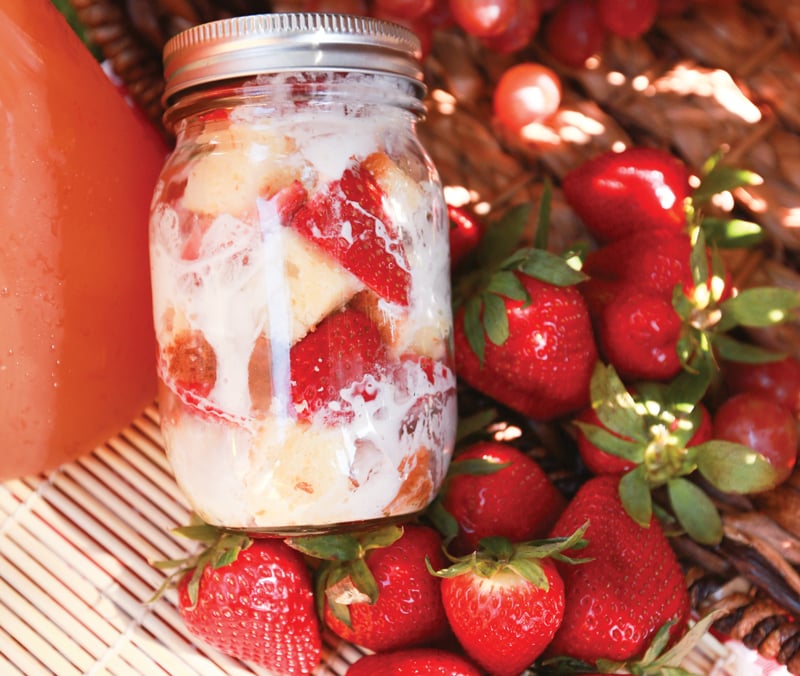 INGREDIENTS
3 cups pound cake (recipe below. Note: if short on time, buy already prepared Costco or Sara Lee frozen pound cake)
4 cups homemade or prepared whipped cream (or as needed)
2 cups local strawberries, washed and quartered
2 packets of Splenda sweetener
4 Mason jars
INSTRUCTIONS
In a mixing bowl, combine strawberries and Splenda and lightly toss. Place in the refrigerator.
Cut cake into small cubes and put in a separate bowl.
Layer ingredients in the Mason jars. First by placing a thin layer of cake at the bottom, then lightly press cake down with a spoon. Next, add a thin, even layer of strawberries, then spoon in and smooth out a thin layer of whipped cream. Repeat layers.
Pound Cake
This classic cake is moist, flavorful and, best of all, simple to make.
INGREDIENTS
9- or 10-inch pan
3 cups all-purpose flour
¼ teaspoon baking soda
½ teaspoon salt
1 cup butter
3 cups white sugar
6 eggs
1 teaspoon lemon extract
1 teaspoon vanilla extract
1 cup buttermilk or 1 tablespoon of vinegar plus milk to equal one cup
INSTRUCTIONS
Preheat oven to 325 degrees. Grease one 9- or 10-inch pan. Combine the flour, baking soda and salt.
In a large bowl, beat butter with sugar. Mix in the eggs, one at a time, beating well after each egg is added. Stir in the lemon and vanilla extracts. Gently mix in flour mixture alternately with buttermilk. Pour batter into the prepared pan.
Bake in preheated oven for 90 minutes. Do not open the oven door for the first hour. When the cake begins to pull away from the sides of the pan, it is done. Let the cake cool in the pan for 10 minutes, and then cool completely on a wire rack.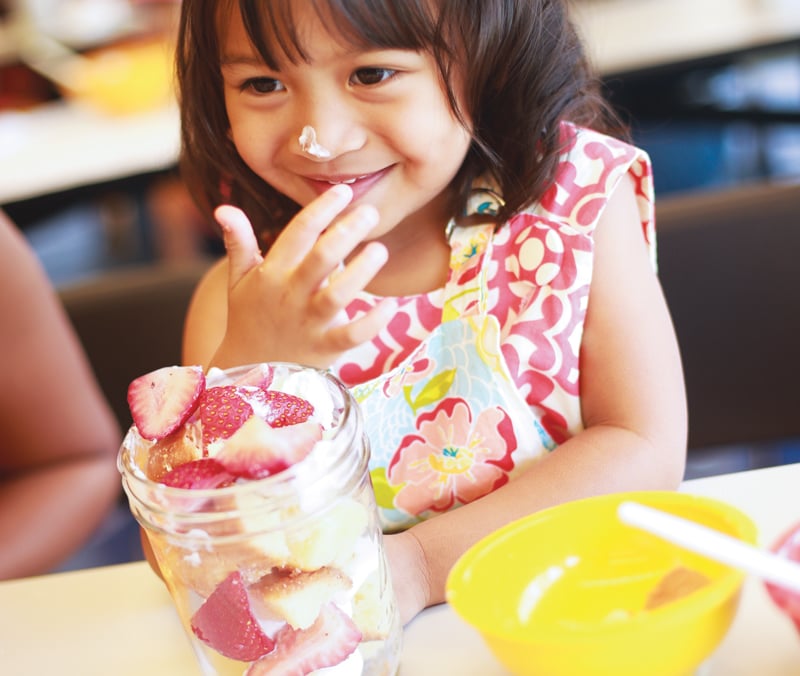 Whipped Cream
If you've never made homemade whipped cream, be prepared to be amazed at how simple and easy it is to prepare such a light, sweet and creamy must have.
INGREDIENTS
1 cup heavy whipping cream
1 teaspoon vanilla
2 packets of Splenda sweetener
INSTRUCTIONS
Using a stand or hand mixer, beat cream on medium-high speed, until soft peaks form. Add vanilla extract and Splenda and beat until stiff peaks form. Be careful not to over beat the mixture or you will end up with "butter." Place in the refrigerator.