Keiki in the Kitchen: 4 DIY Ice Pops
Four quick frozen treats that will make you the coolest parent on the block.
Chocolate Haupia Ice Pop
This favorite Hawai'i flavor combination won't get the cold shoulder at any party.
Ingredient
1 box chocolate pudding mix
1 can coconut milk
1 can condensed milk
1 cup half and half
Pinch of salt
Splash of vanilla extract
Instructions
Make the chocolate pudding, according to the box directions.
Fill 3/4 of each mold with pudding.
Mix the rest of the ingredients in a bowl.
Pour the coconut and condensed milk mixture into the molds.
Freeze overnight.
---
Want drip-free ice pops? All it takes is one simple ingredient. We have the details and 21 other parent hacks to help you in the kitchen.
---
Frozen Fruit Pops
We love summer for its great selection of fruit. Let kids pick their own mixtures for fresh, frozen treats that really pop.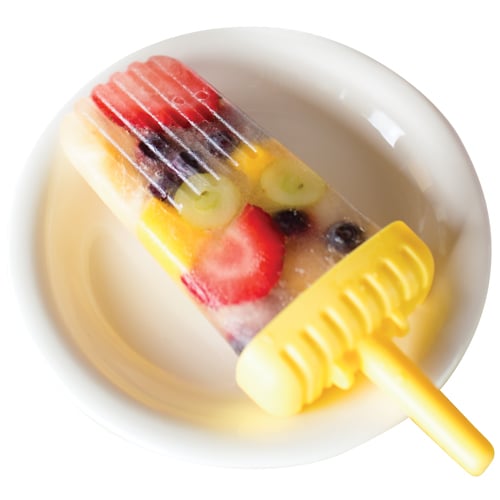 Ingredients
Fresh fruit such as mango, strawberries, blueberries, raspberries, kiwi, grapes, pineapple, peaches and bananas
Apple juice or white grape juice
Ice pop mold or paper cups and ice pop sticks
Directions
Cut fruit into bite-size pieces.
Fill an ice pop mold or paper cup with fruit.
Pour in the juice, tap out any pockets of air.
Insert stick and freeze.
Punch It Up!
Use fruit punch instead of grape or apple juice for another splash of color.
---
See also: 🍨 Keiki Treat: Frozen Hot Chocolate
---
Strawberry Shortcake
Remember the Good Humor Strawberry Shortcake ice cream bar? You and the kids can make your own delicious version at home.
Ingredients
2 cups strawberries, fresh or frozen
2 cups vanilla yogurt
1/2 cup Nilla wafers or graham-cracker crumbs (approx. 20 wafers)
Ice pop mold or 12, 6-ounce paper cups
Ice pop sticks or 6 large pretzel rods, snapped in half
Directions
Place the Nilla wafers or graham crackers in a food processor and crush.
Mix the crumbs with the yogurt.
Spoon about 2 tablespoons into each mold or cup and pat down until the yogurt covers the bottom.
Purée the strawberries and divide evenly among all the cups.
Allow mixture to freeze for about a half hour.
Spoon the rest of the yogurt mixture on top then insert sticks or pretzel rods.
When you are ready to serve, tear off the paper cup and enjoy.
In a rush?
Frozen strawberries eliminate the need for the half hour of freezing time. Just insert the sticks and add the rest of the yogurt.