KaSnack attack! Are Zippy's meaty kouign amann worth a stop?
Does this sweet and savory mashup of bacon, Portuguese sausage and the trendy French pastry work?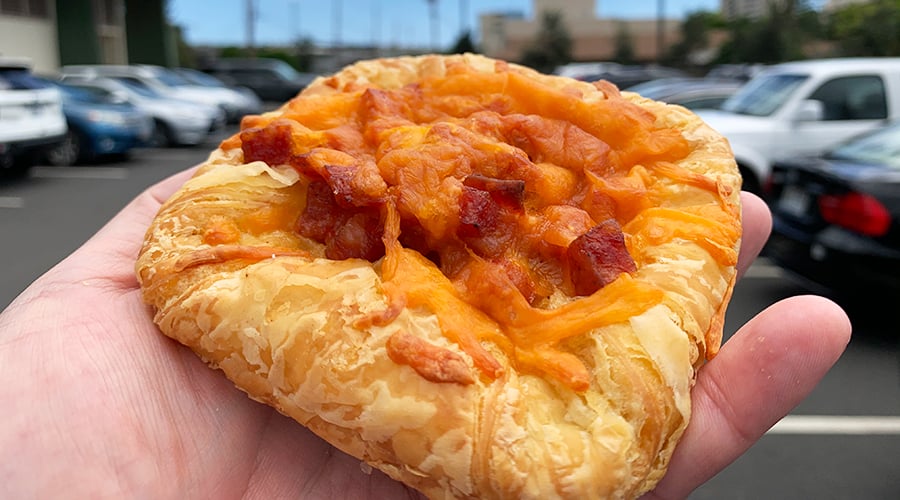 What?
Zippy's released two savory new kouign amann on Tuesday and the burning question on my mind was this: Does a mashup between the sweet, flaky pastry and breakfast meats even work?
The new flavors are bacon and cheese or Portuguese sausage and cheese, both of which sounded delicious. My guess and hope was that the experience would be like biting into a delicious chicken pot pie, only with breakfast meats.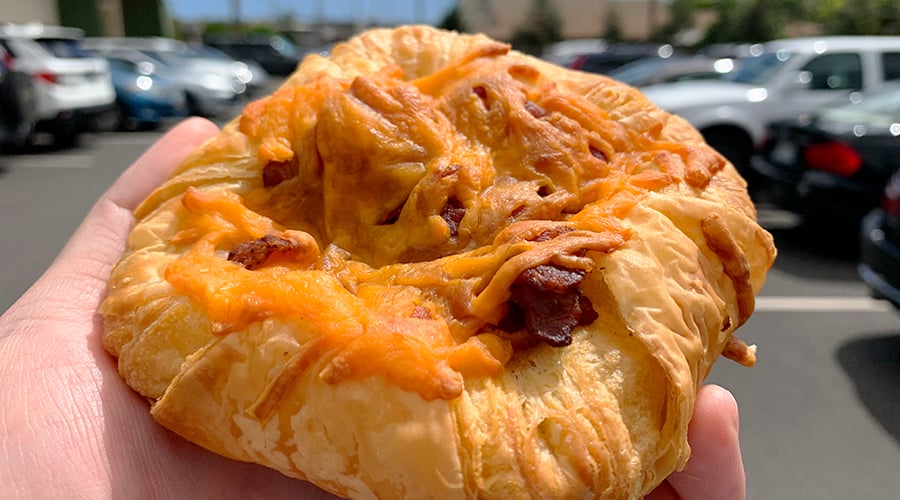 Every single thing you need to know
For those who've never had a kouign amann, it's a sweet, flaky pastry (think Napples but a little more dense) that's baked in a somewhat large muffin-shaped tin. With so many layers of delicate, paper-thin pastry bursting with butter and sugar, what's not to like? Locally, B. Patisserie in International Market Place and La Tour Café have been my go-to places to get some top quality kouign amann; both have interesting flavors that rotate in and out. But I've never had a savory kouign amann before.
I drove to my nearest Zippy's at lunchtime Tuesday and bought a few of both the bacon and cheese and the Portuguese sausage and cheese versions, which I split with some colleagues. Each one cost $2.95. Unlike more traditional kouign amanns, these are decidedly less flaky or crispy and sit flatter, more like a danish. The pastry does not have the signature sugary sweetness, which I think actually works well.
See also: KaSnack attack! 7-Eleven's Local Style Saimin
Verdict
Zippy's new savory kouign amanns could be a good kid-friendly breakfast or a snack any time of day, but the experience was definitely not like biting into a pot pie. The flaky crumbs got everywhere. If there is an elegant way to eat this without making a mess, I'd love to know. We definitely preferred the bacon one. The Portuguese sausage one wasn't bad; I wish the zestiness of the sausage came through a little more.
I'd heard earlier reports that Zippy's was testing a version made with their chili. Maybe this is something I'll need to experiment with on my own — pouring Zippy's chili over a crispy kouign amann right before biting in. For now, these savory pastries are being made in-store, so your experience may vary from store to store. Who knows? Maybe this will be the next great mashup like Spam musubi or loco moco. I'd get a bacon kouign amann again for sure.
See also: KaSnack attack! Guess who's selling pho?