Kasnack attack! 7-Eleven has one new Green River Slurpee
Da childhood comfort drink is now in frozen form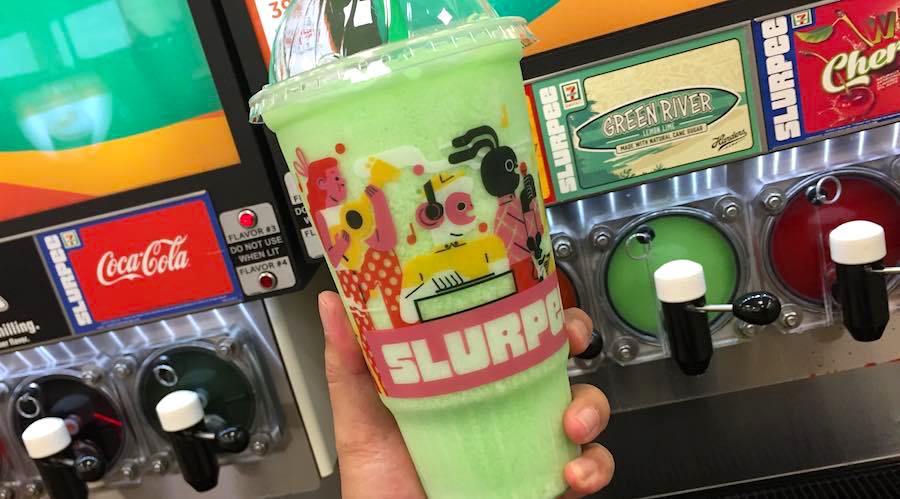 What?
During this corona crisis, tings from our childhoods can lend us some comfort, bringing us back to one simpler time. Das why when I heard 7-Eleven had come out with one Green River Slurpee it brought one smile to my face.
It made me tink of how green wuz my favorite color since da hanabattah dayz. Who I used to love da most from da Five Rangers series on KIKU? Why, da Green Ranger of course. I used to eat only da green M&M's and leave all da rest behind. My favorite popsicle from 10th Avenue Market wuz da green one. I no even know what flavor wuz. I just knew wuz green.
My Kaimuki Grandma used to tell, "If you like green so much, how come you no like vegetables then?" As you can tell from her interrogation skills my Grandma wuz one undercover agent for da Veggie Police.
Not really dark green or light green, Green River strikes that harmonic balance between da shades. If you nevah figure 'em out by now, Green River used to be my favorite-est small-kid time drink, but it wuz nevah easy for find 'em. Da only place I remember getting 'em from wuz Farrell's. And we mostly used to go Farrell's for special birthday celebrations, so I always thought of Green River as that extra special treat.
As one adult I've found that I can't drink Green River anymore. Da ting too sweet for me now. I'm all like did I really used to drink this? And even though I no can handle no more, due to da nostalgia factor, I still have one special place in my heart for Green River.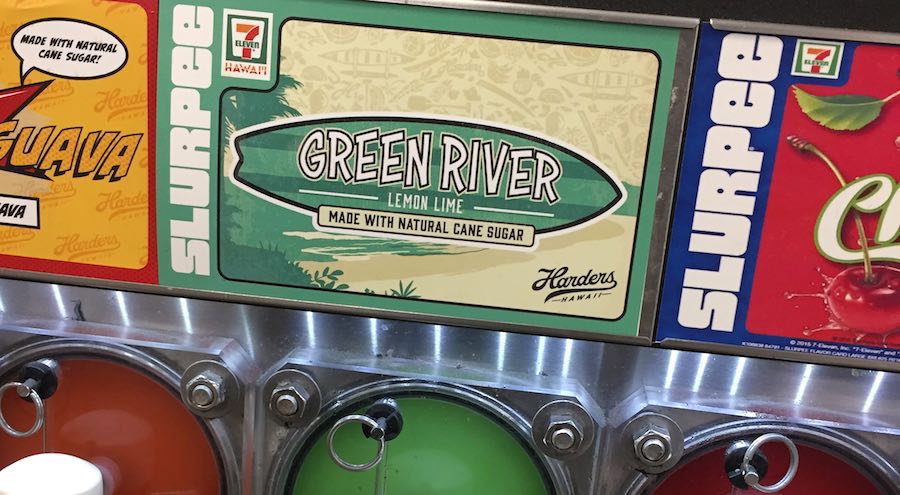 Every single ting you need fo' know
Flash forward to 2020: In late February, Harders Hawaii, da makers of naturally flavored syrups, created one special Green River syrup to be used in 7-Eleven Hawaii's Slurpees. Harders Hawaii's Instagram made da annoucement, "Many of you have been asking us to make your childhood flavor into Slurpee form and we listened!"
Initially Harders Hawaii said this wuz only available at select 7-Elevens in Hawaii. But they would be be slowly rolling 'em out and would be available in all 7-Eleven stores soon. Soon? That should be by now, no? If you no can find, I found mines at da 7-Eleven at Westridge in Aiea. Seems like all or at least most of da 7-Elevens stay open. When I went, social distancing protocols wuz in effect so you just gotta be mindful of da tape on da floor when you stand in line.
Da verdict?
I nevah like get da biggest size cuz I knew my wife wuz going scold me. So I got what I thought wuz one medium, but it wuz actually one large, 30 ounces for $1.68. I guess da even bigger one wuz da X-tra large. Slurpee sizes stay so confusing.
I figured da in-between size would be da safe bet, cuz if tasted junk then I'd be relieved I nevah buy da huge one. And if wuz good then I'd be happy I nevah get da super tiny one.
This Green River Slurpee wuz surprisingly less sweet than regular Green River. Just when I thought Green River wuz but one childhood infatuation. I found myself falling in love all over again. Less sweet lemon-lime flavor x icy goodness = one winning formula. Previously my friend Daris had told me that she thought da ting had carbonation inside too. But I not sure. By da time I remembered she said that, wuz gone already. Lol.
As I predicted when my wife saw me with my Slurpee, she said, How come you never get the small?! I said, cuz it's Green River Slurpee and I figured you'd want some too.
For da record, I said SOME. For da record, I should've gotten da X-tra large! #nomonomoono