Kaimuki's new vegan hotspot: Vegan Hills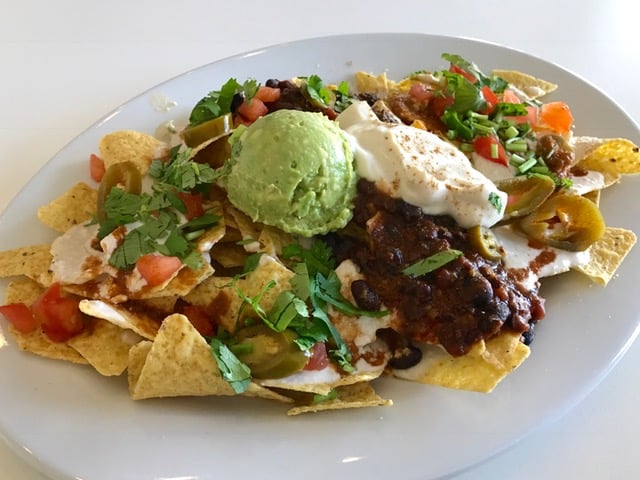 I always say, "I could never become vegan." But after dining at Vegan Hills, I might have to change my omnivore tune … at least once a week.
Everyone I know, including yours truly, seems like they're on a quest to be healthy, eat cleaner and lose weight. So lunching at the new Vegan Hills restaurant felt nice and guilt-free.
The owners of Peace Café opened this Kaimuki lunch spot in early March and it's already bustling with customers.
The goal of Vegan Hills, according to their website, is to offer "delicious, healthy, fresh, natural and non-GMO vegan meals." I was surprised to see a large menu, with options of soups, salads, hot bowls, and sandwiches.
Each dish was large in size, full of flavor, and did not taste like a "substitute." The mix green salad was light and fresh, standing out with just a light drizzle of olive oil and salt.
Honestly, Vegan Hills isn't for everyone. Aside from being, obviously – vegan – the prices are higher than your average takeout joint. My first lunch cost $26 (with tax and tip) for an entree and shared dessert and a second lunch trip set me back $35 for an appetizer, entree, shared dessert, and coffee. Since I don't eat out every day, I don't mind the occasional splurge.
The body is a temple: it's worth it to eat well and be well. My lunch experiences at Vegan Hills have all been with girlfriends (all non-vegans) and we're eager to return. Reservations are accepted, so it might be a good idea to call ahead for peak lunchtime spots.
Vegan Hills
3585 Waialae Ave.
Honolulu, HI 96816
735-3585
www.veganhills-hi.com
Hours: 8 a.m. – 3 p.m.