Jolene's Market just debuted a fried chicken sandwich
A huge menu expansion also features fried chicken biscuits, brisket fries and a Buttah burger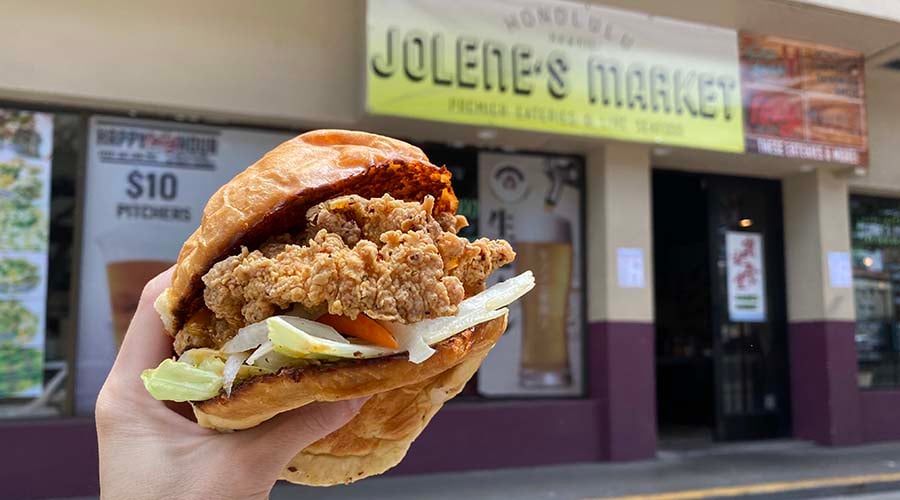 Like many other restaurants, Jolene's Market closed temporarily when Hawaii's stay-at-home order began. But the Chinatown food hall recently reopened for takeout, revealing a new, hugely expanded menu at Da Buttah Lobster.
See also: Honolulu's newest lobster roll is in Chinatown
Da Buttah Lobster initially opened with a singular item: a lobster roll and corn chowder combo. That was enough to make a splash on Instagram, where lobster fans posted eye-popping photos, and within a month the menu expanded to include a lobster grilled cheese sandwich with tomato bisque and fries, and a spicy sausage roll. I was in lobster heaven.
See also: Droolworthy: Now there's lobster grilled cheese at Jolene's Market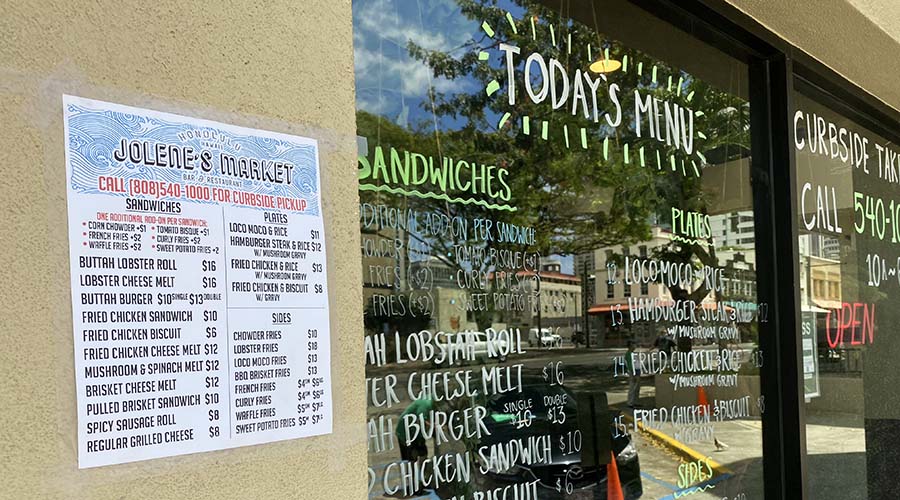 Now there are 10 sandwiches if you count the chicken biscuit, plus some plate lunches, four kinds of loaded fries and four non-loaded kinds. The fried chicken sandwich caught my eye after my foodie friend Maka Kahawai tried it the day after Jolene's reopened and gave it the thumbs up. I asked Maka if she wanted to try anything else from Da Buttah Lobster. Her answer? The $6 fried chicken biscuit. I decided to save her the trip.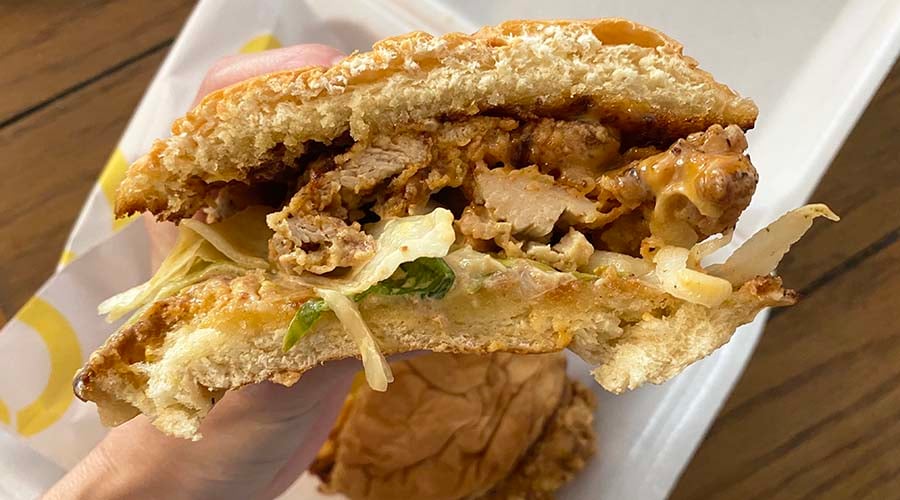 First, the new fried chicken sandwich. This $10 sammie comes with buttermilk fried chicken, secret creamy chicken sauce, romaine lettuce and Asian pickled veggies on housemade brioche. Buttah Lobster used to use spongy Japanese sandwich bread from Daily Bread, but now Jolene's Market makes the bread. I love the bread-to-chicken ratio on the sandwich. Bathed in creamy chicken sauce, the chicken shines. It's still crunchy when I get home but the bread is a little soggy from all the sauce, so I like the bright crunches of the pickled veggies. I'd 100% order this again.
Maka advised me to ask for a takeout container instead of the paper bag the sandwich normally comes in. Since I was dropping off her biscuit sandwich before going home, the container helped keep my sammie intact and helped with the crisp factor.
See also: Is Popeyes chicken sandwich worth all the hype?
I also got the new Buttah Burger ($10) with a single patty for later. If you're extra hungry, you can get the double patty for $13.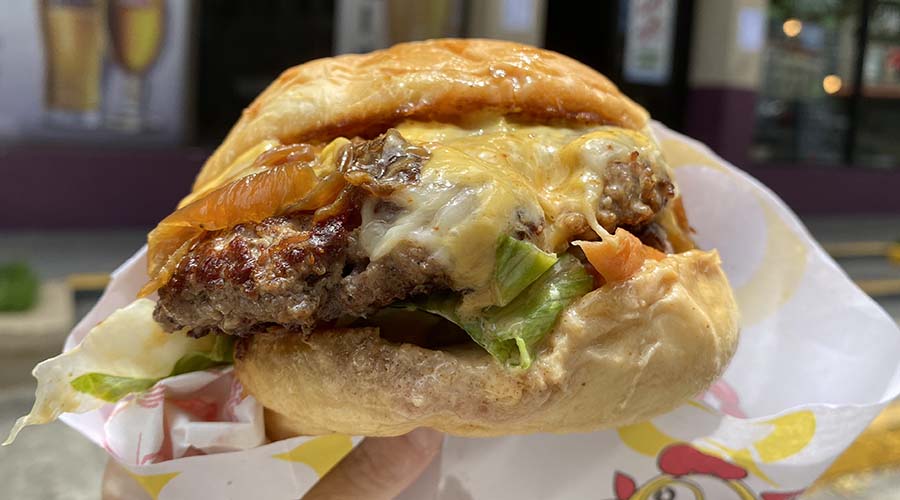 Da Buttah Lobster's Buttah Burger features a 5-ounce USDA prime beef patty, the same secret sauce as the fried chicken sandwich, caramelized onions, Havarti and American cheeses, pickled veggies and lettuce on the housemade brioche. It's super tasty, thanks to plenty of creamy chicken sauce, the melty cheeses and pickled veggies. It's like having coleslaw in your burger — unexpected, but welcome. The buns are super soft and the patty is cooked to a nice medium, just the way I like. Overall, it's a decent size and good for $10, but nothing like the monsters at Square Barrels.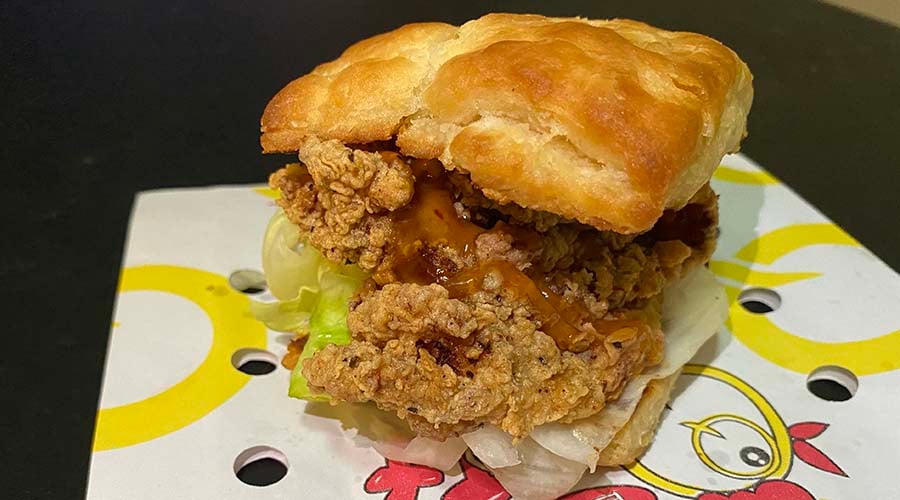 The fried chicken biscuit has all the same components as the fried chicken sandwich but in smaller portions in a housemade biscuit. Maka is already partial to biscuits, especially when they come with fried chicken. This version meets her standards, with a biscuit that's crumbly and buttery enough to not be dry. Her verdict: She likes it even more than the fried chicken sandwich. This one is messy to to eat, but worth it.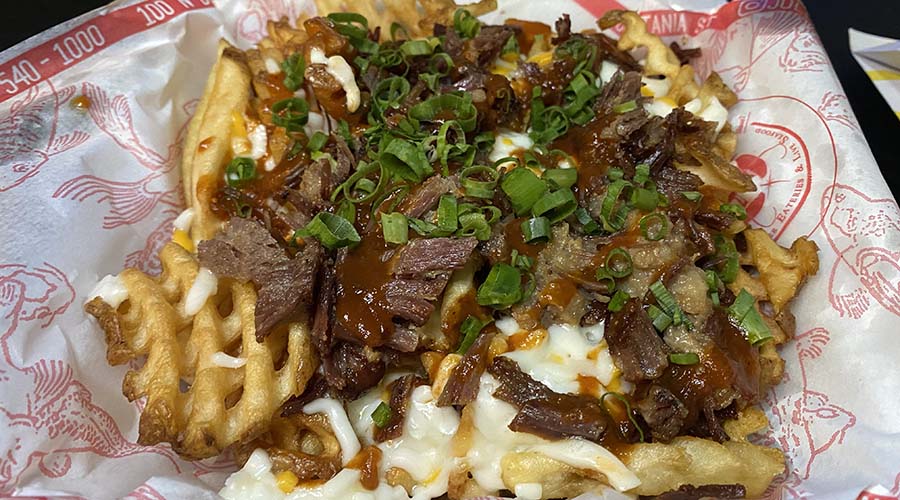 I also get Maka an order of BBQ brisket waffle fries. The toppings make them a little soggy, but with this amount of toppings, you can't complain. I'm already a fan of the gloriously crispy waffle fries. Maka says the chopped brisket on these is flavorful, and the melted cheese and sweet barbecue sauce make for an addicting medley. Her verdict: Get these and eat them immediately, while the cheese is still hot.
Before, my only question when I headed to Jolene's Market was was whether to get the lobster roll or the lobster cheese melt. Now what am I going to do?
Jolene's Market
100 N. Beretania St.
Chinatown
540-1000
Daily 10 a.m.-6 p.m.
Curbside pickup available