Jamba Juice's new Hawaii smoothies: Fo' real how they taste
Da chocolate haupia, lava flow and pina colada smoothies stay worth it or what?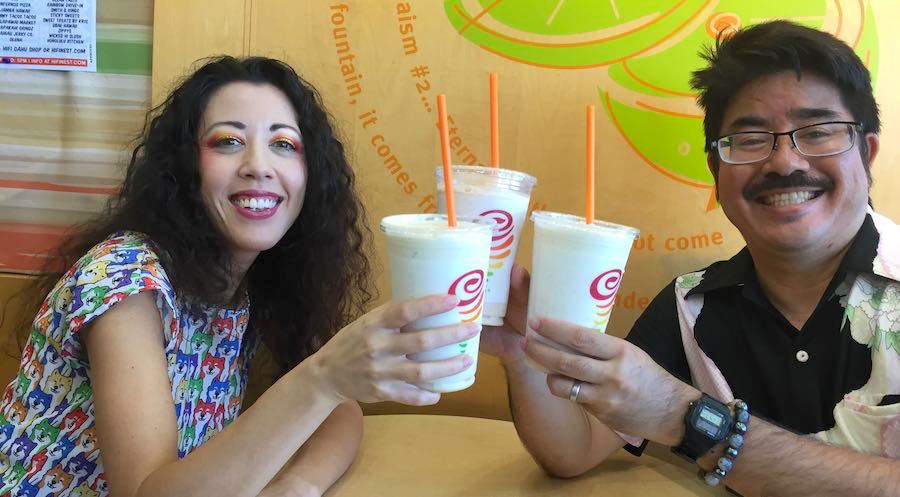 I been seeing da ads for this all ova da place. Get three new limited-time, Hawaii-exclusive smoothies at Jamba Juice in celebration of them being in Hawaii for 20 years now.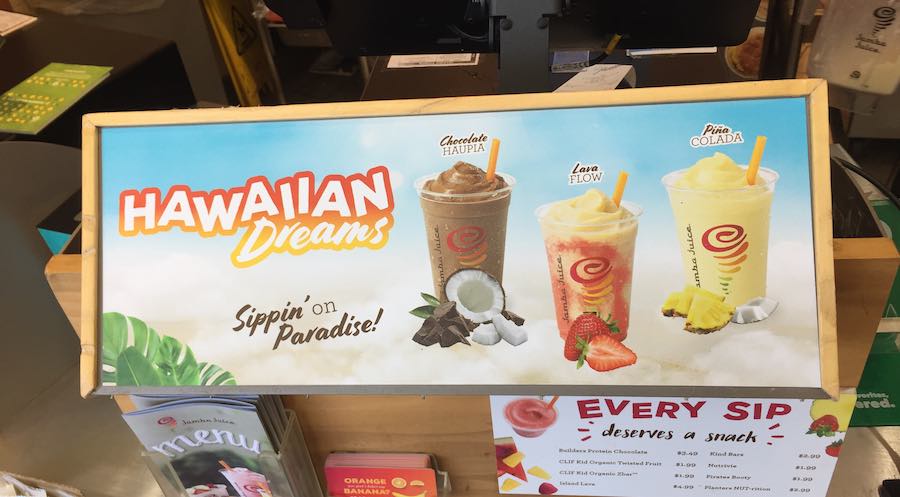 For this assignment I knew I needed assistance since I no drink alcohol and two of these smoothies wuz virgin versions of popular alcoholic beverages. In order for compare 'em to da real cocktails I asked my friend Aiko Wan for lend us her expertise. She's most famous for being one artist, but her hidden talent is she knows her liquor.
So let's get this non-alcoholic party started.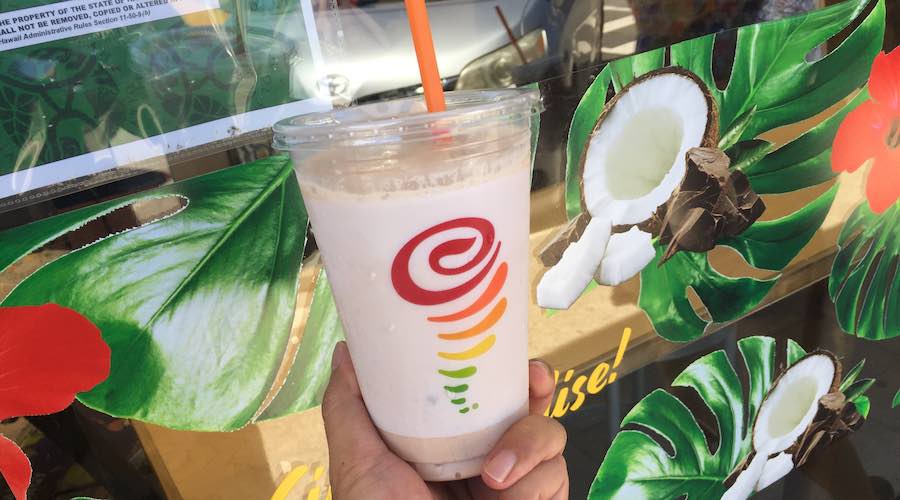 Chocolate Haupia
I thought this smoothie should've looked more chocolatey like da picture, but oh well. Me and Aiko kinda expected this one for taste like well, chocolate and haupia, DUH! But da dominant taste ended up being … banana. In fact Aiko said that it tasted more banana-ee than Banan. Looking at da in-gre-da-ments this one contained one chocolate moo'd base, soymilk, coconut, bananas and frozen yogurt. I suppose if we got this again, we could ask for it with no banana. But still I felt like this should've been called Banana Chocolate Haupia.
It was really good … if you like banana. But we decided this one wuz da junkest cuz never meet our expectations.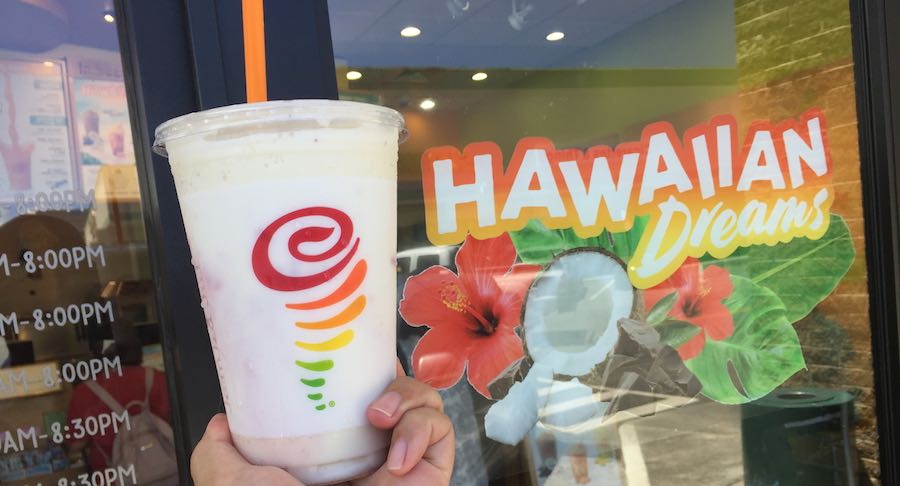 Lava Flow
Once again, da drink nevah really look like da picture. So according to da menu, this smoothie had one apple-strawberry juice blend, pineapple juice, almond milk, strawberries, pineapples, coconut, frozen yogurt and pineapple sherbet. I asked Aiko how it compared to da real Lava Flow with alcohol. She said supposed to get more strawberry and she wished it had more pretty ribbons of strawberry inside. In theory, this should've been da most photogenic and Instagrammable, but it had so little bit red that we had to look at it pretty closely to make sure it wuzn't da Pina Colada. I had to show Aiko da strawberry seeds on da bottom to prove to her that it wuz indeed da Lava Flow.
Because had no nuff lava in this flow we gave 'em one meh.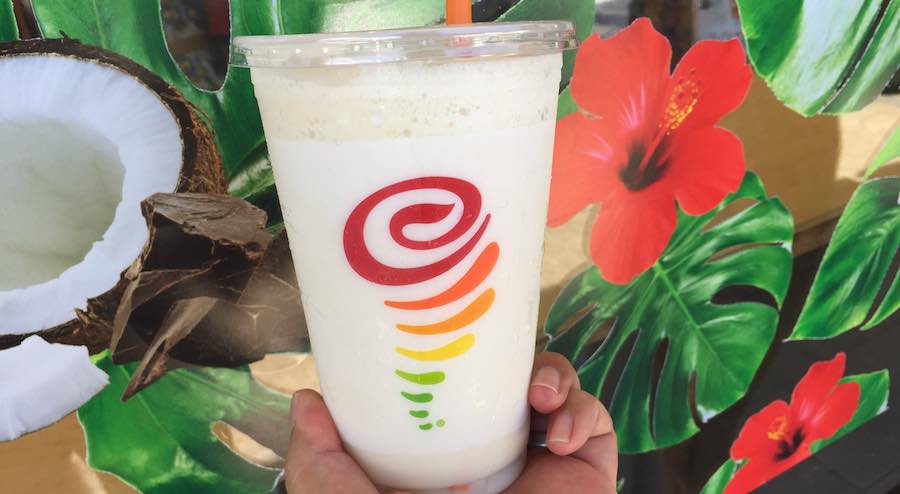 Pina Colada
Da picture wuz more yellow, but by this point we kinda figured wuzn't going be like da picture. This smoothie had pineapple juice, almond milk, pineapples, coconut, frozen yogurt and pineapple sherbet inside. I liked this one and Aiko did too. She said it tasted like da alcoholic version, but without da buzz.
And that's when a funny thing happened. Aiko asked if she could pour some alcohol into it.
So I said, "You mean like next time?"
She said, "No, now."
"Why, you carry around alcohol in your purse?"
"Usually," she replied with one look that said of course, I thought you knew me!
I discovered Aiko always makes it one point of carrying around one small bottle of whisky with her. I guess you learn something new about your friends every day. Lol.
We both would get this again, but for different reasons. I liked da taste of this Jamba Juice smoothie. Aiko liked it cuz Pina Coladas at da bar can run like $10 she said. But with her 99 cents bottle of alcohol she said she can add her own and make one cheaper version, but next time make it properly with rum. Allllllrighty den. Grade of Double Shaka! #nomonomoono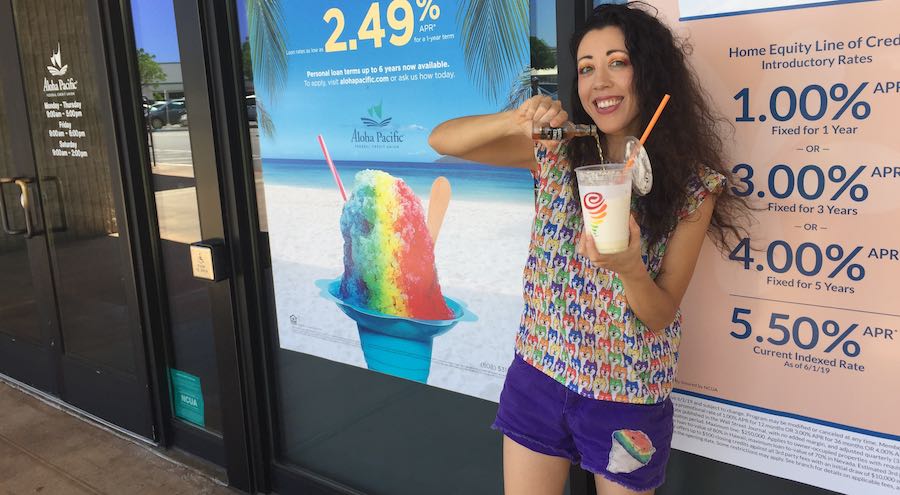 Epilogue: And yet ANOTHER thing I learned about my friend on this day. Wuz funny cuz when I shot da picture of Aiko making her, um, "special drink," we wuz just randomly by some bank that had one shave ice picture in da window. And coincidentally Aiko had one shave ice picture that she drew on one patch and had sewn onto her shorts. I just had to ask, "Uh, you no eat shave ice all that much do you?" She looked at me like how did I know that? Then she looked at da poster. Then she looked at her shorts. Then she told me to shaddup.
Hawaiian Dream smoothies available in small $5.89, medium $6.49 and large $6.99 at all Jamba Juice locations in Hawaii.